They say time flies when you're having fun, but the older I get the faster time flies, regardless of if I'm having fun or not. And, when it comes to my kids, I blinked yesterday and they were nine and seven-years-old. In nine years my oldest daughter will be 18 and getting ready to go off to college. That means I have nine years left with her at home, and 11 with my youngest. When this realization hit me it left me rethinking the next decade of vacations. I know that sounds a little extreme but there's A LOT I want to do with my kids before they grow-up.
Memories and experiences last a lifetime so we have to get out there and make some (more)!
Given we live in Colorado – and there is SO MUCH to see and do here – I've complied a list of some of the top places to take kids in Colorado…before they grow-up. We have already checked several off the list and are working to get the others taken care of soon.
Are there other places to take kids in Colorado before they grow up that you think should be on the list? Let us know in the comments. (Portions of this article appeared in a piece I wrote for Colorado Parent.)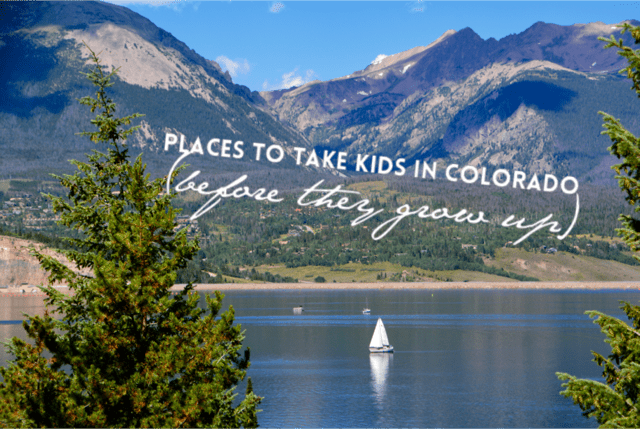 21 Places to Take Kids in Colorado (before they grow up)
Wine Lovers Take Note! Colorado has an amazing wine region that's kid friendly. Things to do with kids in Palisade.
Great Sand Dunes National Park: Sandboarding, sand sledding, sand castle and swimming!
The Great Sand Dunes National Park is home to the tallest dunes in North America; a 30 square mile dune field with five sand dunes over 700 ft. tall! It's truly one of Mother Nature's coolest phenomenons (at least in Colorado).
There aren't very many places in the world where kids can hike up sand dunes then sandboard or sled down, and then cool off in creek at the base. You can enjoy non-motorized and non-mechanized activities in the creek, including splashing, surfing, wading, skim boarding, floating, sand castle building and sand sculpting.
If you stick around the park in the evening hours, you'll be treated to stargazing like you've never seen! Better yet, rent a campsite at the park so the light show can be an entire evening activity.
Best Ages to Visit: 3 years-old and up
Location: Alamosa
URL: http://www.nps.gov/grsa/index.htm
TIP: If you want to swim in the river you need to plan your visit between April and June. The river is typically dried up by mid-July.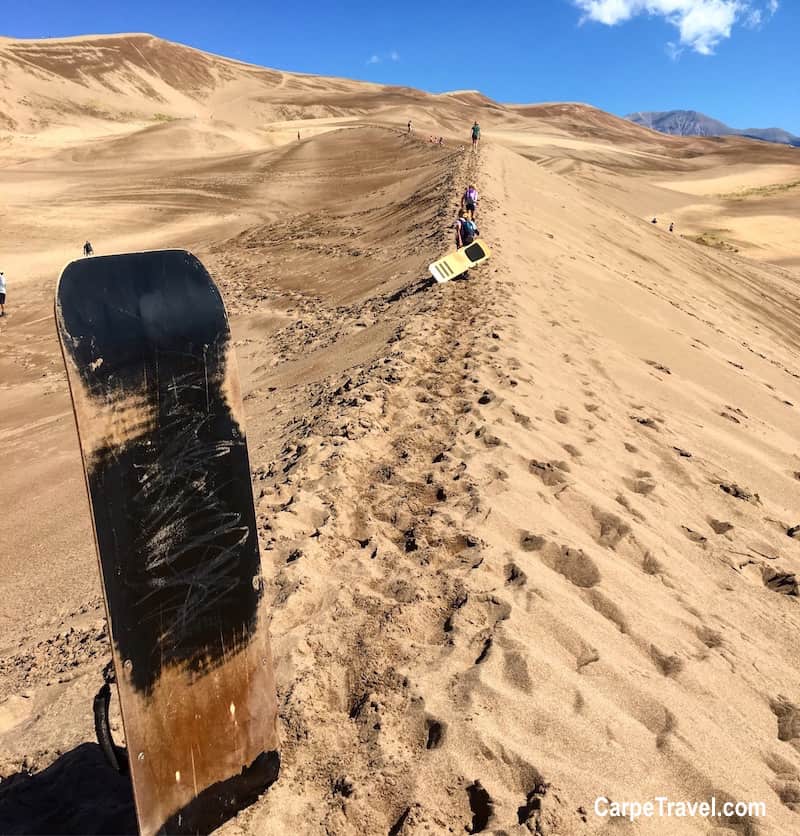 Georgetown Loop Railroad: Scenic train ride filled with history and view.
A ride on the Georgetown Loop Railroad not only offers a fun experience but it's one with a history lesson attached. The three miles of adventure between Georgetown and Silver Plume includes spectacular views of the Rocky Mountains, accompanied by the incredible feeling of stepping back into another time where the railroad ruled, mining was a way of life and outlaws littered the land.
If you reserve tickets during the holiday season Santa will be on-board passing out presents, treats, and goodies to kids. You'll also travel through a beautiful light show set to synchronized holiday music.
Best Ages to Visit: Ages 3-10
Location: Georgetown (45 miles from Denver)
URL: https://www.georgetownlooprr.com/
Garden of the Gods: The only park where you'll find Kissing Camels.
The Garden of the Gods is Colorado's top geological site and a designated National Natural Landmark. You can walk, drive or bike through the park to view unique, natural red rock formations, gaining not only a sense for the beauty of the rocks themselves but the way the movement of the Earth put it all together.
The rock formations alone are the main draw for visiting Garden of the Gods. But learning how they were made either in the parks museum or on a guided tour and then seeing them opens the door to a geology lesson for both kids (and adults). Not to mention, the rock formations are fun shapes with names like Kissing Camels and Sentinel Spires.
There are 1,364 acres to explore by car, bike, on horseback or on foot. You should definitely get out of the car and walk through the park. Note, you will either need to arrive EARLY (before 8am) during peak summer season to get a parking spot and/or park in a lot about a half mile out from the formations and walk-in.
There are more than 15 miles of trails with the main trail – Perkins Central Garden Trail – being a 1.5-mile trail that runs through the heart of the park. It is paved and stroller/wheelchair accessible. Admission is always free.
Best Ages to Go: Ages 4 and above.
Location: Colorado Springs
URL: http://www.pikes-peak.com/about-garden-of-the-gods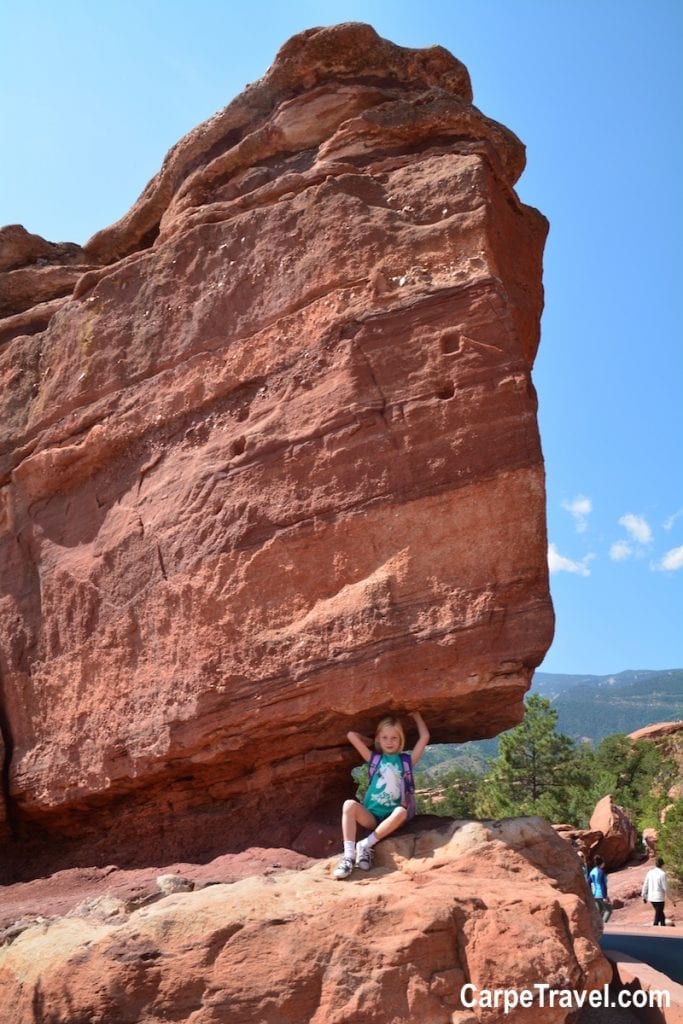 North Pole – Santa's Workshop: It's Christmas year around.
Did you know the North Pole and Santa's Workshop were actually in Colorado Springs? Ok, so it might not be where Santa and his elves live but the North Pole in Colorado Springs is a fun, year-around way for kids to get/stay in the holiday spirit. (It's also not a bad way for parents to remind their kids in July that Santa is ALWAYS watching.) The North Pole is a family theme park offering family-friendly rides, a magic show, animals, plenty of places to eat and, of course, pictures with Santa!
Best Ages to Visit: Up to 12 years old.
Location: Colorado Springs
URL: http://northpolecolorado.com/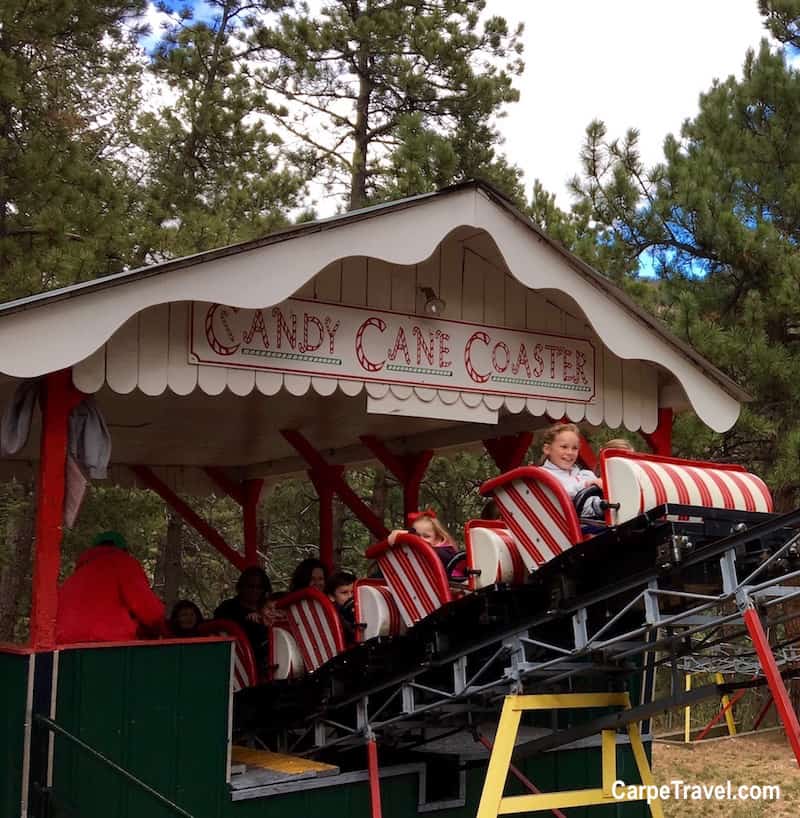 Pike's Peak: Purple Mountain Tops do Exist
The views from Pike's Peak inspired the writing of "America the Beautiful". Needless to say, the views are stunning. While most kids probably won't appreciate the views they will love riding the Pikes Peak Cog Railway up the mountain.
The Pikes Peak Cog Railway climbs the 14,115 feet above the clouds to the top of Pikes Peak Mountain on a special track; it's the highest cog railroad in the world. (You need to make reservations in advance.) You can also drive the 19-mile scenic journey on the Pike's Peak Highway.
Best Ages to Visit: 3-12 years old (children under three-years-old ride for free but must be in your lap).
Location: Colorado Springs
URL: http://www.pikes-peak.com/
Rocky Mountain National Park: Adventure Awaits on Top of the World!
Ponderosa pine forests. Aspen groves. Tundra. Lakes. Waterfalls. Rocky Mountain National Park encompasses more than 415 square miles of mountain majesty topped off with 350 miles of hiking trails. With most of the park being at least 8,000 feet high, it's easy to soak in views from every angle. As for activities, they're endless. Hiking. Biking. Ziplining. Fishing. Canoeing. Swimming. Horseback riding. Camping. Wildlife sightings. And so much more.
It's a must to ascend the Continental Divide if you're visiting Rocky Mountain National Park. However, there is no need to get your hiking boots on – unless you want to. You can easily drive up Trail Ridge Road, which cuts you across the park east to west. Along the way kids will see the variety of ecosystems within the park as they change before their eyes. (For little ones still napping, this could be a great time for them crash out!)
Best Ages to Go: Ages 6 and up.
Location: Estes Park, CO
URL: http://www.nps.gov/romo
TIP: Consider looking into activities at YMCA of the Rockies Estes Park for kids ages 5-8th grade. It offers a variety of both family activities and day camps for kids. The camps are excellent as they let the kids enjoy the outdoors with other kids and gives parents a chance to do a more serious hike or not…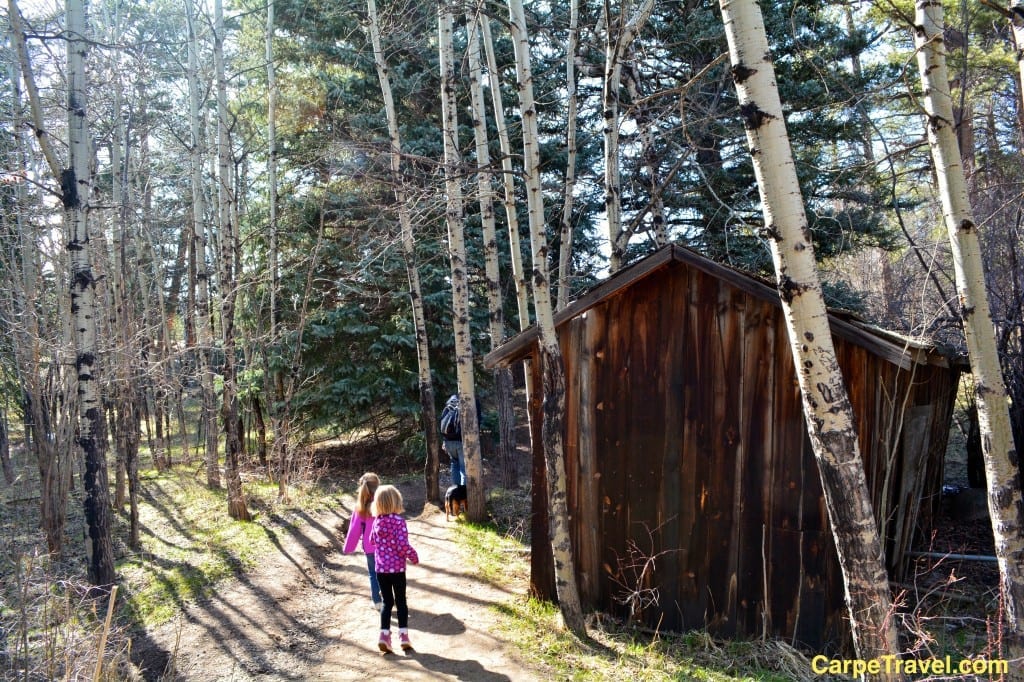 Mesa Verde National Park: Climb into the Lives of Colorado's Ancient Tribes
Mesa Verde National Park was the first national park established to "preserve the works of man". Today, the park preserves about 5,000 archeological sites of the Ancestral Pueblo people who lived here over 700 years ago.
There are 600 cliff dwellings, mesa top sites and artifacts from almost eight centuries ago. It's literally a walking, climbing, and talking history lesson for kids on Native American life and culture. Kids can actually walk (and climb) through the cliff dwellings to really explore and grasp how people used to live. It will be hard not to walk away with pieces of American history after exploring in this type of interactive environment.
Best Age to Visit: Ages 4 years-old and up
Location: Mesa Verde National Park, Colorado
URL: https://www.nps.gov/meve/
TIP: Between the ages of 4-12 kids can take part in the Junior Ranger program. Younger children will enjoy the park but it's not stroller friendly so a backpack carrier would be essential. Kids over the age of 12 will benefit from the history aspect, outdoor experiences and you'll benefit from the limited wifi.
Hammonds Candy Factory: It's the Sweetest Tour in Town
You're not going to find any Oompa Loompas at the Hammond's Candy Factory in Denver, instead you'll see 150 busy candy makers handcrafting 5,000 pounds of candy a day. It is quite the production. The tour at Hammond's Candy Factory is FREE.
The tour begins with a short video regarding the factory's history, and how particular candies were invented and the family who built the iconic Denver business. Then you're led down a short hall to an open area where there is plenty of room for everyone to watch the candy makers – behind a glass wall. Kids will see people bustling around in red aprons, stirring confections, slicing and twisting Hammond's iconic candy canes.
Your kids – and possibly yourself – will walk away with an entirely new appreciation for the art of candy making. (Full review of Hammond's Candy Factory tour.)
Best Ages to Visit: Ages 2-12
Location: Denver
URL: http://www.hammondscandies.com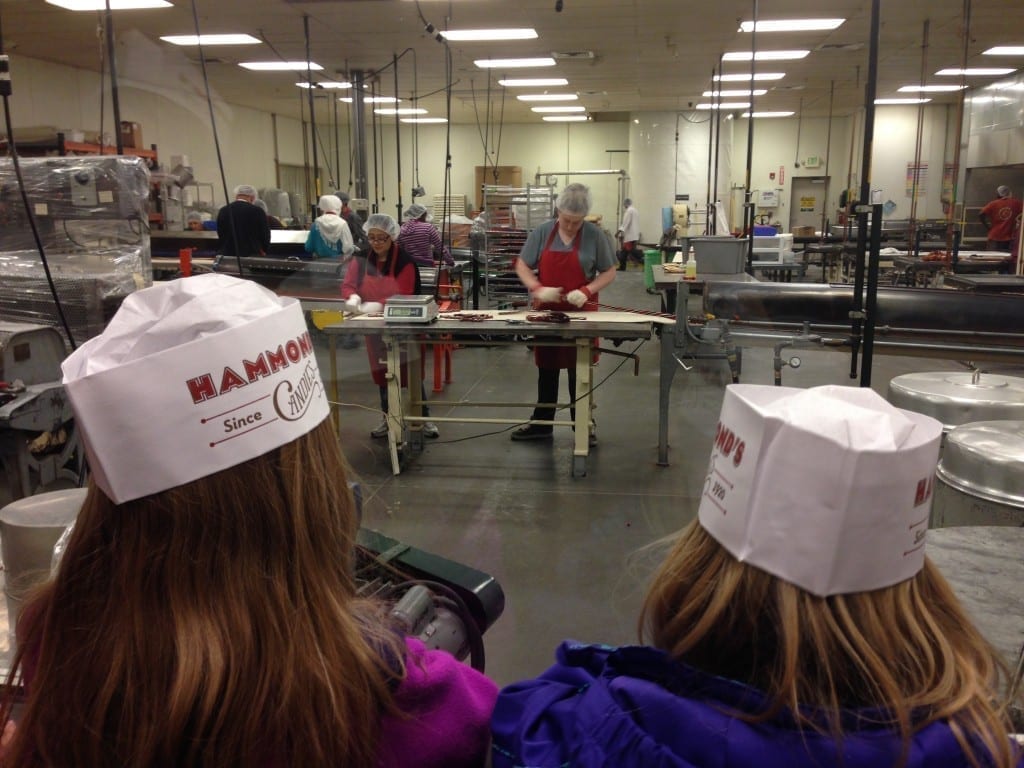 Glenwood Caverns Adventure Park: The Highest Elevation Roller Coaster in N. America
Tour the underground cavern with its stalactites and stalagmites and the decorated cave room, King's Row. Two guided walking tours are offered daily and are appropriate for most ages. The Giant Canyon Swing whirls riders out 1,300 feet over the canyon and Colorado River, offering up breathtaking views for the adrenaline junky. Ride the highest elevation rollercoaster in the U.S. The Cliffhanger Coaster is perched on the edge of Glenwood Canyon, making it a real scream.
Best Ages to Visit: Ages 4-15
Location: Glenwood Springs, CO
URL: http://glenwoodcaverns.com/
TIP: Kids have to be at least 56 inches tall to take a ride alone. If they're at least 38 inches tall (and threes years old) they can ride with an adult.
Glenwood Hot Springs: The "World's Largest Natural Mineral Springs Pool"
Take in the thermal, mineral waters at Glenwood Hot Springs Pool, which has been dubbed the "world's largest natural mineral springs pool". The entire family can swim, soak and play in the 1 million-gallon pool. In the summer months, there are water slides and a large grassy area for families to picnic in and lounge for the day.
Best Ages to Visit: Over the age of 2 years-old
Location: Glenwood Springs
URL: http://www.hotspringspool.com/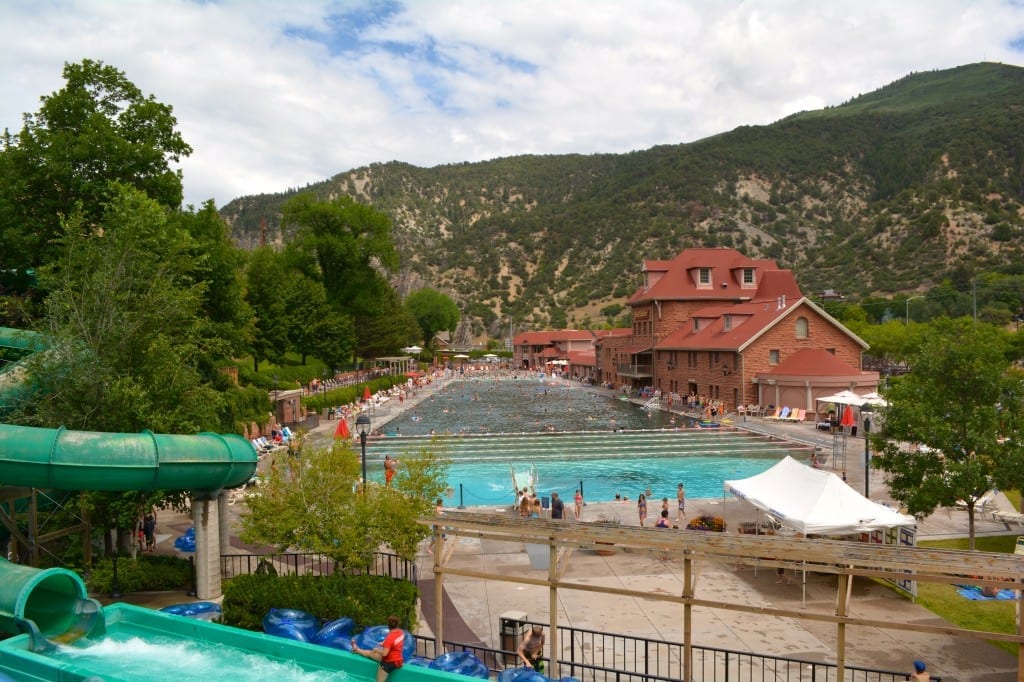 Dinosaur Ridge: Walk in the footsteps of Stegosaurus and Tyrannosaurus Rex – literally!
Young paleontologists can explore more than 300 dinosaur footprints and dozens of other fossils Dinosaur Ridge. In addition to the Trek Through Time indoor interactive exhibit hall families can do a self-guided hike up Dinosaur Ridge Trail, home to hundreds of dinosaur tracks and the Dinosaur Ridge Bone Quarry where the world's first Stegosaurus was found. There is also a paid ($) guided tour which includes a ride along the trail with stops along the way to admire the fossils.
Best Ages to Visit: Ages 4-12
Location: Morrison, CO
URL: http://www.dinoridge.org/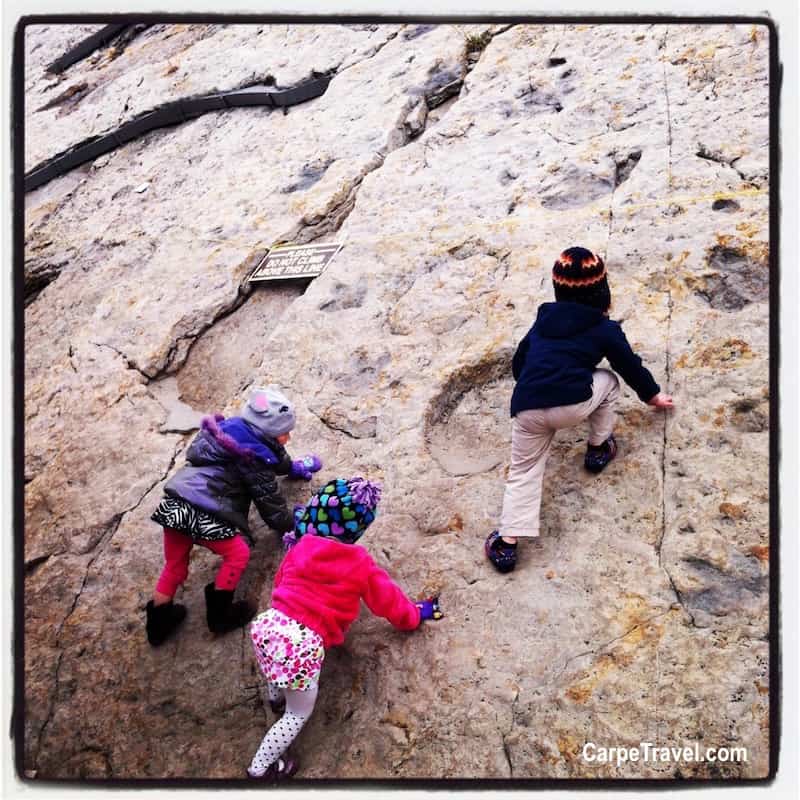 Skiing: Hit the slopes!!!
Skiing and Colorado are synonymous so it should come as no surprise that if you live and/or visit Colorado hitting the slopes – at least once – is a must. Colorado is repeatedly ranked as one of the top ski destinations in N. America, not surprisingly given the state is home to some of the highest terrain, excellent snow and more than 20 resorts to choose from. Finding a ski hill in Colorado isn't a problem, picking which one you want to visit might be though.
Best Ages to Visit: Ages 4+ (most ski schools allow kids to begin lessons at age four.)
Location: Just about anywhere in the state
URL: http://coloradoski.com/resorts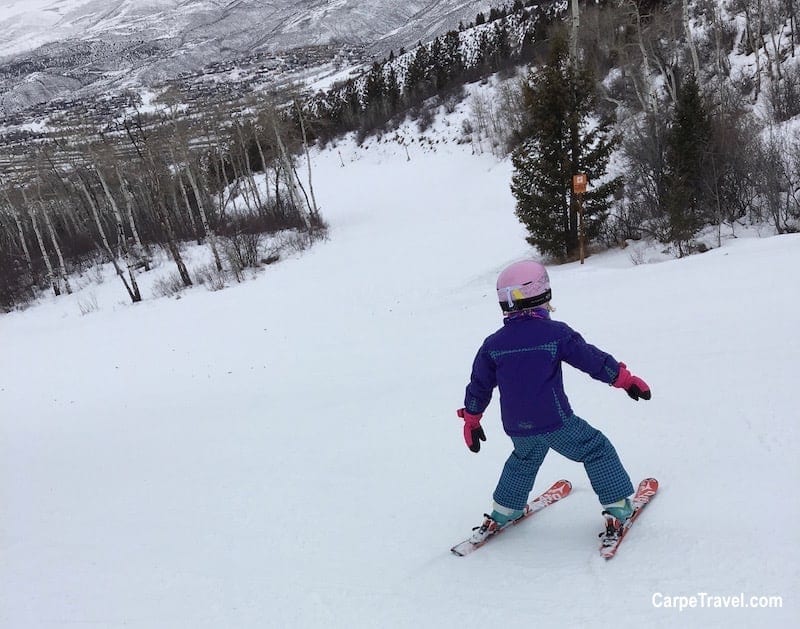 The Denver Museum of Nature & Science: Something for everyone.
The Denver Museum of Nature & Science houses 1.4 million artifacts and specimens, an Imax theatre, a planetarium and multiple exhibits. The museum is also home to an interactive children's Discovery Zone, perfect for little ones. Older children will love the 3D Imax films, planetarium and wildlife exhibits. There is a restaurant onsite so you can literally spend the day at the museum and never get bored or hungry. (Need more ideas of things to do in Denver, see what Tim Kroeger over at Universal Traveller suggests.)
Best Ages to Visit: Over the age of 2 years-old
Location: Denver
URL: http://www.dmns.org/
The Old Hundred Gold Mine Tour: Experience Gold Mining in Action
Mine tours are one of the best real-life virtual time machines families can do to learn about an era that shaped the state of Colorado – the Gold Rush. They're also a great way to escape a hot summer day and potentially strike it rich at the same time.
The Old Hundred Gold Mine, dates back to 1872 and offers an hour-long guided tour into the heart of Galena Mountain. You can ride a vintage, electric-powered mine train, watch demonstrations of mining equipment dating back to the 1930's and pan for gold in the sluice box.
There are several additional top-rated mine tours in Colorado including the Hidee Gold Mine in Central City, the Country Boy Mine in Breckenridge, Argo Gold Mine and Mill in Idaho Springs and the Mollie Kathleen Gold Mine in Cripple Creek.
Best Ages to Visit: Ages 5 years-old and up.
Location: Silverton, CO
URL: http://www.minetour.com
Strawberry Park Hot Springs: Forget Calgon, the Views will Take Your Breath Away
The reason Strawberry Park Hot Springs has made this list isn't just the warm water water, camping or available hiking, it's the remote location and breathtaking views as you soak in the water. Strawberry Park Hot Springs is one of the top hot spring in Colorado to visit! It's located in Steamboat Springs, about 15 minutes from town. You can either drive yourself, take a shuttle or stay onsite in one of the cabins or campsites (dogs are not allowed).
There are a few different pools to soak in at Strawberry Park Hot Springs, all vary in temperature. The largest of the pools is luke warm and perfect for little ones as there is a shallow beach they can swim and wade in. There are also several smaller, hotter pools to help rid your body of those aches and pains. Make sure you book their Watsu treatment, it's a signature item.
Best Ages to Visit: Over the age of 5 years-old
Location: Steamboat Springs
URL: https://strawberryhotsprings.com/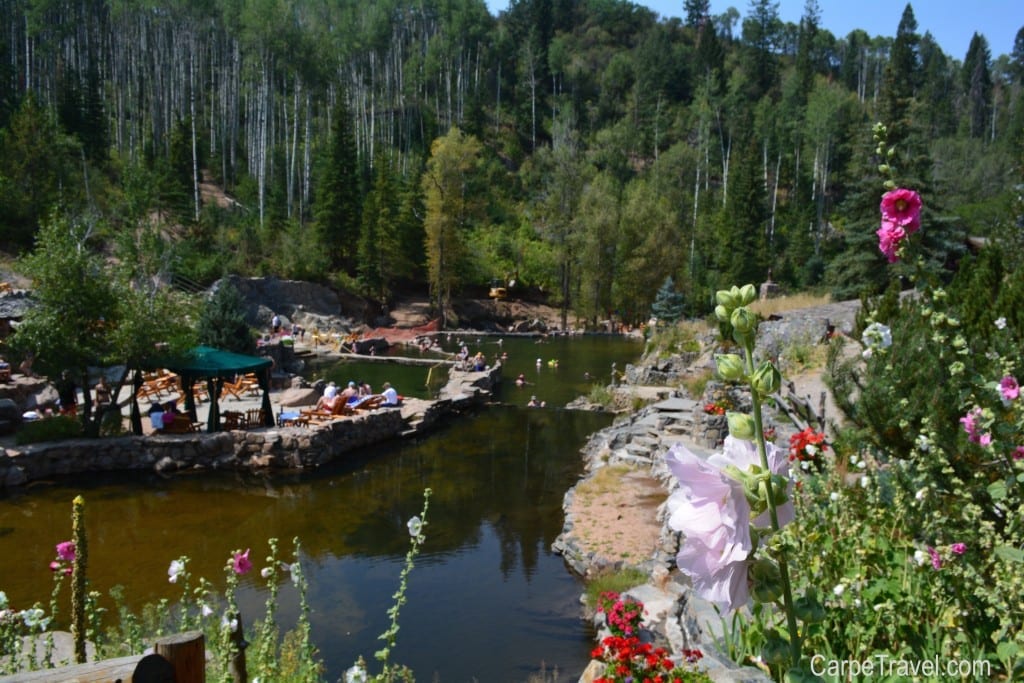 Denver Mint: There is a lot More to that Penny in Your Pocket
Ever wonder how a coin in made? There's a lot more to it than you might think. Denver is home to one of the six United States Mint facilities and is only one of two that offers tours.
The free, 45-minute guided tour explains the history of the United States Mint, how coins are produced, the craftsmanship required from the original designs and sculptures to the actual creation of the coins.
Best Ages to Visit: Ages 7 years-old and up.
Location: Denver
URL: http://www.usmint.gov/mint_tours/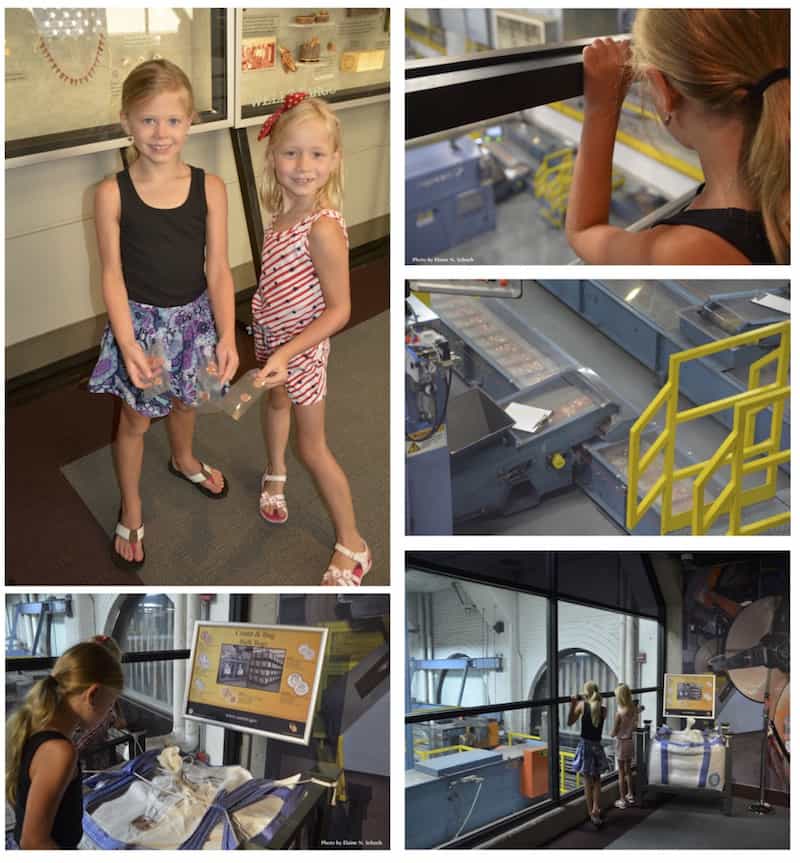 National Stock Show and Rodeo: A Ride for all Ages
Held every January at the National Western Complex, it's the world's largest stock show, involving more than 15,000 animals. Enjoy rodeos featuring top-notch bull riders, horse shows, petting zoo's, dog shows, livestock competitions, auctions and so much more. There is truly something for all ages.
Best Ages to Visit: Ages 2+
Location: Denver
URL: http://www.denver.org/milehighholidays/national-western-stock-show
The Durango & Silverton Narrow Gauge Railroad: A Classic Steam Train with Million Dollar Views
This historic train has been in continuous operation between Durango and Silverton since 1882, carrying passengers behind vintage steam offering view of Colorado's mountains inaccessible by highway. The most popular ride includes a 3.5 hour train ride from Durango into the historic mining town of Silverton where you'll have two-hours to explore the town (or do a mine tour). The ride back into Durango is an additional 3.5 hours.
Best Ages to Visit: All ages (Children under the age of three are free.)
Location: Durango
URL: http://www.durangotrain.com/
Washington Park: One of the "Great Public Spaces in America"
Besides strolling through the flower gardens at Wash Park, there are SOOO MANY things to do. With 10 tennis courts, a lawn bowling/croquet field, two playgrounds, 2.6 mile jogging/biking path, two lakes (fishing, boating) you can easily stay entertained for the day – or more. If you don't have a bike, don't fret. You can rent bikes and/or a single or double bike surrey. The surrey's are great fun for families with little ones who are just along for the ride. And, during the summer kayaks, paddle boards are available to rent.
When play time if over, take a stroll through one of the many gardens the park is home to – Washington Park is known for the largest flower garden in Denver. It has also been designated as one of the "Great Public Spaces in America" by the American Planning Association?. (Full review and things to do at Washington Park.)
Best Ages to Visit: Any age
Location: Denver
URL: http://www.denver.org/listing/washington-park/6828/
Arts in the Open: Mixing Art, Nature and Hiking into One
Every summer and spring Chautatauqua Park in Boulder is home to theatre hikes. Run by Arts in the Open, the group combines the arts and the outdoors by producing refreshing, non-conventional theatre performances. A two-mile (easy) hike with views of the flat irons are paired with a fun, family friendly theatre performance.
The group of hikers, along with the actors are taken on a scenic hike while scenes from a production are performed along the way. It's a fun an unique experience that both you and your kids will enjoy!
Best Ages to Visit: Over the age of 5 years-old
Location: Chautatauqua Park, Boulder CO
URL: http://www.artsintheopen.org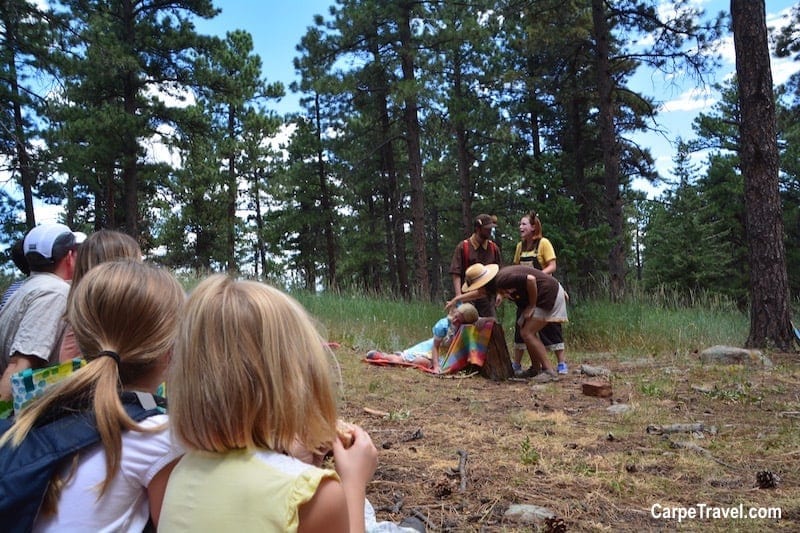 These must-see and do places will stay in your kids' memories long into adulthood. These cherished times with them won't last, so before they're all grown up… Are there other places to take kids in Colorado before they grow up that you think should be on the list? Let me know in the comments.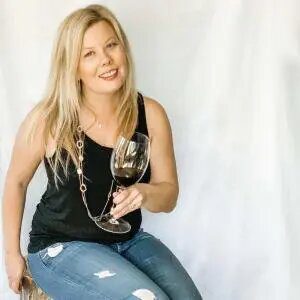 Elaine Schoch (pronounced the German way – Shock) is the editor and founder of Carpe Travel as well as an award-winning travel writer, wine judge, certified by the Wine & Spirit Education Trust (WSET) Level 2 and certified American Wine Expert. She is married to The Husband and has two kids, Princess One and Two – who's interest and knowledge in wine is quite extensive. Not to mention the stamps in their passports.