This summer we went on our crazy Colorado family road trip with stops throughout Colorful Colorado, including the heart of Colorado's wine country – Grand Valley AVA – one of the states two American Viticultural Areas. Palisade is home to 26 of the 30 wineries in the area so my intent was to focus on this specific town.
Given the kids were in tow, The Husband and I couldn't just sip wine for two days. We had to find other things that could entertain the Princesses that went beyond the vines. (Wine tasting with kids is possible – if you have a plan!) The good news is there are a lot of things to do in Palisade that can include and/or break-up a day of wine tasting. Everyone wins!
This list isn't exclusive to things to do in Palisade with kids. Those traveling without kids will love these things too!
Things to do in Palisade
Friday Burger Night on the Vineyard, Maison la Belle Vie Winery
Burger Night on the Vineyard at Maison la Belle Vie Winery is a treat for the whole family! The outdoor patio offers stunning views of the surrounding vineyards with the Bookcliffs as the backdrop.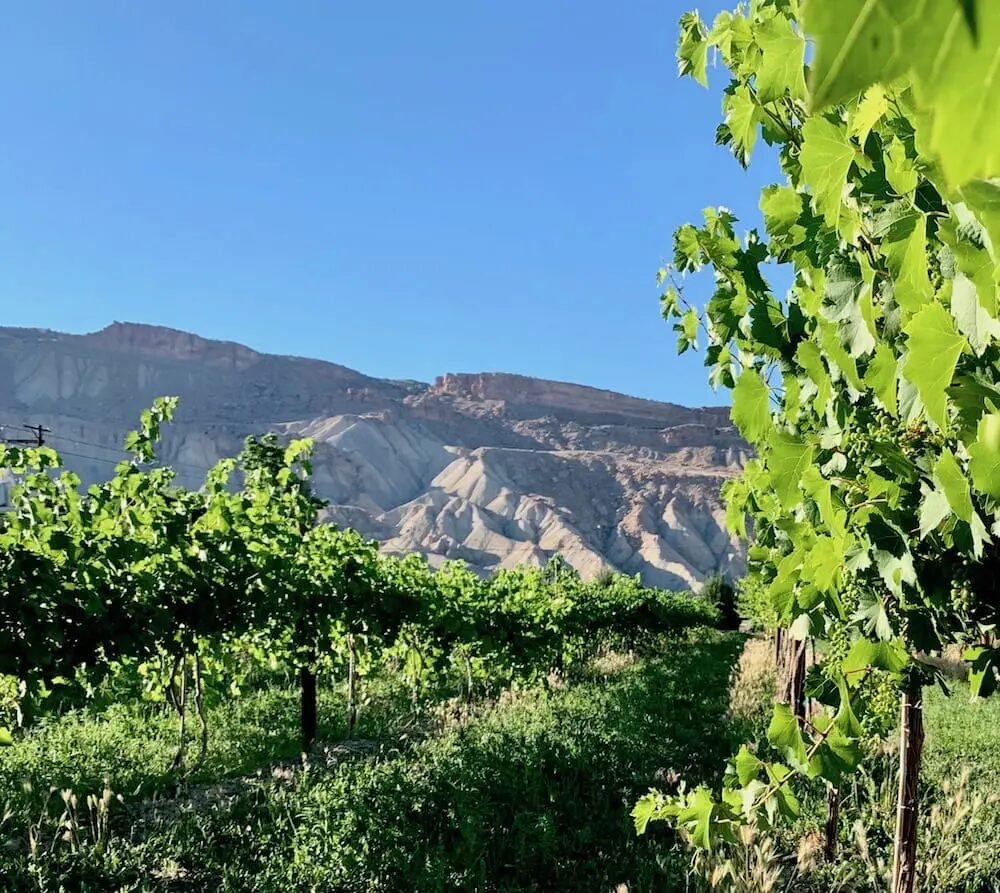 Dinner includes a handful of burger options made from locally sourced beef. This is not a create your own burger night so go in knowing you're going to be treated to gourmet style burgers created on the outdoor grill. My favorite – the blue cheese burger paired with the Maison la Belle Vie Winery Malbec. Delish!
You may be in luck during your visit as the winery is making its already lively atmosphere a bit livelier with musicians starting at 5:30 pm.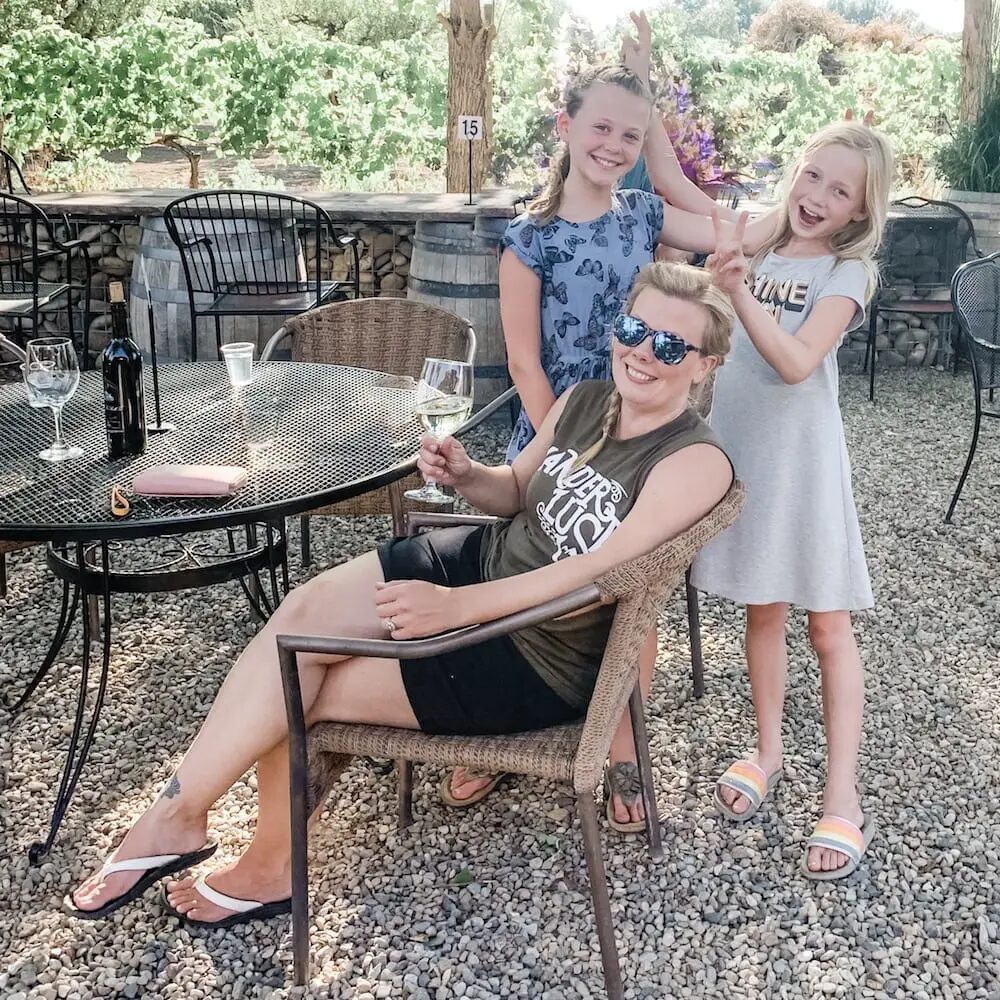 Tip: Arrive about 5pm so you can grab a table and avoid a large crowd. During our visit, the cars started rolling in about 6 pm. This is a newer activity so check the website to make sure the property isn't closed for a wedding or private event.
Fire Pit Friday at Varaison Winery
During the high season, from May to October, Varaison offer a weekly food pairing event open to the public from 6-10 PM. Dinner includes hand-crafted wood-fired pizzas designed and prepared by Varaison's culinary staff. Pizzas are custom-made to pair with Varaison's wine, cider, and signature wine cocktails. A variety of rotating selections of pizza are available each evening.
Fire Pit Friday is held in vineyard's open-air Pavilion and patio, alongside its two fire pits. After pizza, indulge in roasting marshmallows.
TIP: Varaison offers a complimentary slice of cheese pizza for the little ones. They do ask that young children only visit until 8 PM.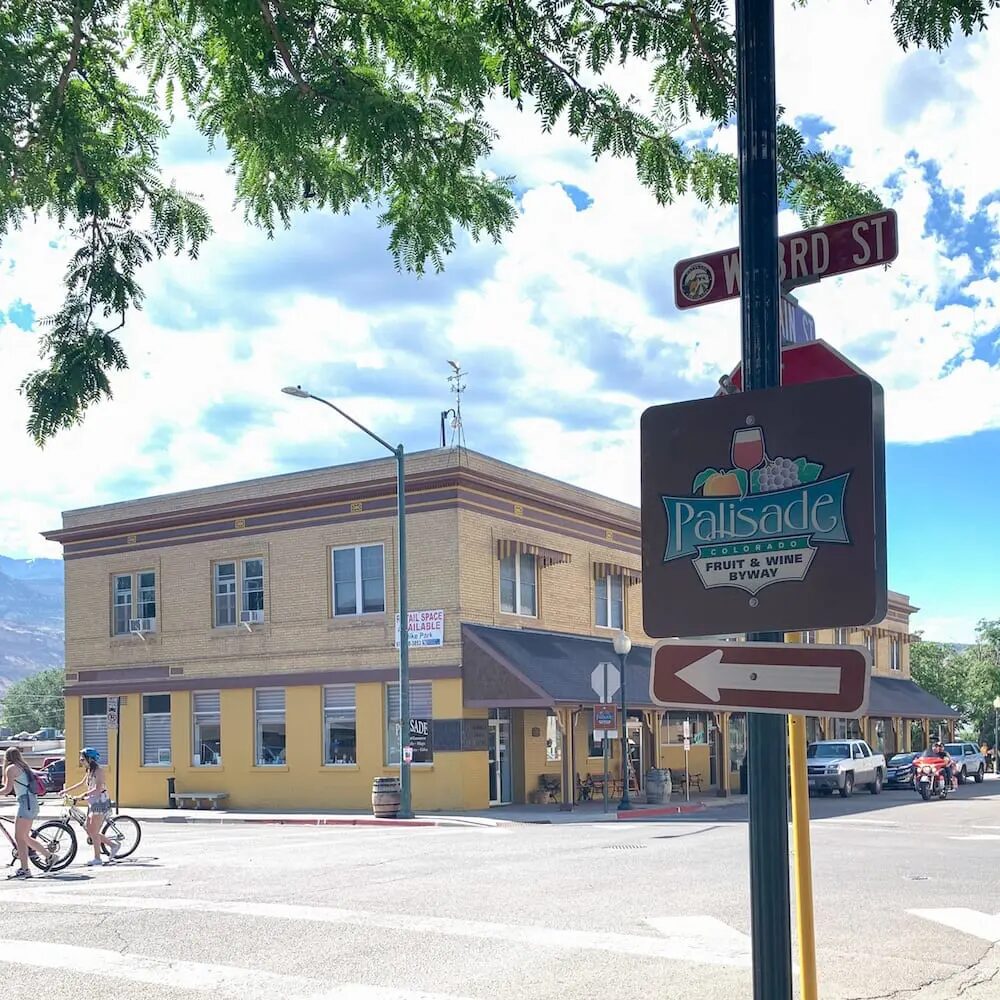 The Palisade Fruit and Wine Byway
One of the best ways to see the Colorado wine country is on two wheels. The Palisade Fruit & Wine Byway, aka "The Fruit Loop" is one of the popular biking routes through the Colorado wine country as it takes you along the Colorado River, in and out of vineyards, tasting rooms, orchards and fruit stands. Topped off with stunning views of the Grand Valley.
At first I was a little nervous taking the kids on this road having driven it the day before. I was worried just how busy it was going to get the next day. But I my fears were eased when we began peddling. The road was pretty flat the whole way through with very few cars.
There are essentially three loops you can do on The Palisade Fruit & Wine Byway, unless you want to create your own route. During our visit we did the West Cruiser Loop. It included most of the wineries, fruit stands and the lunch spot I wanted to visit making it the perfect ride.
East Cruiser Loop: This is a 5-mile easy tour along the Colorado River that starts and ends in downtown Palisade.
West Cruiser Loop: This is a 7-mile loop that takes riders through Riverbend Park and goes by the most wineries of any tour.
East Orchard Mesa Loop: This is a 25-mile ride with several hills along the way. I wouldn't suggest this route with kids unless they're in a bike trailer.
We followed more of the West Cruiser Loop, beginning at Rapid Creek Cycles where we rented our Wine Country Cruisers. About 1.5 miles up N. River Road we made our first stop – Colterris, then we crossed the Colorado River to visit Clark's Fruit Stand, Bookcliff Winery, Diorio's Pizza, Memorial Park, Plum Creek and then rewarded ourselves with ice cream at McLean Farms. Click over for more details on our ride on the Palisade Fruit and Wine Byway.
TIP: Rent bikes in advance online with Rapid Creek Cycles. They don't have small, kid bikes but my kids are about 4 feet tall and could easily ride the small cruisers.)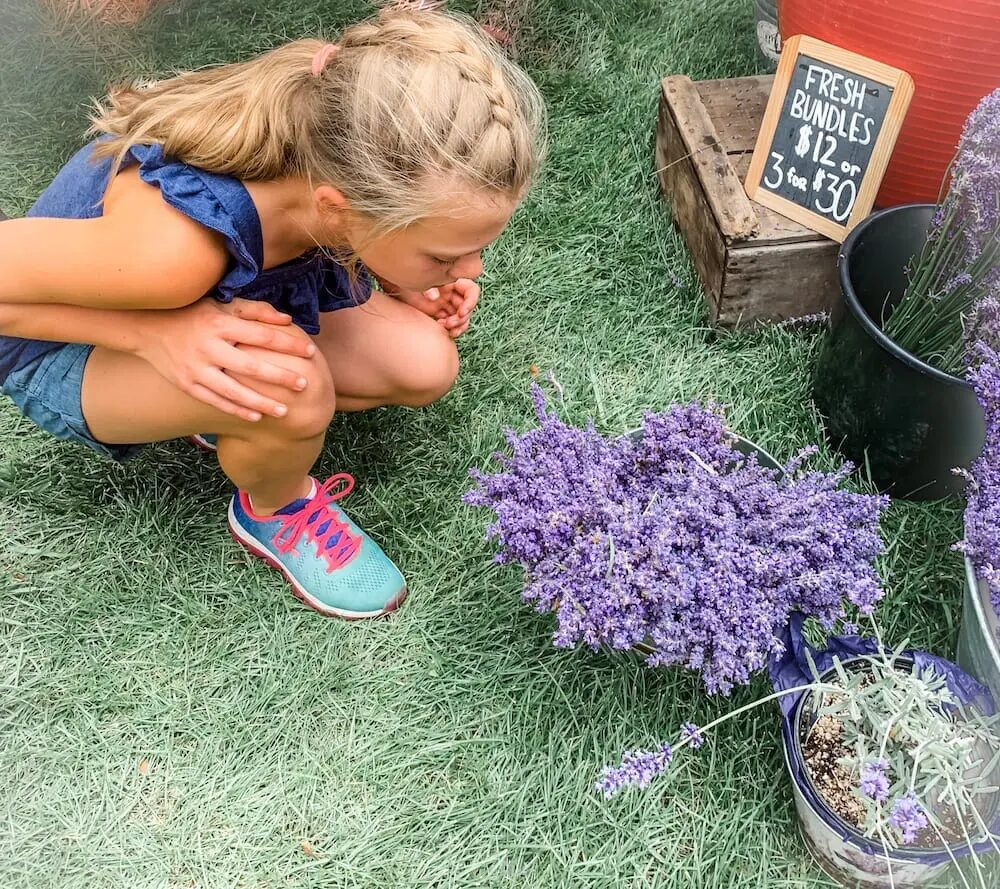 Sprigs & Sprouts Lavender Farm
Take a tour of the farm to learn all about lavender and tomato farming, or sample your way through the oil and balsamic tasting room. Make sure to try the lavender ice cream!
Local Festivals
The summer and fall seasons are filled a variety of festivals in Palisade. Check to see if you are going to have any festivals going on during your visit. We happened to be in town during the Lavender Fest, Colorado's only lavender festival. It was a free event with a ton of local artists showing their goods. Albeit, very few were featuring lavender items. We did have a chance to enjoy some local lavender goods throughout the town, the favorite were lavender macrons at Pressed, a coffee and cocktails lounge. I mean who could pass up that up?!? Delish!
Hiking
There are a variety of hiking trails in the Grand Valley. The main one in Palisade to check out is the Palisade Rim Trail. The views are beautiful and you can spot petroglyphs along the way.
Float the Colorado River
The two-hour float trip takes you down the Colorado River where you can view different vineyards and orchards (April to October). You can also rent a kayak, paddle board or canoe instead. Just to clarify, the tour does not stop at any vineyards. But, you can take your own Colorado wine on the tour to do your own, private tastings.
Local Fruit Stands
Palisade is famous for its peaches but the Grand Valley produces a lot more than peaches and grapes. There are countless orchards and fruit stands that line the roads in the Valley but there are a few that stand out and are worth a planned visit.
At High Country Orchards you can take a tour behind the scenes to look at the process of growing and harvesting peaches, as well as packaging and distributing them.
Over at McLean Farms you can cool off with Palisade peach ice cream and indulge in local jams.
A few others local fruit stands to check out include, Clark's Orchard, Kokopelli Farm Market, Green Acres and Fruit Basket.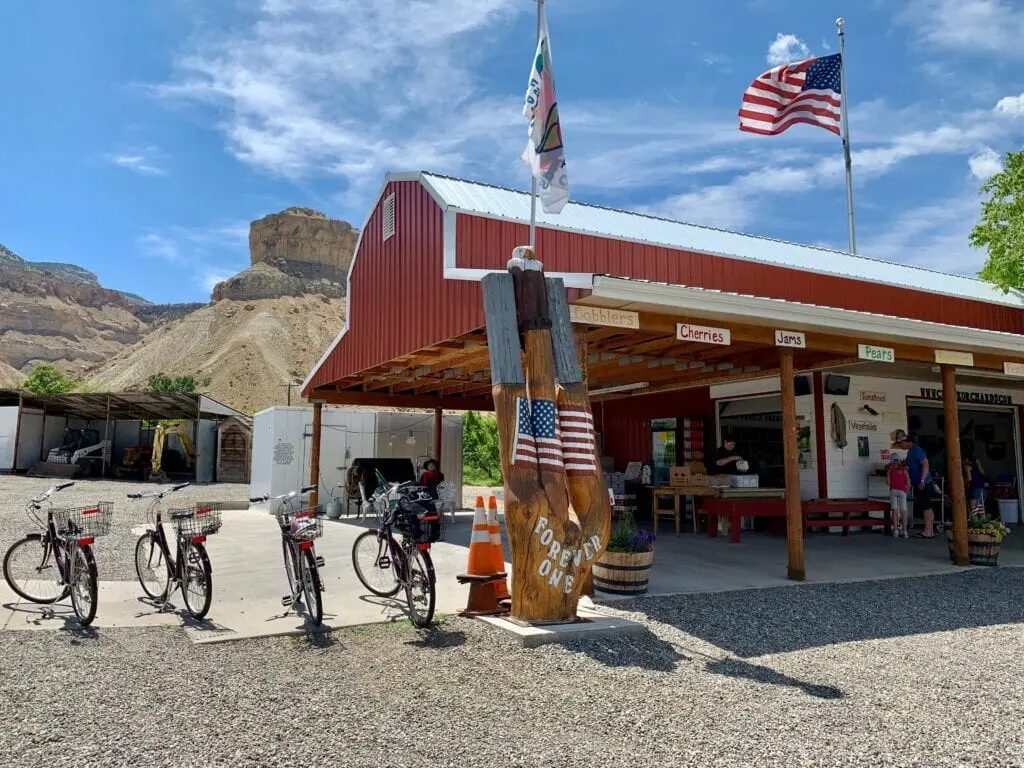 Suncrest Orchard Alpacas Farm Tour
Take the family on an alpaca "trekking tour" over at Suncrest Orchard Alpacas Farm Tour where you can trek with an alpaca through an orchard engulfed by a canopy of peach trees. This is typically only available April thru October and by appointment only.
Palisade Swimming Pool
Palisade can get HOT during the day. Really hot in the summer months. Since all kids seem to want to do on vacation is swim – at least mine – the Palisade Swimming Pool is a great activity to work in for an hour or two. At the time of this posting admission is $3 for kids and $4 for adults.
Riverbend Park
Want to sit back and sip in the Colorado River? Riverbend Park is an excellent destination to do just that while also getting in a little hiking or biking. There is a paved trail for hiking and biking that starts at the end of Brentwood Drive in Palisade, where the trail crosses the Grand Valley Irrigation Canal and follows along the Colorado River. Other features of the park include covered picnic shelters, 18 holes of disc golf, two large pavilions, a stocked fishing pond, boat launch, playground, and barbecue facilities.
Things to do in Grand Junction – Outside of Palisade
As I said earlier, the intent of my trip to Palisade was to focus on this town. The heart of Colorado's wine country. With that said, there are A LOT of things to do in the general area outside of the town of Palisade.
Grand Mesa National Forest
Grand Mesa National Forest is home to the largest flat-topped mountain in the world, rising more than a kilometer from the valley floor. You will find endless trails to hike, 300 pristine high mountain lakes for boating, canoeing, SUP or kayaking. Camp grounds are available if you're wishing to sip in even more of the Grand Mesa.
Colorado National Monument
Colorado National Monument has been dubbed as a "Mini Grand Canyon" and is one Colorado site not to miss. With 14 hiking trails, the monument's canyons and monoliths create breathtaking views that dip down to 500 feet deep and soar up to 450 feet. Serpent's Trail is one of the most popular hikes and is just about 2.5 miles.
Little Bookcliffs Wild Horse Range
There are only three wild horse reserves in the country and Grand Junction happens to be home to one of them! A visit to Little Bookcliffs Wild Horse Range is an amazing way to step back into the wild west, its solitude and wide-open vistas while setting eyes on the 124 wild horses that call the range home. You can explore the area on foot and four-wheel-drive vehicle. Two the top recommended spots for viewing include, Coal Canyon Road and Indian Park.
Dinosaur National Monument
Colorado is hot spot for dinosaur fossils, with more being discovered every year. Dinosaur National Monument is a living tribute to the prehistoric animals who called the area home 65+ million years ago. Located on the northern edge of the Colorado Plateau, Dinosaur is the intersection for several distinct geographic and biological regions. You can hike, bike, horseback ride through canyons filled with dinosaur fossils. Or take a walk through the Quarry Exhibit Hall to see more than 1,500 dinosaur fossils exposed on the cliff face. If you're into star gazing, then plan to visit in the evening – or stay for a campout. Dinosaur has been certified an International Dark Sky Park. This distinction recognizes the skies above Dinosaur as having an exceptional quality of natural darkness while efforts on the ground actively contribute to enjoyment and protection of dark skies for future generations.
Have you visited Palisade? What are some of your favorite things to do in Palisade that go beyond the vines – with and without kids?
---
Sip In More of Colorado…