Who knew it would be so difficult to find a family friendly place to stay in Palisade – the heart of Colorado wine country. Here is your guide to where to stay in Palisade with kids.
This summer we went on our crazy Colorado family road trip with stops throughout the state, including the Grand Valley, home to one of two designated American Viticultural Areas in Colorado – Grand Valley AVA. Colorado's wine country is technically located to the towns of Grand Junction, Fruita and Palisade. With 26 of the 30 wineries in area being in Palisade, this sleepy little town is where wine lovers need to focus, which is exactly what we did.
As I've said before, wine tasting with kids is definitely possible assuming you plan for it. Which brings me to the subject at hand, how to do the Colorado wine country with kids. The husband and I have done wine tasting with the kids in Italy and other areas of the country several times so I did not think this would be difficult at all…turns out I was wrong. Palisade is not as kid friendly as I had thought, specifically in lodging options.
Trying to find a place to stay with our kids was a nightmare.
There are only two hotels in Palisade Wine Country Inn and Spoke and Vine. Now, you can always go into Grand Junction for waaaay more options but my intent was to hone in on Palisade and really get a feel for the town. The majority of the 26 wineries are all bike-able from downtown so I wanted to stay as central as possible.
With that said, I had wanted to stay at the Wine Country Inn. It had everything. A pool. A restaurant. Connecting rooms. You know, the things that make traveling with kids easier. The Wine Country Inn also has dog friendly rooms, and seeing as we were traveling with our doodle we needed this. However, the entire hotel was booked and I was planning a little over four months out! So much for being on top of it.
So Wine Country Inn didn't pan out but I thought there have to be some B&Bs in such a cute little town. Surely, I could find one that took pets. And, I did. There are a lot of pet friendly B&Bs in Palisade but apparently NOT KID FRIENDLY.
I kid you not. I was shocked at how many B&Bs said adult only.
There was only one B&B I spoke with that said my kids were welcome to come since they were "older" (they're 10 and 11) but warned me that there are adults who may be loud given they will have been wine tasting all day. In other words, our kids may be exposed to loud, obnoxious, drunk adults. I respected and appreciated this word of advice. We didn't stay there.
I called Wine Country Inn back to see if anything had opened up. They still didn't have any pet friendly rooms open. I started to look into boarding our dog for that portion of the trip to at least be able to stay at the Wine Country Inn and open up some B&B options…but ended up finding a few other family – and pet – friendly options.
So where can you stay in Palisade with kids?
Wine Country Inn
As I noted above, the Wine Country Inn has everything that make traveling with kids easier. A pool. A restaurant. Connecting rooms. The Wine Country Inn also has dog friendly rooms options. Even if you're not traveling with kids, Wine Country Inn is an excellent option. I'm still sad I couldn't sit on the patio, sip wine and look out at the surrounding vineyards…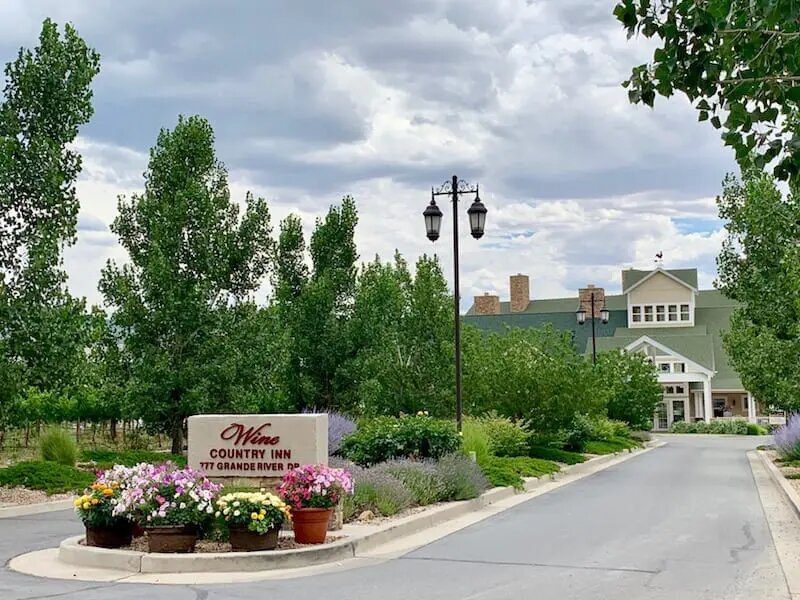 Spoke and Vine Motel
Spoke and Vine Motel in Palisade is the newest addition to the Colorado wine country.
The owners, Jeff and Jodie – two hospitality experts from Steamboat Springs turned moteliers – recently renovated the entire motel into a plush, comfortable and very Instagramable motel…if you can even call it a motel. When I say recently, I mean they opened in June 2019.
The layout from the outside definitely gives it the motel feel, but each room has been gutted and completely re-done making the accommodations at Spoke and Vine posher and more comfortable than you would ever expect. Goes to show you can't judge a book by it's cover…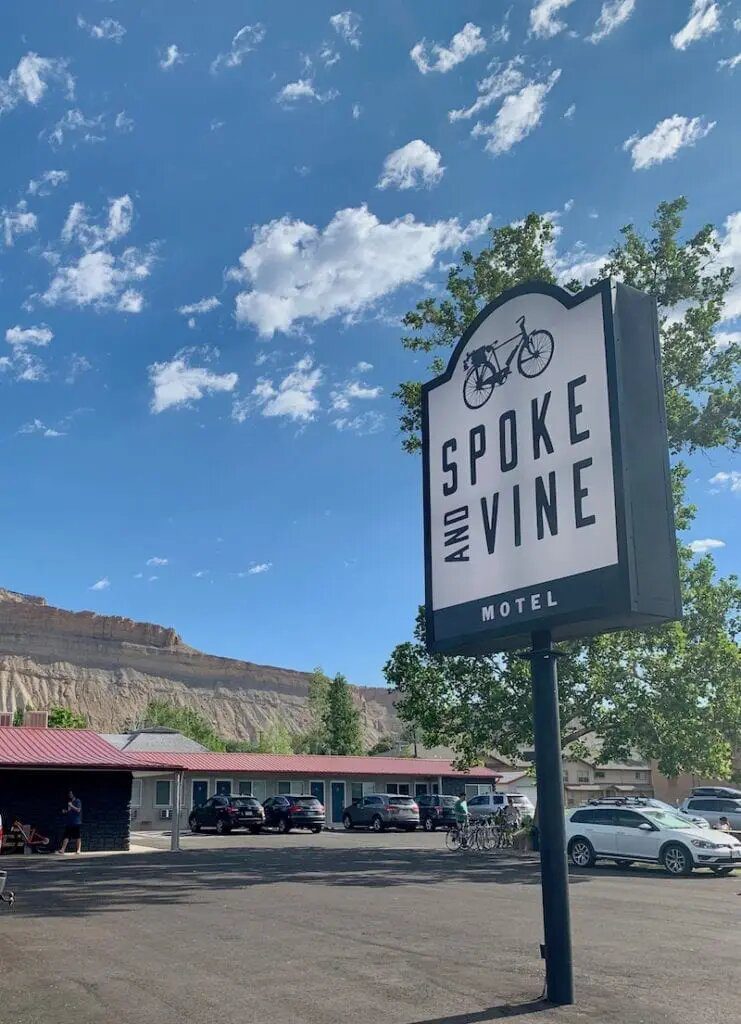 We stayed in the one-bedroom apartment, which was PERFECT for our family. With a separate bedroom The Husband and I could take a much-needed break from the Princesses. Road trips will do that…and the evenings we could play spades or check email on the free wifi.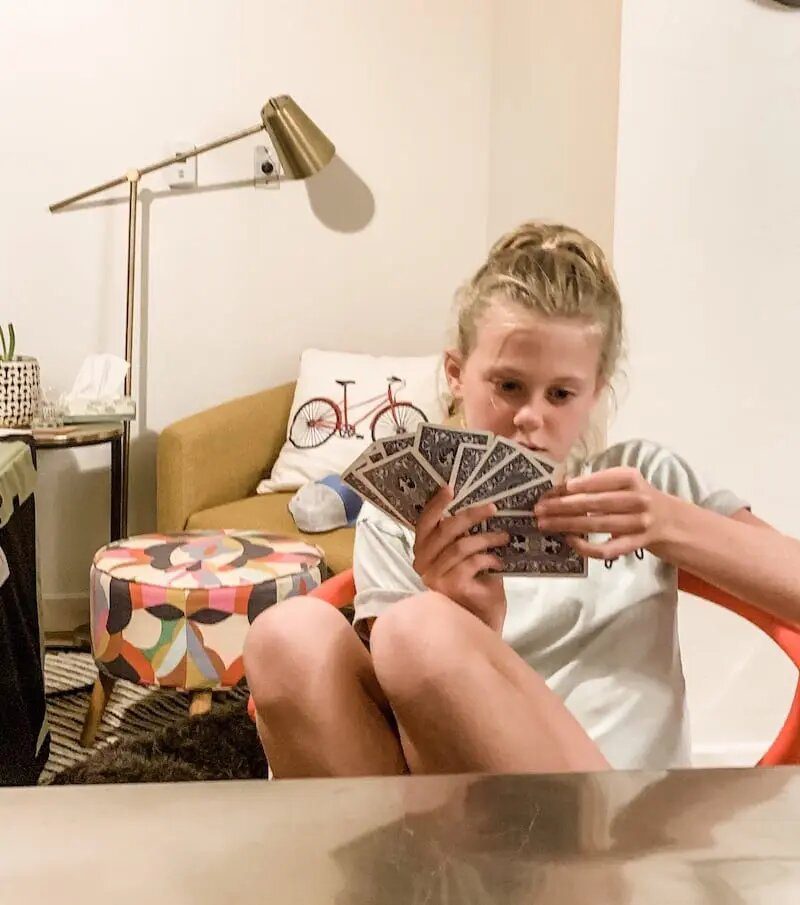 The one-bedroom apartment is equipped with a full kitchen, dining area, small but clean and remolded bathroom and a queen-size fold out couch. The separate bedroom has a king sized bed. This is THE perfect spot for families traveling in Palisade.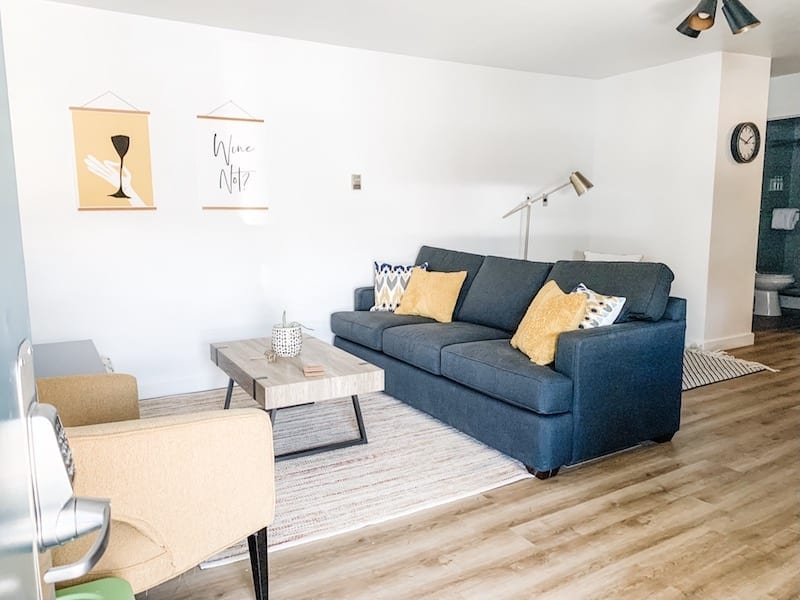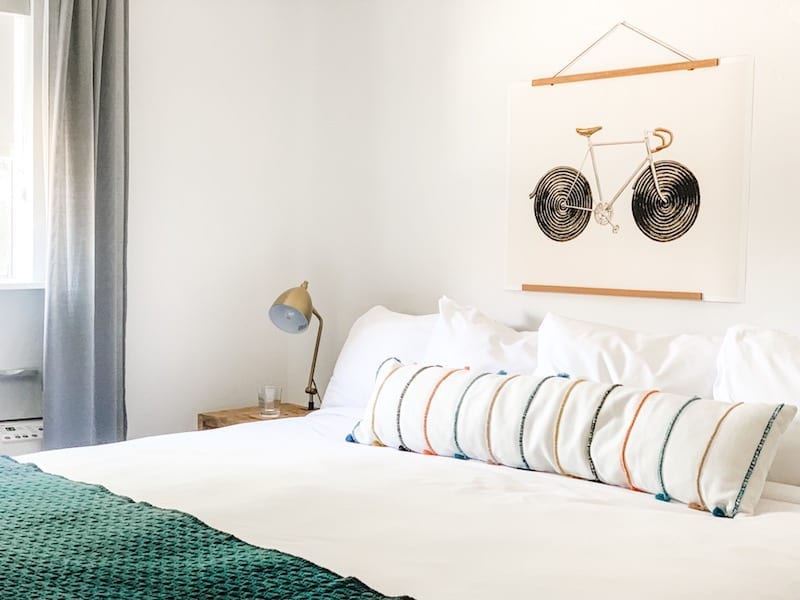 Every morning in the lobby at Spoke and Vine Motel you're greeted with coffee and delicious, local pastries typically from Slice of Life Bakery in the downtown Palisade. This is assuming the bakery is open. If it's not, rest assured Jeff will be stocked with delicious pastries from another bakery in Fruita or Grand Junction.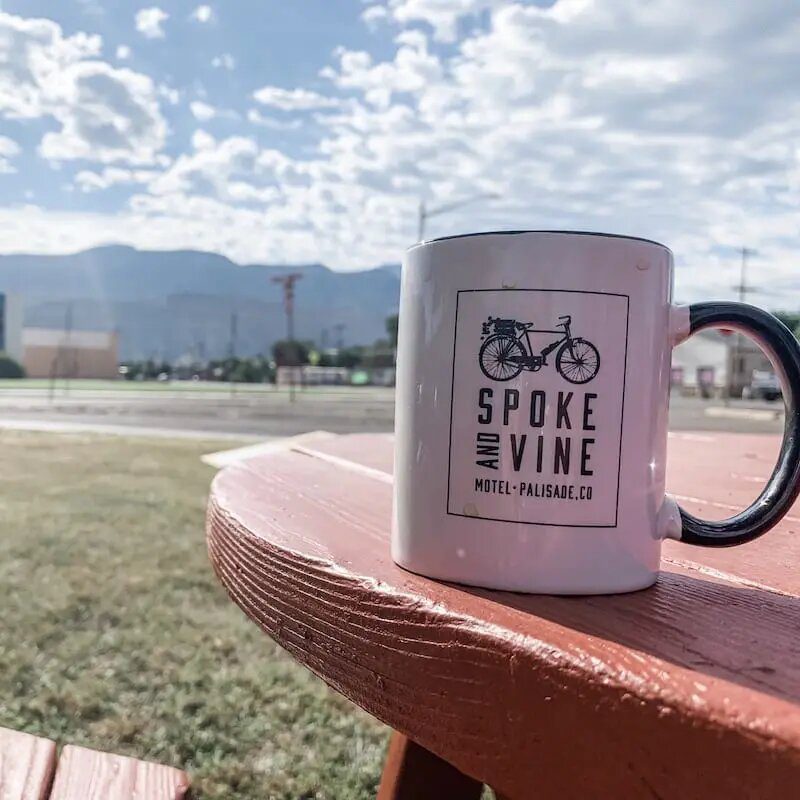 I wanted to point this out because during our stay over the Fourth of July holiday weekend the Slice of Life Bakery had chosen to take a summer break. What was crazy to me – as a tourist, travel writer, and 20-year marketing vet – was that another one of the very few restaurants in Palisade was also closing for the holiday, peak-season weekend. Luckily, we were able to grab lunch at Diorio's Pizza before they took summer vacation. According to Princess Two, who is not a big pizza lover, "I could eat this every day. It's amazing! The best pizza I have ever had!" I had to agree with her…so, if they're open, you should definitely go!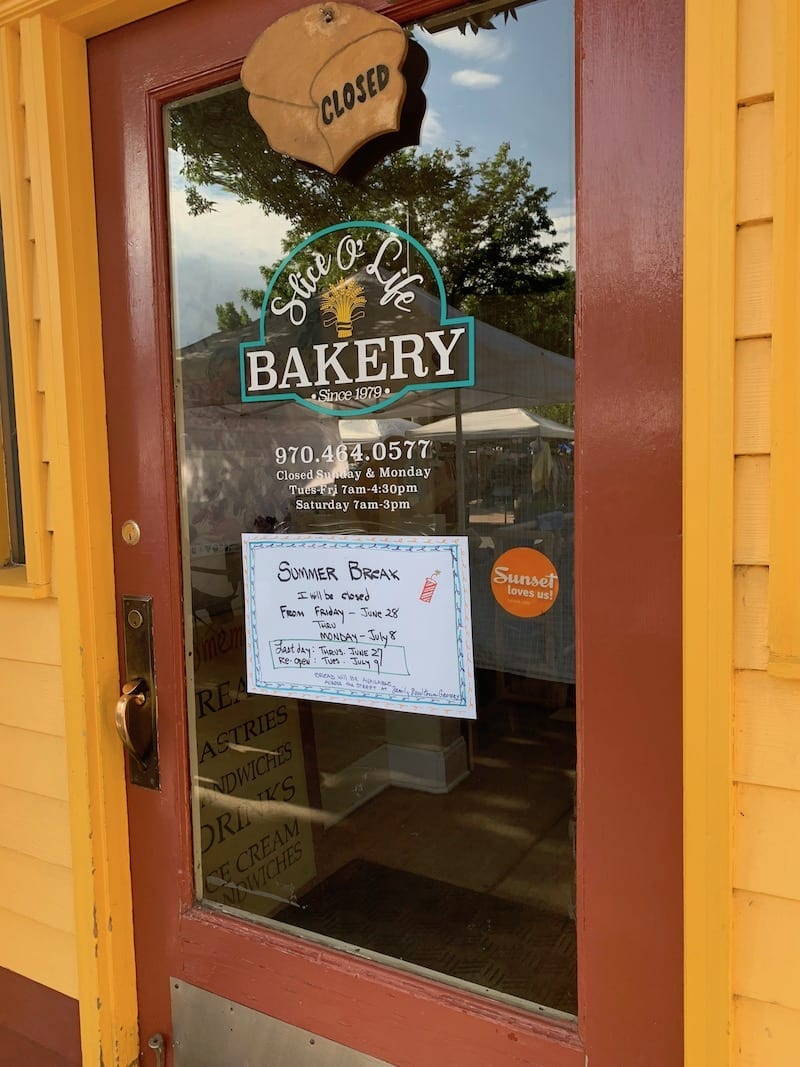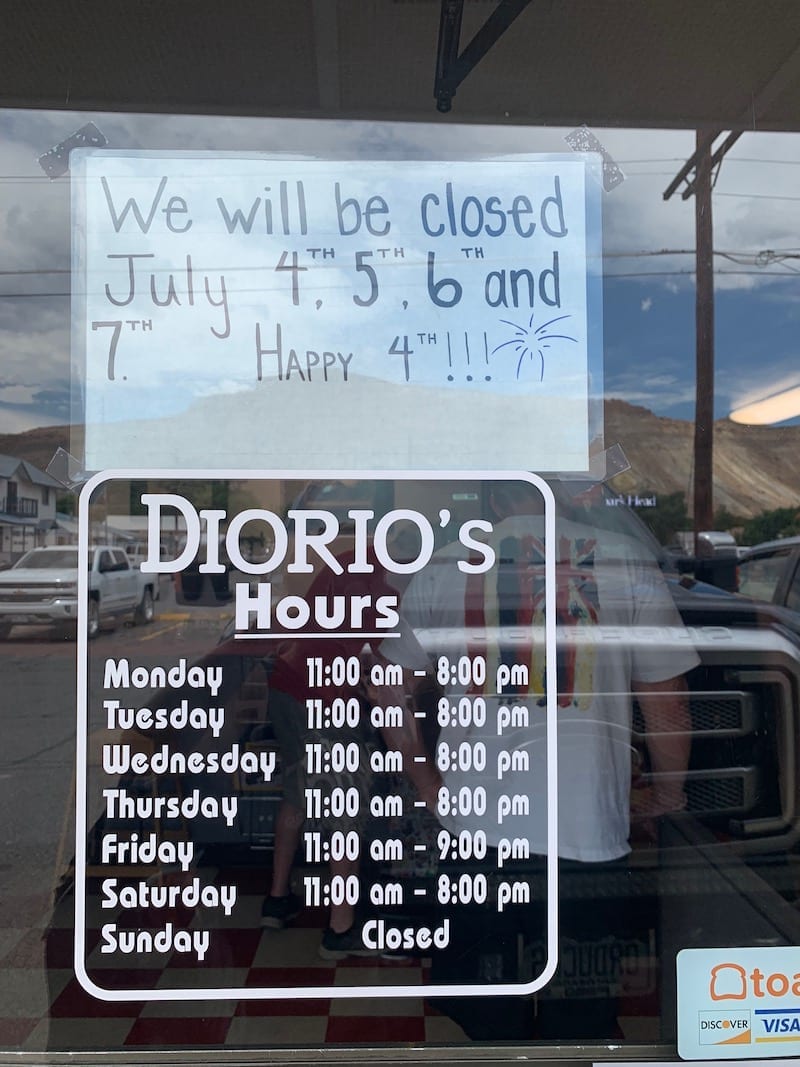 But, I digress. Now, back to Spoke and Vine…
Breakfast at Spoke and Vine turned out to be a great time to chat with other guests in the area and Jeff and Jodie. They shared some great tips and recommendations on hikes, rides and restaurants in the area. Late afternoons you'll find local Colorado wine in the lobby and if you're lucky, you'll have the chance to sit down with them in the open lawn and enjoy the glass, great conversation and a game of cornhole. I was lucky during my stay.
Jeff and Jodie have big plans for Spoke and Vine. It is already a great addition to this sleepy little town. I can't wait to see all the plans they have in-store… Now if they could only get the restaurants in Palisade to stay open.
Basecamp
Palisade Basecamp is a great option for families particularly if you have an RV or camper given that it's designed to be an RV park. You can also do car camping and pitch a tent on the campground. Palisade Basecamp offers a few cottages as well. They are pretty bare-bones but have beds, Wi-Fi and air-conditioning units.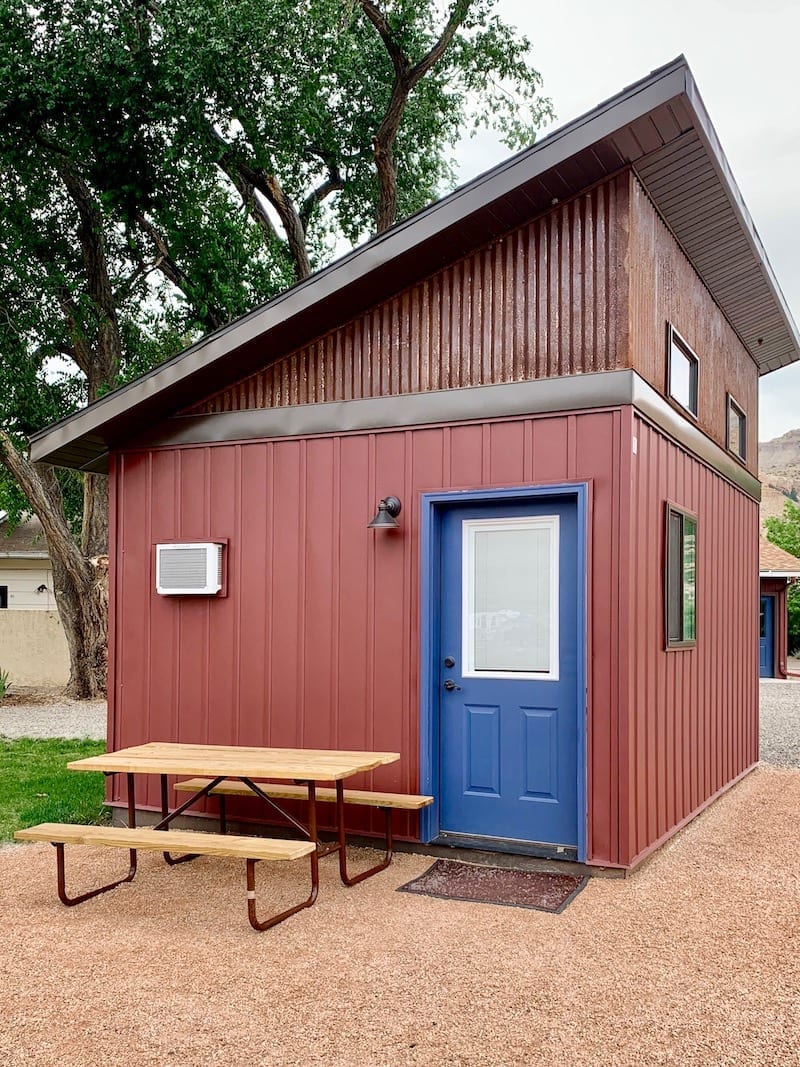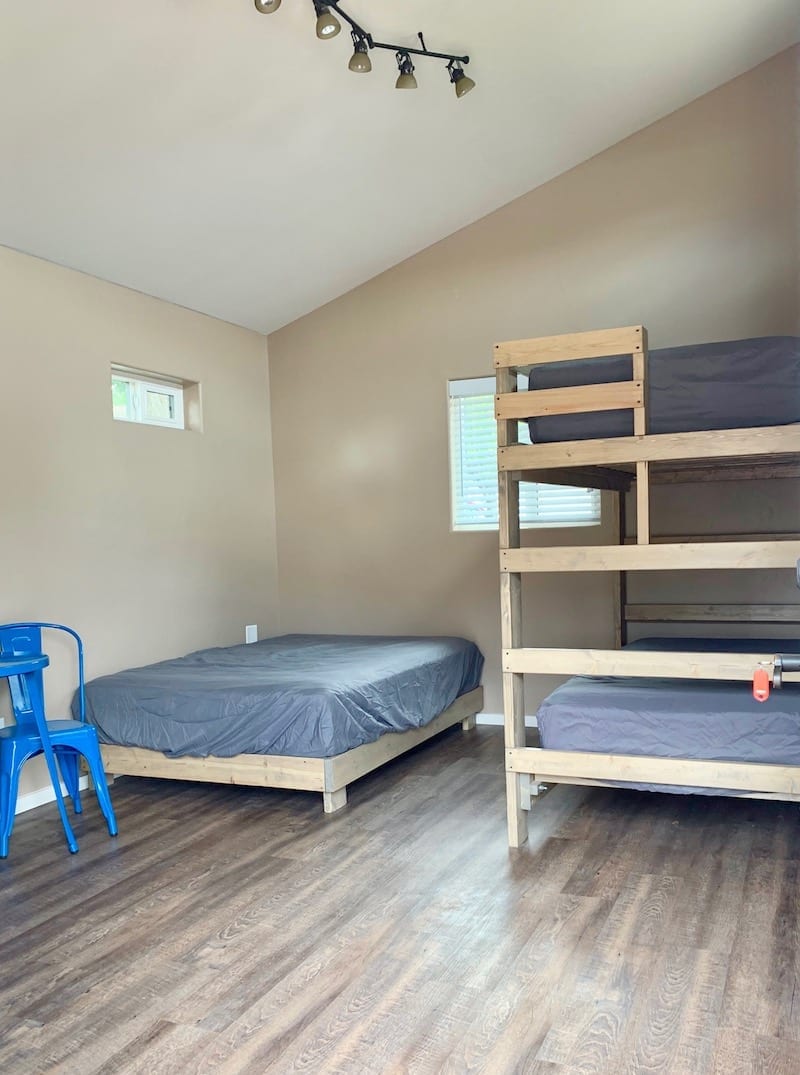 The cottages looked and sounded great minus the fact that they had no showers. You would need to use those on the campground. Seeing as our trip consisted of rotating between camping and staying in a hotel, Palisade Basecamp was not my first choice for this trip. Come on, after camping, I have to have a shower, AC and cozy bed. It could have worked though so I did keep it as an option.
I did pop into Palisade Basecamp during our visit to meet Keith – the awesome owner who took the time to chat with me before the visit regarding lodging options in Palisade – and checked out the cottages while the girls cooled off in the pool. (Thanks, Keith!) Palisade Basecamp is right next to Colterris, one of my favorite Colorado wineries so if you end up staying here make sure to walk next door for a tasting.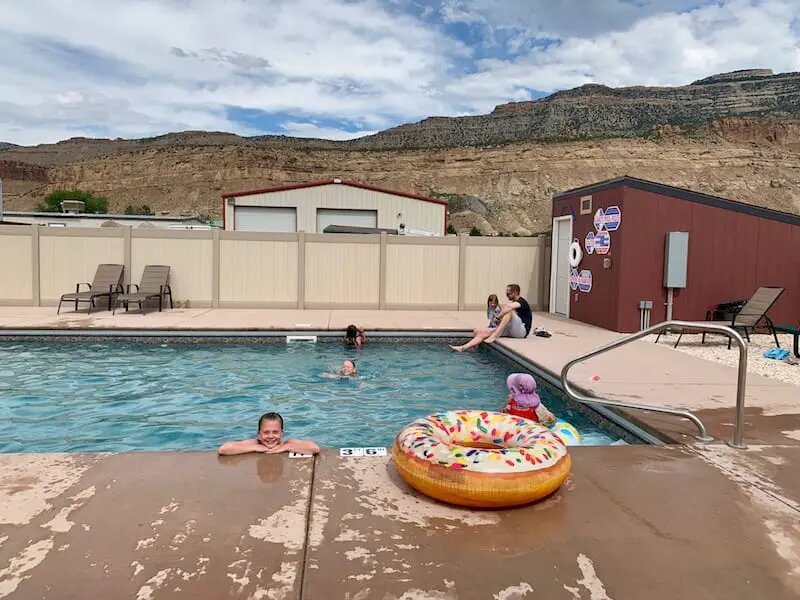 AirBnB & VRBO
There area variety of AirBnB's and VRBO's in Palisade to choose from that ARE kid friendly and centrally located. I chose not to stay in one specifically for this piece since it was focused on writing about established hotels, motels and B&B's.
Grand Junction
Grand Junction is 30+ minutes from Palisade and there are plenty of hotels in town that accommodate families. It's not first choice though just given the distance, which in my opinion makes Palisade more of a side attraction to Grand Junction. Palisade is strong enough to be the main event, but as I learned, lodging and to some extent restaurants can be harder to find.
Here's a quick map with recommendations on where to stay, things to do and see in Palisade. I also noted a few hotels in Grand Junction that I looked into during our visit and would personally stay at. Cheers!!
Will you be visiting Palisade soon? Click over to our full Colorado Wine Travel Guide for more ideas and recommendations on what to do and see.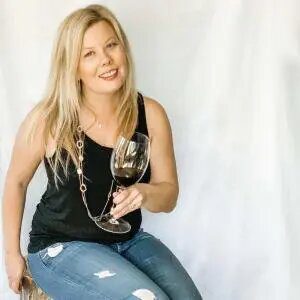 Elaine Schoch (pronounced the German way – Shock) is the editor and founder of Carpe Travel as well as an award-winning travel writer, wine judge, certified by the Wine & Spirit Education Trust (WSET) Level 2 and certified American Wine Expert. She is married to The Husband and has two kids, Princess One and Two – who's interest and knowledge in wine is quite extensive. Not to mention the stamps in their passports.