Twenty wineries within four blocks of each other? Yes, it's true. It's a wine lovers paradise and can be found along the Central Coast in California in the historic, European-style village of Carmel-by-the-Sea. Rated as one of the top five worldwide wine destinations by the Wine Enthusiast and a top-10 destination in the U.S. year after year, wine tasting in Carmel-by-the-Sea should be on every wine lovers bucket list.
Nestled above a picturesque white-sand beach in Monterey County, you will not only sip in Carmel-by-the-Sea tasting rooms, but stunning views along the way. The village is complete with 20 tasting rooms, a number of art galleries and endless dining options.
Wine tasting in Carmel is much different than other areas of California in that most vineyards don't have tasting rooms onsite, instead they offer tasting rooms in town. The first Carmel-by-the-Sea wine tasting room was a showcase for Galante Vineyards & Winery and opened in 2004. Its popularity spurred others to open rooms that provided wine tasting in Carmel and throughout Monterey County.
Now with 20 tasting rooms in downtown Carmel, the self-guided walking tasting room tour provides an excellent way to sample the regions wines, and it is a fun way to spend a few hours – or the day.
Check with your hotel in Carmel as many offer coupons for wine tastings in Carmel-by-the-Sea.
Tip: If you purchase a bottle of wine on the Wine Walk, the corkage fee at most restaurants in Carmel is waived. Make sure to ask your server about this.
Carmel by-the-Sea Tasting Rooms
There aren't any street numbers in Carmel-by-the-Sea so following the little blue dot on your phone won't help much in locating the tasting rooms you want to visit. So, you need to go old school and grab a map. I've also created the following Google Map you can save to your phone. On my last visit, I was only able to spend a few hours wine tasting in Carmel and was able to get to three of the 20 tasting rooms. I could have done more but it was fun to simply BE and enjoy the wines with new friends along the way.
This was the first Carmel-by-the-Sea tasting room we stopped into and a rather popular one for everyone else in town. When we stopped in I was a little dumbfounded by the lingering crowd; after several minutes we were still struggling to make our way to the bar area to do a tasting. While annoying, it does speak to the type of wines Scheid produces. When we were finally able to taste Scheid wines I was pleasantly surprised to find three flight options (only one with the Passport unless you provided additional passes or paid extra). Each flight had four wines that included two whites and two reds. I stuck with the Estate Flight: 2011 Odd Lot White; 2012 Syrah Rose; 2009 Merlot; 2009 Cabernet Sauvignon. The Merlot was extremely smooth and the Rose was wonderful – not too sweet but not too dry. With only 136 cases of Rose, I might just be ordering one for the summer.
I had the chance to interview David Nagengast, Scheid Vineyards winemaker for our Interview with a Winemaker series – check it out.
Hours: Daily: 12pm-6pm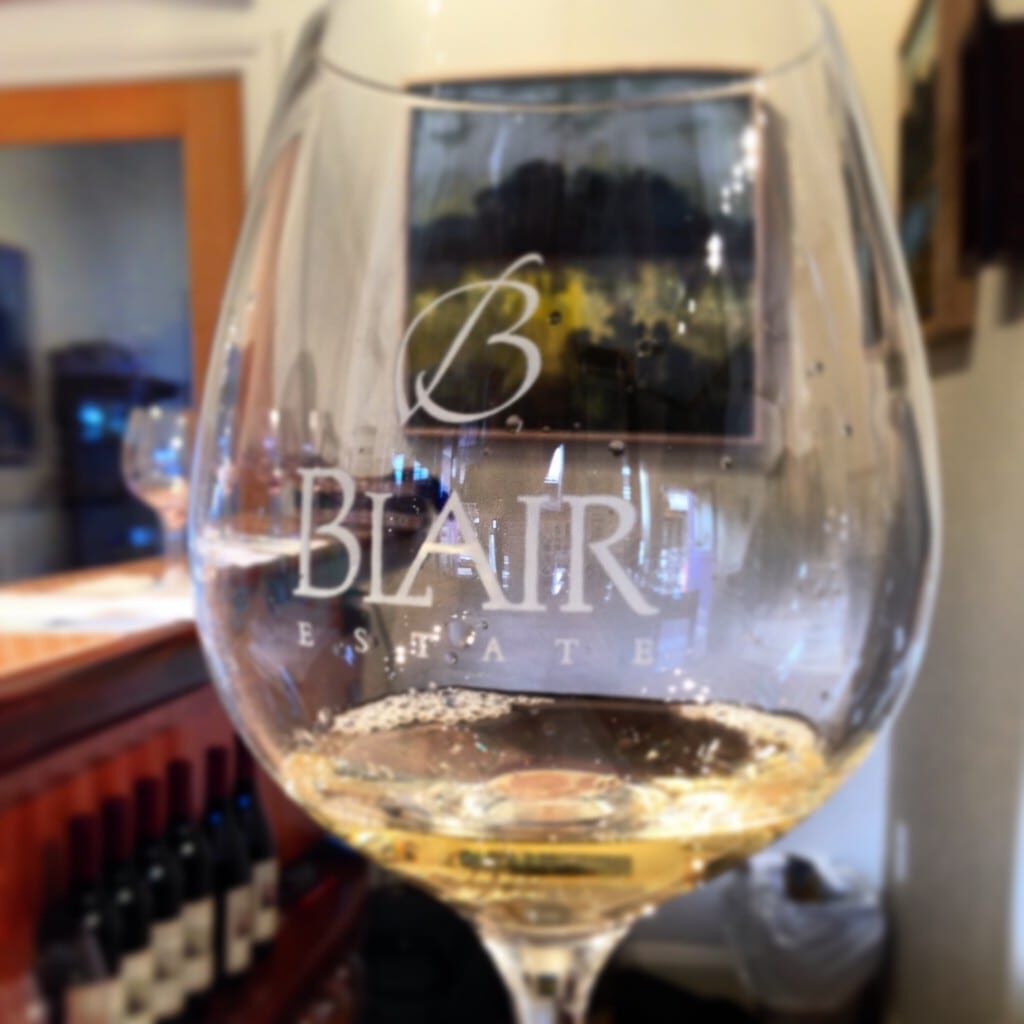 These two wineries share a tasting room, making it a nice spot to sit down during your adventures of wine tasting in Carmel, and do TWO tastings at once, which is exactly what we did. Initially I had only planned to taste Shale Canyon since there were a few more reds on its tasting flight – Cabernet Franc, Cabernet Sauvignon, Merlot, Chardonnay, Syrah. However, after sipping a friend's glass of Blair, I had to do both and I'm glad I did.
Blair is Monterey County's newest artisan label, focusing on limited releases of single vineyard Pinot Noir, Pinot Gris and Chardonnay from the Arroyo Seco appellation. Blair Vineyard started producing its own wines in 2007 and they're already winning awards – a lot of awards. This had to be my favorite tasting room along the Wine Walk. Not just because of the wines but because we had the chance to chat with Jeffery Blair, owner and winemaker. I learned more about wines in Monterey County than I had anticipated, all while being entertained by his family stories about growing up on the vineyard.
I had the chance to interview Jeffery for our Interview with a Winemaker series – check it out. Make sure to visit Blair when you're in Monterey.
Hours: Winter: 12pm-6pm; Spring/Fall: 11am-7pm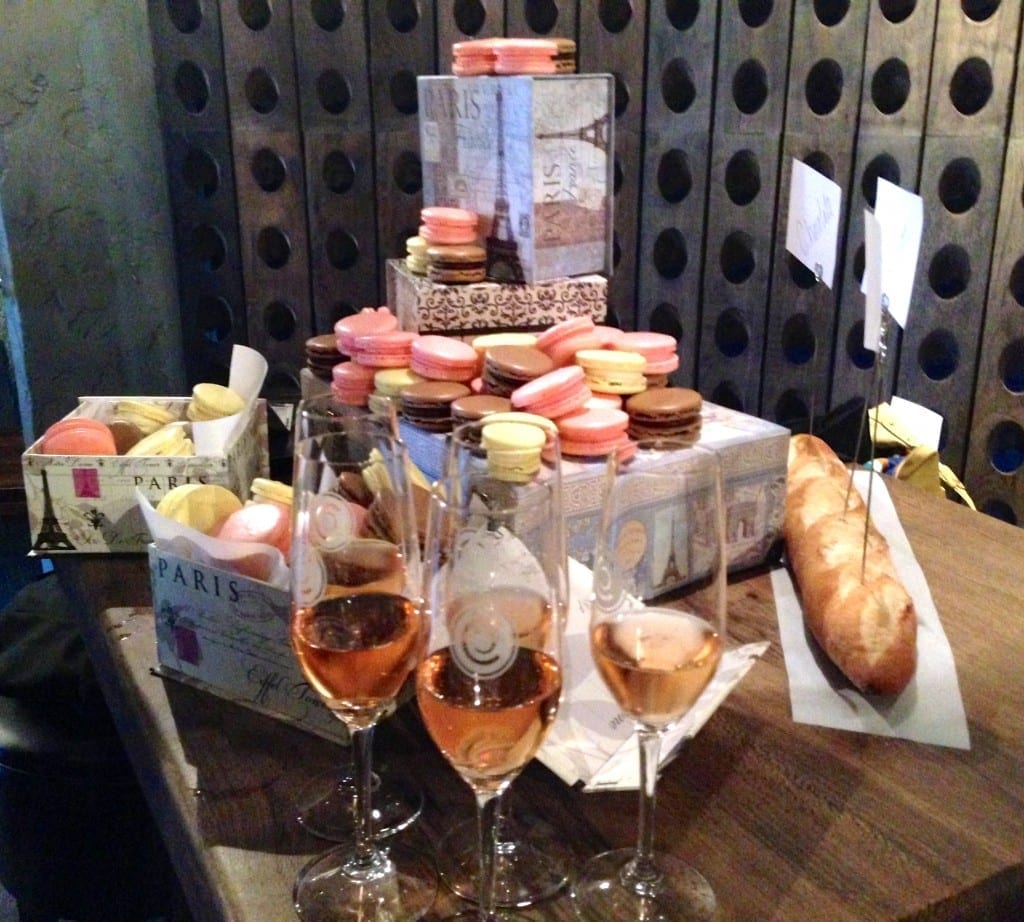 I'm not much of a bubbles drinker but I do enjoy a nice glass of it from time to time and this was one of those times. Caraccioli Cellars specializes in sparking and still wines. I found their wines to be very fruit forward. The tasting room is rather unique and different from the other experiences you encounter while wine tasting in Carmel along the wine walk. It's a contemporary sleek and trendy atmosphere – dimly lit, dark walls, nice background music. Just grab a bar stool and a cheese plate and you're set. In our case it wasn't a cheese plate we were snacking on but rather macroons!
We happened into the tasting room during a wine club party and were invited to stay and enjoy ourselves.
Tip: Strawberry macroons pair wonderfully with Caraccioli's Brut Rose.
Hours: Mon.-Thurs.: 2pm-7pm; Fri. & Sat.: 11am-10pm; Sun.: 11am-7pm
---
Other Wineries That Offer Wine Tasting in Carmel-by-the-Sea
I wasn't able to visit these Carmel-by-the-Sea tasting rooms but would love to hear your thoughts on them in the comments.