One of the best ways to see the Colorado wine country is on two wheels. The Palisade Fruit and Wine Byway, aka "The Fruit Loop" is one of the popular biking routes through the Colorado wine country as it takes you along the Colorado River, in and out of vineyards, tasting rooms, orchards and fruit stands. Topped off with stunning views of the Grand Valley. (Looking for more things to do in Palisade and ideas on Palisade wineries? We have you covered!)
There are essentially three loops you can do on The Palisade Fruit and Wine Byway, unless you want to create your own route. During our visit we did the West Cruiser Loop. It included most of the Palisade wineries, fruit stands and the lunch spot I wanted to visit making it the perfect ride.
To be completely candid, I was a little nervous taking the kids on the Palisade Fruit and Wine Byway having driven the road the day before. I was worried just how busy it was going to get the next day – not with bikers but cars.
The two-lane road does not have a dedicated bike lane nor does it have a lot of space to the side of the road. But I my fears were eased when we began peddling. The road itself was pretty flat and for a holiday week/end there were very few cars. I would assume that there would be even less traffic on a weekday or non-holiday weekend.
Riding the Palisade Fruit and Wine Byway
There are three loops on the Palisade Fruit and Wine Byway you can take to sip in the Palisade wineries and see the wine country.
East Cruiser Loop: This is a 5-mile easy tour along the Colorado River that starts and ends in downtown Palisade.
West Cruiser Loop: This is a 7-mile loop that takes riders through Riverbend Park and goes by the most wineries of any tour.
East Orchard Mesa Loop: This is a 25-mile ride with several hills along the way. I wouldn't suggest this route with kids unless they're in a bike trailer.
Our route for the Palisade Fruit and Wine Byway began at Rapid Creek Cycles where we rented our Wine Country Cruisers. About 1.5 miles up N. River Road we made our first stop stop at what has become one of my new favorites of all the Palisade wineries – Colterris.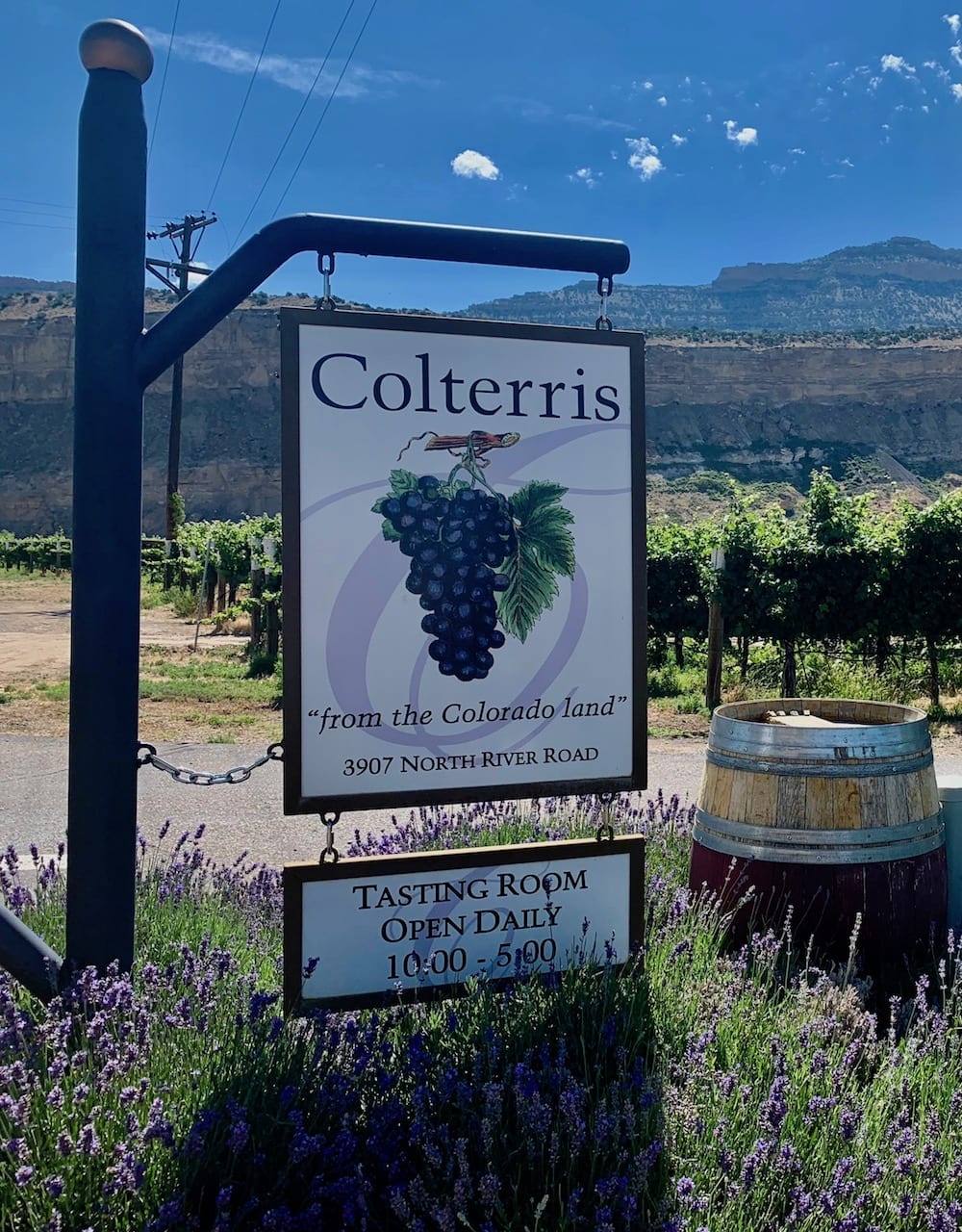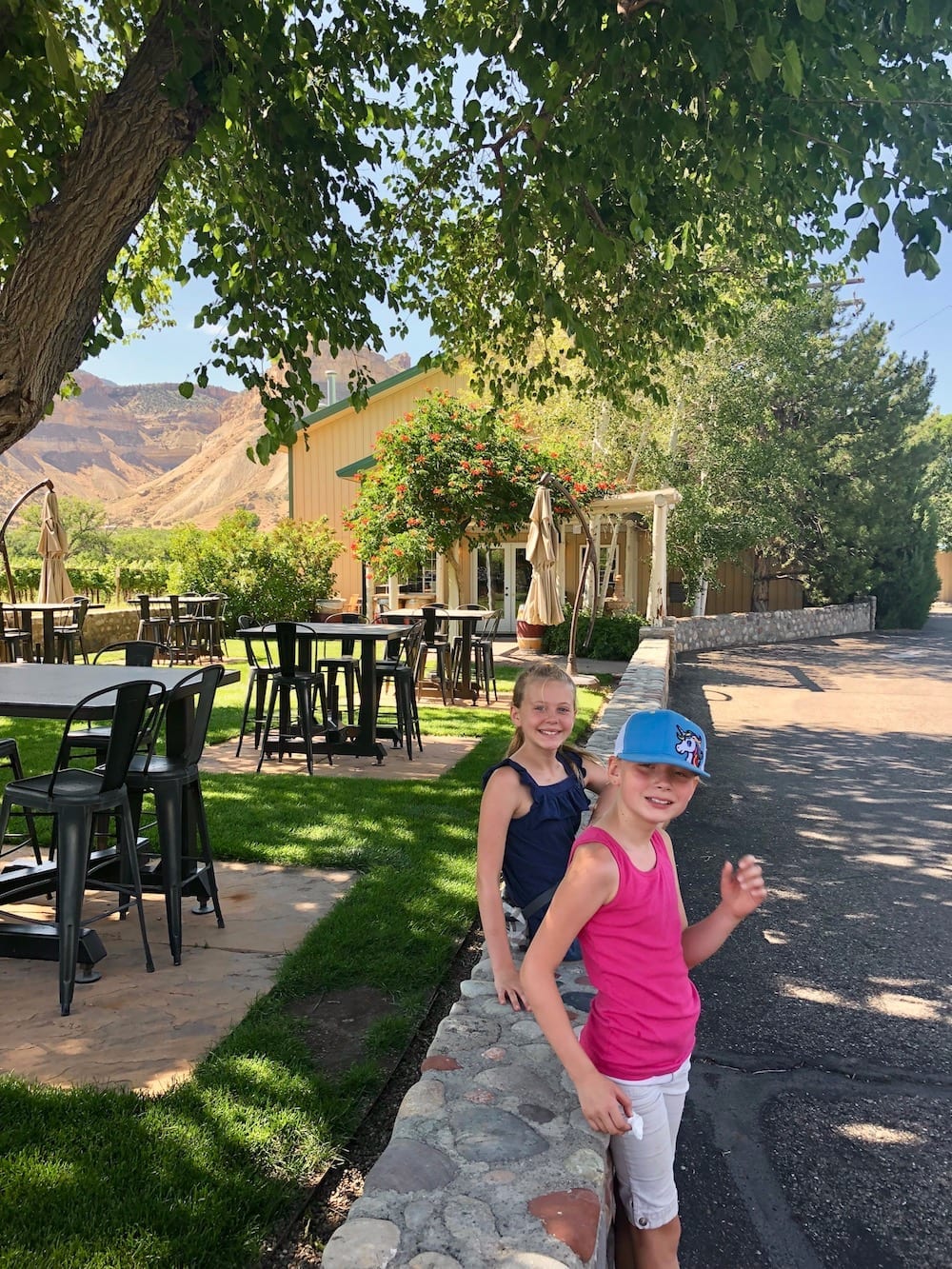 Not only is the wine amazing but the outdoor patio and surrounding vineyards were great for bug hunting (by the kids, of course). You can grab prepackaged charcuterie here to snack on as well.
To be totally honest, there isn't a lot for your kids to do here and they really should stay outside since the tasting room is small. But guys, the wine is so amazing that you should go and if you're prepared with coloring books, (or an iPad) and a picnic the outdoor patio is a great place to enjoy and let the kids run around.
We broke up the ride by pulling into Clark's Orchard, a local fruit stand. The kids were in heaven, eating the "most amazingly delicious" selection of plums, peaches, cherries and fresh salsa. I may have come home with more peach salsa and jams than wine…
If you're up for a stop to soak in the Colorado River, after you leave Colterrris and before getting to Clark's there's a great spot between the two. After leaving Colterris, you will cross a large bridge over the Colorado River. Directly on the right you will find a small parking and picnic area. It's a great, shaded spot to stop and play in the river.
Be mindful of the water levels and current though. At the time of this posting, the water levels were extremely high and a bit too dangerous – for my comfort level – to let the kids wade in the river. FYI – This spot is also the parking area for the Palisade Rim Hiking Trail.
After cooling off at Clark's Orchard, we headed to our next stop, Bookcliff Vineyard's new tasting room. The ride to this spot was a bit tough as you have to go off the main road and through a series of orchards and vineyards before reaching the destination. It's a gorgeous ride though…and seeing as this winery has been in Colorado for 20+ years and just opened a tasting room in Palisade I had to go. (Their other tasting room is in Boulder their fruit has always come from Palisade.)
After Bookcliff, we were all ready for lunch so we set back out on the Palisade Fruit and Wine Byway towards Diorio's Pizza. Luckily, we were able to grab lunch here before they closed for their summer vacation.
TIP: Two of the already few restaurants in Palisade were closed/closing that on a peak, holiday weekend!?!? So check to make sure it's open before planning your lunch stop.
According to Princess Two, who is not a big pizza lover…
"I could eat Diorio's Pizza every day. It's amazing! The best pizza I have ever had!"
I had to agree with her…so, if they're open, you should definitely go!
After lunch we hit the Lavender Festival across the street from Diorio's Pizza at Memorial Park. This is where our ride changed.
We had planned to continue on to Plum Creek Winery but the girls were spent from the heat. So instead of pushing it, we returned our bikes and drove over to Plum Creek and then rewarded the girls with Palisade peach ice cream at McLean Farms.
If you're not biking the Palisade Fruit and Wine Byway with kids or yours aren't too tired to continue I would suggest you continue on to De Beque Canyon Winery, Red Fox and Plum Creek Winery. (See my list of the top wineries to sip in Palisade.)
TIP: Rent bikes in advance online with Rapid Creek Cycles. They don't have small, kid bikes but my kids are about 4 feet tall and could easily ride the small cruisers. They do however, have kid bike trailers.
Have you ridden the Palisade Fruit and Wine Byway? What route did you take and what did you think about it? Let me know in the comments.
Take a look at the following map to route your ride…and get more ideas and where to stay and things to do in Palisade.
Sip in More of the Colorado Wine Country