Have you heard of Uber Wine? I hadn't until my recent trip to Santa Barbara County for wine tastings in the Santa Ynez Valley and was super excited to test out the special service. Read on to get the good, the bad, and the reality of wine tasting in Santa Barbara County with Uber Wine.
What is Uber Wine?
The special Uber service is available in Santa Barbara County and San Luis Obispo in California. It allows you to request a designated Uber driver to stay with you while you tour wineries across Santa Barbara County and San Luis Obispo counties. Uber Wine is currently only operating in these areas. Please note, for this article I only did Uber Wine in Santa Barbara County, not San Luis Obispo.
How Uber Wine Works
Uber Wine works similar to your typical Uber request, but this time you keep the driver for the day. Using the Uber app you,
Enter your first winery stop as your destination.
Scroll down to select the type of service. Request either WINE (seats up to 4 riders) or UberXL WINE (seats up to 6) to be paired with a driver for the day. (You don't have to have four riders to use Uber Wine, we did it with two.)
Your driver will wait in the winery parking lot until you are ready to go to your next destination. Keep in mind that your driver will be paid for the time they wait.
You can call or text your driver at anytime using your app and even leave your belongings in the car. However, the drivers and Uber are not responsible for anything that's lost or stolen. In other words, when you're buying wine and leaving it in the Uber you're doing so at your own risk. I would suggest you plan to ship your wine to eliminate any issues.
Uber Wine is only available between 9am and 6pm. You cannot prearrange a driver.
How Uber Wine ACTUALLY Worked When Put to the Test
When I was visiting Santa Barbara Country I had the opportunity to give Uber Wine a test run. I'm a huge Uber user at home in Denver and someone who always hires the driver when visiting wine country. It sounded like a perfect pairing for me! It was…and then it wasn't. Read on to understand why.
My trip began in Santa Barbara where I spent the first day at the beach and sipping through the Funk Zone – an urban wine tasting area right along the coast. This area is totally walkable so we didn't need a driver. However, the following morning we had wine tasting appointments in the Santa Ynez Valley, which includes the towns of Ballard, Buellton, Los Alamos, Los Olivos, Solvang, and Santa Ynez.
For the next three days the Santa Ynez Valley would our sipping zone.
About two hours before our first wine tasting appointment in the Santa Ynez Valley I opened the Uber app – from our hotel in Santa Barbara – to begin the Uber Wine experience.
I entered the three wineries along with where we needed to pick up our picnic lunch and our hotel, scrolled down and selected Uber Wine in the Specialty driving section. Boom! I was connected to William, a five-star driver who would be arriving in less than three minutes.
That was so easy!!! I was already in love with Uber Wine… But wait there's more – both good and bad.
William pulled up in his awesome, perfectly detailed BMW 3-series and got us on our way to an amazing day of wine tasting in Santa Ynez Valley. Sometimes drivers are just drivers but William became a lot more than that.
He was such a treat and I really enjoyed having him spend the day driving us around and joining us for lunch at one of the vineyards. I had felt bad he hadn't brought lunch with him so we shared our charcuterie platter and picnic with him. Turned out to be a great conversation and added bonus to the picturesque setting. He became a part of our experience that day, a part that lead me to believe that Uber Wine will be a HUGE game changer for the wine tour companies.
That was until the next day…
Having had such an amazing Uber Wine experience on Tuesday, I just knew Wednesday would be great. That evening I realized I couldn't get a cell phone connection at our hotel – or pretty much throughout the Santa Ynez Valley – to connect with an Uber to get us to dinner. Thank goodness that Santa Ynez Valley is still home to a number of taxi services.
Having not been able to connect to Uber that night I had some anxiety about how the following day of wine tasting would go. Ok, not a little. A lot. I was here for work and had wine tasting reservations booked out. But, I took some deep breaths and kept the card from the taxi service who took us to dinner. Plan B.
But, running a taxi meter all day didn't sound like a financially sound – or realistic – Plan B.
Adding to the anxiety was the realization that there is no ability to prearrange for the Uber Wine service so I couldn't set things up at dinner where I did have cell connection. And, given Uber Wine drivers can only be set up from 9am – 6pm it gave me a limited amount of time the following morning to connect to one. Our first appointment was at 11:30, which was 30 minutes away from the hotel and I still would need to stop at the deli to grab sandwiches for our picnic among the vines.
Since I couldn't get cell coverage – thanks AT&T – connecting with an Uber Wine driver from my hotel wasn't going to work. I even walked up the main road in Ballard – about a mile – to where my phone got two bars. No drivers were available. Hmmmm.
Was it the connection or the limited number of drivers in the area? At this point I didn't care. My appointment was in an hour!!!! And, I still had to pick up the sandwiches at the deli.
If you know me and my anal-ness about being on time you can only image the near panic attack I was having…
Thank God for Christine, the General Manager at The Ballard Inn, who helped save the day…and the ensuing panic attack.
She happened to be at the front desk when I went in to ask her if I could use her land line to call the taxi company from the night before. When I explained how my Uber Wine experiment wasn't working in the Valley, she made a quick call to Jose at . One of the wine tour companies she personally recommends to guests.
The owner of the company – Jose – happened to not be booked that day (his other drivers were out with the limo and town cars) and he could be there in 15 minutes. (Remember this was a Wednesday, a much slower day for wine tasting in Santa Ynez Valley. Weekends are a lot busier.) I was down to 45 minutes from my appointment so the timing was perfect.
Jose stayed with us for the remainder of the day as we sipped our way through the Santa Ynez Valley…and he joined us on Thursday's sipping expedition as well. (I did try that morning to connect to an Uber Wine driver as well, to test it for another day and got the same. No one was available.)
The Moral of the Uber Wine Story
If you're coming in from Santa Barbara, Uber Wine can work wonderfully.
1. There are a large number of drivers in the area.
2. The cost is less with Uber Wine. BUT for a driver it might not be worthwhile for them to spend the day with you in wine country. I spent about $150 on Uber Wine plus a $65 tip since he was with us all day – 10am-4pm (Total cost $215). In contrast when we did the tour with Wine Country Cab & Wine Tours it was about $250 plus a $60 tip (Total cost $310). The difference is about $95 more for the tour company.
IMPORTANT SIDE NOTE: All of our wine tastings were already setup, reservations made and picnic lunches booked for pickup. A wine tour company will do all of this for you and may include a picnic lunch with their fees. Uber Wine drives you to and from, they do not schedule anything. It's not their job. That $95 difference can help make or break your wine tasting experience in Santa Ynez Valley if you don't already have a plan.
If you're in the Santa Ynez Valley – Ballard, Buellton, Los Alamos, Los Olivos, Solvang, and Santa Ynez – and wanting to use Uber Wine, don't.
1. Cell connections throughout the Santa Ynez Valley are terrible. Especially if your carrier is anyone but Verizon. According to the locals I spoke with, Verizon is the best but still not great. This makes connecting to Uber in the first place nearly impossible.
2. There are very few drivers to begin with in the area. This may be different on the weekends as more drivers from Santa Barbara come into the Valley. (I was tasting Tuesday – Thursday.)
3. Even if there are drivers, keep in mind they do not have connections at wineries and are not in charge of planning your wine tasting route. YOU MUST plan out your entire wine tasting route. You cannot expect Uber Wine drivers to have connections or the insight into where to taste wine. They are simply drivers who take you to and from – that is their job. They will not set up last minute wine tasting reservations for you and may not know how to get to some off the beaten path wineries.
Who to Call to Arrange Your Day of Wine Tasting in the Santa Ynez Valley
Go ahead and test out Uber Wine for your wine tasting in Santa Ynez Valley if you want to. Let me know how it goes, I'd love to hear your experience. Maybe you'll have better luck… If you want to make sure your day wine tasting in Santa Ynez Valley is totally taken care of and want someone else to book your tastings, call Jose at Wine Country Cab & Wine Tours.
---
Sip In More of Carpe Travel…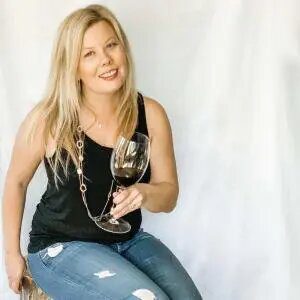 Elaine Schoch (pronounced the German way – Shock) is the editor and founder of Carpe Travel as well as an award-winning travel writer, wine judge, certified by the Wine & Spirit Education Trust (WSET) Level 2 and certified American Wine Expert. She is married to The Husband and has two kids, Princess One and Two – who's interest and knowledge in wine is quite extensive. Not to mention the stamps in their passports.