When I think of the YMCA, I tend to think of Carolina, my spin instructor who likes to push me to my limits every week. I have never thought of the YMCA as a vacation destination, until now… Living in Denver, I've made my way to Estes Park on several occasions to hike, fish and simply enjoy Rocky Mountain National Park. Recently my family and I were invited to check out the YMCA of the Rockies Estes Park Center. And what did we discover? A little gem nestled in a valley of Rocky Mountain National Park.
Basics of YMCA of the Rockies Estes Park Center
YMCA of the Rockies Estes Park Center is truly a unique mountain resort-like center that literally sits at the doorstep of Rocky Mountain National Park. With 860 acres, 216 cabins, five lodges and large vacation homes, the Estes Park Center is bigger than I ever imagined and encompasses adventure, tranquility, and everything in-between.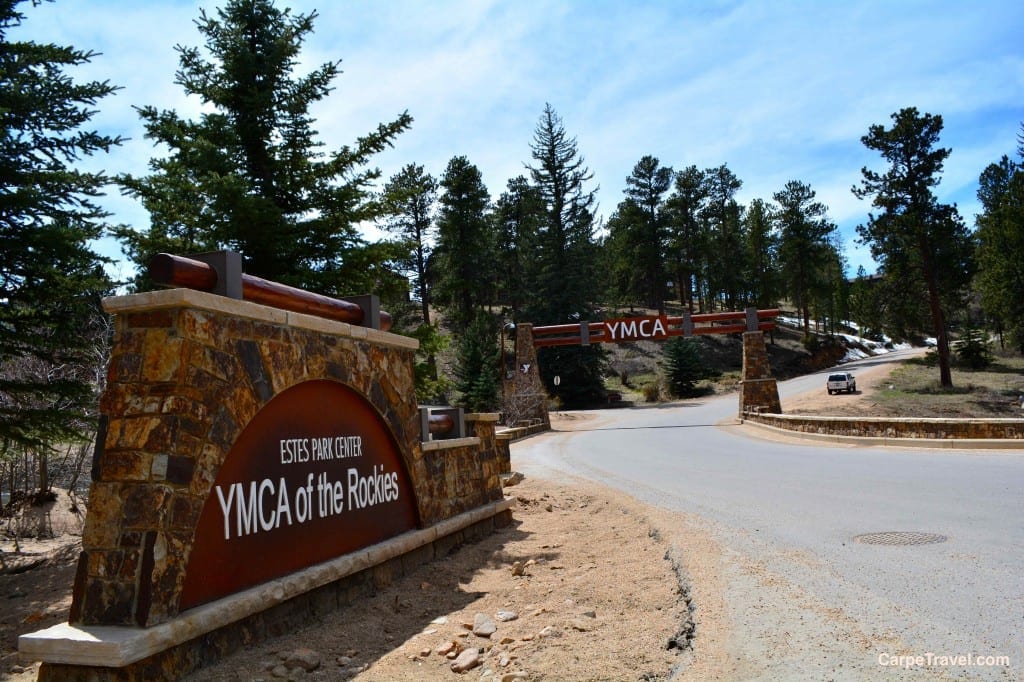 Location
YMCA of the Rockies Estes Park Center is three miles from downtown Estes Park in Colorado. Note, getting to Estes Park has become a bit more challenging since the 2013 floods. Expect delays and add more time to your drive. It's totally do-able but just it's going to take a bit longer.
The Rooms at the YMCA of the Rockies Estes Park Center
There are a variety of options at the YMCA of the Rockies Estes Park Center, from a two to four bedroom cabin to a more deluxe four-bedroom vacation home that sleeps 10. Around 60 of the 216 cabins have been built new or remodeled since 2000 with others having been updated in the '90s. The cabins and the vacation homes are all pet friendly and have free Wifi. (The Estes Park Center does not have campgrounds but its Snow Mountain Ranch location does.)
During our visit we stayed in a two-bedroom cabin at the Estes Park Center. I think one of the biggest highlights for my kids were the bunk beds. Me, I loved seeing wildlife right outside my window. The cabin we stayed in was recently remodeled and the furniture was pretty basic and fit well in a cabin setting. All cabins (and vacation homes) are all equipped with full kitchens – including pots, pans, utensils – making staying in and cooking and easy option. But don't count on watching a movie or TV, televisions are not in any of the lodging options.
If you're looking for more of a hotel feel, you might prefer the lodges. The rooms are also equipped with free Wifi and include complimentary breakfast for two. These rooms however, are not pet friendly and do not have a kitchen.
The Bathroom
The two-bedroom cabin had one bathroom. It was rather large and could handle all the kids gear, bath time and overall family traffic. It's a basic bathroom with no frills BUT it's clean, big and nice enough.

Rates at the YMCA of the Rockies Estes Park Center
The rates vary depending on the room you select as well as the time of year you visit. Anywhere from $79 – $419.
Room Service
No, but the YMCA of the Rockies does have onsite dining. There are three dining options with the most popular being the all-you-can-eat buffet-style dining at The Aspen Dining Room. Unlike many all-you-can-eat buffet-style restaurants you'll find more healthy options than not including a huge salad bar, fresh fruit, soups and steamed veggies. During our stay there was always a vegetarian and vegan option. Meals are available on a pay-as-you-go basis or you can purchase a meal plan for your stay; children five years old and under eat free. You can also grab things to go in the Rustic Café– lattes, coffee, sandwiches, snacks, etc. The one dining option we weren't able to try was the Pine Room Restaurant, dubbed a fine dining restaurant; they do not serve wine or alcohol. It's only open Memorial Day through Labor Day.
Amenities at the YMCA of the Rockies Estes Park Center
Free Wifi
Onsite Dining
Free Parking
Some rooms have a kitchen
The real amenities come down to the activities offered to individuals and families. A few of the free activities include:
27-hole miniature golf course
Roller skating
Tennis courts
Wildlife classes
Hiking; there is a nature trail onsite, you can grab a map and follow the signs to learn more about the wildlife and habitat
Access to an onsite museum and library
Pool
Activities that have additional costs associated with them include the following. Note, many of these cost less than you will pay outside of YMCA of the Rockies Estes Park Center. Additionally, you do not have to be staying here to enjoy things such as the camps and horseback riding.
Scheduled Activities: The programs range from archery to learning to tie knots to nature art and survival classes. Since programs do change throughout the season the YMCA of the Rockies has made it easy to review the programs during the time of your stay and register your kids online. Pricing for these programs are anywhere from $3 to $7 per child.
Day Camps: Kids basically do all the thing they would do at overnight camp during the day – hiking, horseback riding, crafts, swimming, wilderness exploration and more. But then go home with you at night. Perfect for those kids who aren't really ready for overnight camp. Or for parents who want to go to "camp" too. Pricing is $26 from 8:15am – 3:15 pm.
Specialty Camps: These programs are unique in that they offer campers more time – two hours a day – to focus on a specific activity. For instance if you child is really into horses, they'll spend two hours horseback at the Livery and riding and then enjoy traditional camp activities.
Ziplining ($20 pp)
Horseback riding ($15-$37 pp)
Mountain biking
White water rafting
Pet Friendly
The cabins and the vacation homes are all pet friendly. The lodge is not pet friendly.
Bottom Line on the YMCA of the Rockies Estes Park Center
From day camps to nature walks, to an insane art center to miniature golfing and horseback riding, there are a variety of activities that are both free and have additional costs. One of the things I enjoyed the most was knowing I could enjoy Rocky Mountain National Park at my pace – not my kids – if I wanted to. While our kids are in their day camp we can go explore Estes Park, do an adult level hike through Rocky Mountain National Park or just read a book in a lounge chair outside our cabin. It's almost like going to camp with your kids, but better because you can do things at your pace while they do things at theirs. YMCA of the Rockies is a great family friendly destination that this family will be visiting again.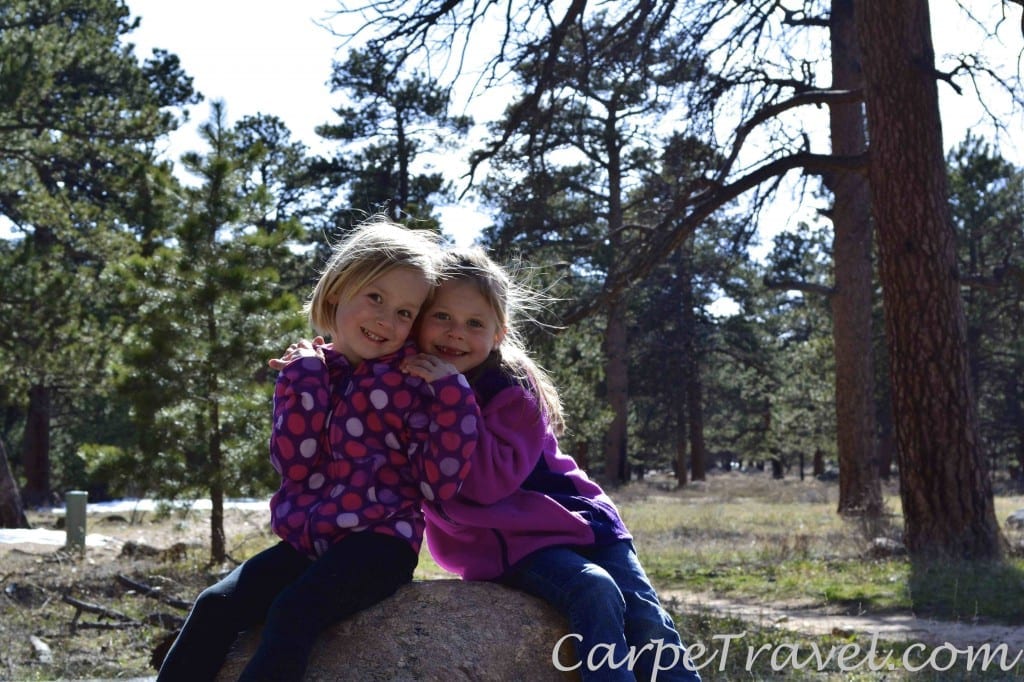 Have you ever visited a YMCA destination location? What about YMCA of the Rockies? What did you think?