We weren't lost according to The Husband (then boyfriend) but we had no idea where we were. And that blue dot on the map on my iPhone that now saves the day had yet to be invented. To top it off the air conditioner in the rental car was broken. We were hot. Mad. And "not" lost. When we exited off the highway and turned onto Downing St. I fell in love. With Denver. With Washington Park. As The Husband grumbled about how to find the rent house he needed to view, I stretched my neck out the window to soak in Washington Park and the largest flower garden in Denver. I had never seen (or smelled) anything like it before… I had no idea that day what a fixture in my life Washington Park in Denver would become.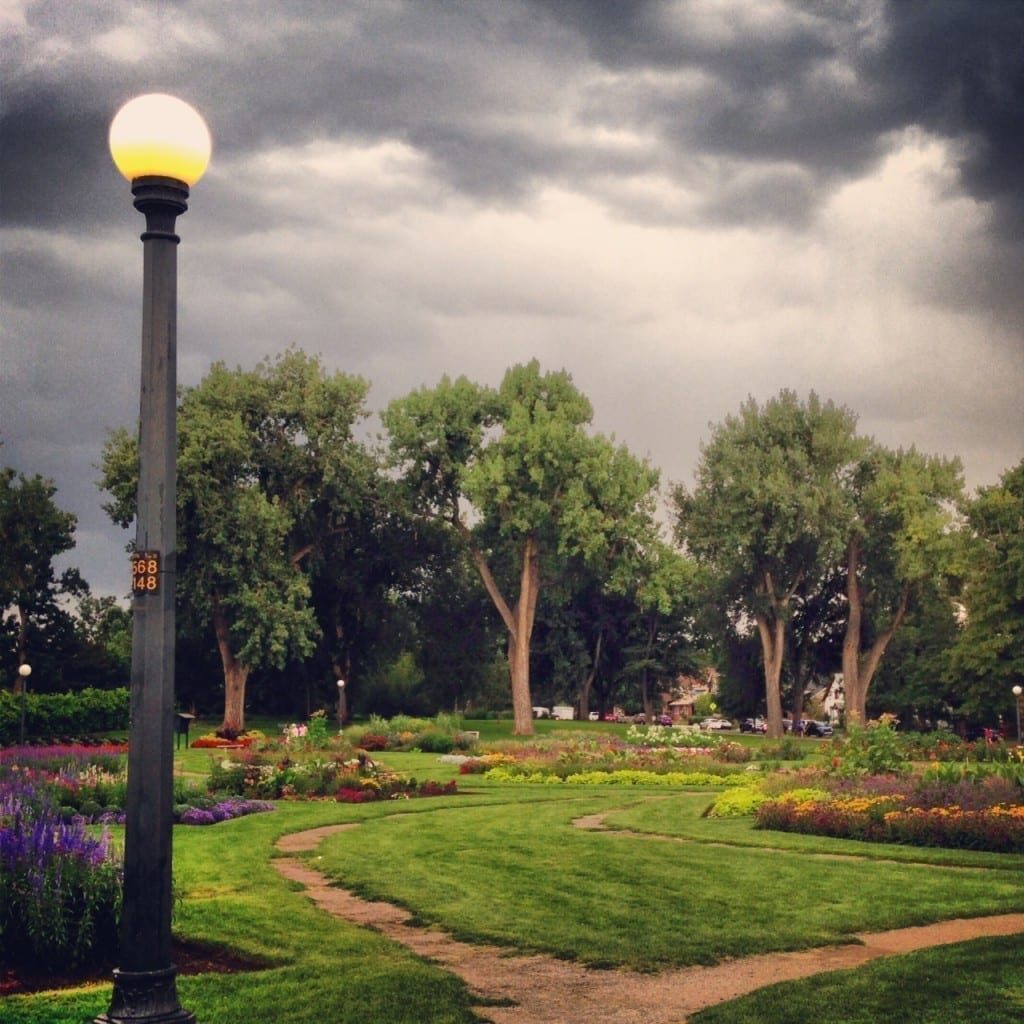 A few months later I moved to Denver. Bought my first house. Got laid off (thanks to the tech bubble bursting). Got a dog. And spent nearly every afternoon and weekend at Washington Park. When we moved away five years ago saying goodbye was bitter sweet (the sweet part didn't come until five years later when we moved back). I didn't realize it at the time but I started to take Washington Park for granted.
Now living a few blocks away from the Washington Park I'm reminded of all of the amazing activities it offers to those not only living in Denver but also visiting Denver. And it's not just me who thinks this, 'due to its welcoming appearance and unique characteristics, Washington Park Denver was designated as one of the "Great Public Spaces in America" by the American Planning Association in the year 2012′.
For those of you visiting Denver, Washington Park should be on your list of things to do in Denver and places to visit. And if you live in Denver, here are a few reminders why you should pack a picnic lunch and head out to Washington Park this weekend.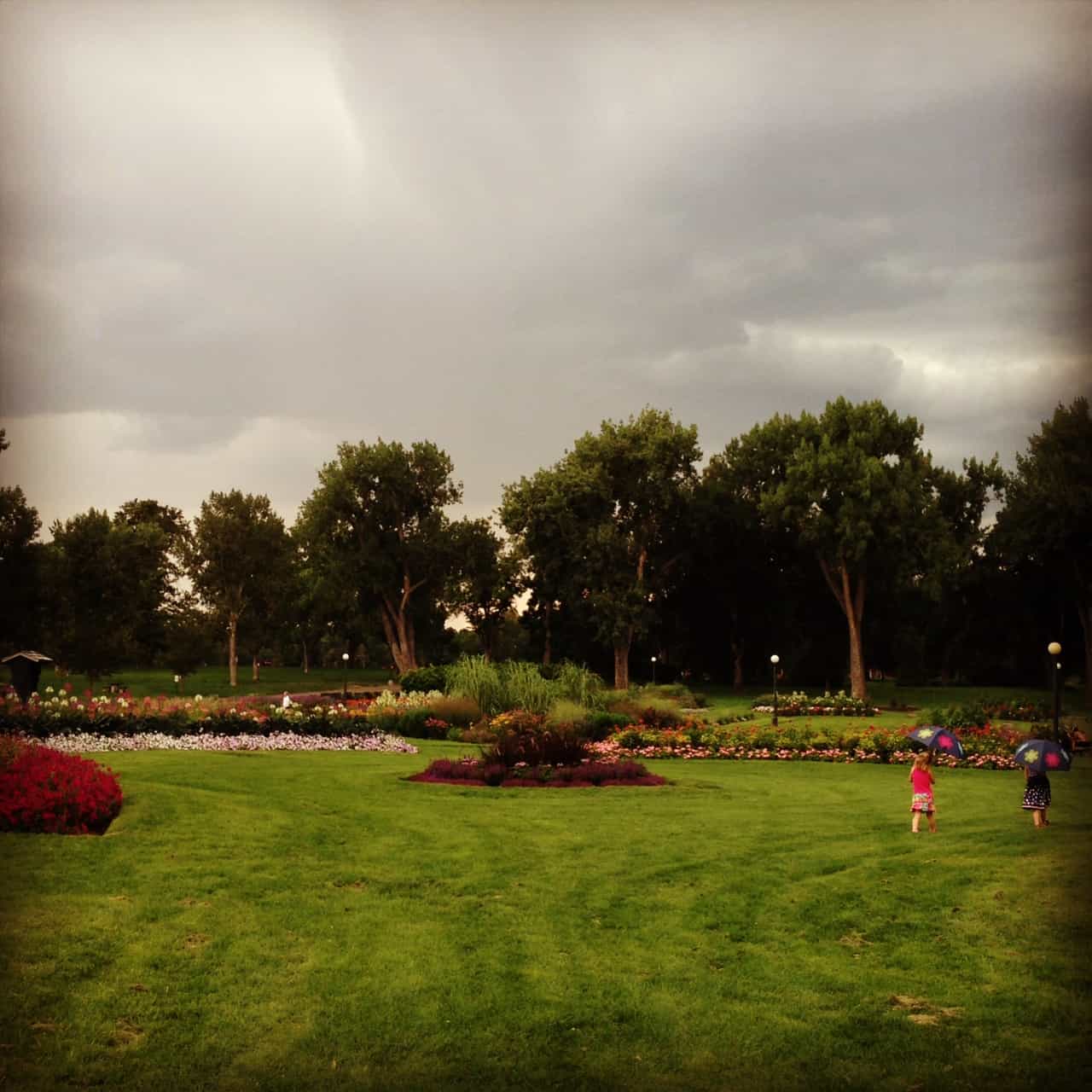 Things to Do at Washington Park
Besides strolling through the flower gardens at Wash Park, there are SOOO MANY things to do. With 10 tennis courts, a lawn bowling/croquet field, two playgrounds, 2.6 mile jogging/biking path, two lakes (fishing, boating) you can easily stay entertained for the day – or more.
The Flower Gardens at Washington Park
Washington Park is known for the largest flower garden in Denver, which was built in 1917. It is a Victorian-style Perennial Garden that includes an elliptical lawn and symmetrical flowerbeds with 15,000 flower varieties. The flower garden also includes 54 flower beds in an informal arrangement. The largest of the two garden is located on the west side of the park on Downing St, near the intersection of Exposition.
During the summer months, the gardens are watered during the morning hours using water from the lakes. Runners take note, the paths can get muddy. Parents take note, it's a great time to let your kids run around in the sprinklers.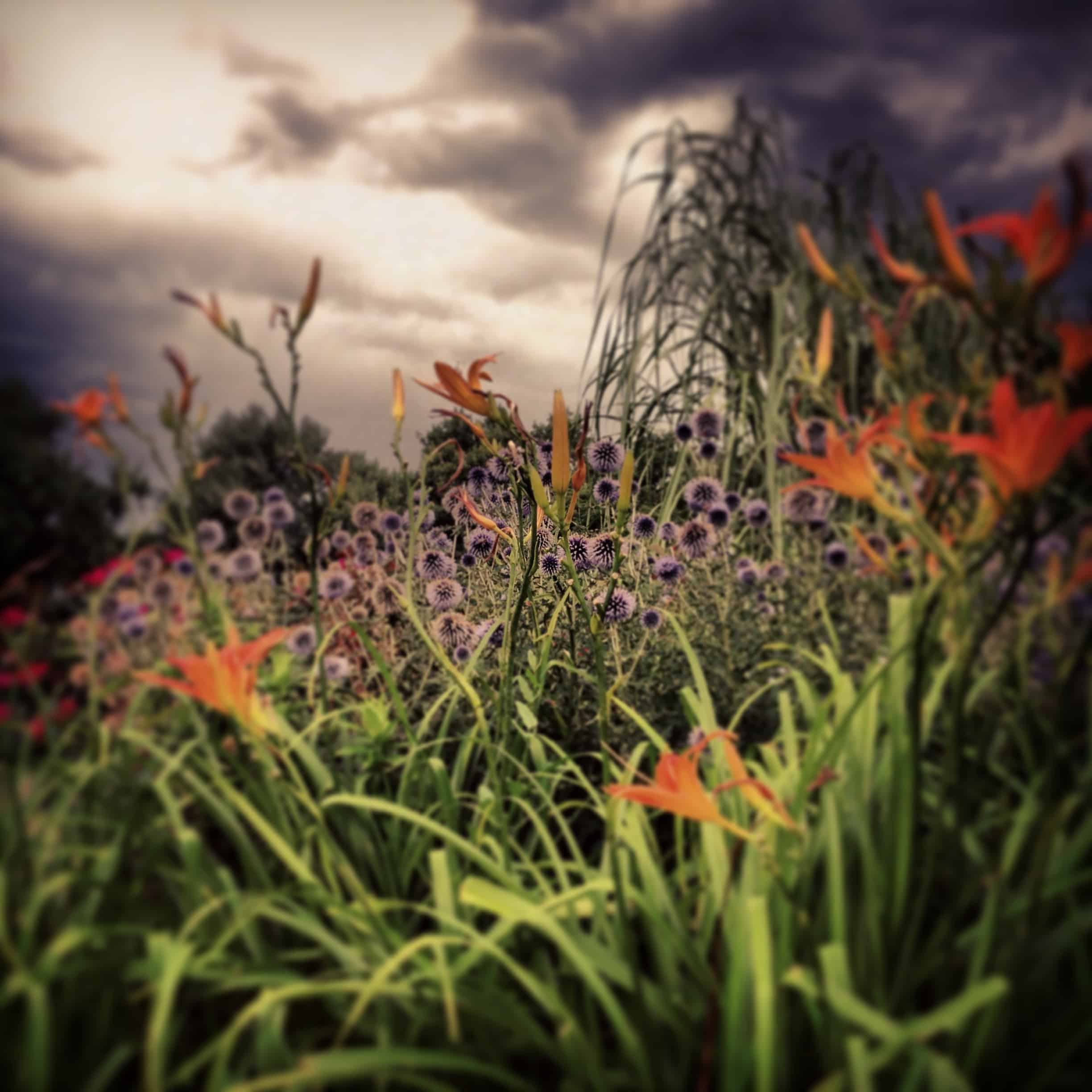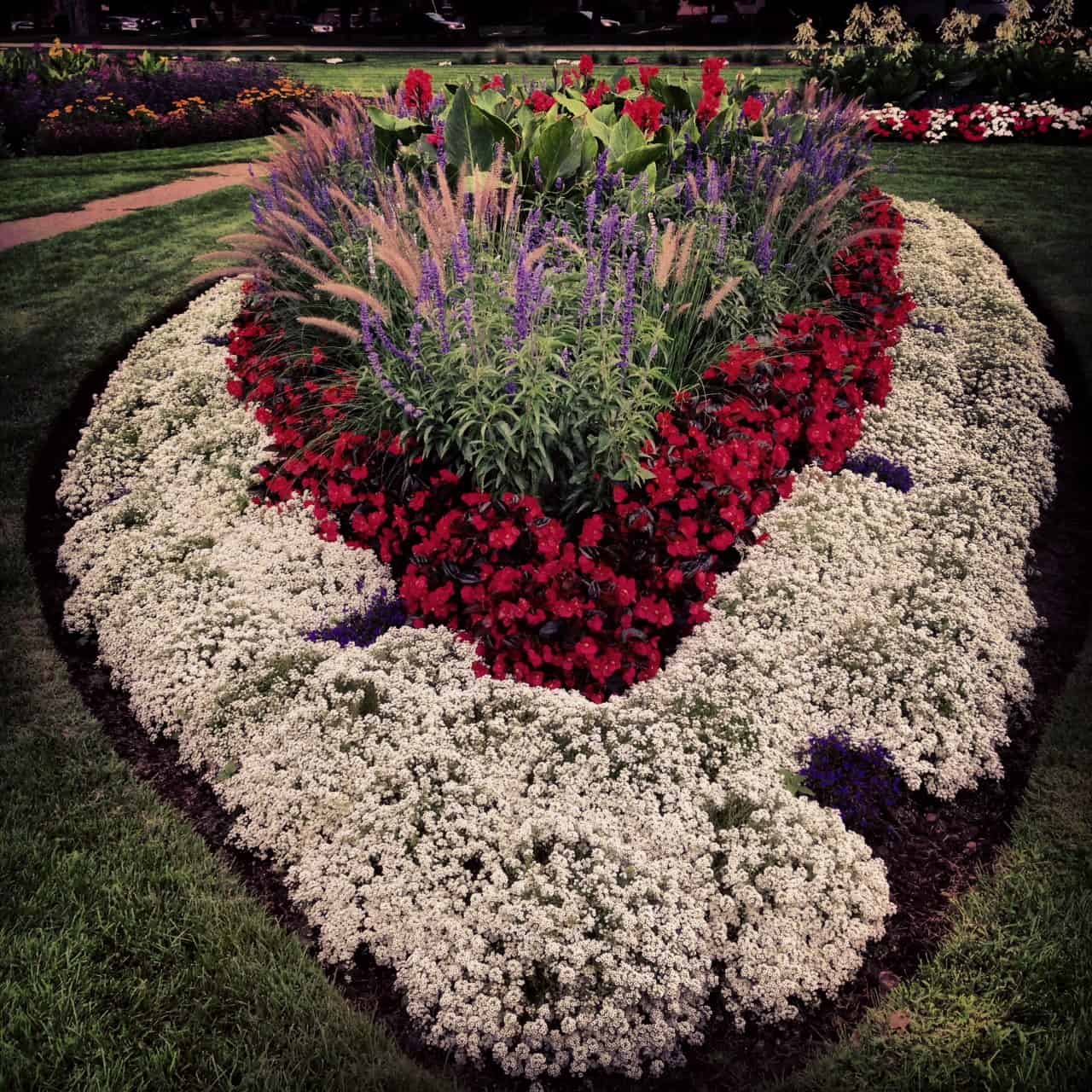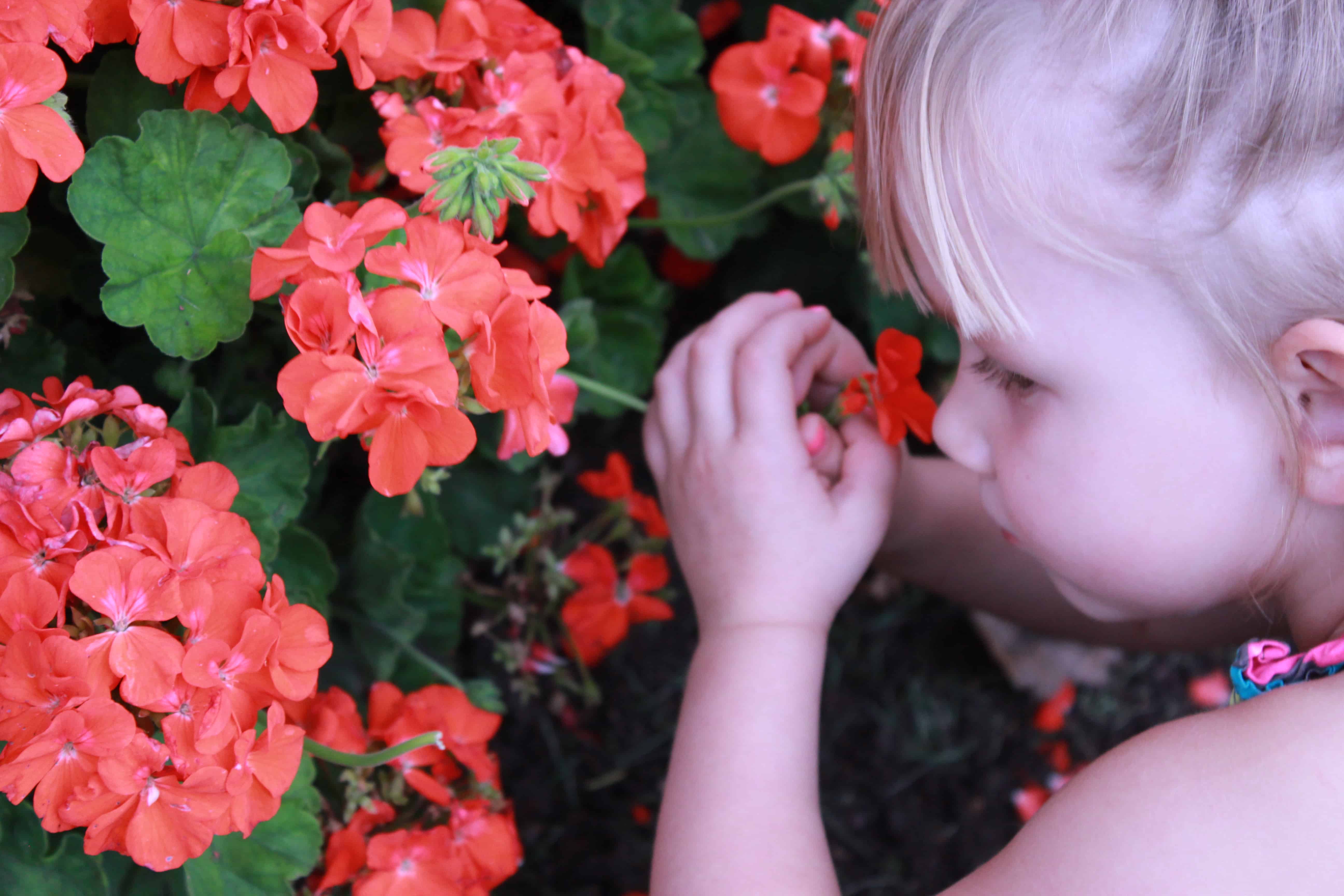 Whatever you do, don't forget to stop and smell the flowers. It may take awhile though given there are 54 flower beds planted and more than 25,000 annuals planted.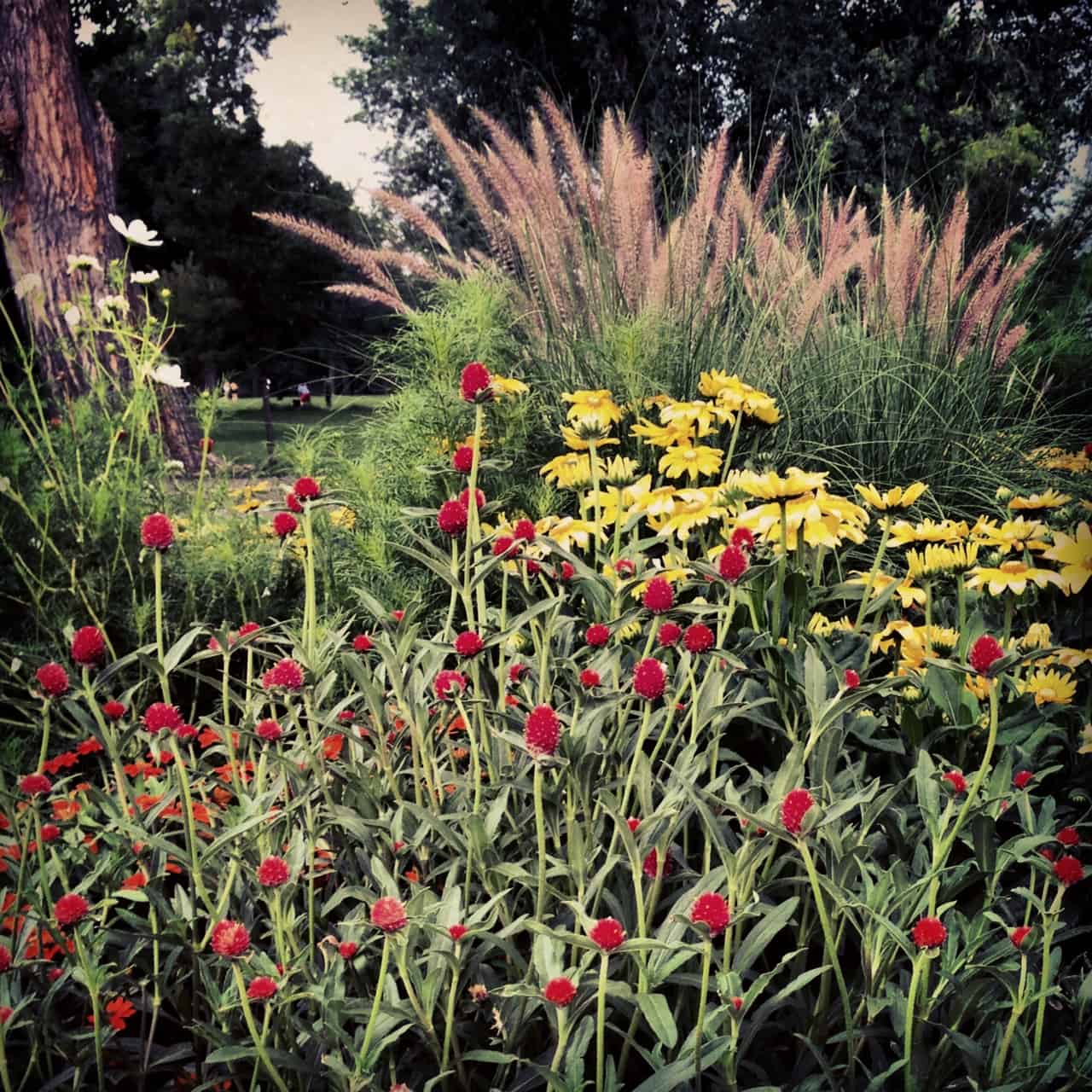 Mount Vernon Flower Garden
The Mount Vernon flower garden is a colonial garden located on the southeast side of the park, overlooking the lake. It is a close replica of the Upper Garden at George Washington's house. On a side note, the lawn bowling/croquet field is located next to the Mount Vernon flower garden.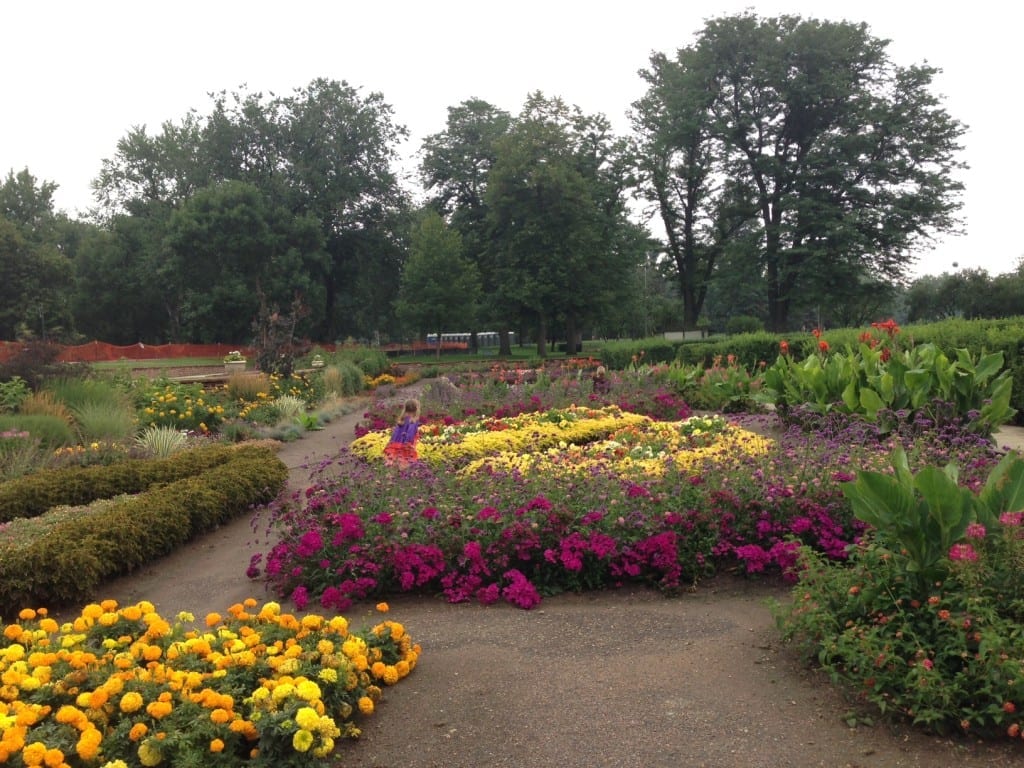 This garden is probably my favorite of the two big flower gardens. One, it's more secluded and has an amazing view of the mountains. Making it a perfect picnic spot on a Sunday afternoon. But, I also love this garden because it's where the husband popped the question. Unbeknownst to him, the bench where we sat was dedicated to a couple who had been married for 80 years. You find these plaques throughout the park but this one struck a chord – given the timing for us AND the 80 years. I mean really, 80 years…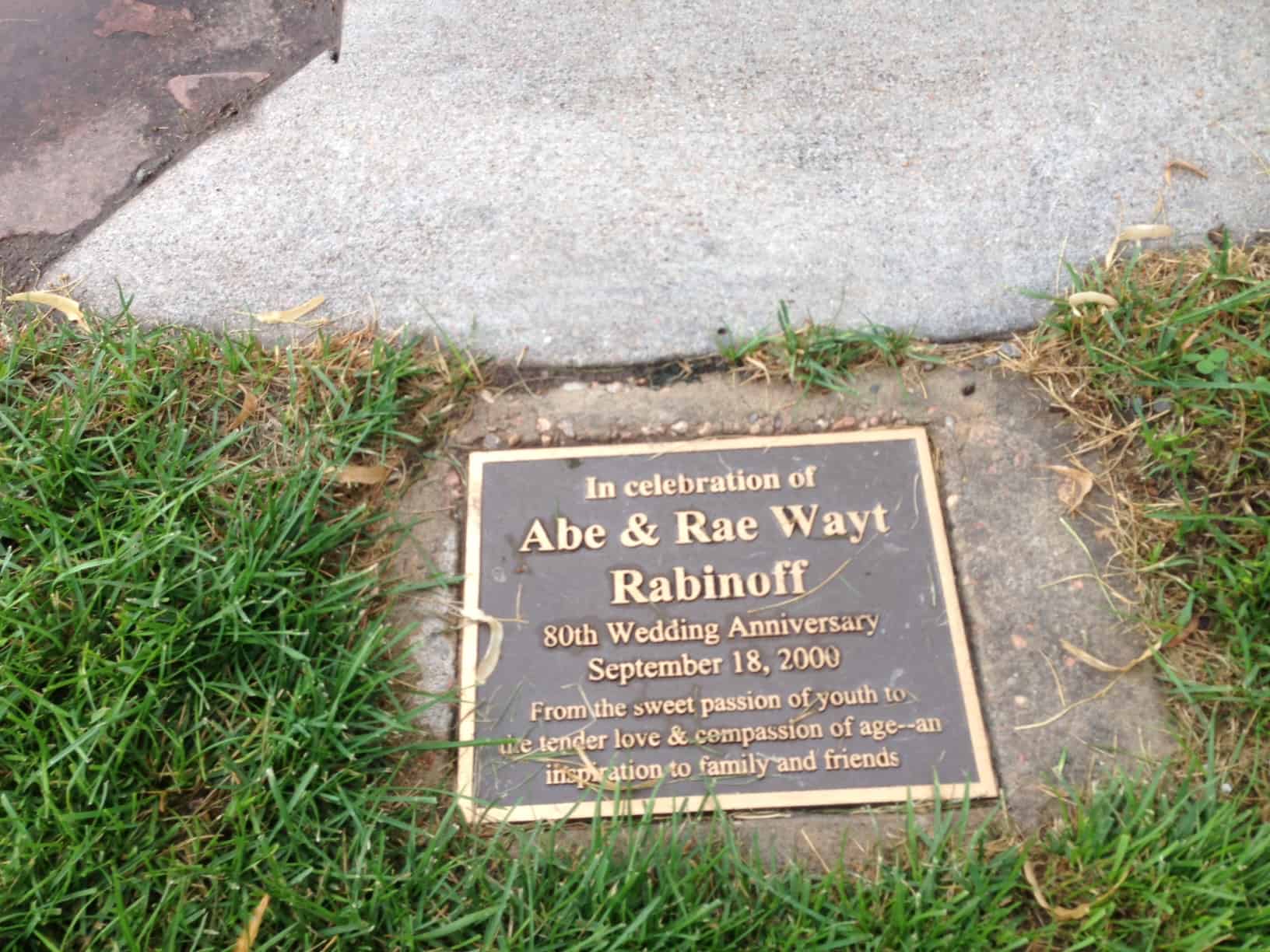 Walk, Run or Bike
There are two loops that go around Washington Park for people to access. The outer loop is a gravel travel made more for walking and running. It's 2.6 miles. The inner loop is paved and perfect for biking – and walking. The paved road is cut off from cars and divided into two lanes – one for walking and running, the other for bikers.
If you don't have a bike, don't fret. You can rent bikes and/or a single or double bike surrey. The surrey's are great fun for families with little ones who are just along for the ride. Rental prices range from $12-$30 and they do accept Visa and MasterCard. To do a rental, park near Smith Lake, there is a small rental house at the edge of the lake near the playground. Access to this area of the park is best reached by turning into the park off of Downing St., at the intersection of Exposition. Parking at Smith Lake is also available on the east side of the park on Franklin and Exposition.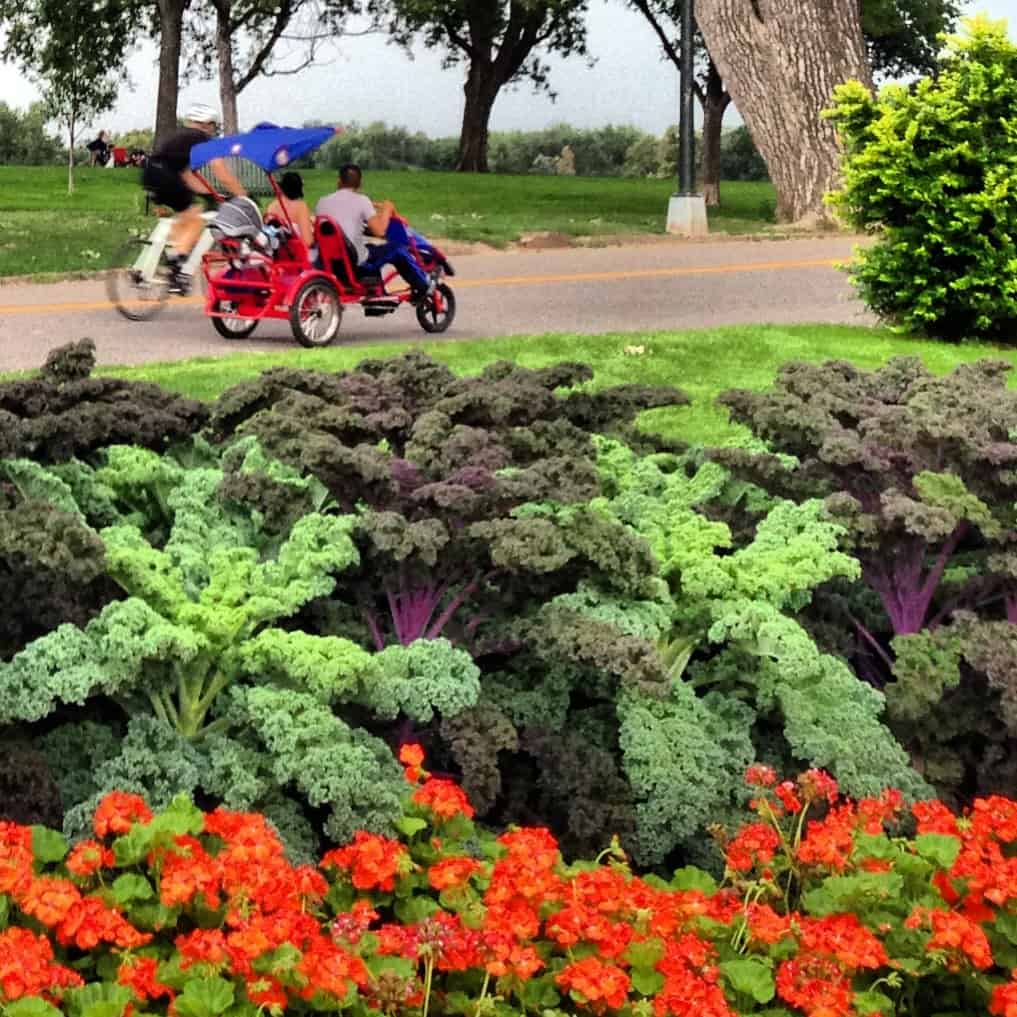 The Lakes at Washington Park
There are two lakes at Washington Park. Smith Lake is used for recreational use – kayaking, paddle boats, canoes and fishing. The second lake, on the south side of the park is more of a retreat for wildlife. It's a great spot to sit back, relax and watch/feed the birds.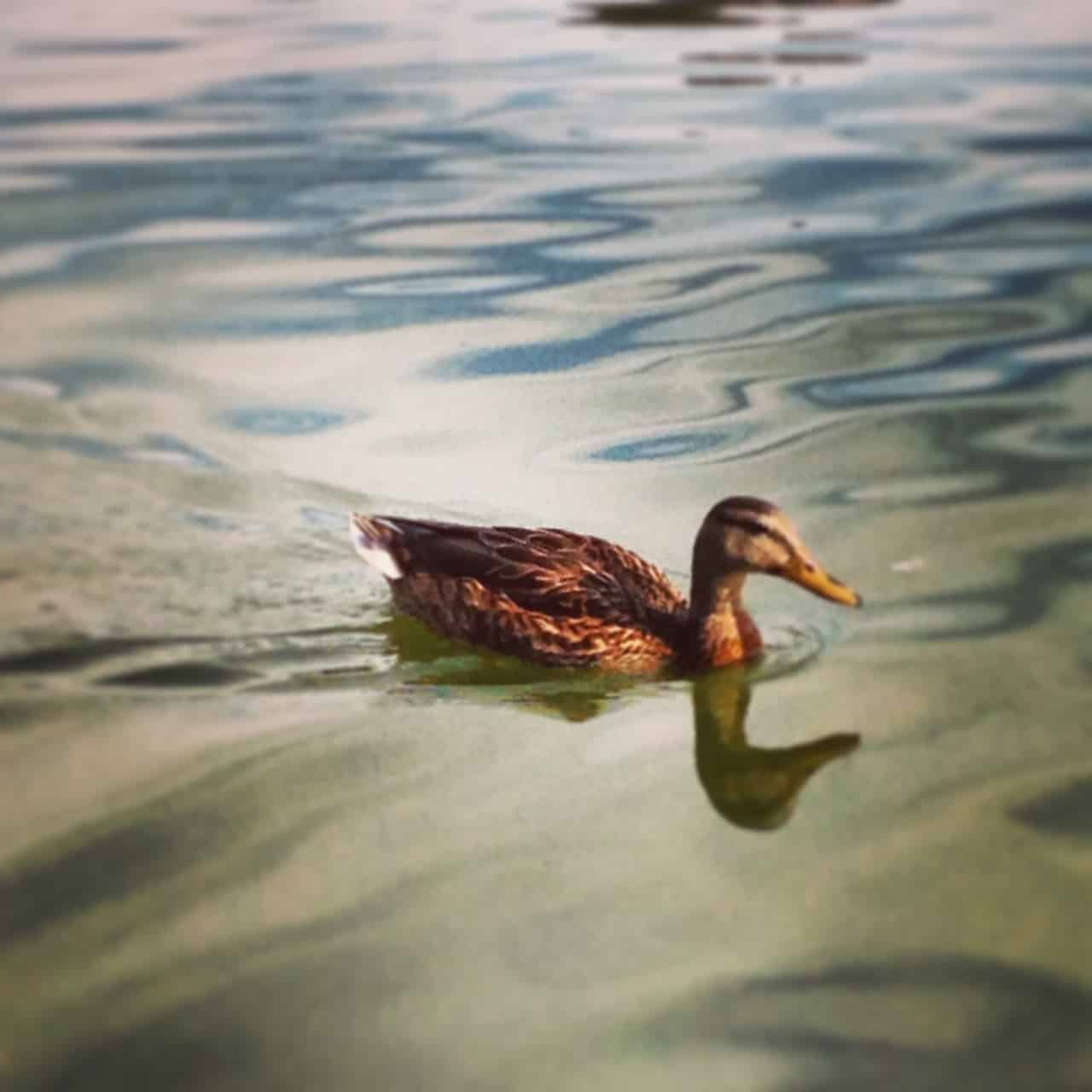 Washington Park isn't only a retreat for those living in and visiting Denver, but for the birds too. Ducks and Geese flock to Washington Park year around. While to offers fun bird feeding opportunities for kids, parents take note: watch where you sit. The birds like to flock to shaded areas we all find to be perfect picnic spots.
While feeding the birds is fun for some, if you want to get wet and enjoy the water you can rent a kayak, paddle boat or canoe at Smith Lake (same rental house noted above); prices range from $12-$30.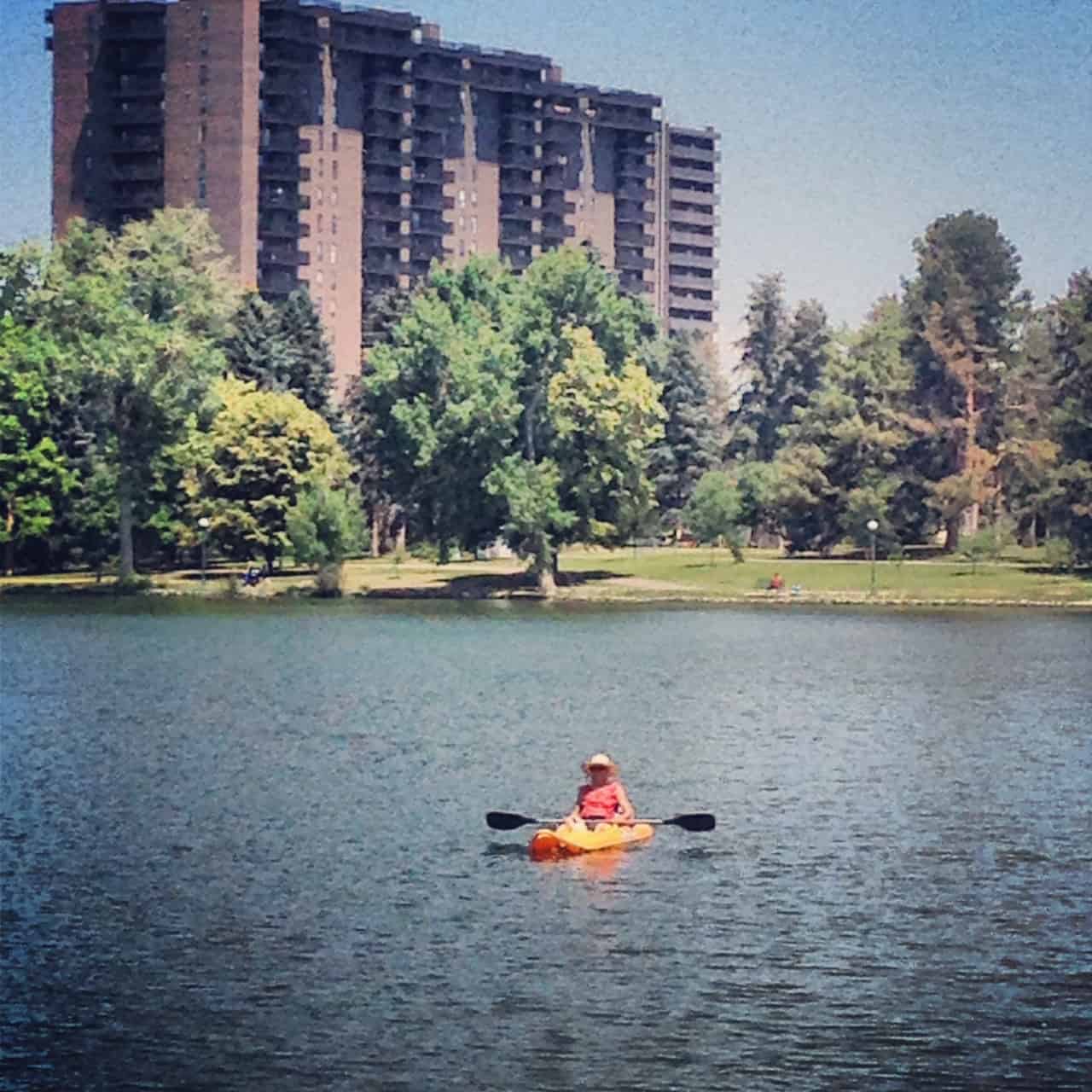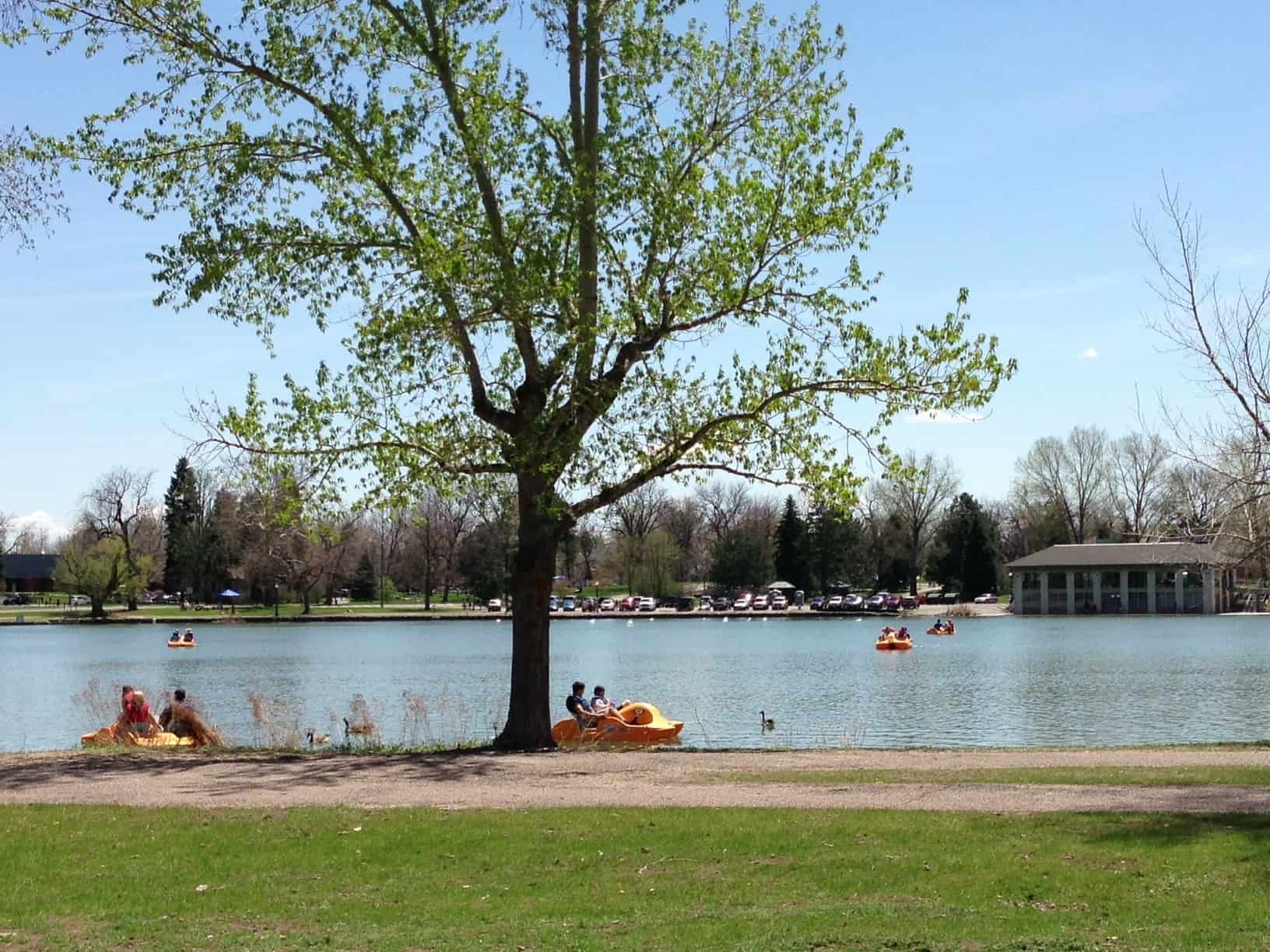 Fishing is also allowed at Washington Park. Note, you do need a fishing license in Colorado. They're easy to obtain and can be done so online. If you're fishing with kids, there is a small fishing pond near Smith Lake, on the east side of the park at the corner of Franklin and Virginia. It's a nice shaded area with some great picnic spots – and a lot of fish to enure the kids have a good catch.
Playgrounds at Washington Park
There are two playgrounds at Washington Park. The one pictured here is next to Smith Lake. It is the larger of the two playgrounds and offers a lot of shaded areas for picnics. Note, this playground is more geared towards older children and given its size can be a bit overwhelming – for parents trying to watch their kids – on the busy weekends. The smaller playground is on the south side of the park near the tennis courts. It provides equipment for smaller kids, especially toddlers.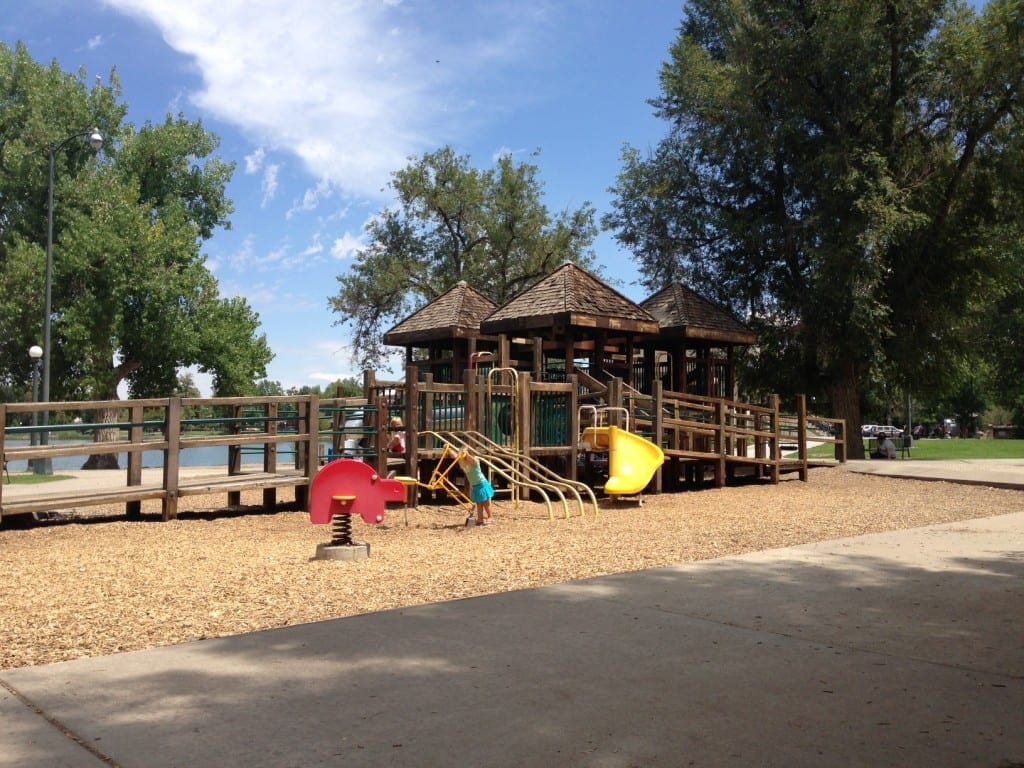 Have you been to Washington Park Denver?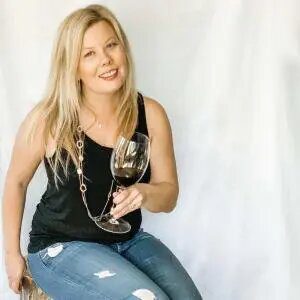 Elaine Schoch (pronounced the German way – Shock) is the editor and founder of Carpe Travel as well as an award-winning travel writer, wine judge, certified by the Wine & Spirit Education Trust (WSET) Level 2 and certified American Wine Expert. She is married to The Husband and has two kids, Princess One and Two – who's interest and knowledge in wine is quite extensive. Not to mention the stamps in their passports.