When you think of a candy factory the vision of Willy Wonka's Oompa Loompas may come to mind. It did for me, but on a recent Hammonds Candy tour, I discovered a sweet piece of Denver history that has forever changed my thoughts on candy and how it's made.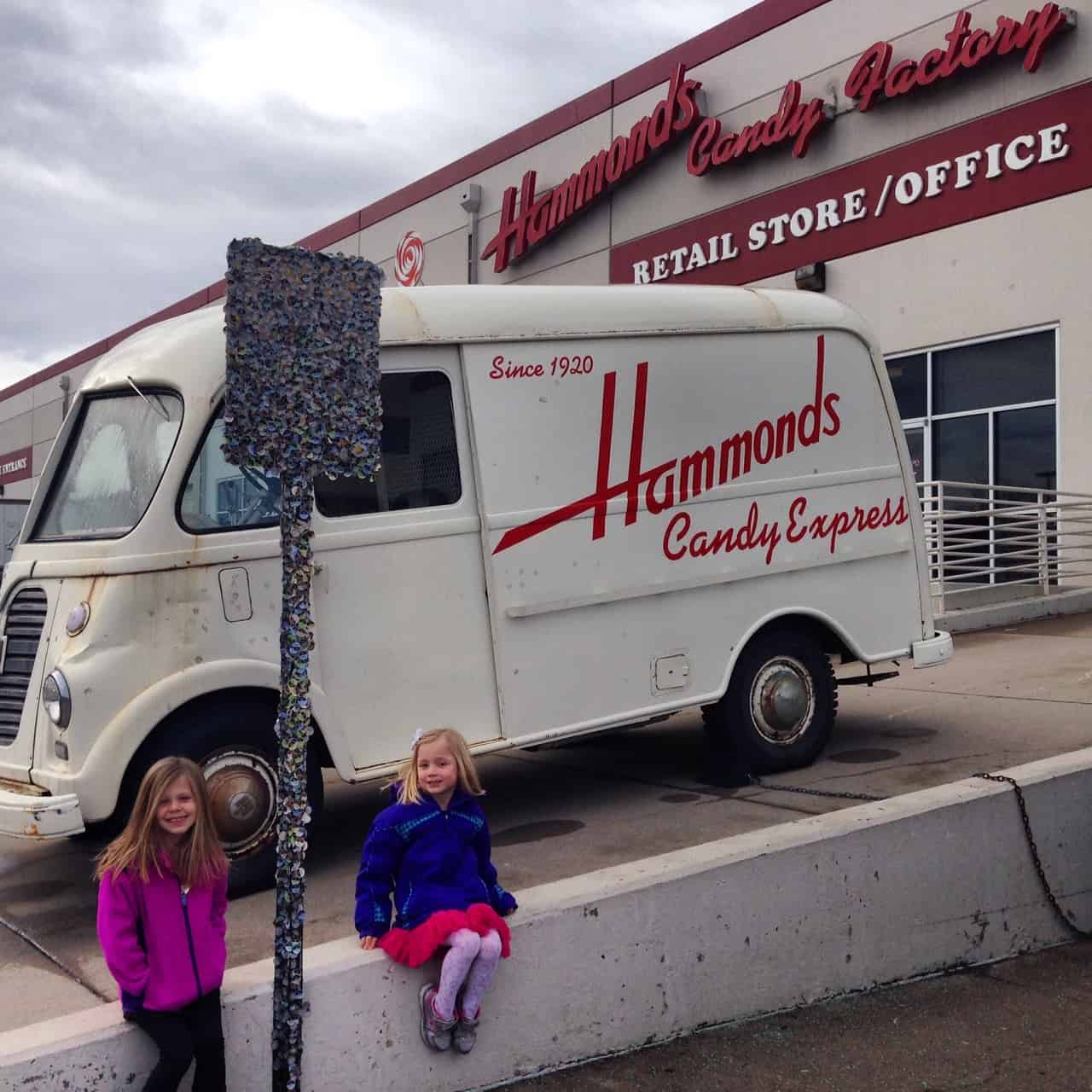 On a mission for a few sweet things to do with kids in Denver I thought the Hammonds Candy tour made for the perfect combination of fun, education and get me out of the house. It was a recipe built for success. Who knew we'd walk away with an entirely new appreciation for the art of candy making.
While we didn't see any Oompa Loompas we did find 150 busy candy makers handcrafting 5,000 pounds of candy a day. Did you know Hammonds Candy makes 10 million handcrafted candy canes a year?!?! These candy makers, spend years studying the craft and it is a sight to see. People bustling around in red aprons, stirring confections, slicing and twisting Hammond's iconic candy canes. It is quite the production.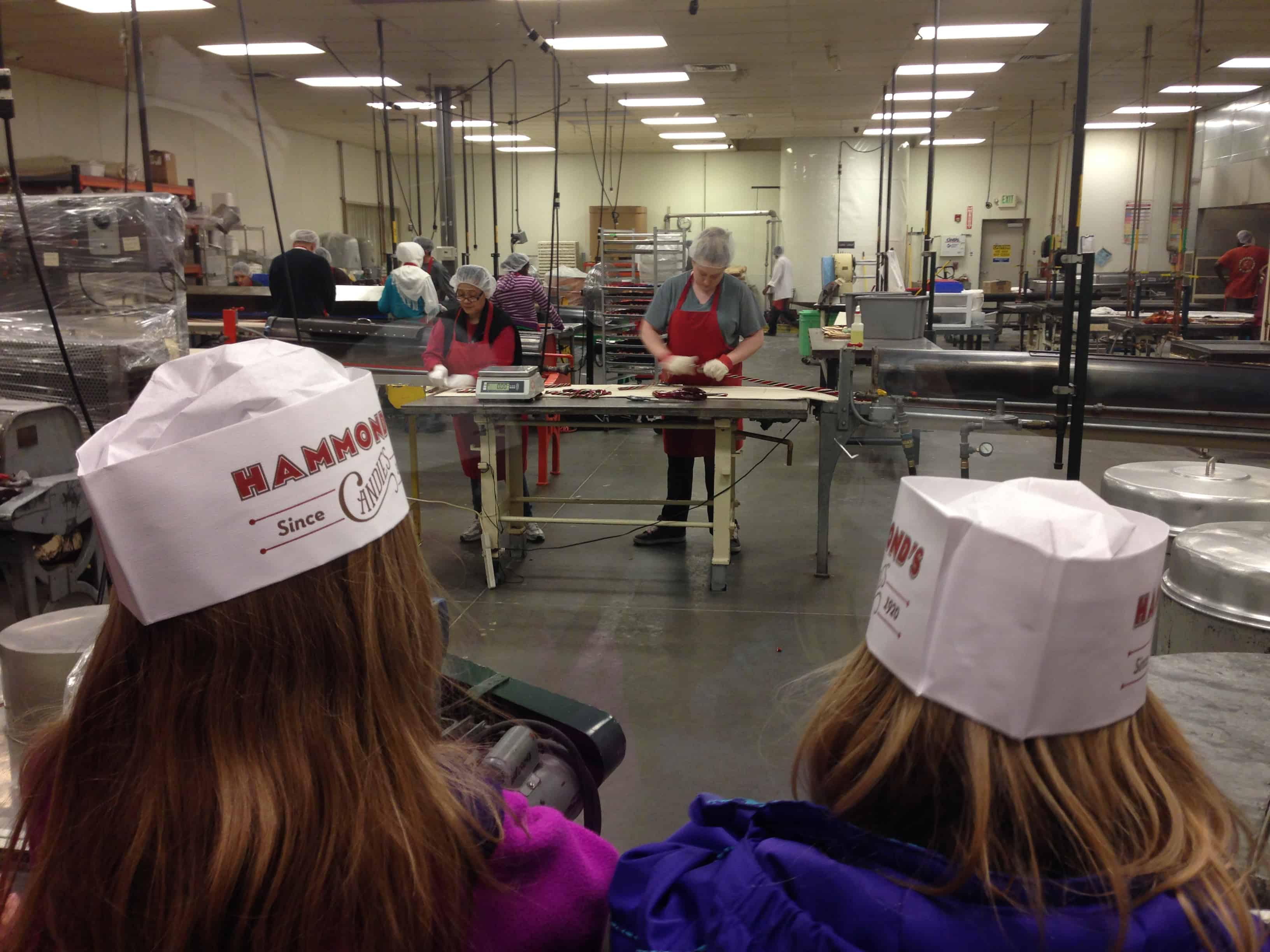 The most magical part – for the kids, of course – was watching the pulling machine. This contraption literally pulls and spins the candy, changing its color from a dull yellow or brown to a bright, shiny white or pink. Hammond's does not add any artificial coloring or flavor to its candies. Instead, it lets the air naturally make these changes. For nearly a century, Hammonds Candy has been perfecting the art of candy making, and in today's crazy corporate production environment it has somehow kept this art alive. (Kudos to them!)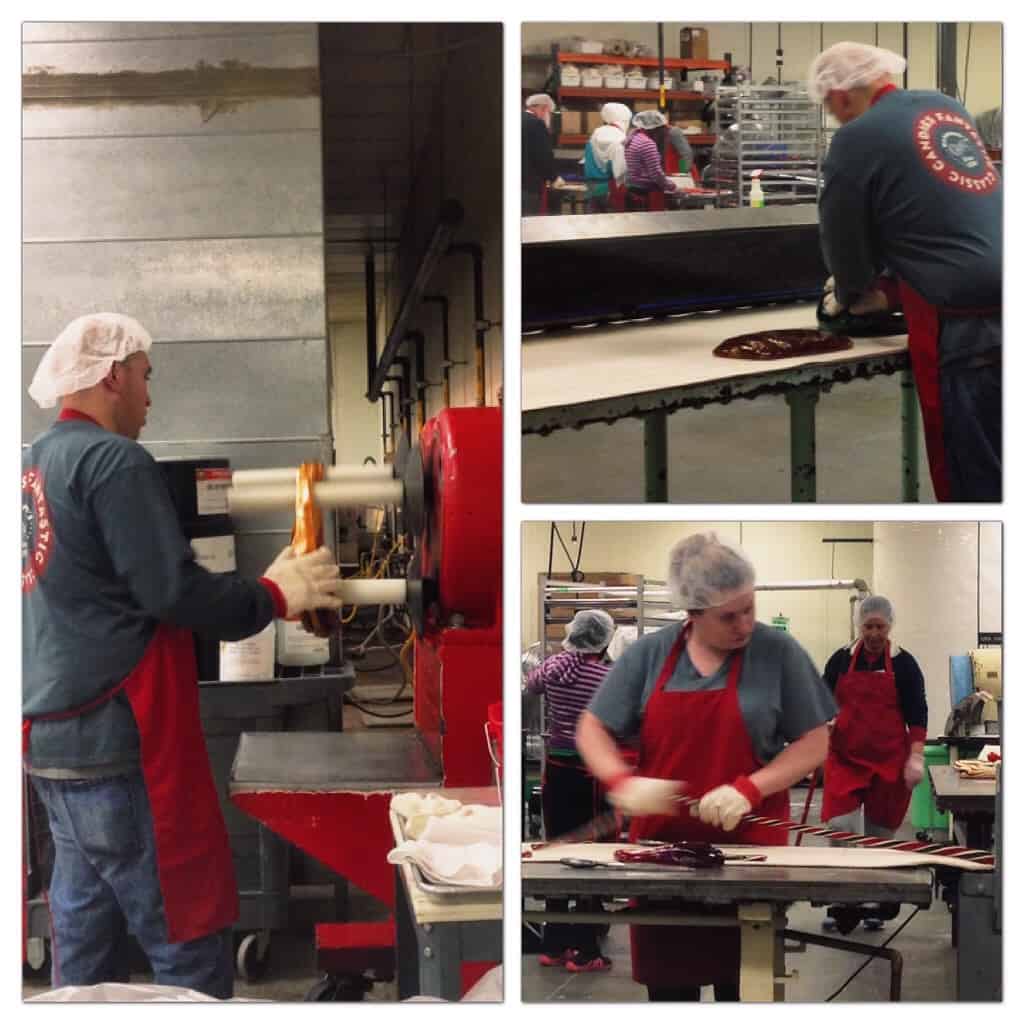 Hammonds Candy was founded in 1920 by Carl Hammond Sr. weathering the wars, the Depression and recessions – even when times are bad, people will buy a sweet treat. The family owned and operated company remained a small, 10 person operation until 1999 when the company was sold; its operations and distribution were then greatly expanded. With growth comes change, such as a new factory, more candy makers and an expanded line of sweets. That growth, however, didn't mean compromising the recipes or process of making Hammond's sweet treats. These are all tidbit you will learn during the free Hammonds Candy tour, all while observing the candy makers making the next batch of candy canes, caramels, chocolates and taffies.
The tour itself is fairly short, maybe a total of 30 minutes. The Hammonds Candy tour begins with a short video regarding its history, how particular candies were invented and the family who built the iconic Denver business. Then you're led down a short hall to an open area where there is plenty of room for everyone to watch the candy makers – behind a glass wall. If your kids are little, no worries there are plenty of stools and benches for them to stand on so they can have a good view.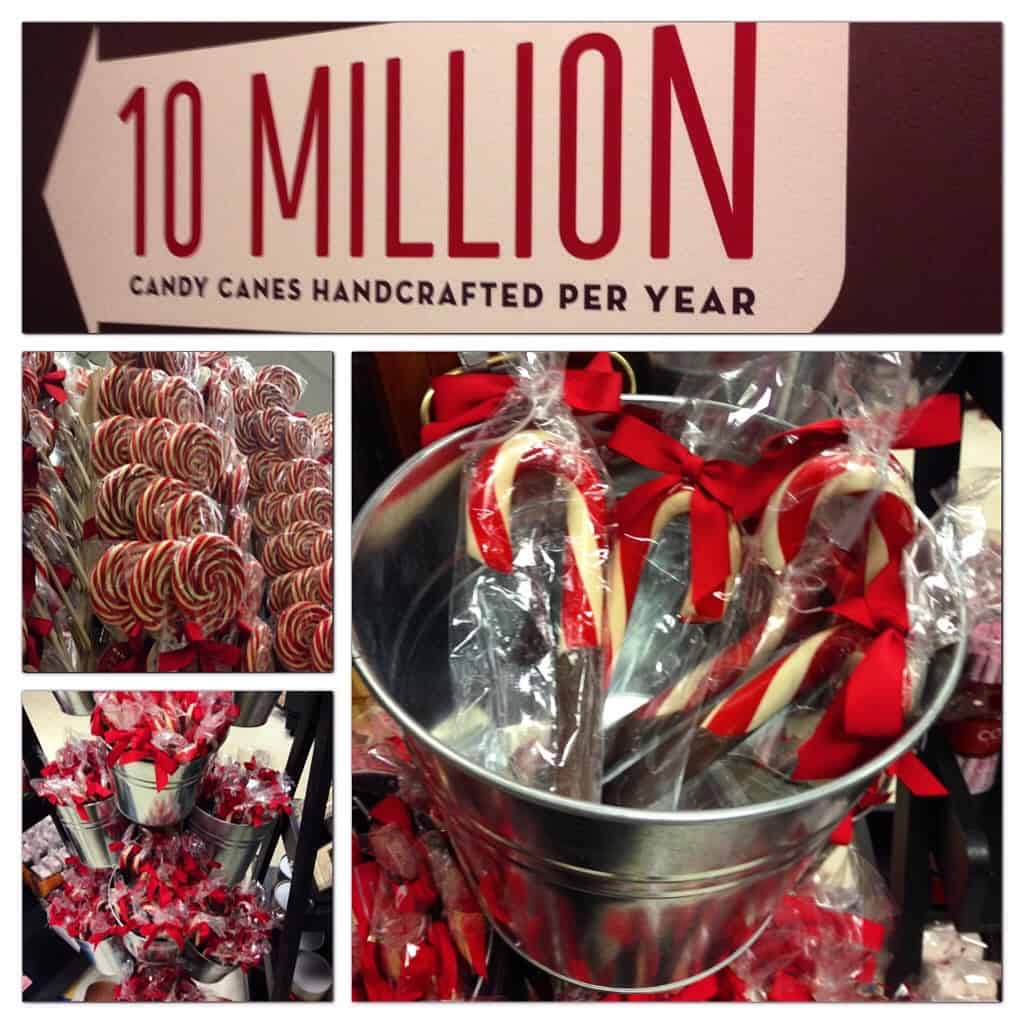 Hammonds Candy Tour Facts You Need To Know:
No reservations are needed for groups of less than 10. (If 10+, call 303.333.5588 ext 110.)
Tours run every half hour (typically on the half hour), Monday-Friday 9am – 3pm and Saturdays 10am – 3pm (closed on Sundays).
If you plan to go on a weekend or during the Christmas holiday season, you have to wait for the next open tour. We had to wait 30 minutes since it was rather crowded, but we just spent the time in the candy shop, which made the tour even more interesting for the kids.
Tours last approximately 30 minutes and can accommodate up to 50 people
Stroller, wheelchairs and walkers are welcome.
Holiday times will be busier for the tours – think Christmas holiday.
Everyone receives a candy cane or other treat – for free – after the tour. Most of these items are broken candy canes or lollipops. (Hammonds Candy is fairly delicate and can break easily. Two candy canes bumping into each other in a gift bag can result in broken treat. If you do make a purchase in the candy store make sure to have them wrap your candy to prevent breakage.)
Make sure to spend some time in the candy shop. Even if you don't want to make a purchase, the eye candy alone is impressive.
Can't make the tour? You can find Hammonds Candy at some popular retailers such as Whole Foods, Williams-Sonoma and Neiman Marcus.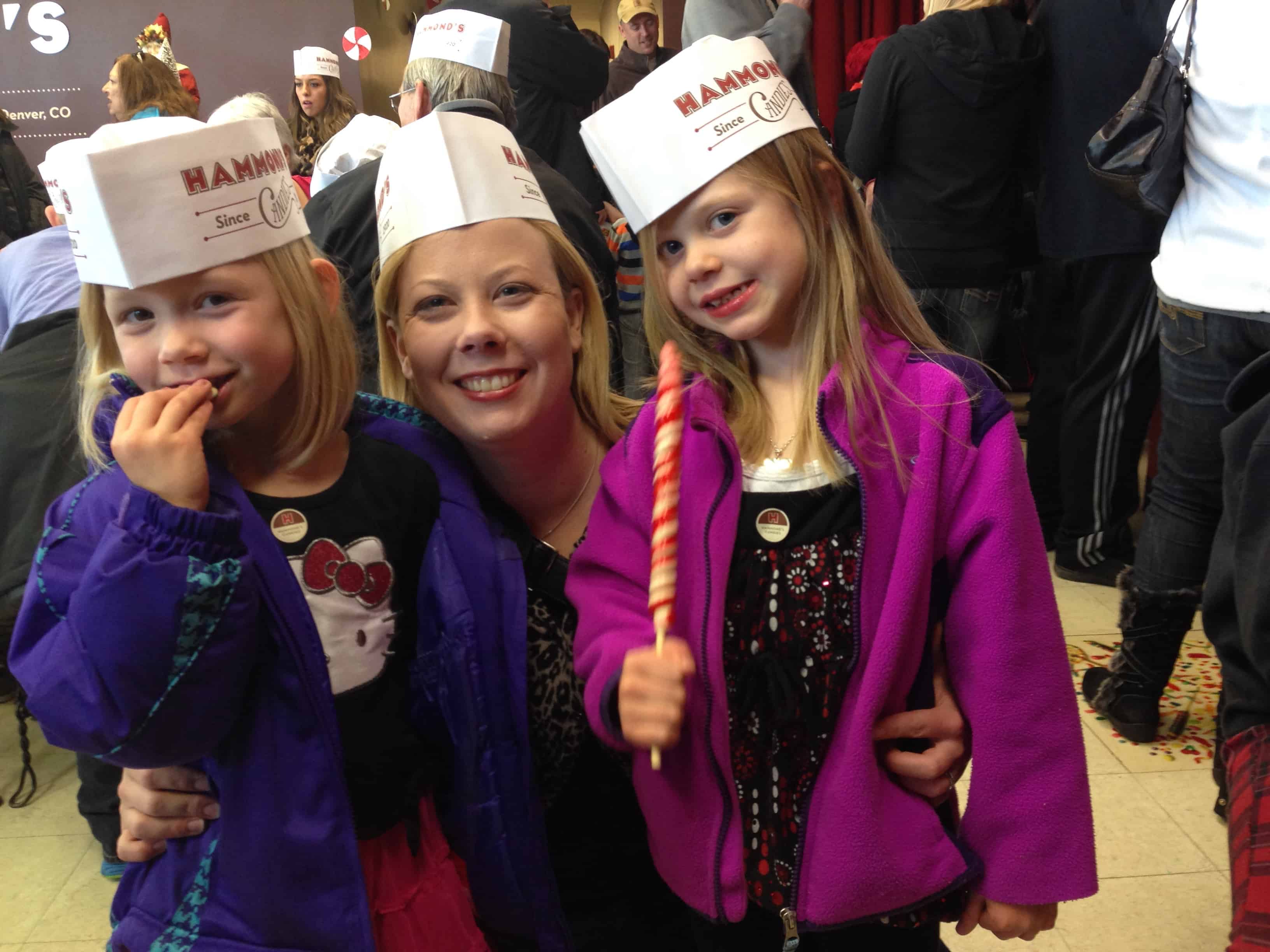 Have you done Hammonds Candy tour?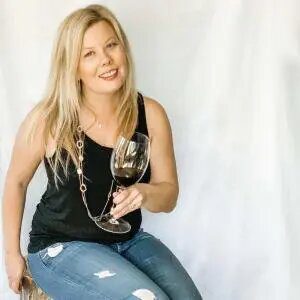 Elaine Schoch (pronounced the German way – Shock) is the editor and founder of Carpe Travel as well as an award-winning travel writer, wine judge, certified by the Wine & Spirit Education Trust (WSET) Level 2 and certified American Wine Expert. She is married to The Husband and has two kids, Princess One and Two – who's interest and knowledge in wine is quite extensive. Not to mention the stamps in their passports.