If you're quarantine cooking these days, comfort food might be topping the menu with salads taking a back seat. But, since we all need to eat our greens, why not pair comfort food, wine AND salad together. You may not be able to find toilet paper at the stores, but the shelves are stocked on lettuce making it a pretty easy item to add to your weekly menu. To help, I've pulled together a few salad wine pairing ideas that have become staples on my family's dinner menu.
Salad may not sound like it's something that can be paired with wine, but it can… The secret to a successful salad wine pairing is in the dressing.
The Rule of Thumb for Salad Wine Pairing
Acidity likes acidity.
Pair vinaigrette dressings like Italian and Balsamic Vinaigrette with higher acidity wines. Wine Suggestions: Sauvignon Blanc, Pinot Grigio, Vermentino and Alabarino
Creamy dressings like lower acidity wines.
Pair creamy dressings, usually high in fat (aka no/limited acidity) with lower acidity wines. Wine Suggestions: Chardonnay, Chenin Blanc and Pinot Noir are usually easy go to's.
Steak Salad
Grilled steak on top of a mix of red lettuce along with slices of hard boiled egg, diced tomatoes, sauteed onion and blue cheese crumbles. (Another option I love – that my kids don't – is to use arugula instead of the red lettuce. It adds another layer of flavor to the salad.
Dressing: Ranch or Blue Cheese dressing are what the kids and The Husband prefer, but I love using a little olive oil and salt. Simple yet delish. Either of the dressing options calls for a red wine with good tannin.
Suggested Wine: Merlot, Barbaresco, Cabernet Franc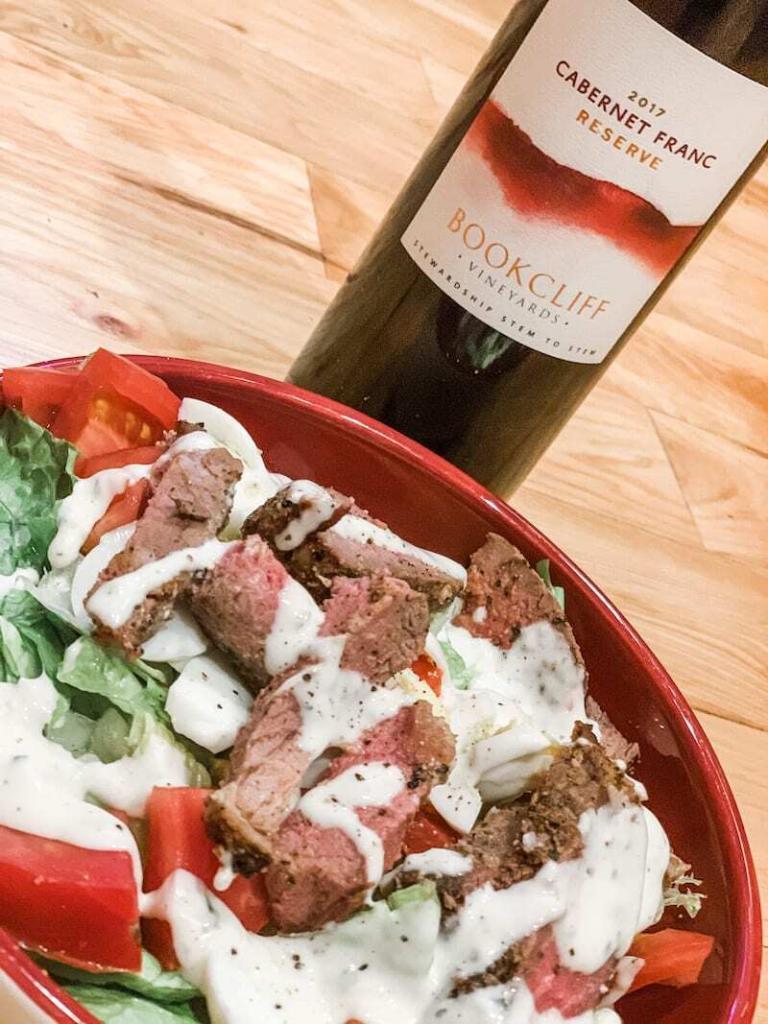 Caprese Salad
Sliced tomato and fresh mozzarella cheese with basil, olive oil and a little balsamic dressing. Add a little Romaine lettuce and prosciutto to make it more of a full meal.
Dressing: Olive oil and balsamic dressing
Suggested Wine: White wine with high acidity and citrus. An Italian Verdicchio would pair well, as would a dry rose.
Hamburger Salad with Honey Mustard Dressing
This salad is literally taking your favorite hamburger, sans the bun for a bed of lettuce. It's become a staple at our house with a sauteed bison (or beef) patty atop a bed of red lettuce and Romaine, diced tomatoes, shredded cheddar cheese, diced pickles, sauteed onions and either crispy red potatoes or tater tots. (The kids love the tots!)

Dressing: Honey Mustard Dressing

Suggested Wine Pairing: Look for a wine with soft acid to compliment the sweetness in the honey mustard dressing. Pinot Noir or Sangiovese are great options.
BBQ Chicken Salad
Another salad wine pairing that has become a go-to for my family… Grilled chicken that had been seasoned with BBQ powder, garlic powder and fresh parsley. After it's cooked, the chicken is chopped and mixed with a honey BBQ sauce and placed on a bed of red lettuce and/or Romaine. Black beans, corn, blue cheese crumbles and a slice of bacon (crumbles) are then added.

Dressing: Ranch to cool the heat from the BBQ, or you can add more BBQ and skip the Ranch.
Suggested Wine Pairing: A dry rose will always work, but this salad can standup to bigger wines as well. If you're feeling bold, this salad wine pairing can go with a Malbec or Merlot. (Keep in mind, the chicken has been marinated in a spicy BBQ and honey BBQ sauce. If it wasn't seasoned, the dry rose or Chardonnay would pair best.)
Iceberg Wedge Salad
This is my kids ultimate, favorite salad. I'm not exactly sure why, but I can ALWAYS get them to devour every, single bite of the crunchy iceberg lettuce, blue cheese crumbles, diced tomatoes, bacon and red onion.
Dressing: Blue Cheese or Ranch
Suggested Wine Pairing: Riesling
Chicken Caesar Salad
While Caesar dressing is a creamy dressing, it has a kick of acidity so it kinda breaks the rule of thumb for salad wine pairing.
Dressing: Caesar dressing
Suggested Wine Pairing: A Sauvignon Blanc, Pinto Grigio or Alabarino would pair nicely with this. A dry rose would be equally as good.
Which of these salad wine pairings are you going to try next?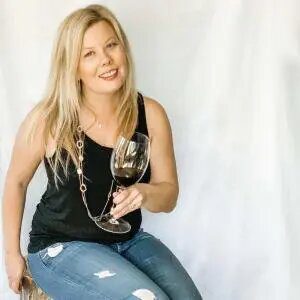 Elaine Schoch (pronounced the German way – Shock) is the editor and founder of Carpe Travel as well as an award-winning travel writer, wine judge, certified by the Wine & Spirit Education Trust (WSET) Level 2 and certified American Wine Expert. She is married to The Husband and has two kids, Princess One and Two – who's interest and knowledge in wine is quite extensive. Not to mention the stamps in their passports.