A Wine Lover's Guide to Where to Stay, Eat, and Sip Wine in Rome
Devin Parr, DipWSET, Contributing Writer
Rome may not have been built in a day, but you can certainly experience its exciting wine scene in one.
When traveling to various parts of Europe, a stopover is almost always a given – sometimes overnight. You can spend this time at the airport, or you can venture out into whatever city you happen to have landed in.
One of Europe's main hubs is, of course, Rome, located in the Italian province of Lazio. After careful research, we decided that 24 hours is plenty of time for a wine lover to get a taste of all that this ancient city has to offer.
THE WINES OF ROME
Lazio's wines are made primarily from the white grapes Trebbiano Toscano and Malvasia. However, some noteworthy red wines are also produced, mainly from grapes like Merlot and Sangiovese, as well as the aromatic local variety Cesanese.
Frascati is the most well-known Lazio wine, a light, fresh white with a soft, fruity taste, and a distinct almond note. Visitors are also likely to come across the famously-named Est! Est!! Est!!! of Montefiascone. Legend has it that a German bishop on his way to Rome for Henry V's coronation sent his servant out beforehand to find the inn with the best wines, which he would indicate by writing "EST!" ("This is it!") on the door. He was so delighted with the wines of Montefiascone, that he showed his excitement by writing "EST! EST!! EST!!!" instead.
Whether it's Frascati, Est! Est!! Est!!, Cesanase, or any of the other wines you are likely to find while wine tasting in Rome, this ancient city is a food, wine, and history-lover's paradise. Twenty-four hours may not be enough to experience it all, but we have created a helpful guide for what to do with a day in Rome if you love eating and drinking your way around a city.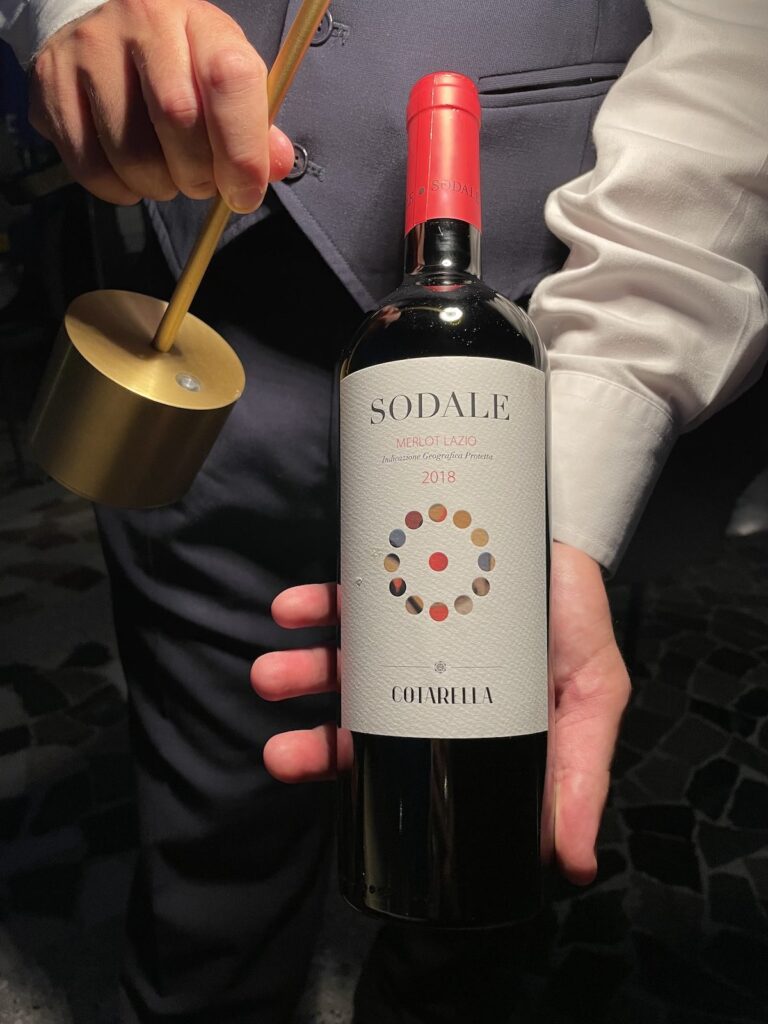 WHERE TO STAY IN ROME
For starters, book a room at the elegant Sofitel Rome Villa Borghese. This former 19 century Roman palazzo is located on a quiet street just far enough away from the crowds, but close enough for you to walk to Rome's many celebrated landmarks, like the Spanish Steps, the Trevi Fountain, and the Villa Medici, not to mention the countless restaurants, wine bars, and cafes that line each street and alley.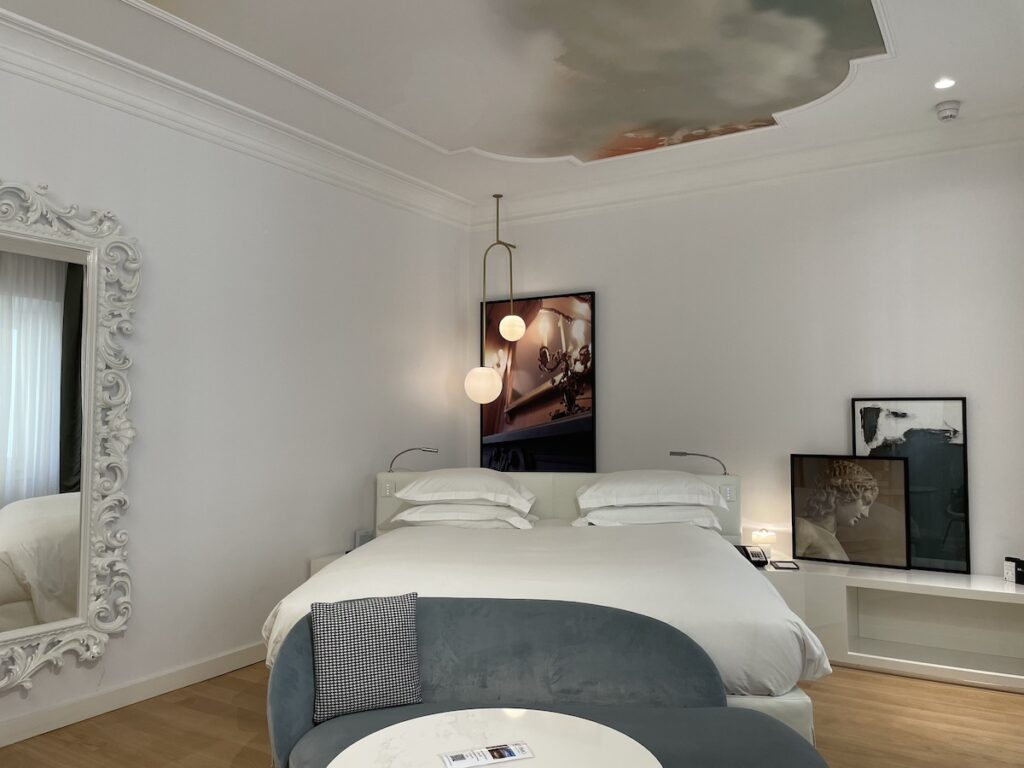 Wine lovers will want to take a picture in front of the striking Champagne wall in the lobby, adorned with artfully displayed bottles of Perrier-Jouët, reminding you that you are in a hotel that caters to International guests.
If you're too tired to hit the town, book a table at Settimo, the hotel's rooftop lounge and restaurant, which offers a vast selection of regional and international wines by the glass and bottle, not to mention the best cacio e pepe you will ever have in your life. Settimo also happens to boast stunning panoramic views of the Villa Borghese Gardens and St. Peter's Basilica.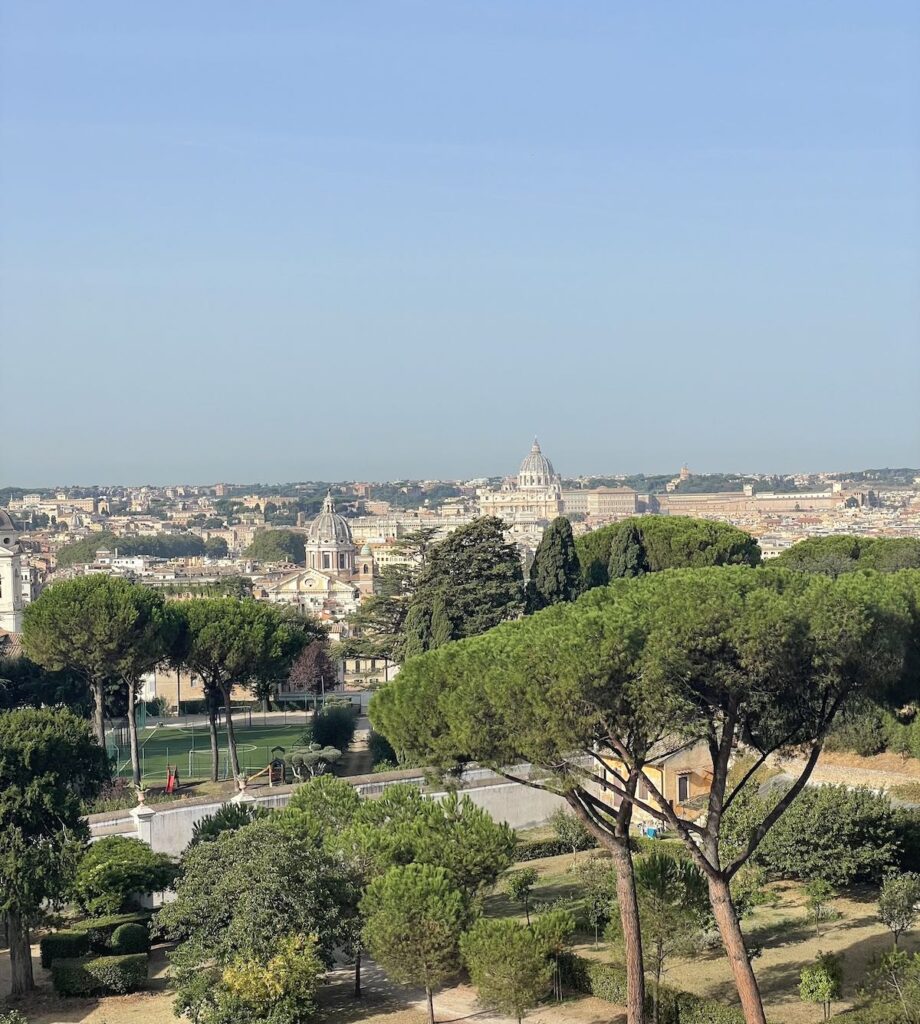 If boutique hotels are more your speed, book a room at Hotel De'Ricci for the ultimate in wine-centric lodging. General Manager Flavio Scannavino is one of several sommeliers on staff who work to create a customized wine experience for each guest, starting with a fully-stocked in-suite wine cellar tailored to each individual guest's wine preferences.
Visitors can book private, in-suite wine tastings with selections from the hotel's impressive wine cellar, or work with the hotel to create one-, three-, and six- day wine tasting itineraries throughout prominent wine regions in both Italy and France.
If you're on a slightly tighter budget, opt for the ultra-cool Chapter Roma boutique hotel, located on the edge of Rome's historic Jewish Quarter in the Regola neighborhood. It offers some of the biggest and most stylish rooms in Rome, featuring hip touches like exposed brick, forged iron accents, and local artwork, not to mention comfortable beds and free WiFi (a must if you want to document your travels on social media!).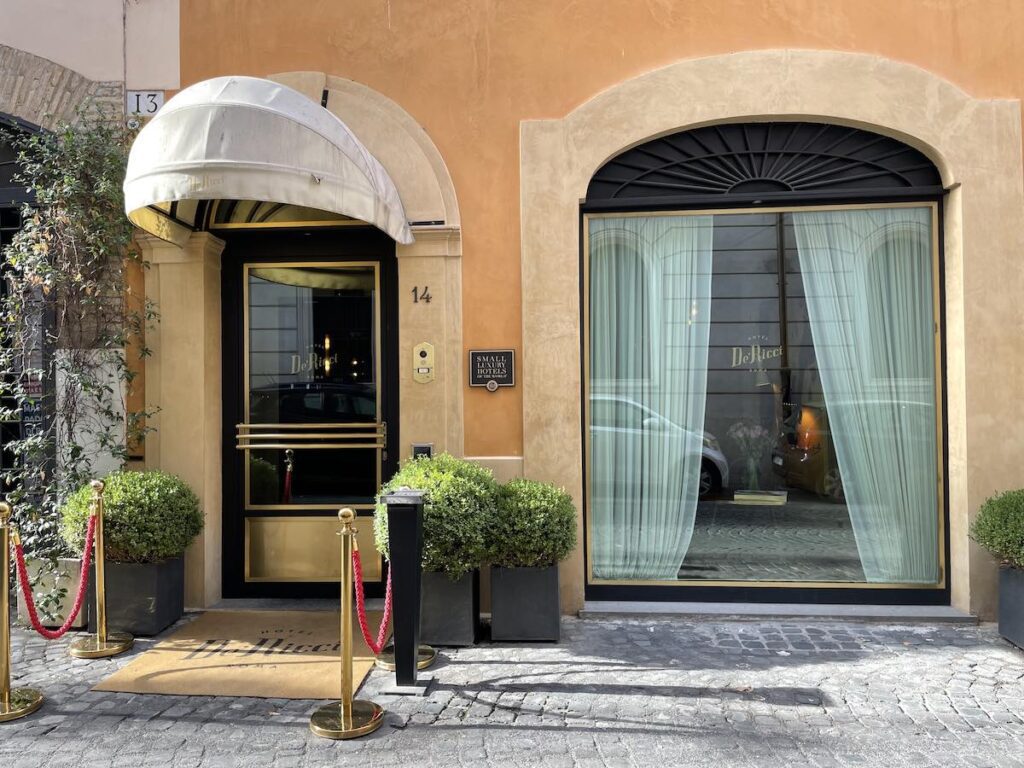 START YOUR DAY
A quick, stand-up espresso and cornetto at the closest café, or a bite at your hotel should do the trick to get you up and running and ready for a day of wine tasting in Rome.
Of course it's tough to be in Rome and not see at least some of the sites that make this ancient city so famous. But this is a guide for wine lovers! So, when you're done seeing The Colosseum, The Vatican, The Forum, the Pantheon, and any others that you are able to squeeze in during 24 hours in Rome (pro tip: pick one), it's time for some wine tasting.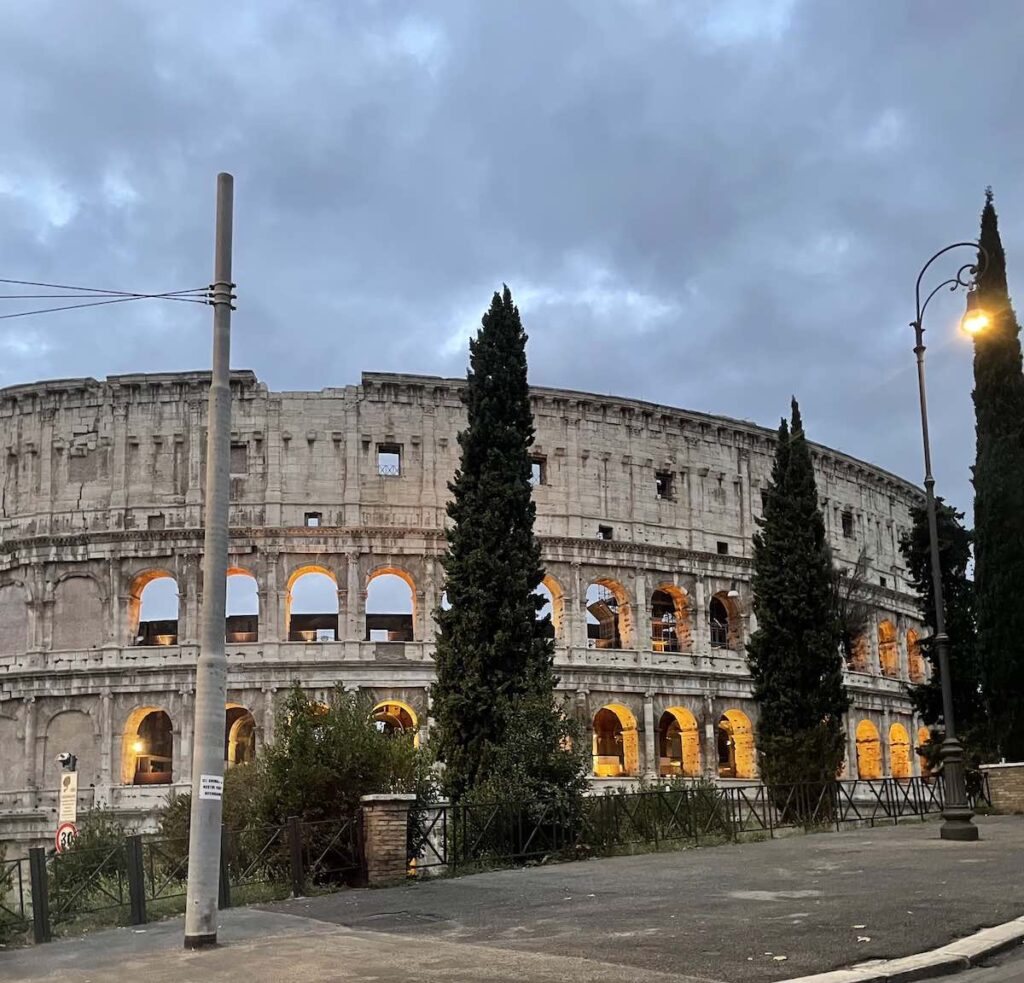 WINE TASTING IN ROME
A stop at Rimessa Roscioli, arguably one of the best-known wine bars in Rome, is an absolute must. At once a wine store, wine bar, restaurant, school, and culinary center, this food and wine mecca offers everything from wine tastings and cooking classes, group and private events, an online and brick-and-mortar shop, and even an innovative wine club.
Another local favorite for wine tasting in Rome is Il Goccetto. This cozy wine bar is tucked away on a quiet street in Rome's historic center. Translating to "The Little Drop," you will likely imbibe more than that, thanks to the floor-to-ceiling selection of local, regional, and international wine selections, not to mention tasty bites that complement each sip.
The quaint and authentic Il Vinaietto on Via del Monte della Farina is also a must-visit for wine tasting in Rome. This historic wine bar offers neither a website nor wifi, inviting guests to get back to simpler times when wine and conversation were the focal points rather than technology and the nagging pull of FOMO.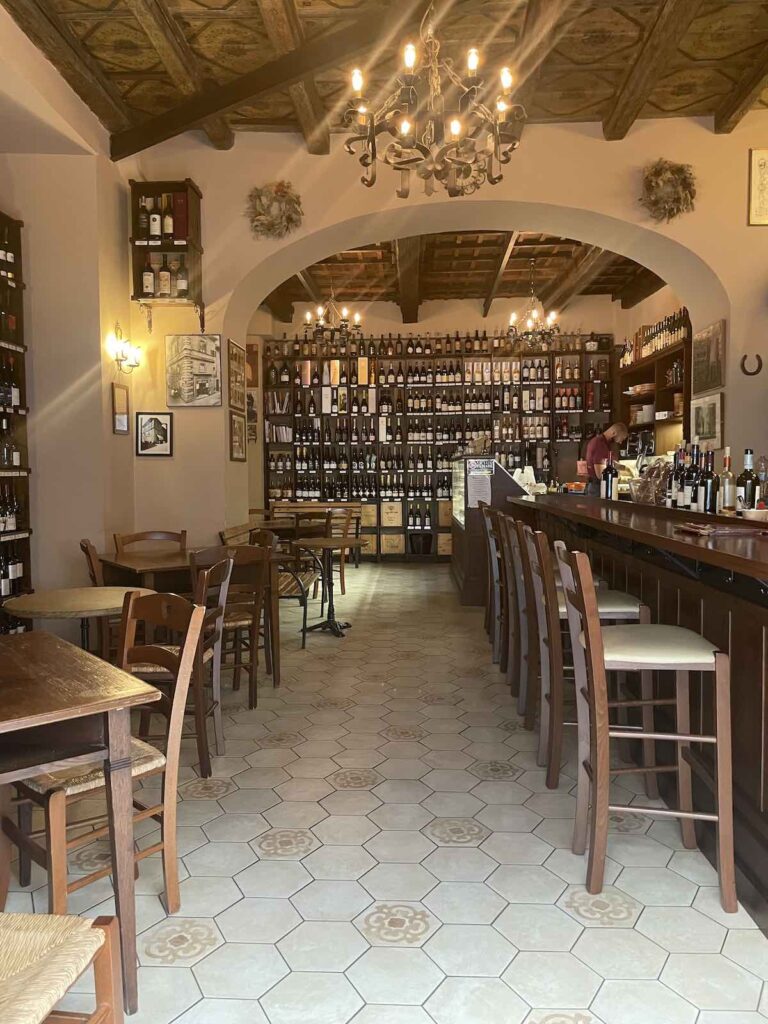 WHERE TO EAT IN ROME
If all this sipping has made you hungry, snag a table in the magical garden patio or up at the open-kitchen bar at Pianostrada Laboratorio di Cucina. This local favorite features a lighter, more contemporary take on Roman classics, as well as many fresh salads and plant-based options, and a rotating selection of piatti del giorno. The Pizzelle – delicate-as-air dough puffs filled with warm Ricotta Mustia (a salted, herb-smoked cheese), and topped with paper-thin slices of fresh tomatoes, basil, and lemon zest – are worth moving to Rome permanently for, and the Insalata Amore with juicy melon, arugula, almonds, goat cheese, lemon oil, and mint will have you feeling like you've just embarked on an Italian wellness retreat.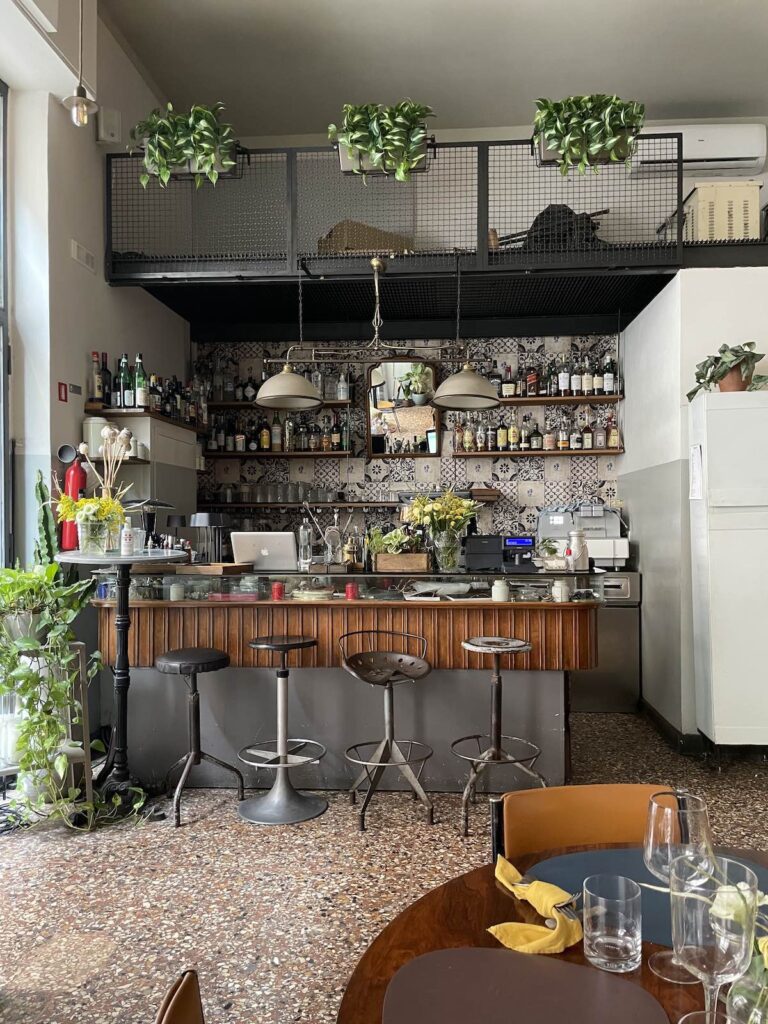 If you're looking for something more casual, stop in to CasaManco in Trastavere for some of the best pizza to-go you will find in Rome. While each pizza seems effortlessly delicious, this perfection doesn't come easily. Dough is left to rise in refrigerated temperatures for one hundred hours. The result is worth the wait when topped with an ever-changing selection of local ingredients from traditional tomato and mozzarella to more modern flavor combinations like mango, 'nduja, and Stracciatella.
Lastly, one cannot visit any Italian city without indulging in some gelato. Look no further than Otaleg ("Gelato" spelled backward). This tiny gelato shop offers a dizzying selection of cream-based flavors and sorbets, like the heavenly Stracciatella made from fior di latte and laced with shaved dark chocolate that melts in your mouth, two types of pistachio gelato made from Turkish and Iranian pistachios, and brilliant fruit combinations like white grapes and ginger, and refreshing lemon-basil.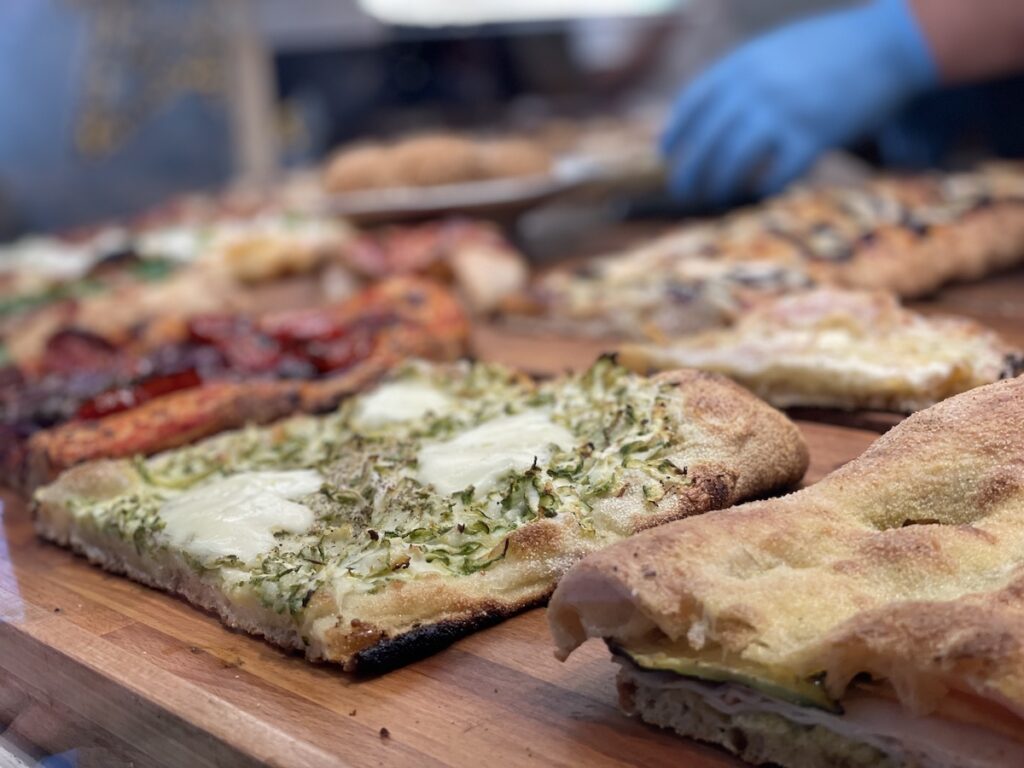 PLAN YOUR RETURN
When it's time to head to the airport – hopefully with a few bottles of the wines of Rome tucked in your bag – you will leave full, happy, and already planning your extended return visit.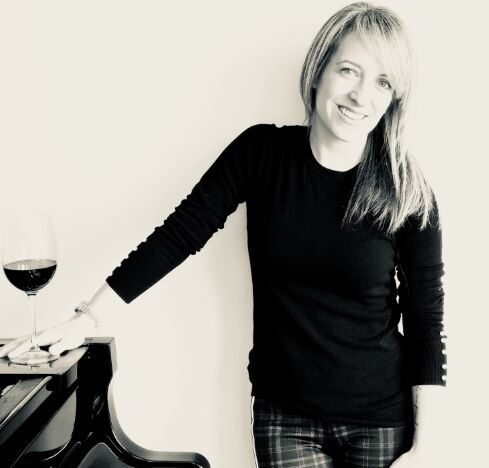 Devin Parr
Devin Parr is a leading personality in the wine industry. She is a freelance writer and the Founder and Managing Partner of Devin Parr & Associates, a consulting agency in the beverage, travel, and tourism space. She holds her Wine and Spirit Education Trust (WSET) Diploma, and was named one of Wine Enthusiast Magazine's Top 40 Under 40 Tastemakers in 2017. When she's not traveling the world in search of the best sips, you can find her training to one day earn her black belt in karate. Follow her adventures in wine, parenting, and martial arts on Instagram at @thesocalwinegal.