A sudden rainstorm drove us into the small wine shop off the main road in Castellina in Chianti in Italy. The walls inside Enoteca Biologica were lined with colorful wine bottles from the floor to ceiling and the proprietor welcomed us with a variety of wines to taste. Not a bad place to be stuck during a rainstorm.
It was our first trip to Italy and I can still remember the Morellino Podere 414, in its bright blue label. All 12 bottles we purchased that day in Enoteca Biologica were amazing wines, ones we could not get in the United States. Wines we were excited to have waiting for us upon our return…until they screwed it up.
The wine was packed and shipped incorrectly. Customs then the held wine in a hot Denver warehouse. We never got it. Luckily, American Express was able to refund our purchase.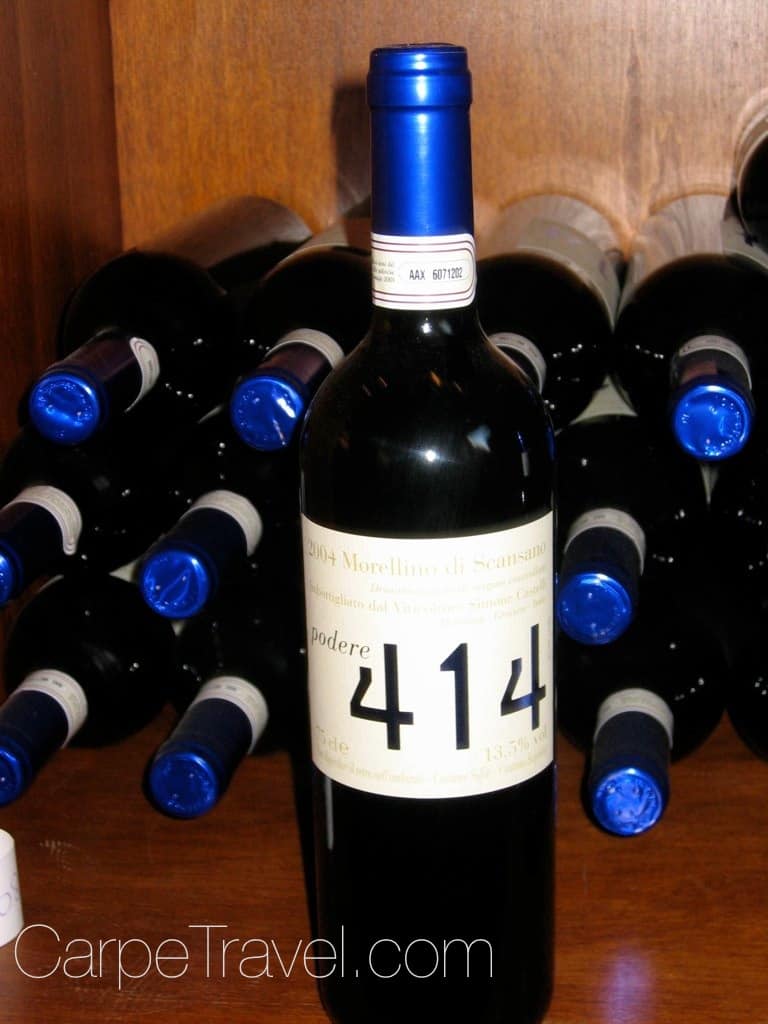 I've learned many things the hard way, many of which I may never publish simply because I'm still too embarrassed. But, my Italian wine shipping nightmare I will happily share AND provide advice on how to avoid the same mistakes.
A Guide to Traveling Home with Wine
If you visit vineyards in Italy, most will be able to sell you as many bottles of wine as you would like. And it's hard to pass up a $15 Brunello that is to die for or a $10 Nebbiolo that takes your breath away…
However, unlike the United States where you can have the vineyard ship your wine purchase to your home, in Italy you must take it with you. Unfortunately, most vineyards cannot ship the wine back to the States due to importing legalities. (See State by State wine shipping laws).
So what are your options for having wine shipped back to the United States?
1. Wine in Checked Baggage – Styrofoam Wine Shipping Boxes
Did you know wine can be boxed and checked as luggage? With proper packaging material, such as the Styrofoam wine shipping boxes you can get your wines home, with very little extra cost. Wineries can provide six-bottle or 12-bottle cardboard boxes, but these are not very sturdy even if you wrap bottles in bubble wrap; you're asking for trouble if you pack/check your wine in cardboard boxes.
If you can find the Styrofoam wine boxes I HIGHLY suggest this option as you will pay MUCH less in getting the wine home. (An extra "bag" of luggage typically costs $25-$50 vs shipping wine from Italy to the USA can run up to nearly $200. Shipping/costs are outlined in more detail below. Wine in checked baggage is the least expensive option I've found.)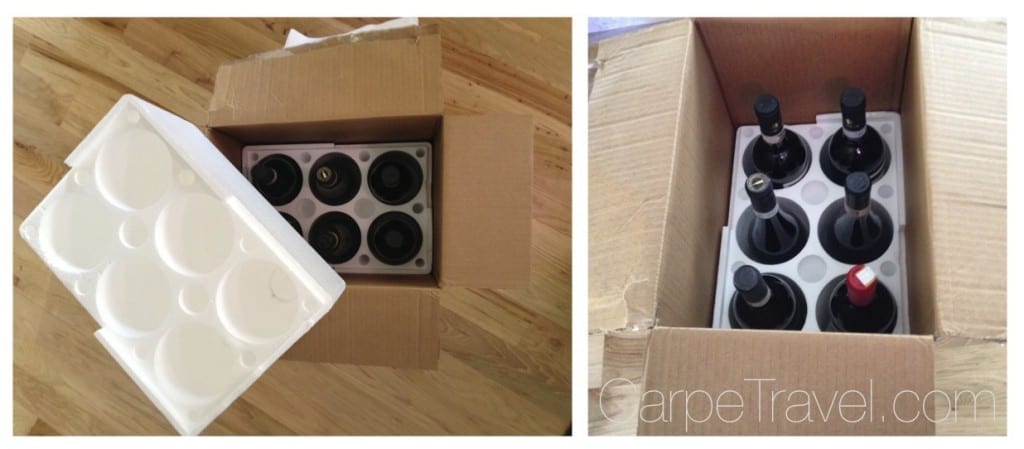 2. Wine in Checked Baggage – How to Pack Wine in a Suitcase
As with the first option, there is a HUGE cost saving having wine in checked baggage – assuming the bottles don't break. Remember, you will have to check your luggage if you go this route per the airlines liquid laws (3oz bottles only). So packing to prevent breakage is essential. I have had a lot of success using this method and have a few tips on how to pack wine in a suitcase to prevent breaks.
A few things to keep in mind: If you have a hard cased bag, this is the best option for packing wine in a suitcase as it automatically adds a layer of protection. Additionally, I typically carry collapsible bags with me when I travel, RuMe bags or something like the Lipault weekend satchel. This way if I do make a larger wine purchase, I can take my clothing or shoes and put it in the extra carry-on bag.
Seven Steps on How to Pack Wine in a Suitcase
Put one layer of clothing down to create a layer of padding.
Wrap each bottle individually. If you are using clothing to wrap the bottle, make sure to wrap the neck very well to where it's evenly wrapped with the rest of the bottle. If you have long socks, place the bottle inside a sock, enclose it in a plastic bag (trash bags from hotel rooms, shopping bags, etc.) to help keep any leaks contained. Then wrap the bottle in a shirt or another piece of clothing for added protection. I personally prefer to use wine totes vs wrapping the wine in my clothing. If you have wine totes use them – or go buy a few if you know you're bringing wine home. These are easy to pack, take up very little room in your bag and help add that layer of protection the bottles need.
(Most wine shops will also carry wine totes, so if you need to grab a few on the road – do it.) A few products I use are BUILT wine totes. They are made of made of Neoprene, the wetsuit material so if the bottle does break, the liquid won't leak out, at least not too badly. I also really like WineSkin. These reusable wine sleeves are made with a tough vinyl exterior and a bubble-pack interior with a seal at the bottom helping prevent leaks within your bag if they do occur. In Italy we found reusable wine bags at a local wine shop called BattlePro that worked very well. These seemed to be pretty easy to find in more remote area. All are great options when you have wine in checked baggage.)
Place wrapped bottles in the middle of the bag. The bottles need to be below the zipper line.
If there is room, line the sides of your bag with rolled up clothing to act as a side bumper for the bottles.
Add another layer of clothing above the bottles for padding.
If you have a front zipper pocket on you bag, fill it with clothing.
If the airport you're flying out of offers a wrapping option for your luggage, do it. The plastic wrapping helps keep the items inside your luggage more tightly secure (less movement inside is the bag is best) and also protects your luggage with an added layer of padding. The cost is usually less than $5 per bag.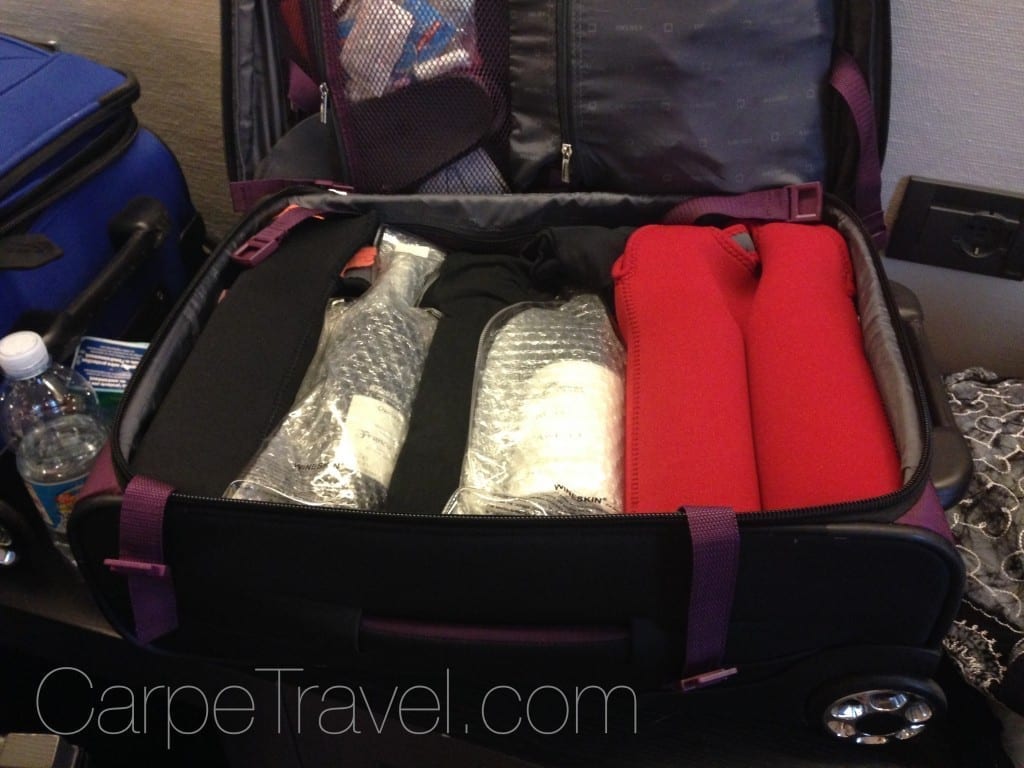 Getting Wine Through US Customs: We haven't had any problems clearing customs with our wine but we don't typically bring back more than 15 bottles (one case per person is considered ok and deemed "personal use").
If you are questioned about the excess wine, make it known it's for your personal consumption. There are taxes that you may be charged for the excess bottles, but it's only about 20 cents USD$ /per wine bottle. Make sure to check any updates US Customs has made since this post here.
3. Purchase a Wine Suitcase (or Wine Check)
On my last trip to Italy I walked into a luggage store in Alba looking to buy a hard-cased suitcase in which to bring my wine home. Alas, I didn't make the purchase BUT it's an option to consider.
Another option is to have a designated wine suitcase – one that's built specially to carry wine.
The VinGardeValise is just that. It's a suitcase designed and constructed to accommodate a full case of wine (12) of 750 ml bottles. The Petite Version of the wine suitcase is a smaller, carry-on size that holds eight bottles. Both feature removable foam modules that hold a variety of different sized wine bottles. Since the foam can be removed you can also use the VinGardeValise as a suitcase.
For the larger wine suitcase, you can easily pack six bottles on the left, seal it up and pack your clothing on the right. Or pack 12 bottles and forget the clothes.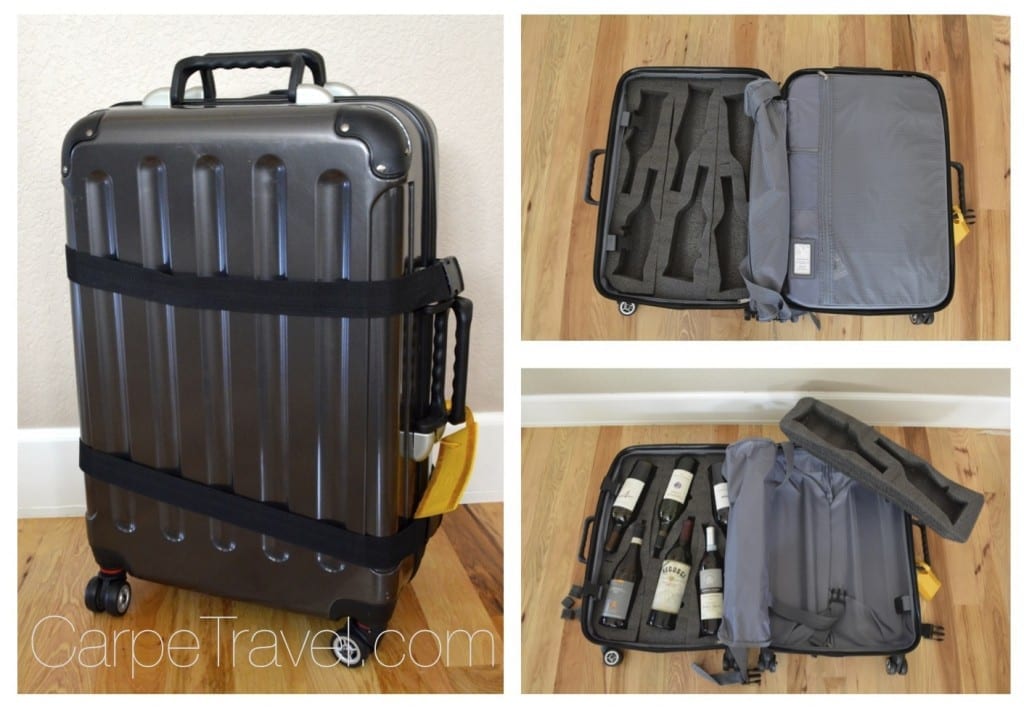 The VinGardeValise is really a cool wine suitcase. Its impact resistant polycarbonate shell protects the bottles sealed inside the case. Oh, and if you're worried about the changes in temperature, which can wreak havoc on your wine – don't be. The VinGardeValise is temperature resistant too.
Another option I have found – and used – that I love is the Wine Check. It's super easy to pack in your own luggage and then insert a packed case of wine that can be checked as baggage. It's a lot less expensive than the VinGardeValise (you can three for about the price of one VGV) and gives you the ability to bring a lot more wine home. Carpe Travel readers get a 10% discount when ordering and using the promo code – CARPETRAVEL – at check out.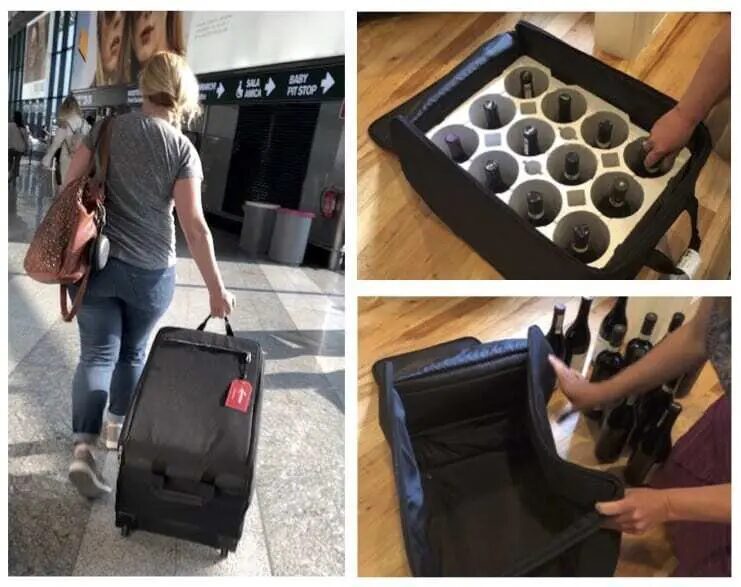 4. Ship the Wine Yourself
As I mentioned earlier, most vineyards in Italy cannot ship wine back to the States due to importing legalities but that doesn't mean you can't send it to yourself. There are several different services in Italy you can use to ship wine back, but they're not as conveniently located like UPS and FedEx are in the States. (The United States Postal Service does not allow wine to be shipped through its services so you do have to use a shipping service.)
It's best to check online before you leave to check shipping options in the destinations you're traveling to. For instance, if you're visiting the Piedmont wine region, is there a Mailboxes or FedEx in Neive or will you need to drive into Alba or should you just wait until you reach Turin to ship your wine? This can be determined before you head out either through an online search, checking with your hotel via email regarding their recommended shipping services or contacting the tourism boards (most will have the information listed online).
Tip: Make sure to check the hours of operation of the shipping office; most businesses in Italy are not open on Sunday.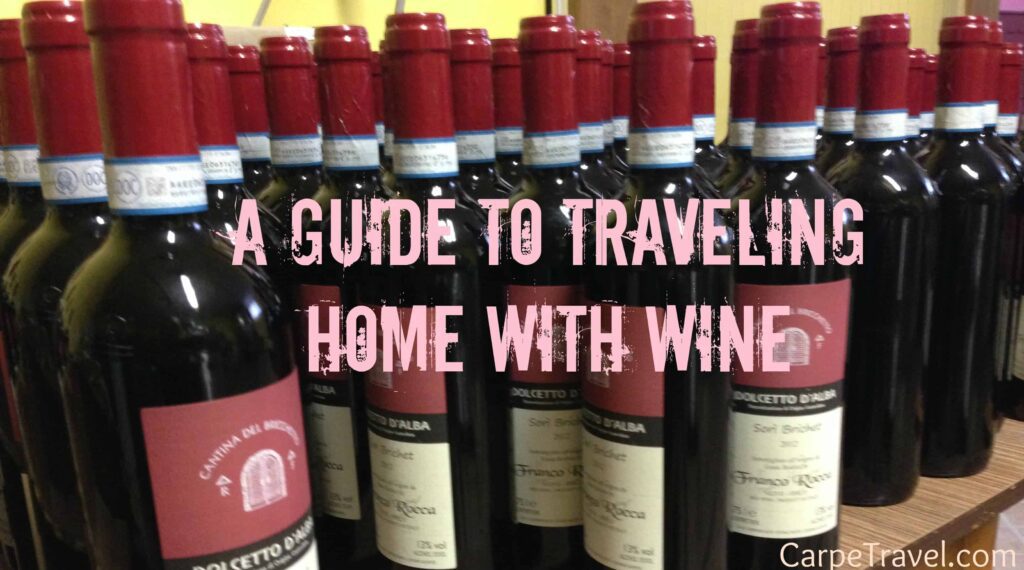 How to Pack the Wine if You're Shipping it Yourself: The best option is to purchase a Styrofoam wine box that can hold six or 12 bottles. The one problem with Styrofoam wine boxes – they aren't always easy to find, especially in remote wine areas of Italy. If you are able to find them (Mailboxes typically carries them) expect to pay 8-12 euros / $10-$15 per box.
The Cost of Shipping Wine: Shipping prices will regularly change. If you are able to check the destinations you're visiting and their shipping options, you can get a good feel online for pricing ahead of time. For instance, shipping wine from Alba, Italy back to Denver, Colorado via Mailboxes for six bottles is 80 euros / $100 and 12 bottles is 135 euro / $171.
That's A LOT of money when you're thinking you may be saving money since you grabbed a $10 bottle of Nebbiolo. If you ship that bottle in a box of 12, it basically brings its $10 price point up to $24. Just something to remember…
Best Shipping Practices:
Know your States laws. Not all sates in the United States allow wine to be shipped. Check FreeTheGrapes.com to see your State's shipping laws and here is more information from US Customs.
Have wine sent to your office where people can sign for the wine in your absence. If you have it shipped to your home and you're not there, the wine goes back onto the truck and to the warehouse (think heat, more movement and possible breakage).
If you purchase wine from any Enoteca (wine shop), make sure to put it on your credit card in case the wine never arrives so you can get reimbursed, which is what happened to us.
Get a tracking number and make sure the box/es are sent fast mail vs. barge — you don't want the wine sitting out on a dock for a few weeks.
Several travelers and wine lovers have told me the shipping services they have worked with have marked their shipments as olive oil to avoid issues with the first two noted above.
5. Work with a Wine Importer
If you simply fall in love with a wine and can't get it home via one of the ways mentioned above, ask the winery to provide a list of their importers in the United States. Most will happily give you the list and then you can simply place an order through the importer directly who can have the wine shipped to you.
Often times you can also ask a wine store to place the order for you. Something to note though, that $20 bottle of Brunello will run $30-50 via the importers. In other words, if it's just a few bottles you want it can be more cost effective to purchase the wine on your trip and bring it home in your checked baggage (even if you're paying for checking extra baggage).
What are a your best strategies for how to get wine back from overseas?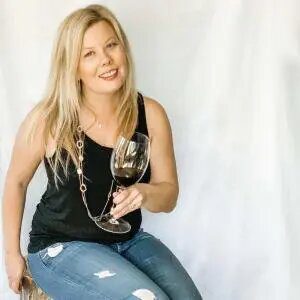 Elaine Schoch (pronounced the German way – Shock) is the editor and founder of Carpe Travel as well as an award-winning travel writer, wine judge, certified by the Wine & Spirit Education Trust (WSET) Level 2 and certified American Wine Expert. She is married to The Husband and has two kids, Princess One and Two – who's interest and knowledge in wine is quite extensive. Not to mention the stamps in their passports.