Looking to learn a little more about wine, or just sip in more flavors? Here is the ultimate list of wine movies to uncork!
There are a lot of movies to scroll through so I wanted to help you wine lovers out so you can binge on what I think is the ultimate list of wine movies. But first, let's talk about what to pair with your wine movie. Think buttered popcorn with bubbles or a Chardonnay. If you're more into flavored popcorn, sharp cheddar pairs nicely with Cabernet Sauvignon and sweet Caramel Corn is amazing with a desert wine or Riesling. For me, I prefer Merlot with sea salt and chocolate popcorn. Delish!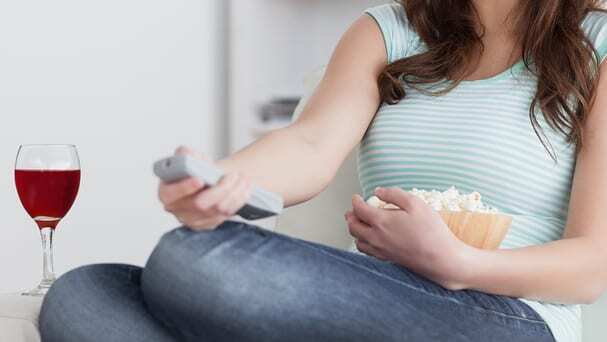 The Ultimate List of Wine Movies
Bottle Shock (2008)
The comedic story tells the tale of how one man turned eyes to the American wine industry.  Stephen Spurrier, an English wine merchant was instrumental in setting up the Judgment of Paris, the famed 1976 blind tasting that put American wines up against France's best. Unknowingly, French wine judges put American wines above the rest! The story also follows the relationship of Chateau Montelena's winemaker and son through their crazy relationship during the process of getting the wine to the contest. (Chateau Montelena's wines won at the Judgement of Paris.) Their story makes for an interesting take of the wine industry in the 1970's.
Where to Watch It:Amazon
Wine Country (2019)
With comedians like Amy Poehler, Maya Rudolph and Ana Gasteyer you know Wine Country is a must. This wine movie features a group of lifelong friends who reunite to celebrate one of their BFFs 50th birthdays. What was a "perfectly planned" weekend in wine country turns into one blunder after another, all while sipping in and rediscovering their friendships.
Where to Watch It:Netflix
The Secret of Santa Vittoria (1969)
It's an oldie but a goodie. Set in the little Italian town of Santa Vittoria during WWII, The Secret of Santa Vittoria tells the story of how the town hid a million bottles of wine from the German army when they occupied the area. It's a great tale of how people worked together to protect their business – and culture – during a time of war.
Where to Watch It:Amazon
A Good Year (2006)
A successful English, investment banker, played by Russell Crow returns to his childhood summer home in Provence after his late uncle leaves him the vineyard and chateau. He ends up rediscovering himself, his passions and what's important in life.
Where to Watch It: Amazon
Somm (2012, 2016, 2018)
There are THREE Somm movies all are worth seeing. The three movies follow four men going through prices to studying – and taking – for the The Court of Master Sommeliers exam, one of the world's most exclusive organizations in the wine industry. The following two movies reunite the group for a rare glimpse inside the world of winemakers filled with stories, blind tastings, career lessons and a tasted of how the world of wine works.
Where to Watch It:Amazon
Blood into Wine (2010)
Music lovers – this wine movie is something you'll want to add to your wishlist!! The documentary tells the story of how Maynard James Keenan, the former lead singer of Tool, became a winemaker in Arizona.
Where to Watch It:Amazon
Red Obsession (2013)
Narrated by Oscar-winner Russell Crowe, this wine movie explores the obsession for Bordeaux wines in the Chinese market.
Where to Watch It:Amazon
Mondovino
"Mondovino: The Series" is a world-traveling saga detailing the full gamut of wine making and marketing. (While this isn't a wine movie, it's a TV series you can still binge…) From the billionaire brokers and the courtly conflicts to an impoverished family fighting to save their acres of land, this series brings the drama of wine making to life. Told in five different languages, the series showcases confidential interviews with iconic figures in the wine world.
Where to Watch It:Amazon
Natural Resistance (2008)
If you liked Mondovino you'll love this wine movie. Nearly a decade after making Mondovino, director Jonathan Nossiter's returns to the subject and looks at the Italian vanguard of a rapidly spreading European natural wine revolution.
Where to Watch It: Amazon
A Walk in the Clouds (1995)
The romantic movie is set in the post-WWII era in France. Keanu Reeves plays a WWII vet who offers to pose as the husband to a woman he met on the bus. She is pregnant and afraid to return home without a husband as her family and their vineyard during harvest as she thinks they will disown her. The plan was to stay for one night then be on his way. But like all good stories, plans change.
Where to Watch It: Amazon
A Year in Burgundy (2013)
The film follows seven wine-making families in the Burgundy region of France through the course of a full year, and delves into the cultural and creative process of making wine, as well as its deep ties to the land. The film is in four season-sections, and plays out against that backdrop: spring showers, drought, heat wave, hail and storms, harvest moons and the damp cold of winter.
Where to Watch It:Amazon
A Year in Port (2016)
Journey into Portugal's spectacular Douro Valley to explore the mystery and complexity of the world of port. You'll learn how port is made, its importance to Europe and past political role in history. Not to mention, you may just fall in love with wanting to visit the picturesque Douro Valley.
Where to Watch It:Amazon
A Year in Champagne (2015)
Calling all lovers of bubbles – this wine movie is one not to miss!! With renowned wine importer Martine Saunier as your guide, you will get a rare glimpse behind the scenes into the real Champagne through six houses, from small independent makers to the illustrious houses of Gosset and Bollinger which have been instrumental in shaping the image of Champagne around the world.
Where to Watch It: Amazon
Sideways (2004)
A struggling writer (Paul Giamatti) and his best friend (Thomas Haden Church) get into all kinds of trouble when they embark on a wine tasting bachelor party weekend in the Santa Ynez Valley (near Santa Barbara). The movie is known for its love of Pinot Noir wine from the region and its reference to "I will not drink F%$! Merlot!."
Where to Watch It: Amazon
Merlove (2009)
Merlove is a documentary celebrating Merlot wine in response to the movie Sideways, which inadvertently tanked the market for Merlot wine. Have your own wine adventure! No single grape varietal is superior or inferior to others. "Take this, Miles" – Wine Spectator "As a documentary for wine lovers, it's essential viewing…a lighthearted, philosophical odyssey…'Merlove' is a guaranteed treat." -The Seattle Times
Where to Watch It:Amazon
Boom Varietal: The Rise of Argentine Malbec
Documenting how Malbec — a wine originally intended only for local consumption — transformed into an international sensation, "Boom Varietal" talks to winemakers, wine connoisseurs and the investors hoping to profit from the boom. "Boom Varietal" is an insider's look into the world of wine that will inspire not only your palate but also a love for Argentina's rich culture.
Where to Watch It:Amazon
Sour Grapes (2017)
An unassuming young man floods the American wine market with fake vintage valued in the millions in this humorous and suspenseful take of an ingenious con on the eve of the 2008 stock market crash.
Where to Watch It:Amazon, Netflix
Wine Calling (2019)
Today the wine industry is seeing a global movement calling for superior taste and sustainability in wines. This wine movie showcases the new winemakers in Catalonia and how they're helping bring it to life.
Where to Watch It:Amazon
Wine for the Confused (2005)
Monty Python alums have made good second careers hosting documentary programs,inclding they wine movie. Join John Cleese on an entertaining and personal look at the world of winemaking and discover: how to find wines that taste good to you, how to make sure you get the best value and how to keep and serve wine at home.
Where to Watch It:DVD
Cement Suitcase (2014)
This comedy follows the life of a wine salesman in the Yakima Valley (Oregon) who finds out his girlfriend is cheating on him, but he doesn't have the self-respect to tell her that he knows. When he meets the "other guy," he decides it's time to let go of some baggage.
Where to Watch It: Amazon
A Heavenly Vintage (2009)
In 19th-century France, a peasant winemaker endeavors to create the perfect vintage. Starring Academy Award nominees Vera Farmiga and Keisha Castle-Hughes alongside French screen icons Jérémie Renier and Gaspard Ulliel.
Where to Watch It: Amazon
Back to Burgundy (2018)
This wine movie is set in picturesque France and spoken in French (with English subtitles). The story follows three siblings, now grown reinventing their relationships to run the family vineyard – together.
Where to Watch It: Amazon
Barolo Boys (2015)
The story of a group of friends, the "rebel boys" who made Barolo become the best wine in the world, filmed in the marvelous scenery of Langhe hills, Italy.
Where to Watch It: Amazon
American Wine Story (2014)
After an upstart winemaker's untimely death, his sister steps in to try and save his fledgling winery for his eight-year-old son. This documentary blends this with other tales of risk and reinvention for those who are born again into the American wine industry.
Where to Watch It: Amazon
Our Blood is Wine (2018)
Filmmaker Emily Railsback and sommelier Jeremy Quinn journey to the Republic of Georgia to explore the renewal of 8,000-year-old wine making traditions all but lost during the period of Soviet rule, providing intimate access to rural family life and the ancestral legacies of modern Georgian winemakers striving into the 21st century. In Georgian w/English subtitles (user may need to turn subs on).
Where to Watch It: Amazon
Grand Cru (2018)
A documentary on Burgundy's wine making legend Pascal Marchand and how climate change has and is impacting his winemaking operations.
Where to Watch It: Amazon
Decanted (2017)
Look inside one of the most intimate winegrowing regions in the world, Napa Valley, as we follow the journey of new beginnings and mastering a craft. Seen through the eyes of elite Napa Valley winemakers and pacesetters that share a passion for their craft in this small but highly revered wine region.
Where to Watch It: Amazon
Wine Diamonds: Uncorking America's Heartland (2017)
This documentary introduces you to a number of wines from the Midwest that most  people have not heard of, let alone sipped. It goes into how the Midwest region of the United States is and can be a great wine producing region – again. This is a great movie for people looking to expand their knowledge of lesser known American wines and regions outside of California.
Where to Watch It: Amazon
Uncorked (2020)
A young black man is torn between taking over his fathers BBQ shop and becoming a Master Sommelier. This Netflix original wine movie takes you through his journey of becoming who HE wants to be while slowly overcoming stereotypes and the challenge of getting his family and friends support along the way.
Where to Watch It: Netflix
Uncorked (2010)
Yep, another wine movie called Uncorked but this romance movie focus on a workaholic woman who takes a corporate retreat in the California wine country where she meets a handsome chef and his wholesome family, finding love and the meaning of family along the way.
Where to Watch It: Amazon
---
Sip In More…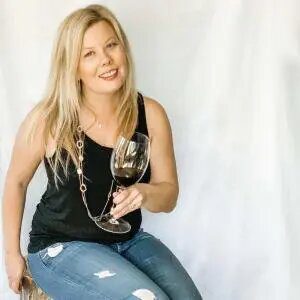 Elaine Schoch (pronounced the German way – Shock) is the editor and founder of Carpe Travel as well as an award-winning travel writer, wine judge, certified by the Wine & Spirit Education Trust (WSET) Level 2 and certified American Wine Expert. She is married to The Husband and has two kids, Princess One and Two – who's interest and knowledge in wine is quite extensive. Not to mention the stamps in their passports.