While Breckenridge might be known more for its winter sports, visiting in the summer is a must and hiking in Breckenridge is an absolute. There are hundreds of hiking trails in Breckenridge, from "easy" to "moderate" to "hard" to "crazy hard" to "what the heck are you thinking". Since we are barely able to do moderate hikes with our kids (right now) I've rounded up a few easy, family friendly hikes in Breckenridge that allow you to get out, explore nature and even a bit of the town's storied past. These hikes aren't just great summer hikes but fall hiking in Breckenridge is more colorful than you can imagine.
I'm hopeful to expand this list to include more moderate hikes next season as the girls get stronger and can hike more. If you have recommendations, please let me know in the comments. In the meantime, where is your favorite hiking in Breckenridge? Looking for more things to do in Colorado?
Family Friendly (aka EASY) Hiking in Breckenridge, Colorado
Burro Trail
Even though you probably won't find any donkeys here, your kids will have a blast. Burro Trail takes off just a few steps beyond the ski resort, but yields a true deep woods adventure as you wind through pine forests and meadows. As a bonus, there are many chances to meander as this one crosses several back-country trails. Your kids will feel as if they are really roughing it on this one. The trail begins at the bottom of the Lehman ski trail, located at the base of Peak 9 off Village Road in Breckenridge.
Iowa Hill Mine Trail
This Breckenridge hiking trail has a bit of a history lesson with it. The trail winds through an abandoned mining site with many authentic, historical artifacts and markers that really give you a feel as to how the area looked when there was gold the hills. The kids loved exploring the abandoned cabins and trying to figure out how the tools may have been used by the miners. There are markers along the way that do provide a bit of the history to help explain these things.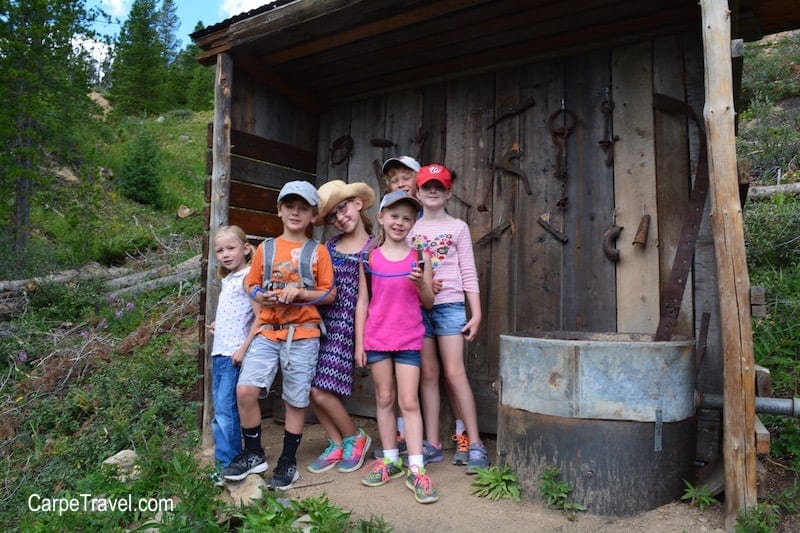 The Iowa Hill Mine Trail is only one and half miles total and is a loop so you won't get lost. The trail can be accessed from Airport Road south of downtown. Simply look for the trail head to begin near the public works building, and you are well on your way to giving your kids an adventure of a lifetime with this one.
Tip: Parking at Iowa Hill Mine Trail is limited so you may need to park off the side of the road and walk to the trailhead. (I nearly had bumped into another car backing up in the small space. The rear radar system in the Subaru Legacy I was test driving alerted me before doing so – sold!)
Sawmill Trail
This is a trial you can take the smallest child on. It features a hike out to the stream where you can fish, picnic and splash in the water. The hike is only about a mile and a half long. It starts close to the Snowflake Lift located near Four o'clock Road, you can get there easily right off of Main St. In the summer, this hike is cool and vibrant. Your kids are sure to love it!
Sapphire Point
Here, you will be able to take in the views of the mountains from a much higher vantage point. This small loop style hike features 9,500 feet of beautiful vistas surrounding Lake Dillon. You can spot the Ten Mile Mountain Range in all of its glory, and easily skip your way back through the lush meadow. I would pack lunch though if I were you. There is a rest stop about midway through, and you will definitely be hungry. Plus, it's always good to take a breather for the kids sake so they don't get grumpy on a long hike.
McCullough Gulch Trail
Finally, if you want to take your family on something a bit more challenging, and feel like they are up for the task, consider the McCullough Gulch Trail. For adults, it is actually rated as moderate. However, your kids will find it challenging to say the least. Wear boots because you will definitely need to find some solid footing during portions of the trail where it is a bit rockier. Then there is the length to deal with too. It is almost three miles long, so make sure your kids have plenty of protein, snacks, and water to keep them stable during the trek.
However, this Breckenridge hike is absolutely worth it. At the top, you will be treated to a beautiful glacial lake that features an astonishing, cascading waterfall. It feels rugged and wild, and certainly has the type of scenery that could be described as eye candy. It is simply beautiful. The only word of caution might be that you may want to make sure you are acclimated beforehand since the elevation is higher. You don't want to be short of breath when you attempt this one!
If you want to try a more adventurous hike later, by all means feel free. These are the best ones to do with your kids as they are easy and a lot less challenging. The potential for injury is extremely low, and your kids are sure to have an absolute blast. Above anything though, it just goes to prove that there is so much more to Breckenridge Colorado then just skiing. It is a beautiful place full of nature that beckons you to explore at every turn.
I'm hopeful to expand this list to include more moderate hikes in Breckenridge next season as the girls get stronger and can hike more. If you have recommendations, please let me know in the comments. In the meantime, where is your favorite hiking in Breckenridge?
Looking for more ideas for things to do in Colorado?
Carpe Travel's Colorado Wine Travel Guide.
Things to do in Breckenridge besides skiing
Things to do in Palisade…with Kids
Seriously FUN Things to do in Telluride
Beaches in Colorado? Yes they do exist.