With more than 120 wineries, wine tasting is one of the top things to do in the Santa Ynez Valley, but you will miss out on a lot if you don't go beyond the vines. The area is home to so many fun activities! If you're in the area and looking for things to do in Santa Ynez Valley besides wine tasting, we've got some great picks for you. Albeit, you REALLY need to make sure to hit some wineries. (Here's your 48-hour itinerary for sipping through the Valley.)
1. Hike the Nojoqui Falls
Santa Ynez is known for its wine and its fabulous mountains, which also means awesome hiking opportunities. There are plenty of trails ready for you to explore, I suggest you check out All Trails to find one that meets your hiking ability. One that I personally want to explore is the Nojoqui Falls County Park – the hike up to the falls is supposed to be amazing! And, it's holds the background story to one of my favorite local wineries – Brave & Maiden. It's a pretty easy hike up to the falls so most non-hikers will be able to enjoy it just was much as avid hikers.
Yes, you read that right! This is a farm that is dedicated to the well-being of more than 100 ostriches and emus. It's not every day that you can observe, feed and get a better sense of these wonderfully bizarre creatures. Families with kids are, of course, very welcome and, for a dollar, you can get up close and personal and feed these long-necked wonders.
3. Olive Oil Tasting at Global Gardens
While wine tastings might be one of the big things to do in Santa Ynez Valley, tasting olive oil isn't too far behind. I've tasted my fair share of olive oil over the years but doing a true tasting of a variety of oils while sitting outside in an olive grove is a really cool experience. Global Gardens offers an amazing olive oil tasting at its wine country Farm Stand.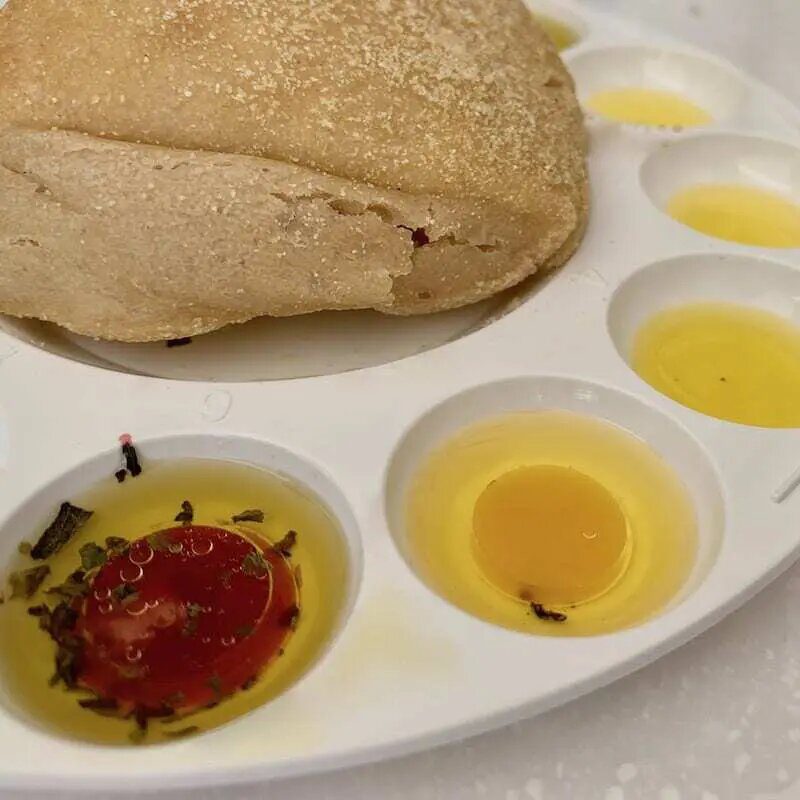 Not only can you sample a variety of locally grown and pressed oils but you'll receive a great education on all things EVOO from the owner – and EVOO specialist – Theo Stephan. I could have spent hours chatting with Theo about how to use olive oil for skin care. (I've since started using it as moisturizer for my hands.) If I had more time, I'm pretty sure I would have a month worth's of meals planned too. Her first cookbook, Olive Oil & Vinegar For Life: Delicious Recipes for Healthy Caliterranean Living, has some of the most delicious recipes.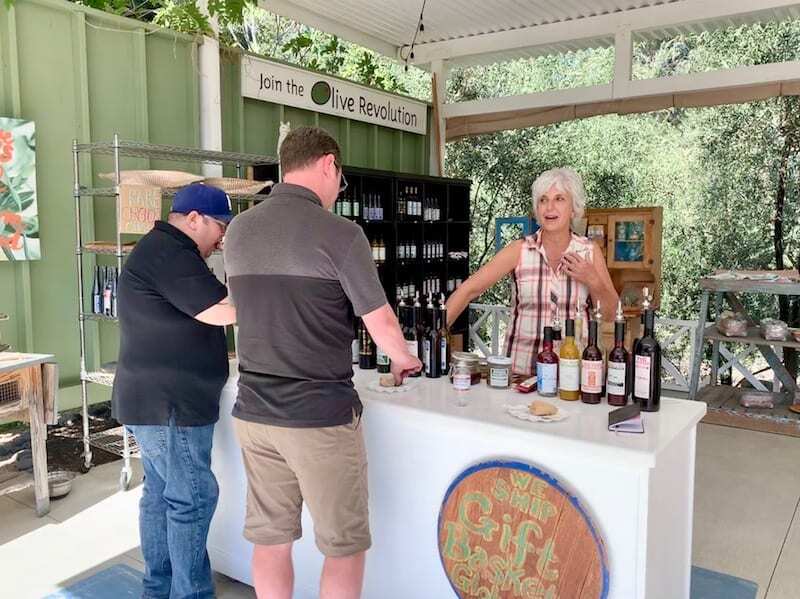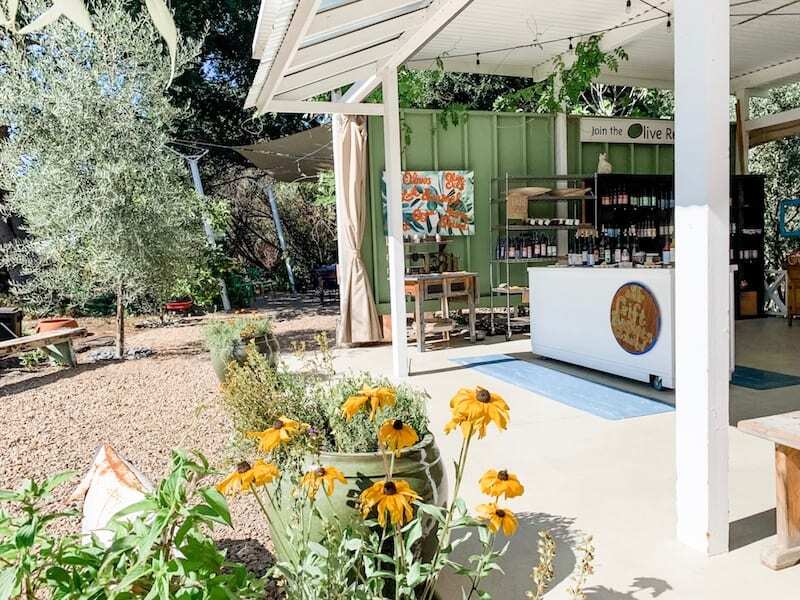 Global Gardens is located near the intersection of Los Olivos and Solvang, making is a perfect morning stop before you set out for wine tasting, or after you wrap up a morning hike. The tastings are family friendly, and can be done between 10am-5pm Thursday thru Monday, rain or shine or otherwise by appointment. The stand is closed Tuesdays and Wednesdays, unless you have scheduled (and confirmed) a reservation.
4. Vino Vaqueros Horseback Riding
If you're looking for things to do in Santa Ynez Valley that the whole family will enjoy, spend an afternoon with the team at Vino Vaqueros Horseback Riding and you won't be disappointed. Regardless of experience, everyone is invited to saddle up on horseback and experience a private tour of the Estelle ranch and vineyards.
This is a truly unique way to experience a very special corner of the United States as it evokes a much deeper connection to the land. There are a lot of riding packages offered so you can choose to opt in or out of wine tasting.
Just a 35-minute drive from Santa Ynez is the Pacific (PCPA) Conservatory Theater. This is a nationally acclaimed theater school that gives audiences a truly unique experience each and every time the curtains are drawn. Visitors can enjoy contemporary works, musicals and classic plays and be sure to check the performance schedule ahead of time.
The seats are comfy, the staff members are welcoming and you are guaranteed to be blown away by the production values and the quality of the talent on display. This is a gem that's absolutely worth your time.
6. Saddle Up at KAP Land & Cattle
Wine aside, Santa Ynez Valley is known for its mountain terrain, sprawling lands and ranches. KAP Land & Cattle is one of the most popular ranches in the area and it gives visitors a chance to embrace adventure and become a cowboy/cowgirl for the day. All ages are welcome and first-time riders have nothing to fear because everything is customizable to ensure that everyone has a great time.
7. Get Lost in the Danish Capital of America
Schedule in some time to visit Solvang, the Danish Capital of America, when you're in Santa Ynez Valley and you won't be disappointed. On arrival, you'll enter through a castle gate into a town that could well be part of Denmark. The architecture is 100 percent Danish, there's even a Hans Christian Anderson Park and a windmill so don't forget your camera. Visitors are usually surprised by just how beautiful this town is and with plenty of Danish pastries and baked treats on every corner; you just might find it difficult to leave.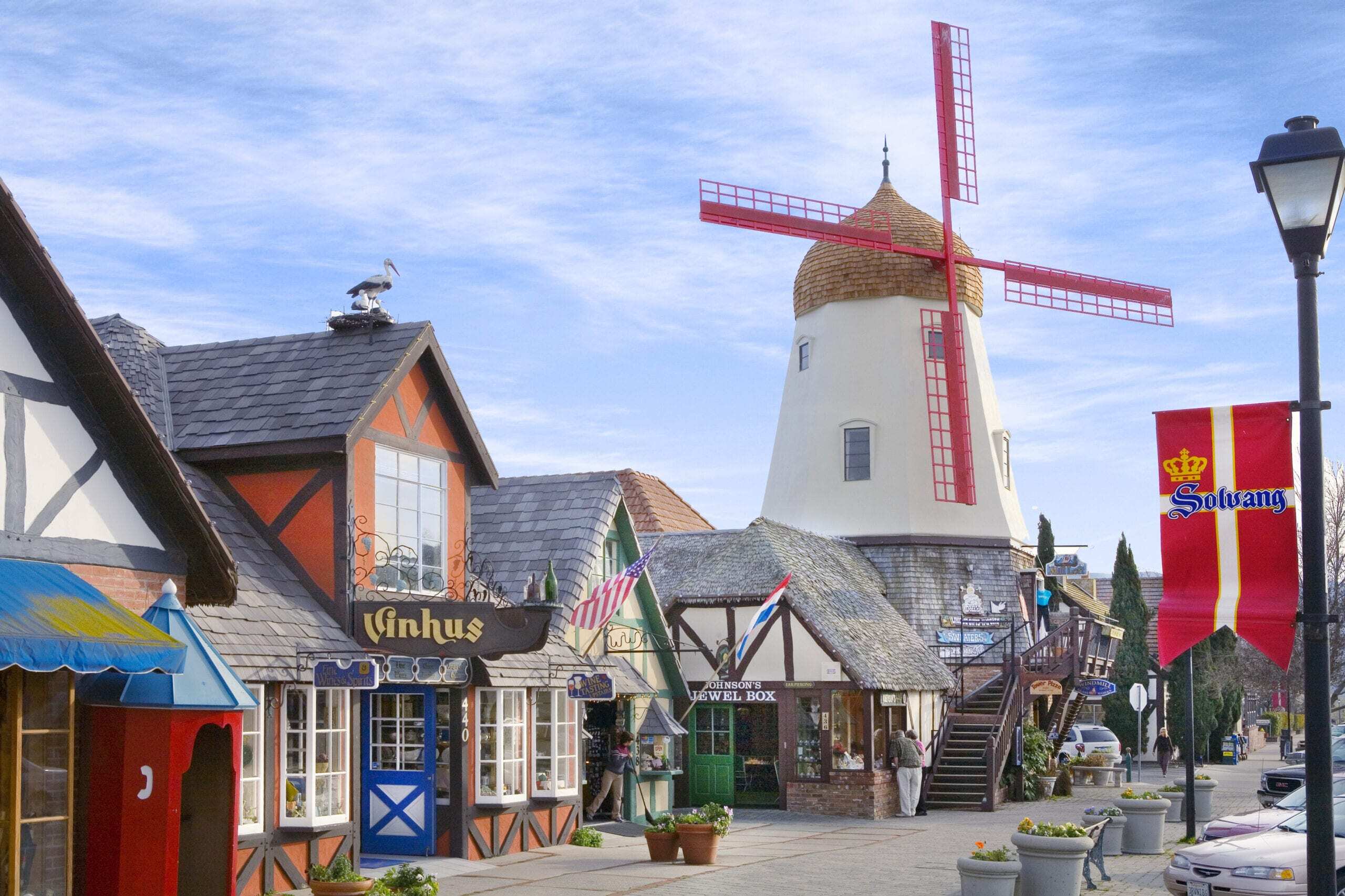 I know what you're thinking – another ranch!? But before you jump ahead, this is no ordinary ranch; this is a miniature horse ranch. This is the kind of place that will fill your heart with joy to the point of bursting. It's open to the public and once you see the little horses you won't be able to handle how cute they really are. If you're looking for things to do in Santa Ynez Valley with kids, this is a must.
9. Spend an Afternoon at Space VR
This is an option for those who are experiencing an overload of natural beauty and want to have some good old-fashioned computer-gaming fun. Virtual Reality gaming is a world away from sitting in front of a screen. Within seconds you could be playing any one of the 500 plus game choices that are available at Space VR.
What I find most amusing about this place is that it is based in Solvang! You know, the historic Danish town… When visiting, you could be forgiven for stepping out of Space VR and assuming that you're still in some sort of Danish gaming experience.
10 . The Hitching Post II
If you're visiting the Santa Ynez Valley and enjoyed the movie Sideways, The Hitching Post II is a must for dinner. This is where it all began for Miles and Maya… Even if you didn't like the movie, it's still a must for the food and their wine.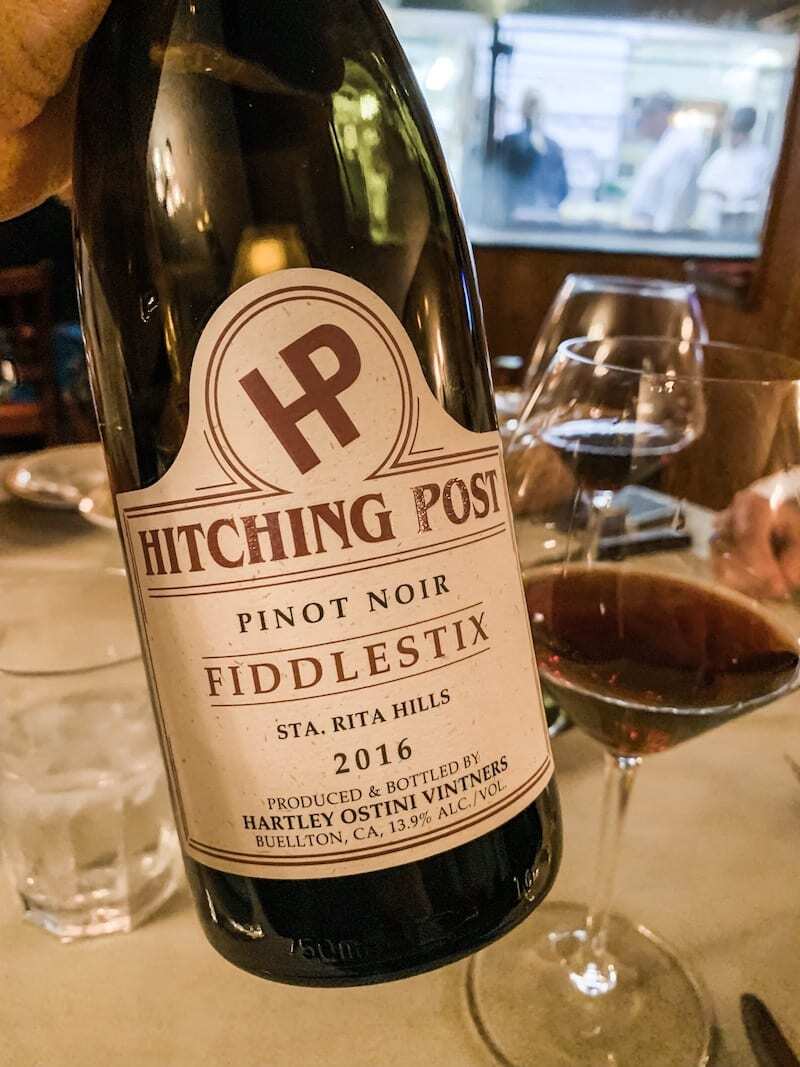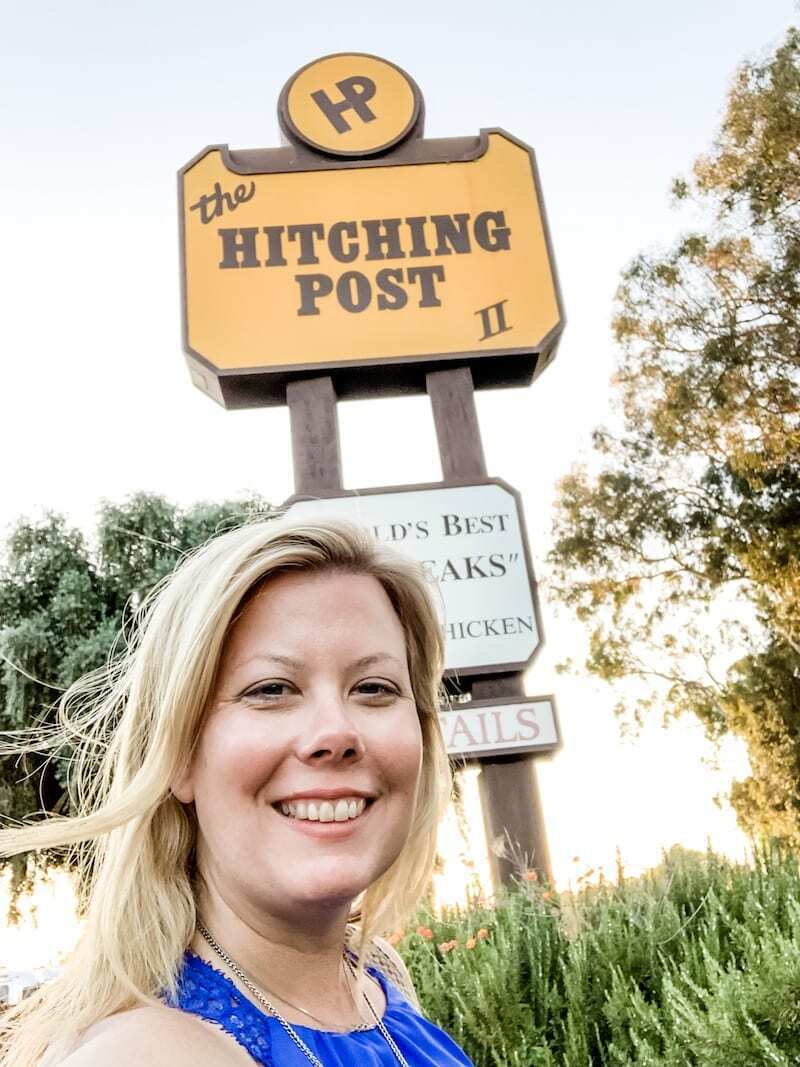 Pioneers of California Central Coast BBQ — often referred to as "Santa Maria-style BBQ" — the Ostini family (Frank and Natalie Ostini, and now their son, Frank) have been grilling over an open fire of red oak since 1952. Complement dinner with their own Hitching Post Wines, made by owner Frank Ostini and his winery partner Gray Hartley, and you'll have a very special food and wine experience.
Quick tip: The Fiddlestix Pinot is awesome and pairs so well with grilled artichokes and a filet. YUM!!!
For you Sideways fans, call to make a reservation for the "movie table". (It was so cool to sit there during our visit!) And, make sure to grab a selfie in the bar or in front of the HP sign.
11. Touch the Clouds in a Hot Air Balloon
If the idea of getting up high appeals to you but you're not quite in the mood for hiking, there is another option. The guys at Sky's the Limit Ballooning have you covered. Who doesn't love the idea of hopping into the basket of a hot air balloon and gently gliding over the Santa Ynez Valley while an FAA certified pilot looks after you?
You can choose to fly in the morning or evening and are guaranteed to create memories that will last a lifetime.
And there you have it! We hope that your search for things to do in Santa Ynez Valley is complete and your to-do list is jam packed full of exciting activities.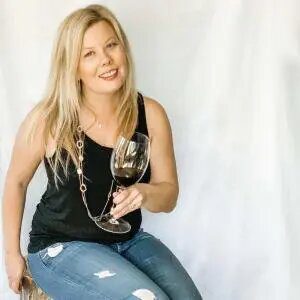 Elaine Schoch (pronounced the German way – Shock) is the editor and founder of Carpe Travel as well as an award-winning travel writer, wine judge, certified by the Wine & Spirit Education Trust (WSET) Level 2 and certified American Wine Expert. She is married to The Husband and has two kids, Princess One and Two – who's interest and knowledge in wine is quite extensive. Not to mention the stamps in their passports.