Time for a Little Gathering Table
This week we've been exploring the Santa Ynez Valley wine country through food and wine pairings. It's been a delicious adventure!
While we can't all "gather at the table" right now, Chef Budi Kazali with The Gathering Table at The Ballard Inn shared one of his favorites for Carpe Travel's Featured Food and Wine Pairing. It's the perfect pairing for exploring the Santa Ynez Valley wine country.
Grilled Rib Eye Steak with Chimichurri Sauce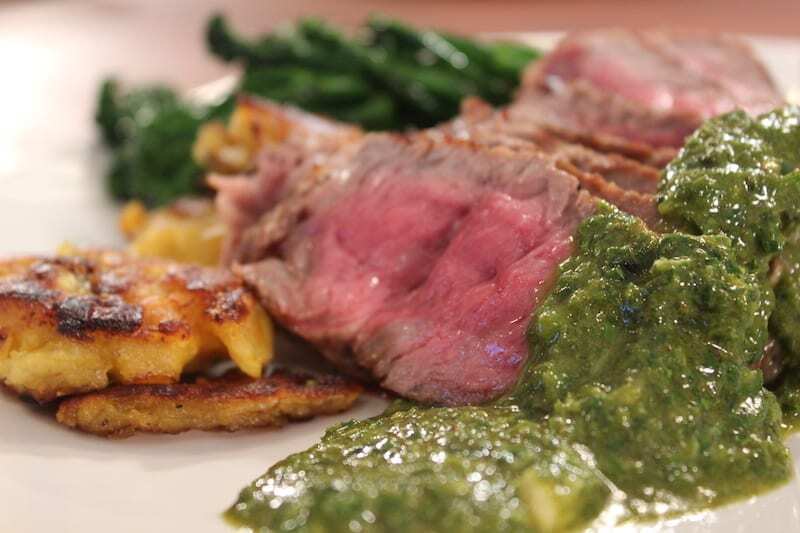 Suggested Wine Pairing
Chef Budi recommends you pair his Grilled Rib Eye Steak with Chimichurri Sauce with a Syrah from Pence Vineyards in Santa Ynez Valley. I couldn't agree more with this local food and wine pairing! Pence makes some of the most amazing, organic wines in the Santa Ynez Valley.
If you can't find a Pence, try ordering it online OR try another Syrah. This big, full-bodied red wine is the wine pairing.
About The Gathering Table
Located within the Ballard Inn is the award-winning restaurant, The Gathering Table. Following in the theme of gathering together, the center piece of the restaurant is a large, shared table surrounded by smaller, more intimate tables.
Featuring French Asian inspired cuisine from gourmet Chef Budi Kazali and an amazing wine list complied of local vintages, The Gathering Table offers one of the best fine dining experiences in the Santa Ynez Valley. When the restaurant is offering dine-in meals again, make sure to plan ahead and make a reservation. It's sooo worth it! It's also worth splurging on your carb intake.
Chef Budi is an artist in the kitchen, it's a crime not to enjoy his master pieces. If you're lucky, you'll get to meet him in his element during your meal. Each evening Chef Budi takes time out from the kitchen to greet his guests and spend a bit of time "gathering" with them. I hope this won't change once we return to the "new normal".
---
Grilled Rib Eye Steak with Chimichurri Sauce
Ingredients & Instructions
2 rib eye steaks
1 cup parsley
6 cloves garlic
1 cup olive oil
¼ cup oregano, fresh
¼ cup cilantro
½ jalapeno pepper
1 lemon, juiced
¼ cup red wine vinegar
1 t paprika
In a blender, combine garlic, parsley, jalapeno, and paprika. Pulse to combine. Add cilantro and oregano, and pulse to combine. Add red wine vinegar and lemon juice, pulsing after each addition. Next turn blender on add the olive oil, blending just long enough to incorporate. Season with salt and pepper, and set aside.
Heat grill to medium high heat. Season rib eye steaks liberally with salt and pepper. Place on the hot grill, allowing to sear for 2 minutes. Rotate steaks by 45 degrees and allow to cook for 2 more minutes before turning and repeating this process on the other side. The rotation allows for the crisscross grill marks to be seared onto the steaks. Transfer the meat to a cutting board and allow to rest for 2 minutes before cutting. Allow additional time for a more well done steak.
Spoon chimichurri sauce over steak and serve.