I don't want any F-$!# Merlot!
Sorry, I'm not trying to be rude with that language and I absolutely adore Merlot, but I thought it might help you recall the infamous scene in Sideways outside of the Hitching Post in Santa Ynez Valley wine country. (The famed movie line nearly tanked the Merlot market, thankfully 25 years later Merlot is back on the upswing.)
During my "food and wine pairing travels" through Santa Ynez, I had the amazing gift of getting a recipe from Frank Ostini, chef, owner and winemaker at Hitching Post Restaurant & Winery. I say it was a gift because when I visited the Santa Ynez restaurant last summer I actually ate this dish! What a treat to get to try and recreate his oak-grilled steak with mushrooms, onions and Pinot Noir sauce at home during this crazy time in our world.
If you're local to Santa Ynez Valley, The Hitching Post is doing carry-out orders, but if you're like me and still traveling through food and wine pairings, get ready to visit Santa Ynez Valley!
Oak-Grilled Steak with Mushrooms, Onions and Pinot Noir Sauce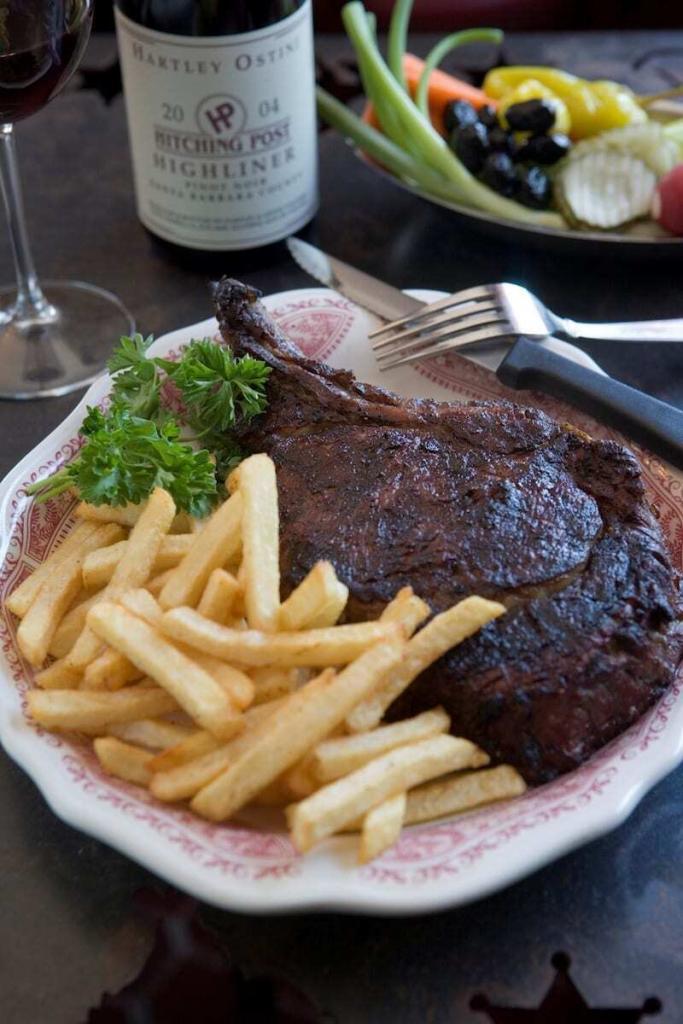 Suggested Wine Pairing
Steak typically pairs well with a full-bodied red wine like a Cabernet Sauvignon. A medium-bodied red such as a Merlot will also work. (Miles might kill me for saying that…) However, for this specific dish, a Pinot Noir will work given the sauce is based on Pinot Noir, I personally suggest the The Fiddlestix or the Highliner Pinot Noir's from The Hitching Post. I mean really!?! Pairing the chef's wine and recipe – duh!!!
(If you're not local, you can always order the wine and have it shipped.) Cheers!
About The Hitching Post II Restaurant
When you're able to visit the Santa Ynez Valley and if you enjoyed the movie Sideways, The Hitching Post II is a must for dinner. (If you haven't seen Sideways, add it to your list of wine movies.) This is where it all begin for Miles and Maya… Even if you didn't like the movie, it's still a must for the food and their wine.
Pioneers of California Central Coast BBQ — often referred to as "Santa Maria-style BBQ" — the Ostini family (Frank and Natalie Ostini, and now their son, Frank) have been grilling over an open fire of red oak since 1952. Complement dinner with their own Hitching Post Wines, made by owner Frank Ostini and his winery partner Gray Hartley, and you'll have a very special food and wine experience.
Quick tip: The Fiddlestix Pinot is awesome and pairs so well with grilled artichokes and a filet. YUM!!!
When The Hitching Post is offering dine-in service again call to make a reservation and ask for the "movie table". Not only is it where Miles and Maya begin to fall for each other, it's a great view for watching the action in the kitchen.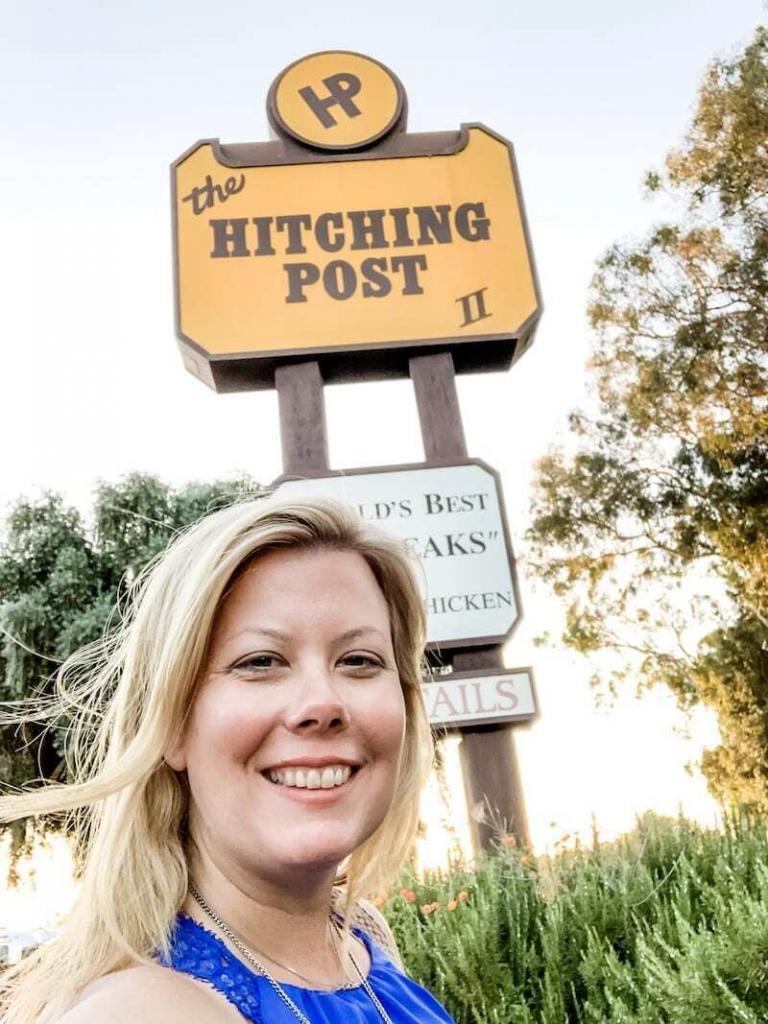 ---
Hitching Post Oak-Grilled Steak with Mushrooms,
Onions and Pinot Noir Sauce
Ingredients & Instructions
Makes 4 servings
4 Small Filet mignons (4-6 oz. ea)
2 Med Onions, sliced and skewered
2 Cups Mushrooms, skewered
Seasoning Salt for Steaks
Marinade for Steaks
Marinade for Mushrooms & Onions
For Steak Marinade
1 oz. Red wine vinegar
3 oz. Garlic-infused vegetable oil
Whisk vinegar in small bowl and slowly pour in 3 oz of garlic-infused vegetable oil

Seasoning Salt Mixture for Steaks
2 tsp Freshly ground black pepper
1 tsp White pepper
2 T Garlic, granulated
3 T Salt
Combine all ingredients until well mixed
Marinade or Basting Sauce for Mushrooms and Onions
2 T Butter, melted
2 T Olive oil
2 T Lemon juice
Salt and freshly ground black pepper, for seasoning
Pinot Noir Sauce
½ T Thyme (dried)
2 tsp Mustard seed
1 T Olive oil
1T Shallot, chopped
2 Cups Pinot Noir
2 ½ Cups Beef stock
1 T Dijon Mustard
½ tsp Cornstarch mixed with ½ tsp cold water
2 T Unsalted butter
Salt and fresh cracked black pepper
Instructions
Procedure for Sauce
In medium sauté pan or skillet, heat olive oil. Add shallots and sauté for 2 to 3 minutes. Add wine and reduce by half. Add stock, thyme, mustard seed, and cornstarch mixture. Reduce until the sauce coats back of a spoon. Remove from heat and stir in butter. Season to taste with salt and pepper. Keep sauce warm until ready to serve.
Procedure for Grilling Steaks and Vegetables
Heat grill to medium and grill marinated onions and mushrooms until just tender. Remove from heat and reserve.
Procedure for Grilling Steaks
Coat both sides of the steaks with the marinade and place on a platter. Season both sides of each steak with the Seasoning Salt Mixture. Let steaks sit for 30 minutes to marinate before cooking.
Place steaks on a medium hot grill. After 3-4 minutes, turn the steaks before the heat pushes juices out the top. Cook 3-4 minutes and turn again for 1 minute. Continue turning until the steaks are done to your liking.
To serve, divide the onion, mushroom mixture onto warmed plates. Place steaks on top of vegetables and spoon with sauce. Serve immediately.
Preparation time: 45 minutes
Cooking time: 15 minutes
JOIN ME ON OTHER FASCINATING JOURNEYS THROUGH THE WORLD OF WINE!
Sip your way through other delicious wine adventures and travel tidbits when you join the Carpe Travel community. There are so many wine country experiences I would love to sip in with you, I hope you'll join me for a – virtual – glass.