Carpe Travel worked with Visit Santa Ynez Valley to create this guide. All opinions are that of the writer.
The Santa Ynez Valley is one of the largest wine regions within Santa Barbara Country, not to mention one of the more unique and dynamic wine regions in the state of California. I had the chance to sip my way through Santa Ynez Valley wineries and wanted to share a few wine tasting itineraries to pair with your next wine country getaway.
Make sure to check out my overview on the Santa Ynez Valley to get more background and recommendations on the region. Cheers![/vc_column_text][vc_column_text]
SANTA YNEZ VALLEY WINE COUNTRY: DAY ONE ITINERARY
Head into the town of Santa Ynez with your first stop at The Lucky Hen Larder to grab your picnic lunch for the day. If you called ahead, you should be able to literally walk in and grab your lunch boxes from the front counter. (I suggest you shoot for a few items – sandwiches, pasta and/or a green salad and a delicious cheese tray.)
Now it's time to start exploring the Santa Ynez Valley wine country!!!
A short drive up the road from The Lucky Hen Larder is Gainey Vineyard. The Gainey family has been farming in the Santa Ynez Valley for four generations. This winery began as an 1,800-acre cattle ranch and farm in 1962. Several years later 50 acres of grapevines were planted, ultimately changing the course of the family's farming future.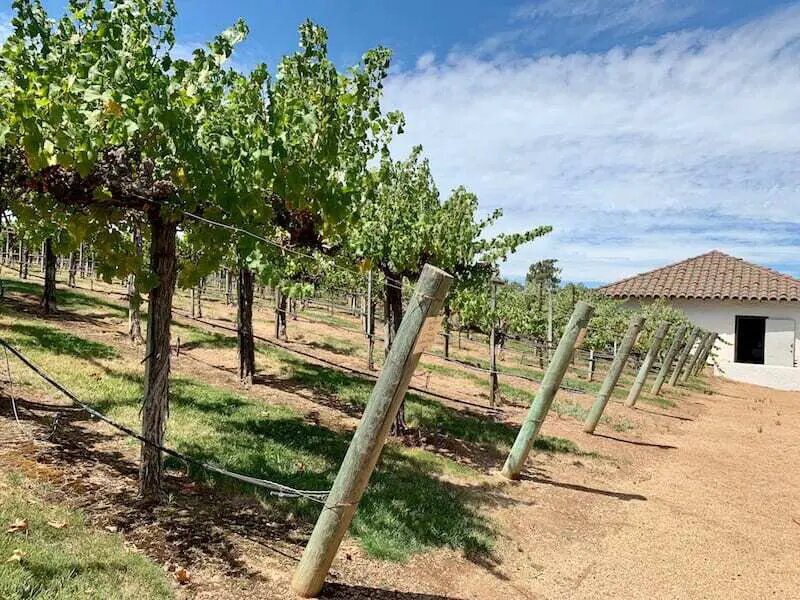 In 1984 the first wines were produced at Gainey Vineyard. The family has remined committed to growing 100 percent estate grown grapes that produce small quantities of high-quality wine – Sauvignon Blanc, Chardonnay, Riesling, Pinot Noir, Merlot and Cabernet Sauvignon.
There are a variety of tasting options at this Santa Ynez winery including a walk-in tasting of a flight of six wines. If you're looking to take things up a notch while also learning about the winery and honing your wine skills check out one of the three Signature Tastings.
1. Blindfold Tasting: Taste five Limited Selection wines blindfolded using your sense of smell to determine what you're tasting.
2. Vertical of Library Wines: Taste several vintages of a particular wine.
3. Barrels to Bottles: A comparative tasting of current release limited selection wines tasted alongside wines directly from the barrel.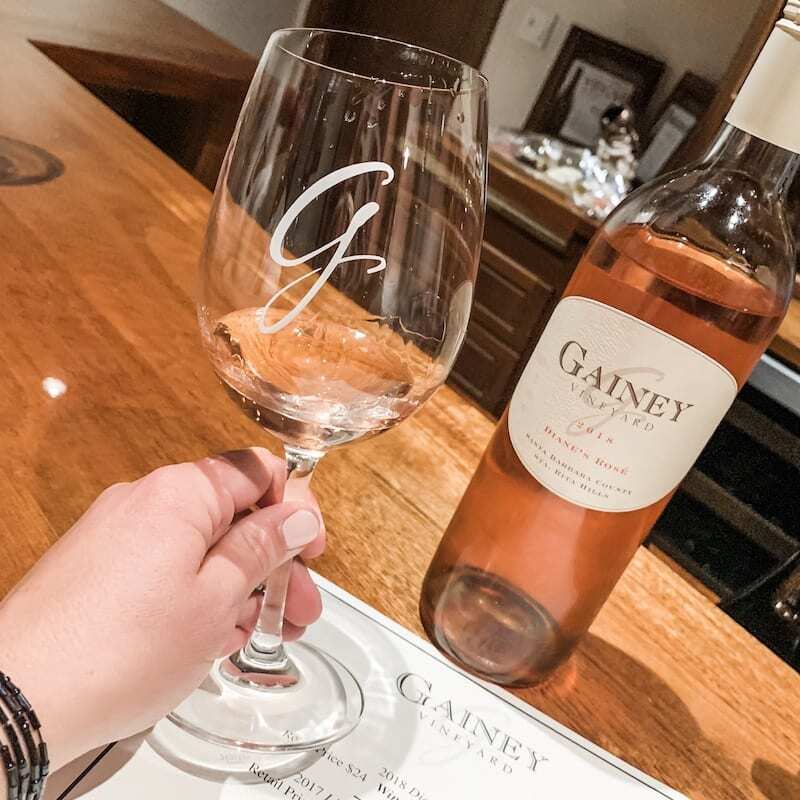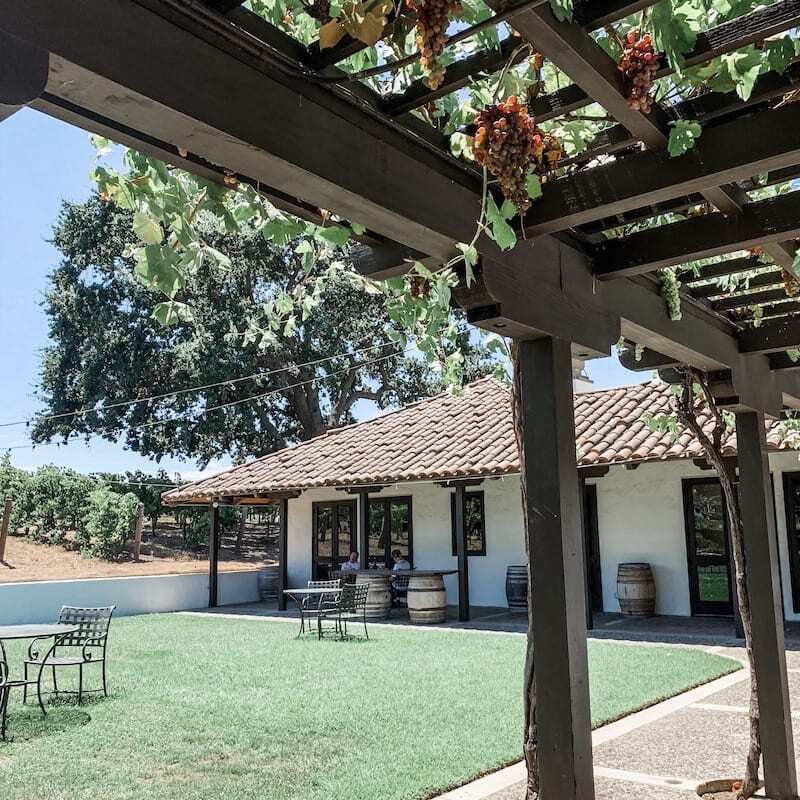 I had the chance to do the Library Tasting and the pleasure of meeting the winemaker – John Falcone. It was such a treat to get his take on the 2019 vintage, which sounds like it will be AMAZING. But what was more interesting was hearing his take on the changes the Santa Ynez Valley has seen– and the industry – over the last four decades. John is celebrating this 44th vintage this year!!! In other words, he is a wealth of knowledge. I would have loved to sit and chat with him for hours…
After your tasting, make sure to walk through the gift shop, stock up on the local olive oils and jams the Gainey family produces. Then grab a glass of wine to sip on from the tasting counter and head out to the stunning vineyard view lawn to snack on your cheese tray and sip in the view.
Reservations: Not required for a general tasting. Reservations are needed for groups of eight or more and for one of the three Signature Tastings.
Address: 3950 CA-246, Santa Ynez, CA 93460
Hours: 10am – 5pm
Phone: 805-688-0558
Gainey Vineyard Wines to Love
2018 Diane's Rose, 2017 Limited Selection Chardonnay, 2017 Patrick's Vineyard Selection
Next up, a visit to Sunstone Vineyards & Winery, which is also located in the town of Santa Ynez and fairly close to Gainey Vineyard, making it a quick drive.
This organic vineyard is a great retreat for a picnic area that's shaded by olive and oak trees – if you didn't already eat you boxed lunches at Gainey. Sunstone Vineyards does provide gourmet boxed lunches if you forgot to grab one ahead of time. (Groups will need to call ahead for large orders.)
While reservations are not needed for a wine tasting, Sunstone Vineyards does offer more intimate wine tasting experiences if you're seeking to really understand their wines and organic farming practices. You will need to make a reservation for these…something I suggest looking into.
TIP: If you know you are going to do a picnic here then call to reserve one of the 20 tables they offer. The $20 fee secures a table for you for three hours. Dogs and kids are welcome to join.
Reservations: Sunstone Vineyards is open to the public for wine tastings without an appointment from
Hours: 11am to 5pm daily, with last tasting poured at 4:30
Address: 125 Refugio Road, Santa Ynez, CA 93460
Phone: 805-688-9463
Just up the road from Sunstone you'll find Brave & Maiden Estate, which embodies the twofold and ambitious commitment to craft extraordinary wines and to share them with unforgettable hospitality.
It took the winery eight years to obtain the permits to build its tasting room. All the while, the vines were producing fruit and wine was being produced. After visiting the newest estate winery in all of Santa Barbara County, I have to say the wait was worth it.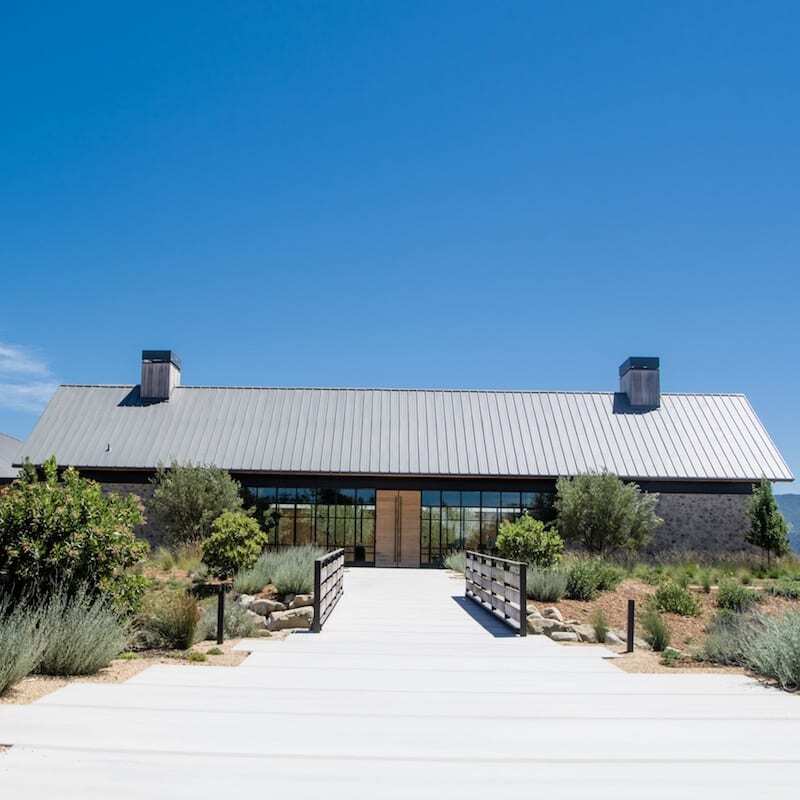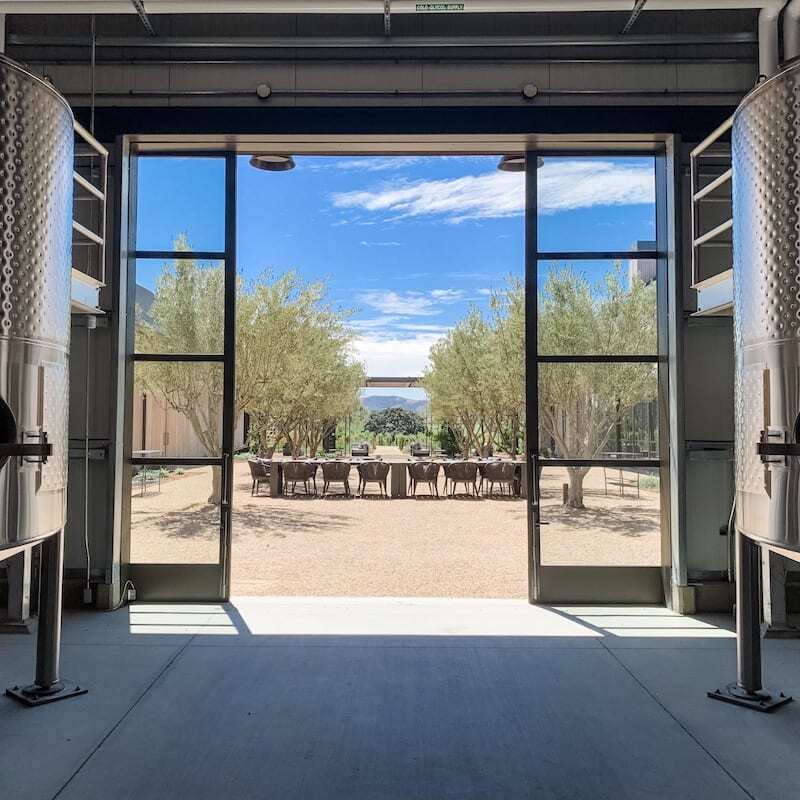 The tasting room sits among the vines with the owner's French style chateau up on the hill overlooking it all. The wine production facility and tasting room are flawless, elegant and breathtaking all at the same time. I've been to a lot of nice wineries, this is truly stunning.
The name behind Brave & Maiden Estate pays tribute to a legend from the local Native American tribe that calls the Santa Ynez Valley home. Legend has it a young maiden saves the life of young brave a from rival tribe during a sudden storm at the nearby Nojoqui Falls (pronounced Na-ho-wee). She takes him back to her tribe where she helps nurse him back to health. The two end up falling in love…
The Chief of the tribe – the maiden's father – was not going to have this and gave the young brave the ultimatum of departure or death. The brave and maiden fled – together – and were pursued by her tribe. Whether by choice or by accident—which, is unclear—the two plunged to their death over the falls in the face of imminent capture and separation.
The Nojoqui Falls are featured on the black labels of the wines produced at Brave & Maiden along with a line from the original poem recounting this tale.
"Now 'neath the Falls, they live and breath—the Brave and the Maiden of Nojoqui."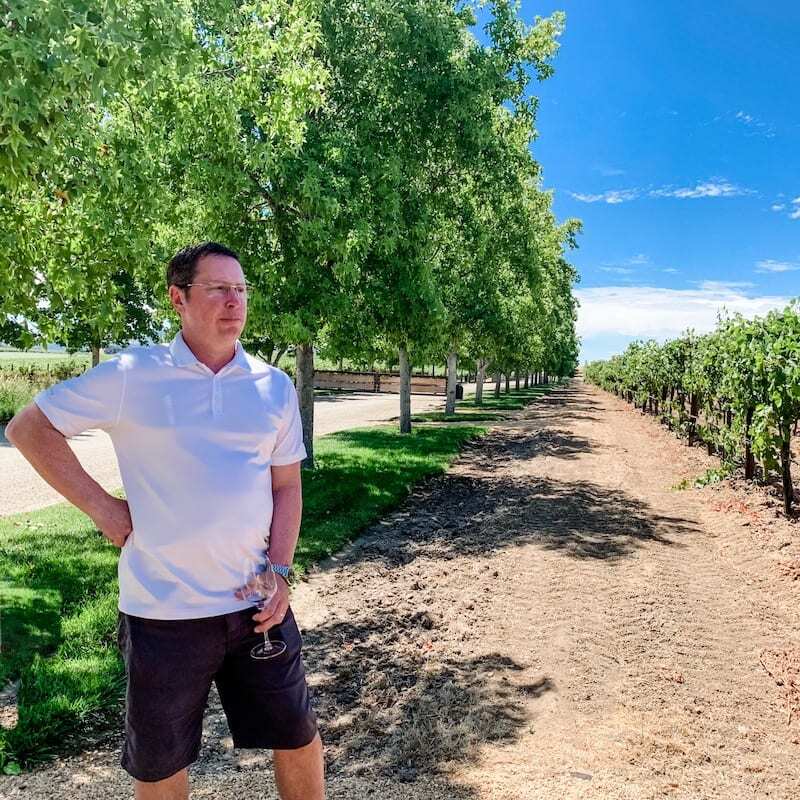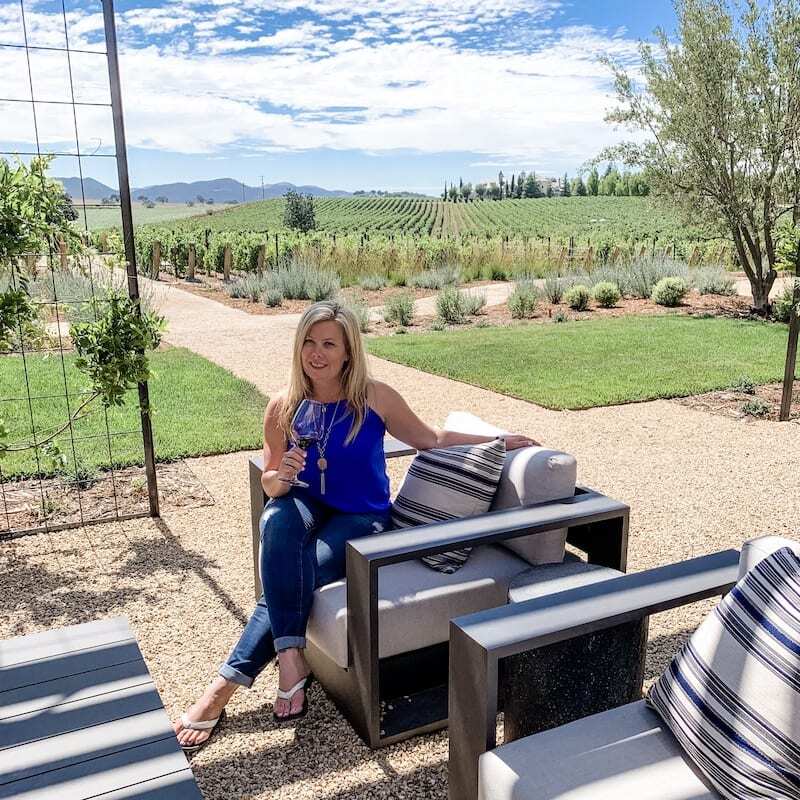 All wine tasting experiences at Brave & Maiden include a seated tasting with a personal wine guide who will walk you through your flight. Our guide, Madison Tully would have stolen the show had not been for the wine.
We strolled through the vineyard and winery with Madison and a glass in-hand as she walked us through the winegrowing and winemaking process – she really worked at taking us behind the scenes of the working winery. Her process – and what I assume other guides at the winery – is more of an educational experience designed for people who are really interested in going behind the scenes of a working winery.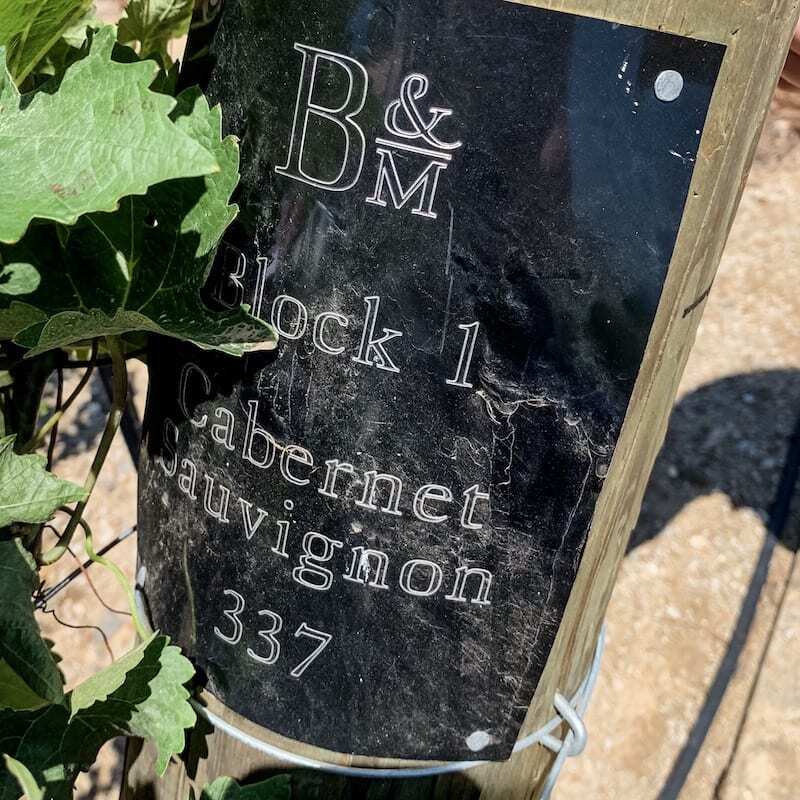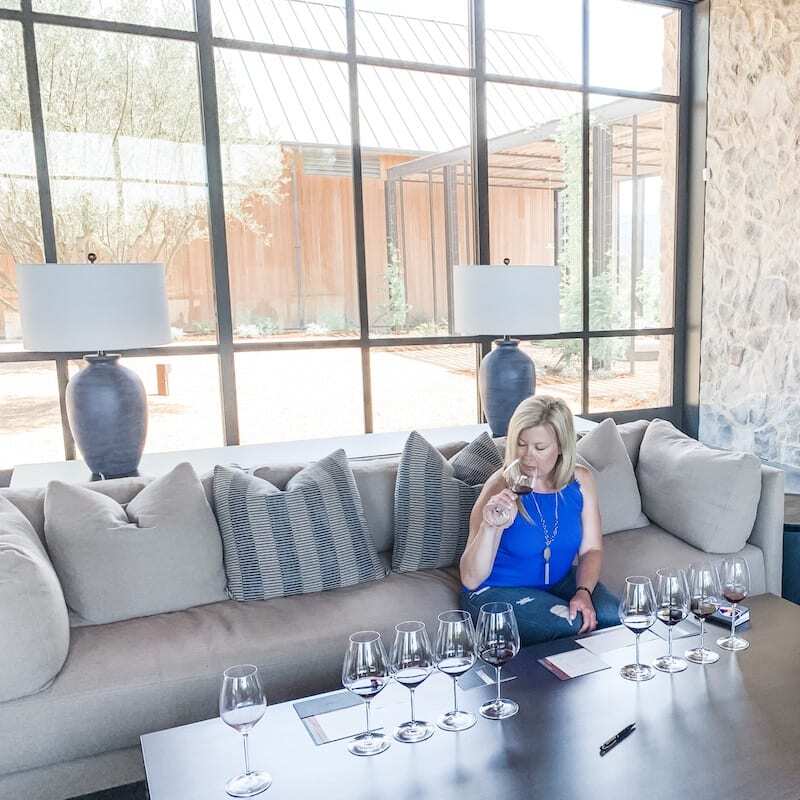 Brave & Maiden is a Santa Ynez Valley winery not to be missed.
Reservations: YES! Reservations are required for tastings, although walk-ins are considered.
Address: 649 N. Refugio Rd., Santa Ynez
Phone: 805-693-2989
Brave & Maiden Estate Wines to Love
2016 Limited Cabernet Franc, 2016 Limited Cabernet Sauvignon, 2016 Rule of
Thirds (GSM), 2016 Limited Merlot
Time for dinner! If you're visiting the Santa Ynez Valley and enjoyed the movie Sideways, The Hitching Post II is a must for dinner. This is where it all begin for Miles and Maya… Even if you didn't like the movie, it's still a must for the food and their wine.
Pioneers of California Central Coast BBQ — often referred to as "Santa Maria-style BBQ" — the Ostini family (Frank and Natalie Ostini, and now their son, Frank) have been grilling over an open fire of red oak since 1952. Complement dinner with their own Hitching Post Wines, made by owner Frank Ostini and his winery partner Gray Hartley, and you'll have a very special food and wine experience.
Quick tip: The Fiddlestix Pinot is awesome and pairs so well with grilled artichokes and a filet. YUM!!!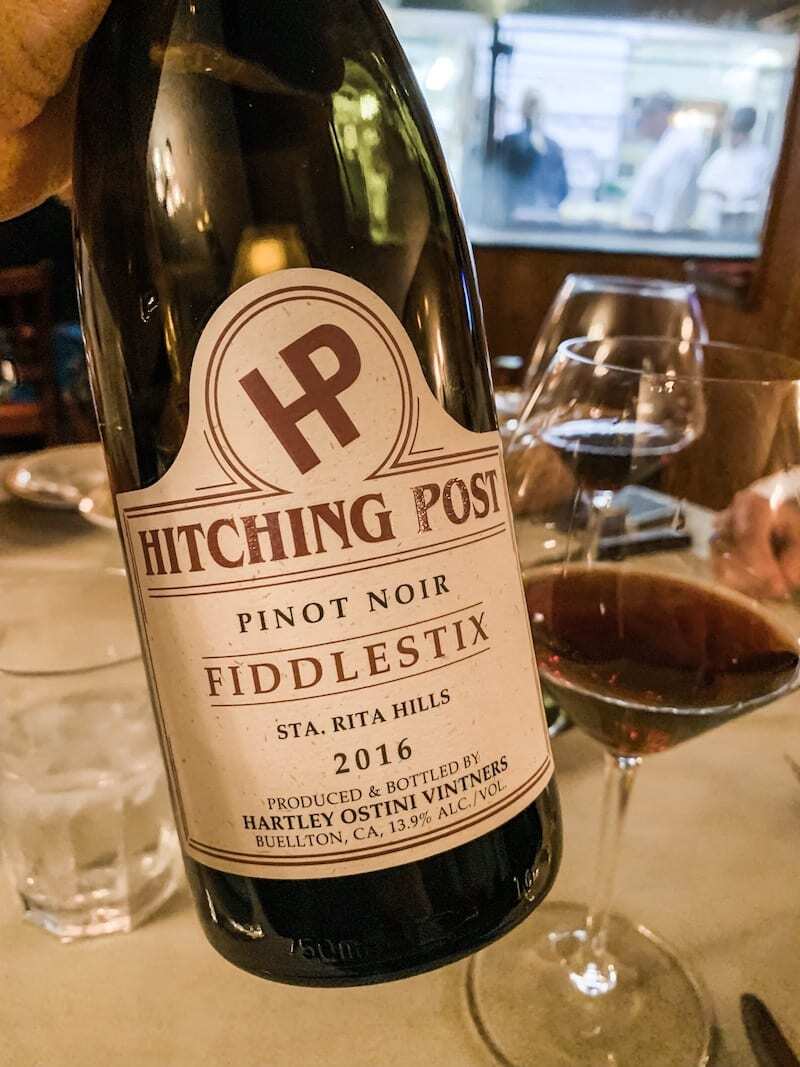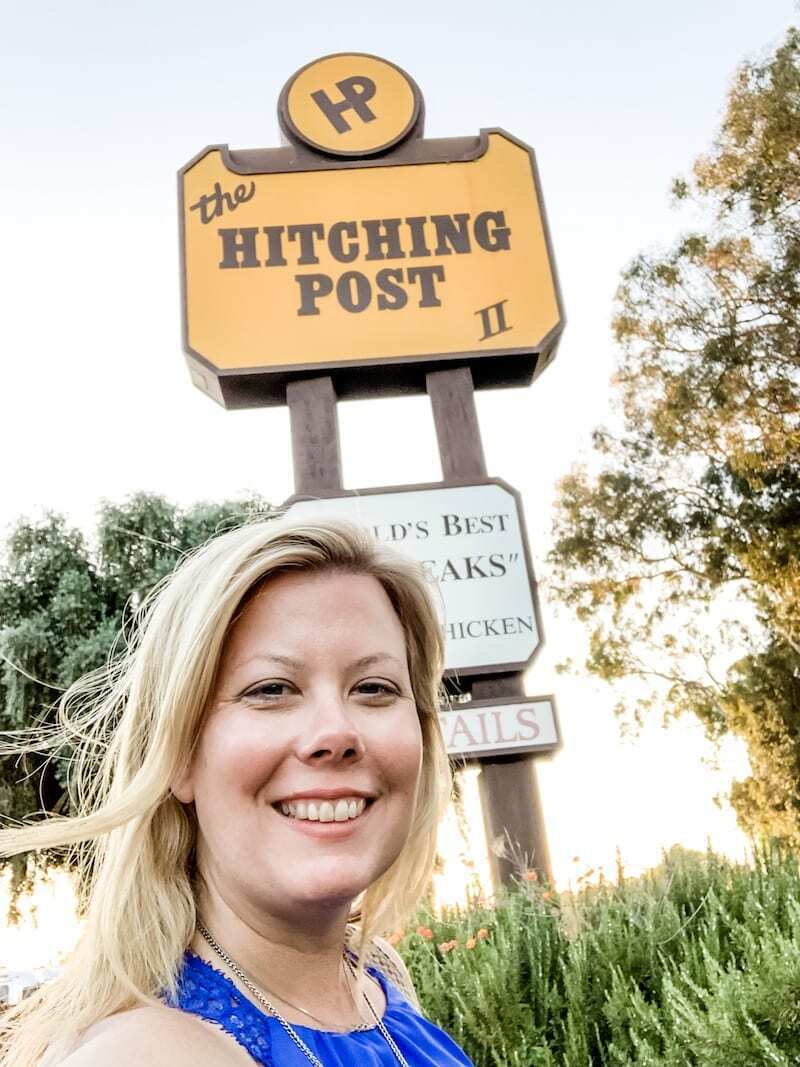 For you Sideways fans, call to make a reservation for the "movie table". (It was so cool to sit there during our visit!) And, make sure to grab a selfie in the bar or in front of the HP sign. Better yet, check out the Sideways Fest in October.
Address: 406 East Highway 246, Buellton
Phone: 805-688-0676
SANTA YNEZ VALLEY WINE COUNTRY: DAY TWO ITINERARY
Kicking off the second day of wine tasting in the Santa Ynez Valley includes a stop at New Frontiers Natural Marketplace to pick up your picnic lunch. This is more like a Whole Foods type of setting, making it perfect for a grab and go picnic option. Along with a salad bar and prepackaged sushi, pasta salads there is also a deli. I personally did love the salad bar and deli. If you can, call in your order about two-hours before pick-up. They will ready when you arrive!
Off to your first Santa Ynez winery…
Dierberg Star Lane Vineyards is about a 30-minute drive from the market so make sure to give yourself plenty of time. And, sit back and enjoy the views of the rolling hillside your twisting your way through.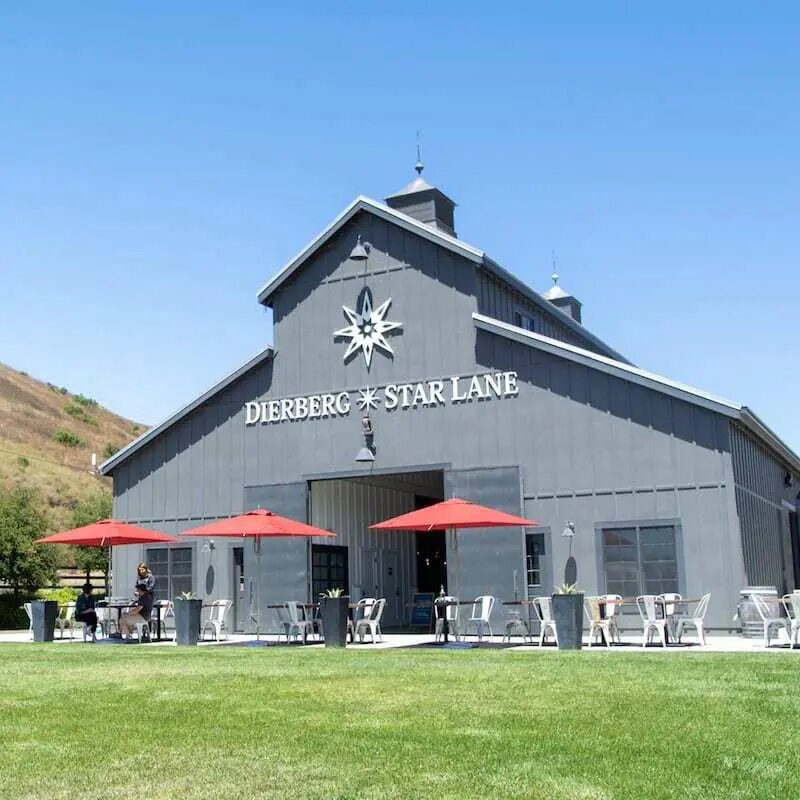 Dierberg Star Lane Vineyards is a family-owned winery in a gorgeous wine country setting that was started in 1996 by Jim and Mary Dierberg. It produces a range of reds and whites under three different brands – Dierberg Vineyard, Star Lane Vineyard, and Three Saints. I know, three brands sound confusing but it makes sense when you arrive and get a personal tour. But, I'll try share the knowledge our amazing host, Chris King gave to me… Each brand represents a different type of wine region. Dierberg is more representative of Burgundy and Rhone wines, while Star Lane is more Bordeaux style.
It's also easy to do your own tour given the incredible maps laid out throughout the tasting room that visually explain the different vineyards and wines produced at each. But, I always prefer to make a reservation so I can get the background and lay of the land from one of the local experts, which is exactly what we did. We were having such a good time with Chris we nearly lost track of time! So, make sure to allow at least two hours, if not a more so you can truly sit back and enjoy the property and your picnic lunch.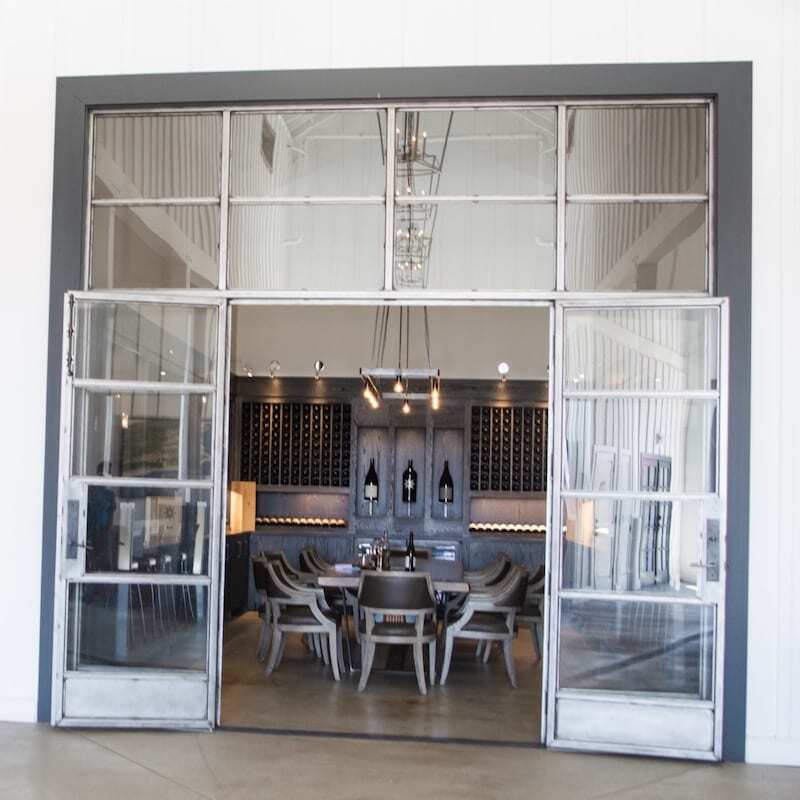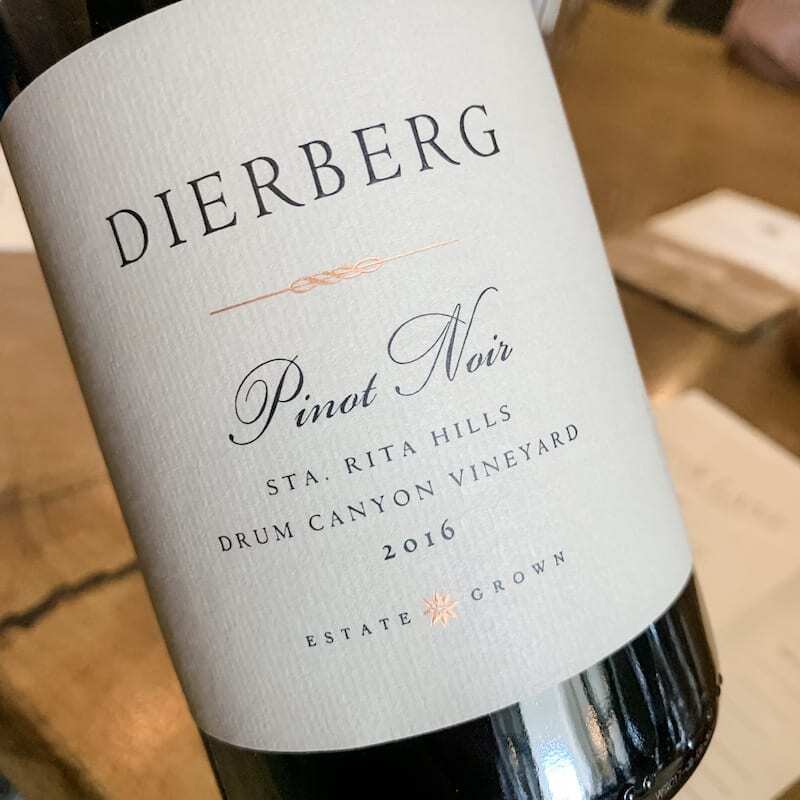 I personally suggest you check out the CCL Private Tasting. CCL is 250 in Roman Numerals, signifying the Dierberg Family' 250-year plan. The Dierbergs selected a single-block from each of their estate vineyard sites which produce just one barrel of each vintage. Each of the eight wines in the flight is paired with a specialty cheese hand-selected by our winemaker Tyler Thomas. The flight also includes a barrel sample of a future release. Along with the tasting, you will get a hands on, educational overview of the vineyards, wines and background of the winery.
The property at Dierberg Star Lane Vineyards features a vast outdoor area, making it an ideal wine stop that encourages visitors to linger on the grounds. In other words, this is a PERFECT spot to enjoy your picnic lunch.
Reservations: Groups of 8 or more require an appointment in advance.
Address: 1280 Drum Canyon Rd., Sta. Rita Hills (Directions here)
Hours: 11am – 5pm
Phone: 805-693-0744
Dierberg Star Lane Vineyards Wines to Love
2018 Star Lane Rose, Star Lane Vineyard, 2016 Dierberg Pinot Noir, Drum Canyon Vineyard, SRH, 2016 Dierberg Chardonnay, Dierberg Vineyard, SMV, 2016 Star Lane Cabernet Sauvignon, Star Lane Vineyard
What might be one of my new favorite Santa Ynez Wineries is next up and a must visit. Pence Vineyards & Winery is a 200-acre working ranch and farm that produces organically farmed, handcrafted, Burgundian-inspired Pinot Noir, Chardonnay, Syrah and Gamay varietals on only 38 acres.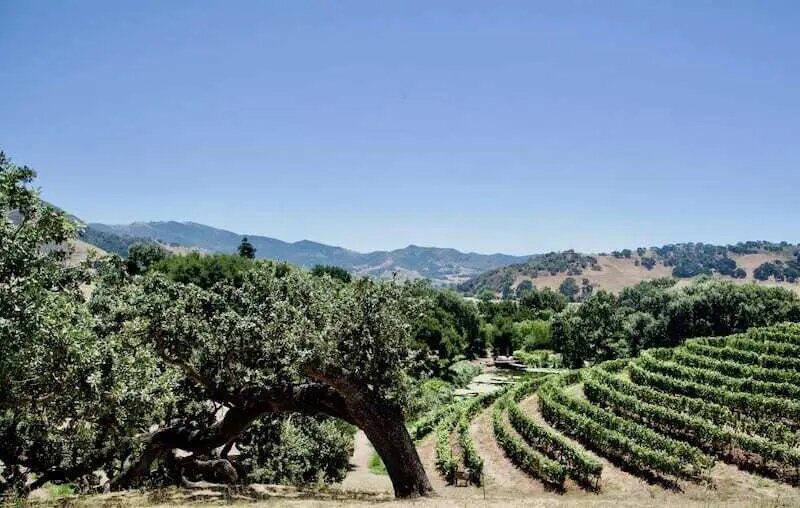 The appointment only winery is a treat to visit. While you can do a tasting in the tasting room, I totally recommend you don't. Why? Because the grounds at Pence are stunning and that's where the other tasting take place. Take a look at the Canyon, Pond House tasting or do yours among the vines. The latter, might be my favorite – I'm a total cork dork.
For our tasting, we were whisked away by our guide, Josh, in a golf cart to see the horse ranch, olive and Marcona almond trees and then headed back into the vines. It was here Josh shared a huge level of detail regarding their organic farming techniques – I had no idea how much goes into it! The level of focus on the grape shines through in the wines they produce.
During the tour of the vineyard, I also saw first-hand just how strong the winds can be in the Santa Ynez Valley. Scattered throughout the area were twisted trees hugging the ground and growing horizontally versus vertically.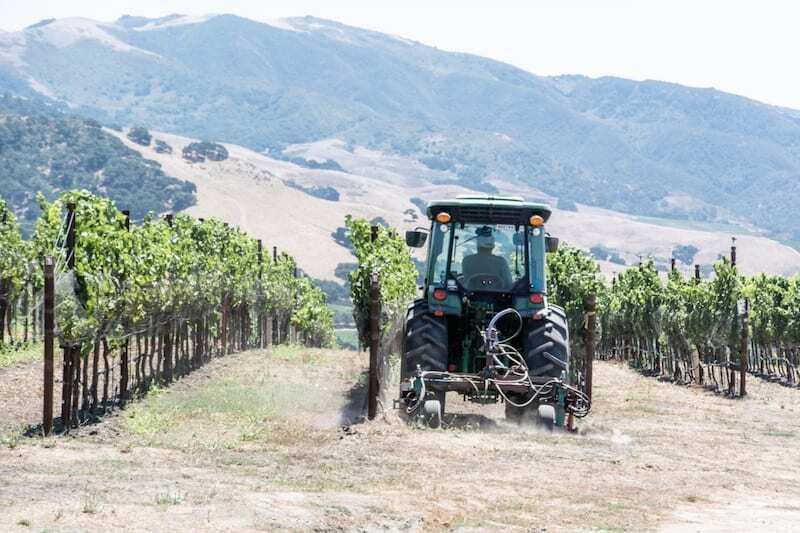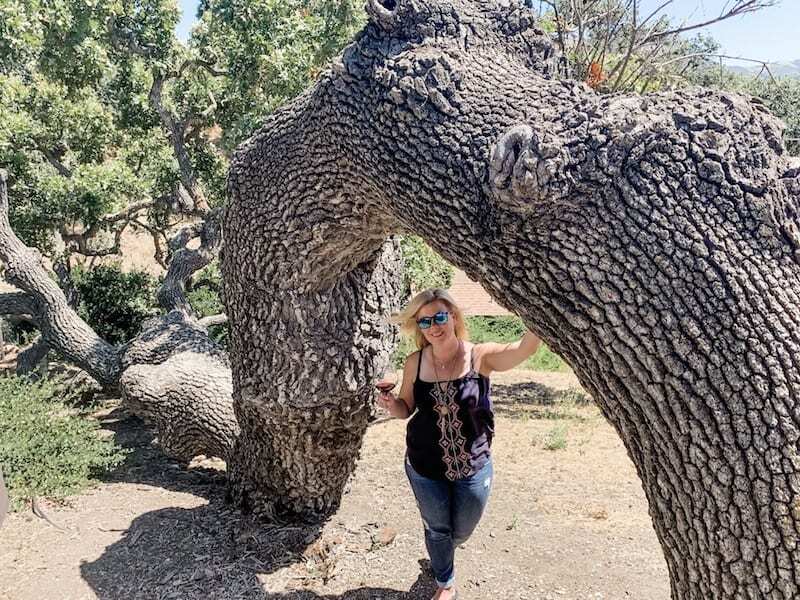 We then headed to a secluded canyon surrounded by ancient oaks to sip Pence wines in the personal tasting area. This little gem on the property is equipped with a small outdoor bar along with several patio tables and private sitting areas. Perfect for a picnic. I could have stayed all day sipping the rose…
Reservations: Yes, this is an appointment-only tasting room
Address: 1909 W Hwy 246, Buellton
Phone: 805-735-7000
Pence Vineyard Wines to Love
2016 Sebastiano Syrah, 2017 ROSA, Estate Chardonnay, 2017 Estate Chardonnay, Pinot Noir
Since you are in the town of Buellton, you have a few different directions you can take now. If more wine tasting is in your future, try Lafond Winery and Vineyards, Alma Rosa Winery and Vineyards, Mosby Winery or Brick Barn Wine Estate.
Dinner will be at the award-winning restaurant, The Gathering Table, which is located within the Ballard Inn. Following in the theme of its name, the center piece of the restaurant is a large, shared table surrounded by smaller, more intimate tables.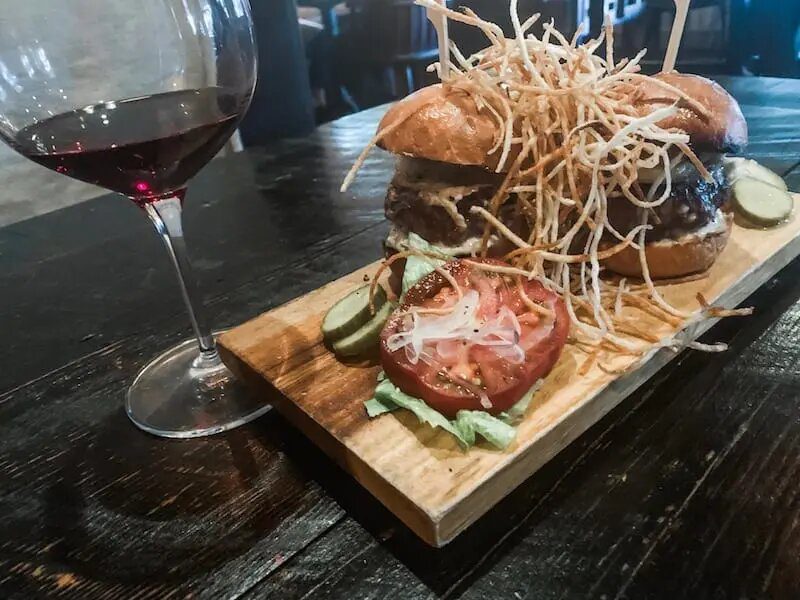 Featuring French Asian inspired cuisine from gourmet chef Budi Kazali and an amazing wine list complied of local vintages, The Gathering Table offers one of the best fine dining experiences in the Santa Ynez Valley. Make sure to plan ahead and make a reservation. It's sooo worth it! It's also worth splurging on your carb intake.
I've been trying to follow the Keto diet this summer but gave into my carb craving on this trip. The Pan-Fried Noodles, Wild Mushroom Risotto and the sliders did not disappoint! The menu offers several small, sharing plates, perfect for gathering with friends…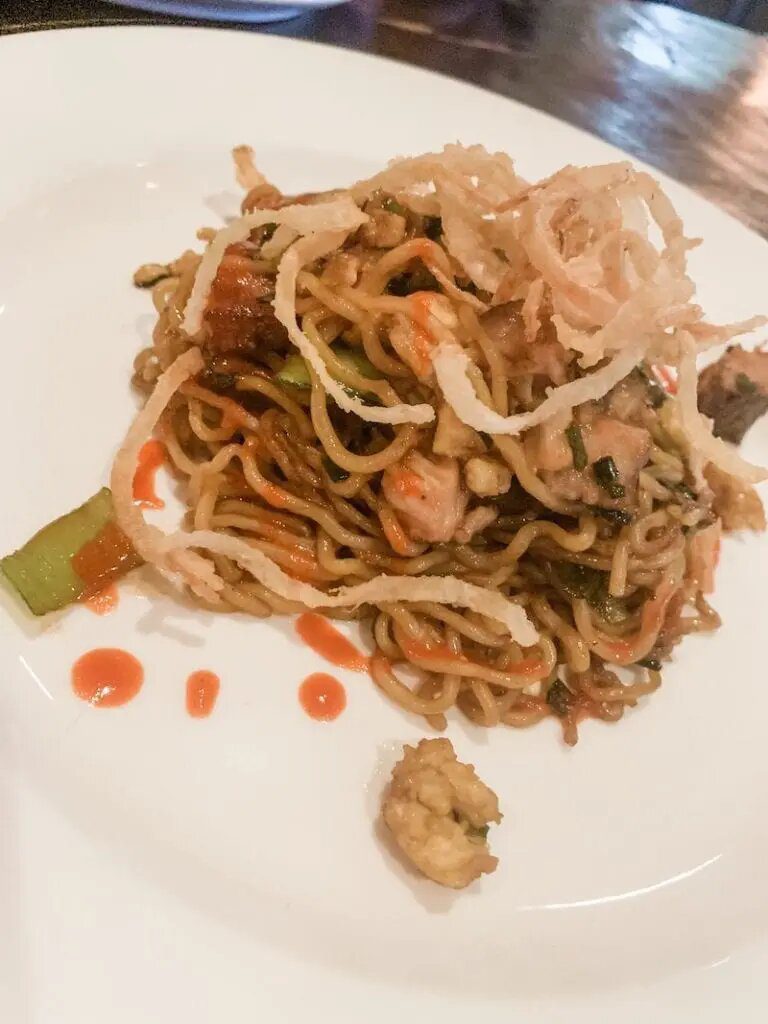 Now, you can stay Keto if you want to with the Seared Spanish Octopus and Pork Belly (along with a lot of veggie and meat options) but why? Chef Budi is an artist in the kitchen, it's a crime not to enjoy his master pieces. If you're lucky, you'll get to meet him in his element during your meal. Each evening chef Budi takes time out from the kitchen to greet his guests and spend a bit of time "gathering" with them.