Colorado's "last great ski town" has a lot to offer those who want to skip the slopes.
We've made our way around the state of Colorado trying to find the best skiing. From Steamboat Springs, Snowmass, Telluride, Copper Mountain, Vail, Breckenridge, Keystone and this season we can officially check Crested Butte off our list. I have to say it's now one of my favorite mountains to ski, the terrain is perfect for beginners and intermediate skiers and it has an entire section of the mountain dedicated to extreme skiers. (I loved not having to worry about getting stuck in that area with the kids since you have to take a dedicated lift to get there.) Crested Butte is possibly the first place I've skied where I felt like I was skiing the mountain instead of just a ski run… While I loved my time on the slopes, I did come to understand why Crested Butte is called "the last great Colorado ski town". Both the town and resort area have a lot to offer those looking to ski as well as those who don't. Of course you can snowmobile, snow bike and soak in the hot tub but there's some interesting and fun things to do in Crested Butte that might surprise you.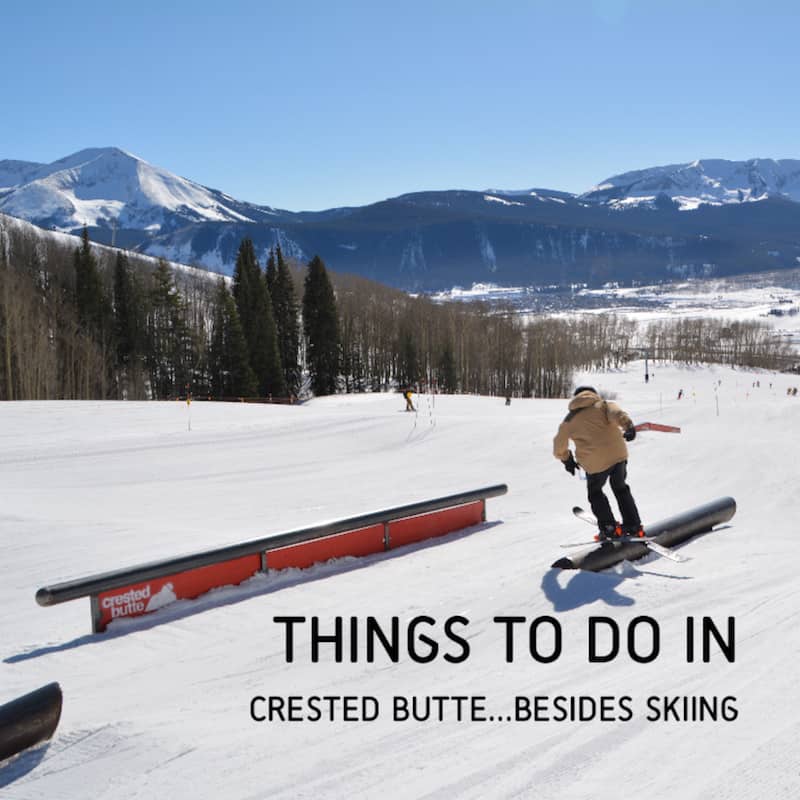 Things to do in Crested Butte…besides skiing
Learn to Drive a Snowcat
A lot of ski resorts offer guests the opportunity to ride in snowcat, but few allow you to learn to DRIVE a snowcat. From the outside looking in you'd think driving a snowcat is pretty easy but trust me, looks are very deceiving. I did a snowcat driving lesson on our visit and have to say, it's one of the top things to do in Crested Butte…besides skiing. Not only is it challenging but it's pretty thrilling, even if you are only getting a 350 horsepower piece of machinery to go 10mph. The power behind the snowcat is insane.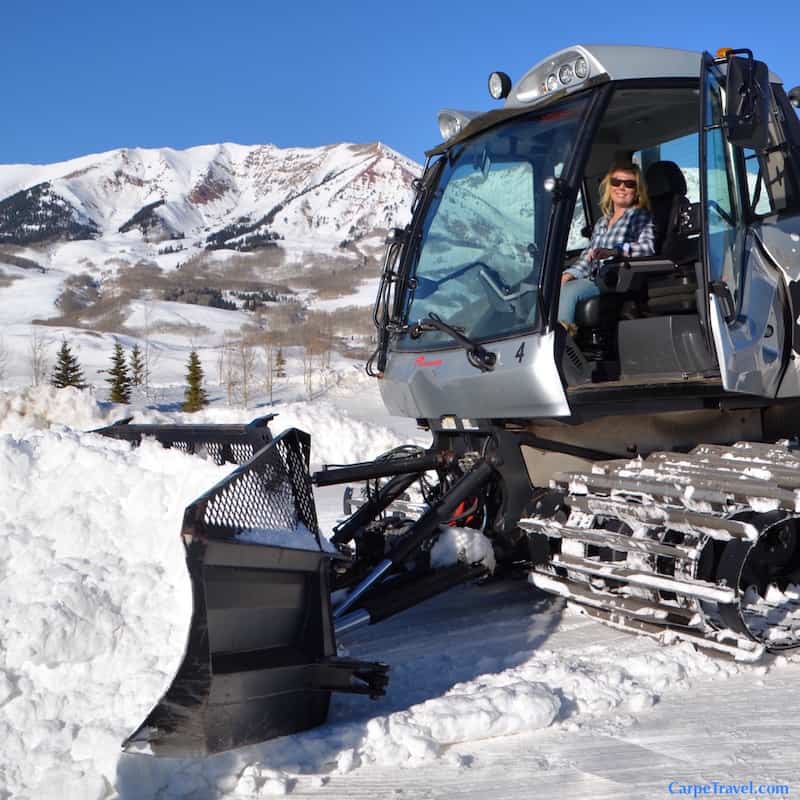 The instructor will go through the basic operational instructions, the slew of switches and controls, which were all like a foreign language to me, then take you out for quick spin before putting you in the drivers' seat. You'll learn the true art of sculpting snow on a closed course from experienced snowcat drivers. The class is about two hours and totally worth it.
Ice Skating
The Crested Butte Nordic Center has an outdoor ice rink that is open to the public – FOR FREE – from early December to late February, weather dependent; the ice rink closes in March. If you have your own ice skates it's free, however they do have skate rentals available – $9/Adults and $7/Kids or Seniors. Hockey and Figure skates are available.
Fat Biking
What is Fat Biking, you may be asking? Well, essentially it's mountain biking on a snow packed trail on a bike with fat tires. Yes, there's more to it but that gives you the general idea.
If you want to give it a go, Crested Butte is ideal. After all, it (along with Marin County) created the sport of mountain biking so Fat Biking here only makes sense… You can rent a Fat Bike in downtown Crested Butte at Big Al's Bicycle Heaven and at Butte & Co. located near the base area of Crested Butte resort. The ski area grooms the North Village trails and the path to the top of Snodgrass on a regular basis during the ski season and it has designated Fat Bike routes available pre and post skiing. Check out the uphill policy for details.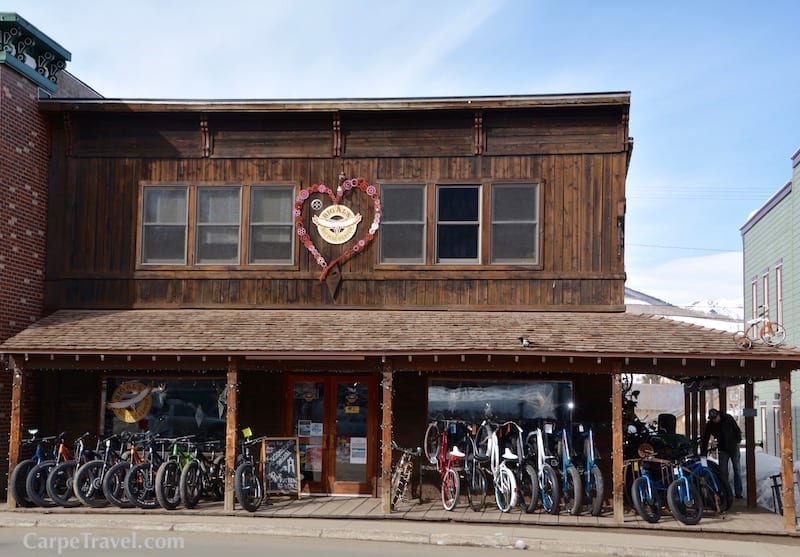 If you want to try Fat Biking outside of the ski area, I was told that Kebler Pass is a great spot, ride up to Lily Lake for an exceptional loop, but beware of snowmobilers. And, North Village which is just North of Mount Crested Butte has a diverse trail network. There's plenty of parking near North Village, so riders can simply drive right to these trails.
Tip: This is a great "Local's Guide" for more information on Fat Biking in Crested Butte.
Nordic Skiing
Ok, so this activity is technically skiing but Nordic skiing is soooo different than downhill skiing. And, since Crested Butte is the Nordic Ski Capital of Colorado it's for sure something worth checking out. If you visit the Crested Butte Nordic Center kids 17 and under ski free. You also have access to 55 kilometers (34 miles) of trails all leaving right from town. If you've never been Nordic skiing or just want to have some instruction, definitely go to the Crested Butte Nordic Center.
Adventure Park
If you're staying near Crested Butte Mountain Resort make sure to check out the Adventure Park located next to the Treasury Building and the Red Lady lift. It's a great alternative to skiing with kids and will surly entertain them for a several hours. The Adventure Park includes a miniature golf course, bungee trampolines, climbing wall featuring a six-route tower and a lift-served tubing hill. The Flying Gopher 9-hole miniature golf course is covered so you can play no matter the weather. (The Adventure Park is open year-round.)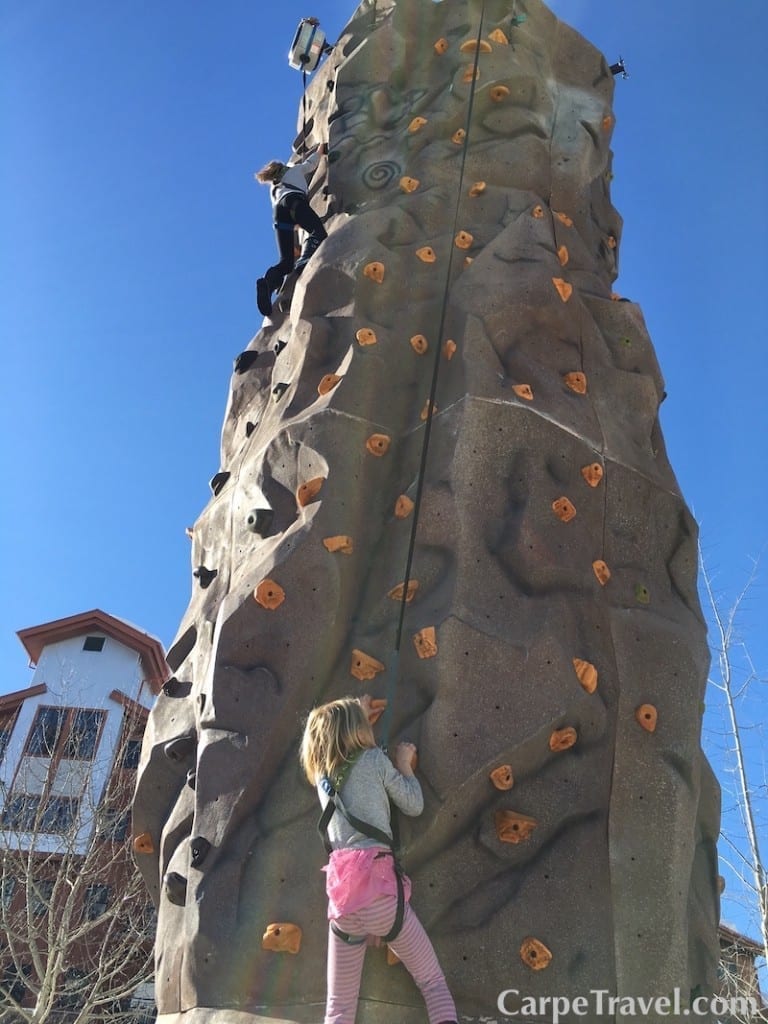 Ziplining (in the winter)
I've only been ziplining in the summer months but in Crested Butte, you can zipline all year around. The five ziplines range from 120 to 400 feet and are connected by suspended wooden bridges and towering platforms. Parents note, there is a 70 lb. minimum and a 250 lb. maximum weight requirement. So, little ones may not be able to join.
Trailhead Children's Museum
Need to entertain little ones? Check out The Trailhead Children's Museum at the base of Crested Butte Mountain near the Red Lady lift. It a perfect thing to do in Crested Butte for toddlers and young kids. The museum offers hands-on exhibits and programs – making learning fun. Kids can dig in the indoor "sandpit". The Dig Pit is actually full of recycled rubber mulch, where kids can play with shovels, trucks, and buried treasure or take a journey to the moon in the Trailhead's newest astronaut exhibit, Astro Corner. And, that's just a few of the activities. The Trailhead Children's Museum is located in the Outpost Building in the base area, it's next to the Adventure Park so little ones can hang out inside while older kids head out for some miniature golf or tubing. During the summer months the museum offers camps and during ski season parents can do a half-day "drop-off".
Tip: You will need to make reservations for the drop-off program and any camps.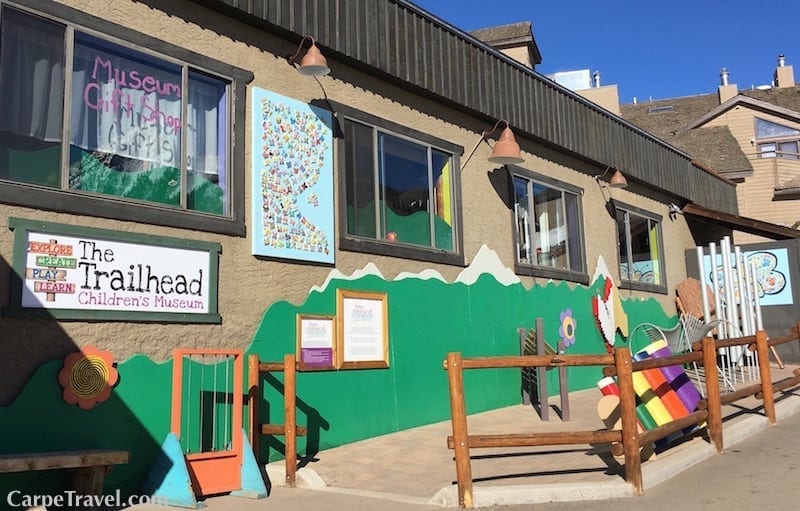 Tour and Taste Montanya Distillers – The Worlds BEST Rum (really!!)
The worlds best rum is made in Crested Butte. No, really. Montanya Distillers a local rum distillery had its Platino Rum named best white rum in the world at the World Rum Awards in England. Who would have thought that the worlds best rum was made right here in Colorado?!? The distillery and bar is located in downtown Crested Butte – 212 Elk Avenue – and offers 22 rum cocktails, distillery tours, free tastings, live music, outdoor seating, and more. We were in luck the night we visited the distillery. It just so happen that the distiller – Renee Newton – was onsite distilling the rum so we got to see the whole process. The kids found it interesting – and smelly. Yes, we did take the kids, Montanya Distillers is family friendly with its kids mocktails and free popcorn. The Princesses gave the Creamcicle two thumbs up. My favorite adult beverage was the Thai Boxer, for sure a must! If you're in town, this really is one of the top things to do in Crested Butte.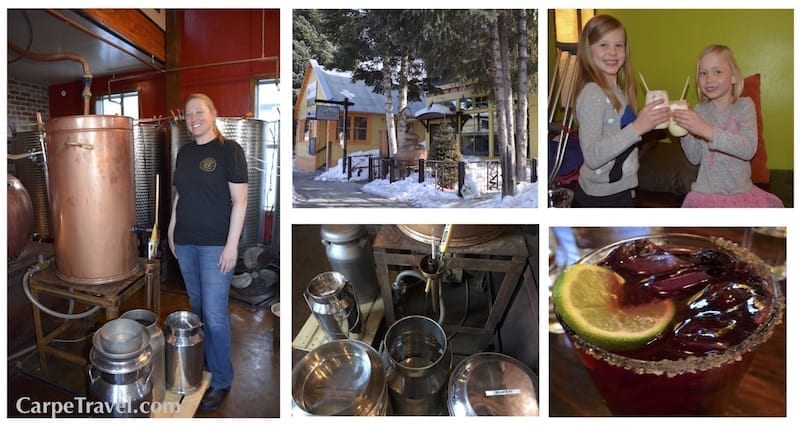 Tip: Head over to The Last Steep or Secret Stash for dinner. They're both fabulous and affordable for the whole family.
Tour (and shop) in Downtown Crested Butte
Did you know downtown Crested Butte is the eighth largest Colorado National Historic Landmark District? (More travel trivia on Crested Butte). The main drag, Elk Avenue is lined with many of the original historic buildings, homes and saloons that have been well preserved and blend perfectly into today's thriving community. It's a great shopping area filled with boutiques, art galleries, the Heritage Museum and a handful of restaurants. I found that most of the shops on Elk Avenue (and off) were reasonably priced, especially considering you're in a ski town. I never got the feeling I was over paying for anything, even a t-shirt.
Tip: Stop into Camp 4 Coffee – right off of Elk and 4th – to begin your day of shopping and then head over to the Gypse Wagon. This is my favorite new store, not only does it have a ton of cute clothing and jewelry but it's not over priced.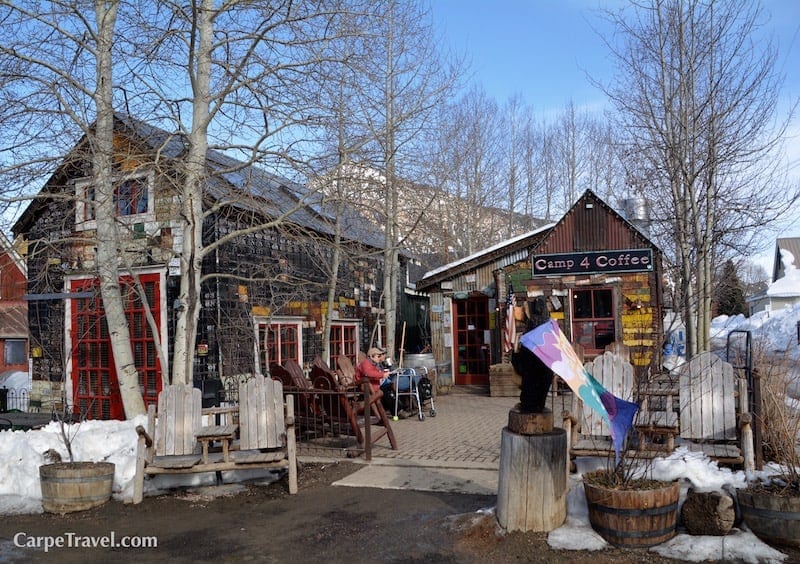 Snowshoeing
I love snowshoeing, it's one of the best alternatives to skiing both for exercise and as a way to explore the mountain. And, with snowshoeing you typically get to visit parts of mountain that few skiers never go, in other words I get even better nature photo opps.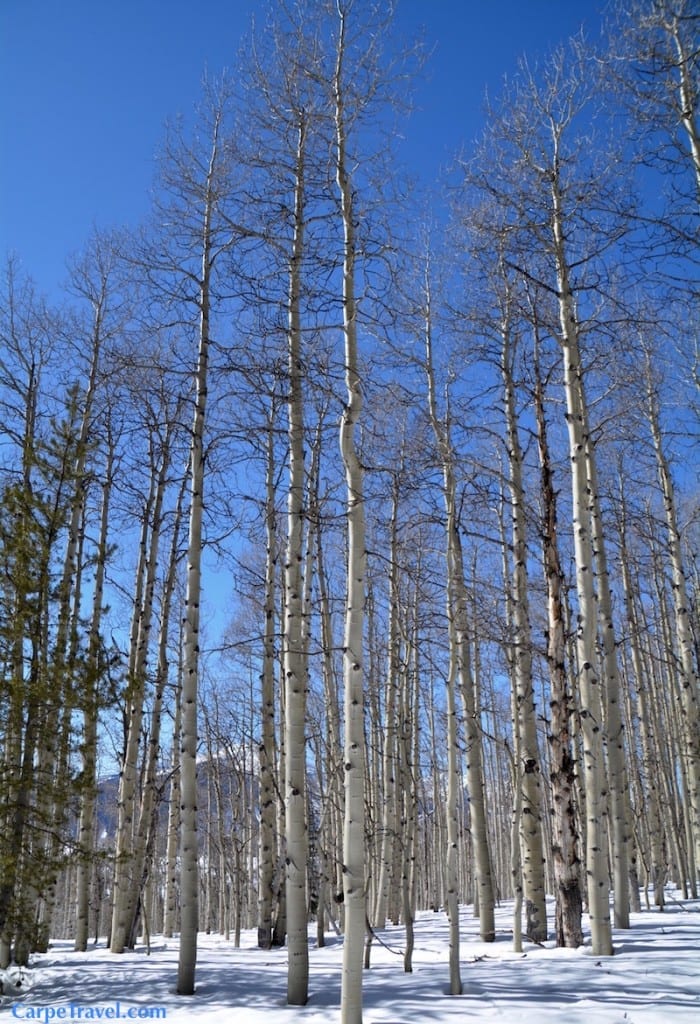 Crested Butte Mountain offers guided snowshoe tours everyday at 12:30, we signed up for one when the kids were in ski school so we could learn more – and see more – about the area. The tours are run by locals – aka guides – who share their knowledge of the local alpine ecosystem and the history of the Gunnison Valley. Our guide, Don, had been in Crested Butte for over a decade and had a wealth of information, and recommendations on things to do in Crested Butte. If you go, try to go early in your trip as you will honestly learn a lot of information that could be useful during your stay.
The tour itself was about two miles, downhill through the woods. We snowshoe quite a bit so the tour wasn't too challenging and only took us about an hour and a half to finish. Don did take us off trail towards the end since we could handle it, this was a lot more fun… we ran into bear tracks on the trees, followed fox tracks in the snow and saw some wonderful views a long the way.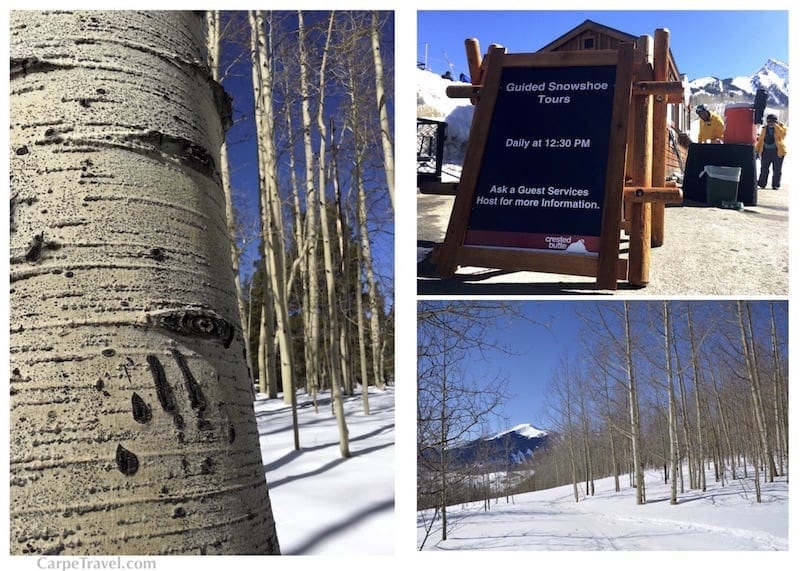 If you're new to snowshoeing, for sure go through the resort as they can not only teach you the correct techniques but can also guide you along the route and provide assistance if needed. (Tours leave daily at 12:30 PM and are available for $85 per person. Make sure to bring some cash with you to tip your guide, they're all volunteers.) You can always do your own snowshoeing up Mount Crested Butte, without a guide.
Tip: If you want to get out of the resort and snowshoe on your own, try some of these trails. They're great things to do in Crested Butte.
Snodgrass Mountain is easily accessible from town and is about six miles. Of course you can make it as short as you want.
Washington Gulch Road or Slate River Road are both free, flat and have great views.
Try Woods Walk or Van Tuyl in Gunnison. Van Tuyl is typically groomed well and has a few parking options. You could loop in snowshoeing at Van Tuyl then taking the kids for pizza at High Alpine Brewery.
Crested Butte Heritage Museum and Historic Waking Tour
If you're going to be spending time in downtown Crested Butte knowing even a little of its history will make it a more interesting experience. There's no need to go read a history book, just stop into the Crested Butte Heritage Museum, its a great things to do in Crested Butte. (I also have fun facts about Crested Butte here.) You can get in and out of the museum in less than hour and walk away with a ton of information and fun stories about the town, its history and some of the characters who put it all together. The museum also offers a historic walking tour during the summer months, and you can do your own via your smart phone the rest of the year. (You'll need to stop into the museum to get the brochure with the QR code to scan.) The Crested Butte Heritage Museum is located downtown at Elk Ave. and 4th St. and it has a museum shop and exhibits for all ages. Open daily until 6 pm.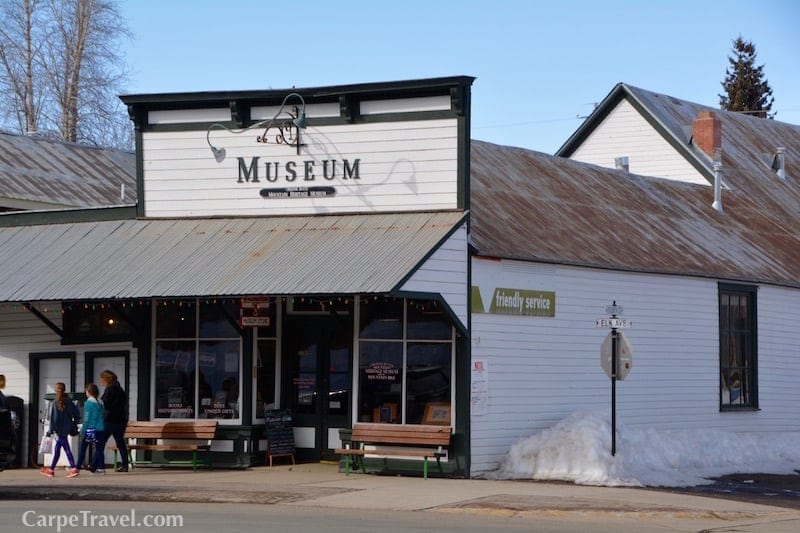 Ever visited Crested Butte? What are some of your favorite things to do in Crested Butte…besides skiing?
---