The Grand Lodge in Crested Butte is Value Luxury at its Finest
On a trip to Crested Butte, Colorado last week my family and I spent a few nights at The Grand Lodge. Have you stayed at this hotel in Crested Butte before? What was your experience? Keep reading for our impressions — and plenty of photos.
Check-In
We arrived fairly late for checking into the hotel; around 7:30 pm but were greeted with happy and helpful staff at the check-in counter. Upon getting the room keys, map of the hotel, village area and the town of Crested Butte we were directed the ski valet.  Skis and snowboards are not allowed in the hotel rooms but the bell-hop will store them for you for free and the following day you can check them into the on-mountain ski valet. I loooooved this as it's fairly painful for The Husband and I to carry skis for ourselves and two kids.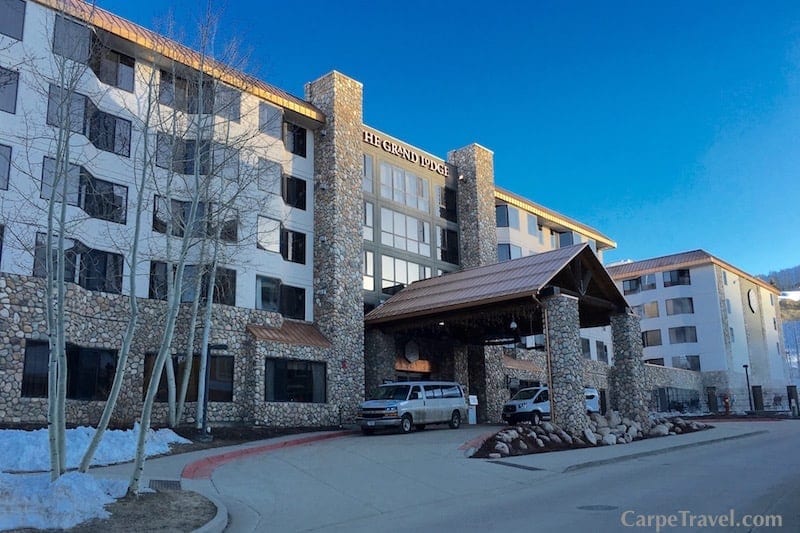 Location
The Grand Lodge is located inside Crested Butte Mountain Resort. While it's not ski-in, ski-out it's pretty darn close. The hotel is across the street from the village area where the Red Lady and Silver Queen lifts are located (about 200 yards). During ski season, guests at The Grand Lodge get free ski valet service so if you're staying for more than one day, you're going to love not having to carry your gear, even if it's just across the street.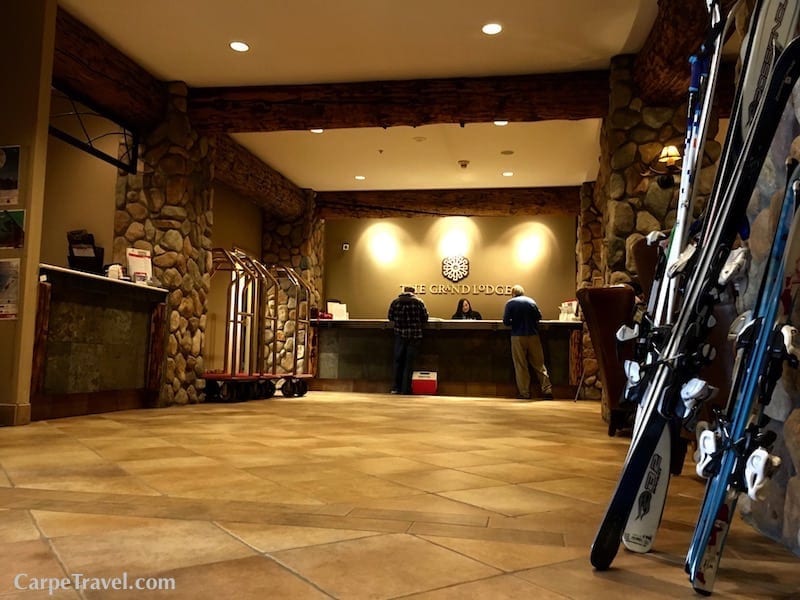 The Rooms
With nearly 230 rooms at the Grand Lodge, you're should be able to find a room that fits your needs…and your pets. Yes, the Grand Lodge is a dog-friendly hotel. You will need to reserve a pet room in advance though, they are limited.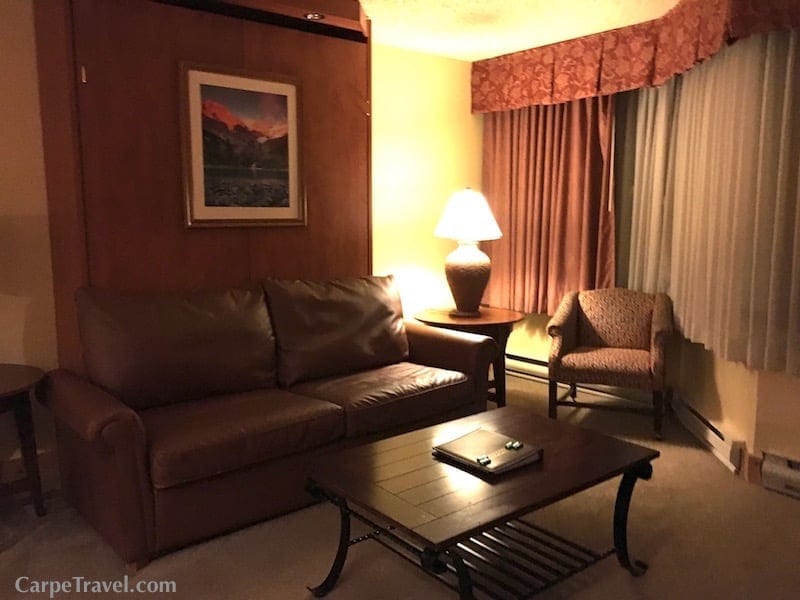 We stayed in the Whetstone 2 Queen Suite, a one-bedroom condo featuring a living area with a queen size pull-down Murphy bed. This was literally the first (and possibly the only time) the Princesses loved making their bed. And, I got them to do it twice a day – both morning and night. The bedroom had two, comfortable queen-size beds with plush down comforters, three soft pillows on each bed and two firmer pillows in the closet.
Our room had a dining area and kitchenette equipped with a microwave, dishwasher, sink, one burner stove, refrigerator and additional barstool seating in the kitchenette. Having the kitchenette is a must for our family. It allows us to do breakfast in the room – egg sandwiches or yogurt – and eat dinner in our PJs if it's been a long ski day. And, that's exactly what we did…for two nights. I made (and cooked) a lasagna beforehand knowing the girls would be to worn out from skiing at least one of the nights. Little did I know we'd be enjoying the left-overs another night due to The Husband blowing out his knee after attempting a double-black diamond ski run. (We also ordered takeout salads at The Woodstone Grill since the left-over lasagna wasn't going to do the whole job.)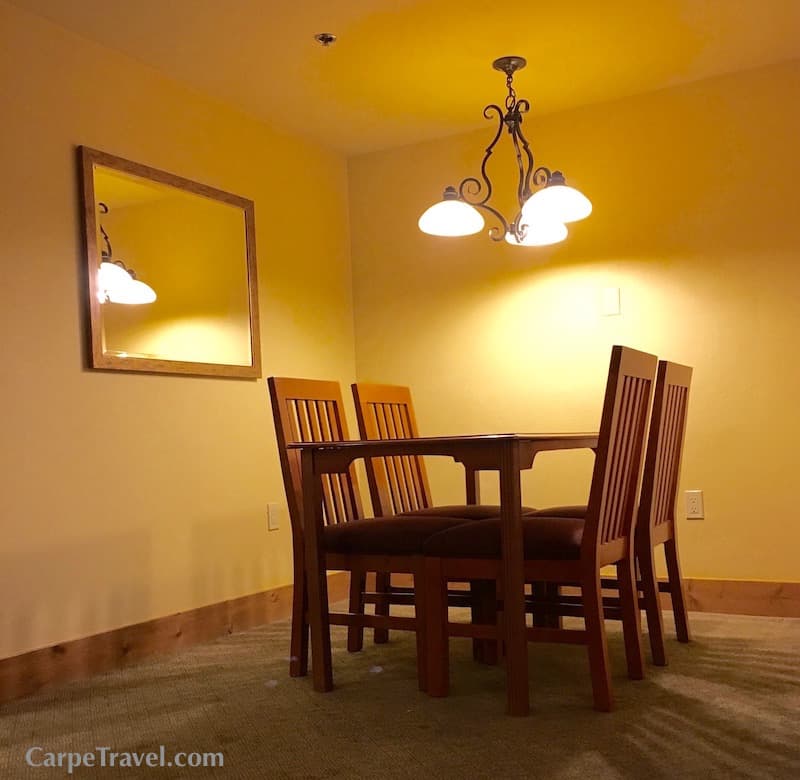 The kitchenette is equipped with silverware, cups, plates and a few pots and pans, but if you're planning to do any cooking on the one burner stone, you will need to make sure to take your own cooking spray or oil. If you forget, like I did, don't fret. There is a little grocery store across the street from the Grand Lodge where you can pick up last minute items. The store also carries eggs, milk, juice, frozen lasagnas, pizza and burritos. However, the hotel rooms don't have ovens, so unless there's a way to cook lasagnas and pizza in the microwave, you may want to pick up some frozen burritos or dry pasta and can of Prego.
It's important to note that the kitchen area varies depending on the room. The King Suite for example does not offer a kitchen while other rooms have a microwave and small refrigerator, and/or a dishwasher and stove top burner. If the kitchenette is important to you, make sure to clarify which room you're booking beforehand.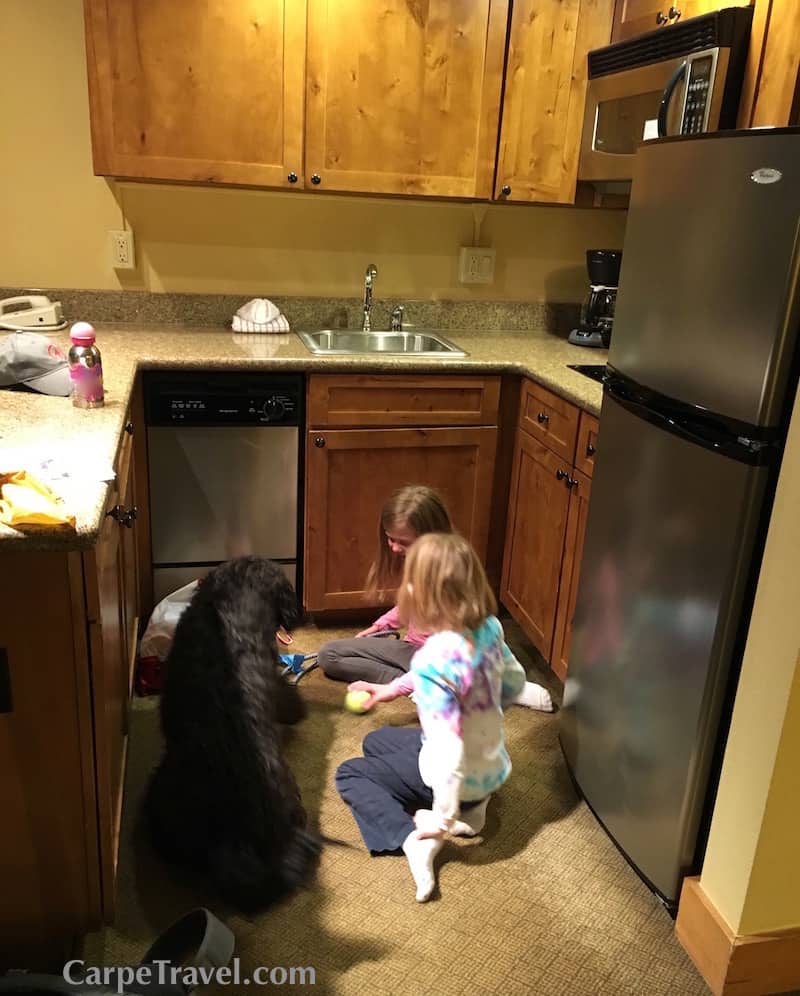 So enough about the kitchen…
The Whetstone 2 Queen Suite has two bathrooms, which was perfect for our family. The girls could have the bathroom in the living area and we could occupy the one bedroom. No one would mistakenly use the bubble gum toothpaste (yuck!) or disturb the other in early morning hours.
Both of the full-baths were immaculately clean, freshly updated and featured a shower and bathtub with good water pressure and excellent toiletries. They were also stocked with extra towels. Until I began traveling with a family of four I never knew how important it would be to have extra towels in the bathroom – and hooks! While the bathrooms only had one double hook on the back of the door, they did have a metal clothing line you could setup in the bathtub. Perfect for guests enjoying the pool and needing a place to dry their towels and swimsuits.
For those of you visiting the Grand Lodge in the summer, you should know that it does not have air conditioning. The Texas girl in me freaks out about this BUT, it's pretty typical for hotels in the Colorado high country. Each room is equipped with a ceiling fan, box fan, and at least one opening window to assist with climate control though.
Dining
We arrived at the Grand Lodge around 7:30pm, which is well past our kids dinner time. Instead of venturing out to the village area we chose to dine at the hotel's restaurant, The Woodstone Grill. It was a Wednesday evening so the restaurant was not very busy, we were sat immediately and had drinks in-hand within minutes.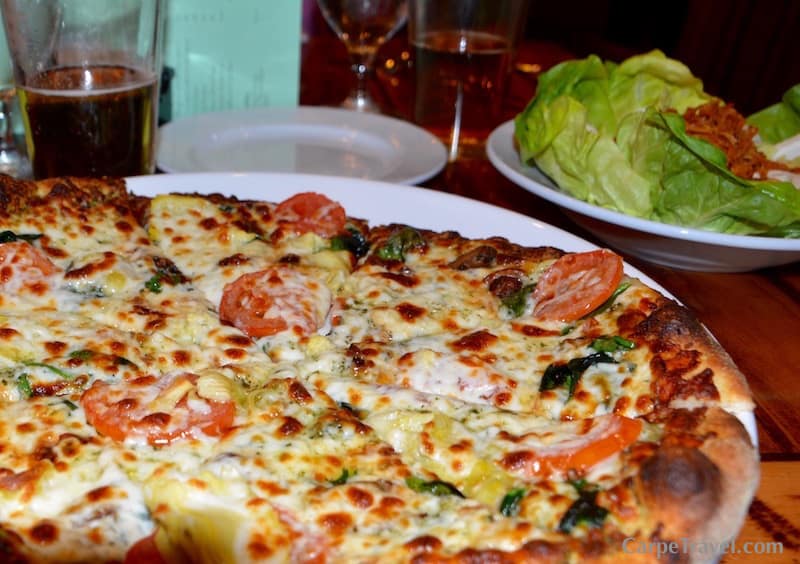 The menu is fairly simple, with hamburgers, pastas, salads and pizzas. However, the salads and pizzas are more specialty pizzas (you can always order them plain if you like). We asked our server her favorite items on the menu, something we usually always do to ensure we pick something good, and she recommended the Margherita Pizza, Tin Cup Pizza and the Woodstock Pizza. We chose the latter and I have to say, it was a special pizza. Pesto, olive oil, spinach, roma tomato, artichoke heart, red onion, capers, cremini mushrooms with a mozzarella fontina blend. All I can say is DELISH!
The Husband and I split the pizza and a Haystack Salad and it was plenty of food. I highly suggest the Haystack Salad – fried onion strips, chunks of tomato and mozzarella inside, large leafs of bibb lettuce drizzled with a sherry shallot vinaigrette. Princess One had "the most amazing hamburger – ever" and Princess Two had chicken fingers with fruit. She claimed they were "the best ever" but I think it's because we were all raving about ours and she didn't want to be left out. They were just average chicken fingers, in my book.
The Woodstone Grill also has a bar area with TV's throughout the restaurant so you can catch up on sports news or catch a game. There is also one pool table in the back of the restaurant, which even on a Wednesday night had more than a few people waiting to play.
The following morning, we enjoyed the buffet breakfast at The Woodstone Grill. It was a pretty standard buffet with scrambled eggs, pancakes, bacon, sausage, oatmeal, cereals, fruit and a variety of breads. They also have an omelet station but you will need to order this through your waitress. Breakfast can get pretty busy with the lifts opening at 9am, so either go before 8am or later, or just know you're going to need to wait a few minutes.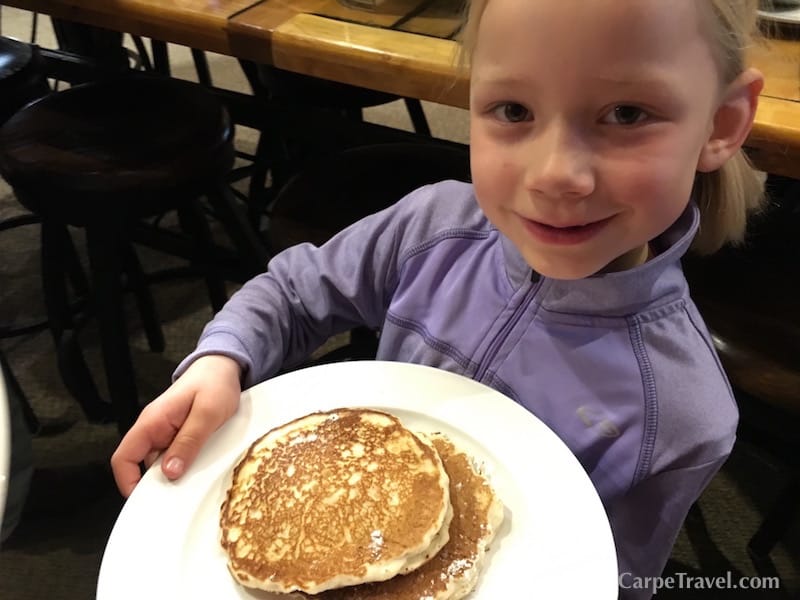 While they're not "in" The Grand Lodge, Camp 4 Coffee and Hefe's are a short walk outside the building. Camp 4 Coffee is a less expensive option for breakfast with $6 breakfast sandwiches and $4 lattes or $2 cups of coffee. Don't wait in line for a plain coffee, there is a jar adjacent to the register for you to leave your $2, pour your own coffee and go. (I LOVE the coffee honor system…)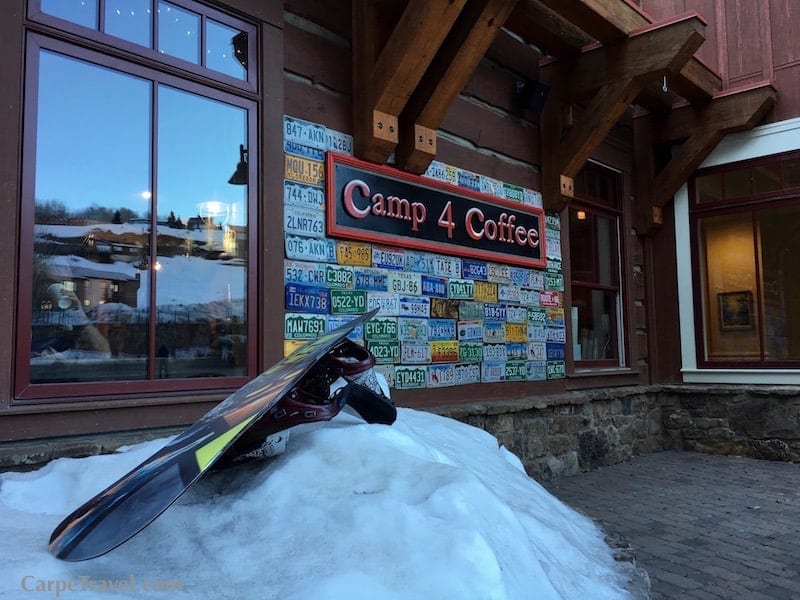 The Amenities
Pet Friendly Rooms
The Grand Lodge welcomes dogs of all shapes and sizes. Pet friendly rooms are limited, so you will need to reserve them in advance. A nightly $30 fee for each pet will be charged to your room, and a portion of this fee will be donated to P.A.W.S., a local animal rescue service.
Pool
The pool at the Grand Lodge is the place to be, if you're not on the slopes. The heated pool is both indoor and outdoor allowing you to escape the snow if you want or let the flakes melt in your mouth, literally. There is also a hot tub if you want to soak your sore muscles at the end of the day.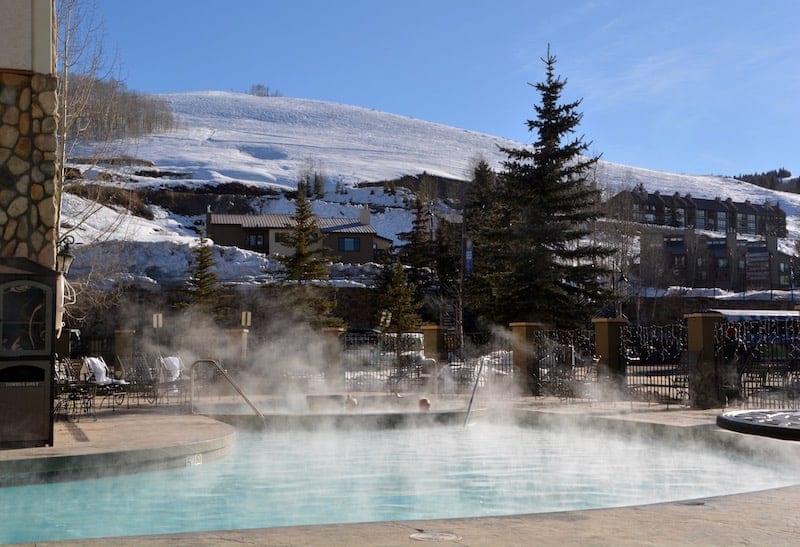 Kitchen
Most rooms offer a kitchenette. The kitchen area varies depending on the room. The King Suite for example does not offer a kitchen while other rooms have a microwave and small refrigerator, and/or a dishwasher and stove top burner. If the kitchenette is important to you, make sure to clarify which room you're booking beforehand.
Logo'd
Forgot your swimsuit? No worries the Logo'd, the gift shop in the hotel has you covered. The best, kids swimsuits are not only cute but under $20; adults were about $30. The shop has every Crested Butte trinket you might want as well as things you may have left at home, from gators, ski gloves to ski coats and even helmets.
Entertainment
Ok, so this may seem kinda lame to some of you BUT I'm traveling with kids so board games have become a huge evening past-time for us. I love that the Grand Lodge knows this about families… They have a trunk next to the large fireplace in the lobby where you can borrow a game for your room. There's also another truck filled with books. So, don't freak out if you left the favorite bed-time story at home. Have your kids find a new one just for this trip. For those of you not into games and books, don't forget about the pool table at Woodstone Grill, the pool and HBO in the hotel room.
Onsite Dining at The Woodstone Grill
And nearby Camp 4 Coffee, Hefe's, Avalanche and wine bar.
Ski/Bike Valet
Located at the base near the Red Lady lift.
Spa
The Wildflower Spa offers variety of spa services, from reflexology to massage treatments. Guests can also enjoy the steam room, whirlpool/hot tub and gym.
Rates
The rates will vary based on the type of room you book as well as the season. During peak season, you should expect to pay $170-$270 a night, including a $9 a day resort fee.
The Bottom Line
This is a great hotel in Crested Butte Mountain Resort for families and couples. It's perfectly located to everything you would want easy access to. The staff is friendly and helpful. The rooms are clean, spacious and affordable. The overall environment is both relaxed with a touch of luxury. You definitely get bang for your buck, what we like to call "value luxury". We would definitely stay here again!
Have you stayed at The Grand Lodge in Crested Butte? Share your experiences in the comments!
Looking for more ideas for things to do in Colorado? Colorado Wine Travel Guide
A portion of our stay at The Grand Lodge was hosted by Crested Butte Mountain Ski resort. All thoughts and opinions are my own.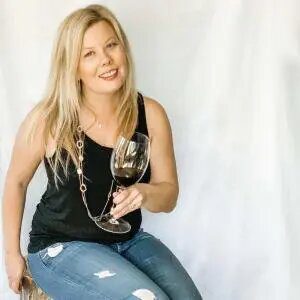 Elaine Schoch (pronounced the German way – Shock) is the editor and founder of Carpe Travel as well as an award-winning travel writer, wine judge, certified by the Wine & Spirit Education Trust (WSET) Level 2 and certified American Wine Expert. She is married to The Husband and has two kids, Princess One and Two – who's interest and knowledge in wine is quite extensive. Not to mention the stamps in their passports.