Who would have thought that a winery in North Carolina was the most visited in the United States?!?
It's true. The most visited winery in America is in North Carolina. The Biltmore Winery hosts more than one million guests per year! Given the legacy of The Biltmore it's not surprising… The estate dates back hundreds of years – before it was even one of North Carolina's top wineries.
Today guests can sip in a little history and North Carolina wine. Making a visit here more than your average tasting experience.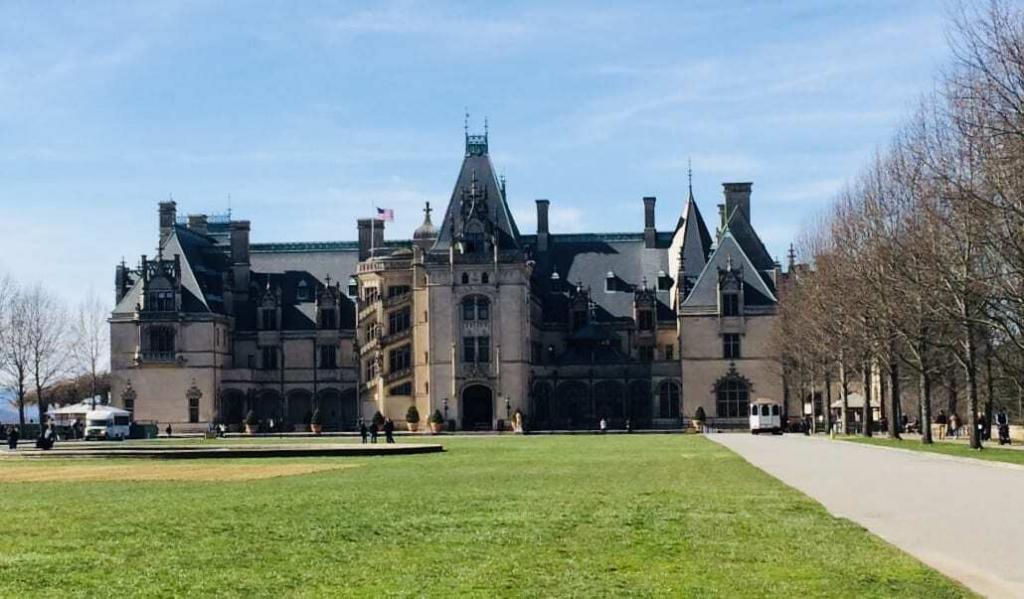 The Vanderbilt Family & Legacy
Railroad Baron Cornelius Vanderbilt's grandson, George Washington Vanderbilt II grew up in New York but fell in love with Asheville, in part due to its creative and sophisticated residents, and the lush landscapes. George spent time visiting France and exploring the great châteaux and wine regions of the Loire Valley to the west of the city. Historically, the Loire Valley was a summer playground to royalty the aristocracy from the Medieval era, through the Renaissance, and even in Modern day France. Most of the estates and châteaux were glorious representations of their wealth and opulence.
To bring a little of this home, he built the Biltmore Estate between 1889-1895. Nestled in the Blue Ridge Mountains just 8 miles from Asheville, North Carolina, the American Gilded Age estate and its vast lands overlook incredible mountain views. The house was once surrounded by 125,000 acres of privately-owned land: cultivated, farmed, and wildlands. Now, the working estate maintains 8,000 acres including prize gardens, working farms, and extensive vineyards.
The Biltmore House is the largest, privately-owned, family house in the United States. Architecturally patterned on a French Renaissance Château called Château Royal de Blois, in Blois, France.
Nestled along the banks of the Loire River Valley, Château Royal de Blois was first built in 854 A.D., and razed by Viking invaders. Over the next few centuries, the castle was rebuilt in various architectural structures including Gothic, Renaissance, and Classic styles. One of the most famous castles in France, Blois was home to seven Renaissance kings, 10 queens, numerous political and religious figures and courtiers, including François I, Henry II, Louis VIII, Catherine de Medici, Diane de Poitiers, Jéan d'Arc, and the Dukes of Orléans.
George W. Vanderbilt fell in love with Château Royal de Bloisand and then created Biltmore House as a replica work of artful architecture to serve as a residential house. The mansion showcases his massive collection of priceless art, unique furnishings, tapestries and valuable collectibles. It is truly an emblem of how the cosmopolitan elite class lived and continues to live.
The Biltmore Estate Antler Hill Winery
George W. Vanderbilt's grandson, William A. V. Cecil, (a direct descendant of William Cecil, Queen Elizabeth the 1st's Statesman) carefully selected plots of land to convert to vineyards in 1971.
He planted the land with French-American hybrids and native grapes. After his first few vintages, Cecil was underwhelmed with his yields and quality of grapes. He consulted expert enologists and geographers from the University of California at Davis and converted the vineyards to six primary European vitis vinifera varietals in 1977. He selected Cabernet Franc, Cabernet Sauvignon, Chardonnay, Merlot, Riesling, and Viognier and hoped to change the trajectory of his vines and wines.
Cecil hired sixth generation French wine producer, Phillippe Jourdain to helm the winery and opened The Biltmore Estate Wine Company in 1983. In 1985, the Biltmore winery officially opened for commercial business under the broad American Viticulture Appellation, which allows wineries to source grapes from other regions and states.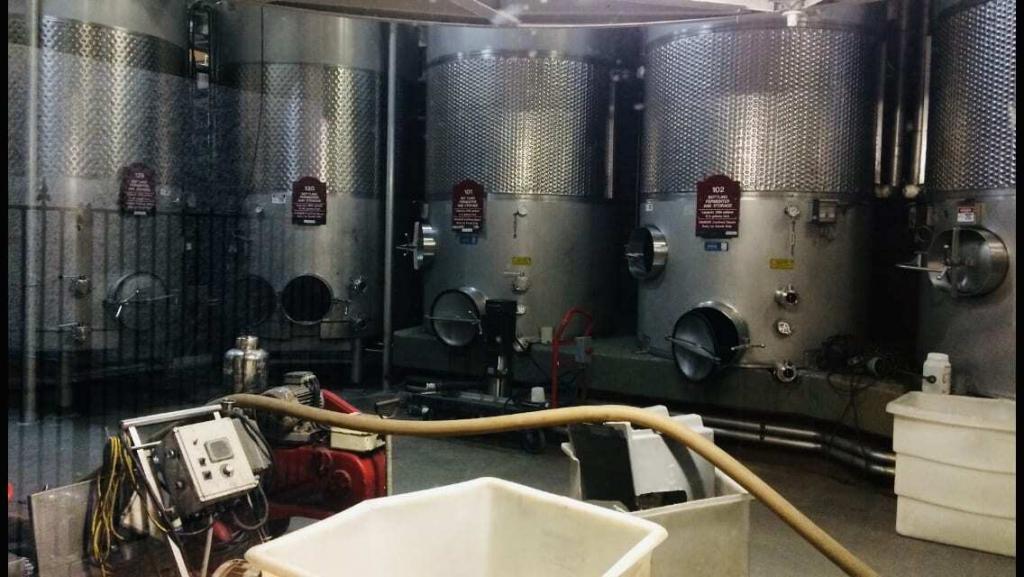 The Biltmore Winery produces dozens of wine styles from sparkling and dessert wines to rich reds, rosés and aromatic whites. At a recent tasting, I worked my way through their 2020 portfolio. My personal wine ambassador started my flight with sparkling, dry, semi-sweet wines, and rosés.
The notable stand outs were the sparkling wines and the dry white wines: I loved the Blanc de Blancs, Blanc de Noirs, Sémillon, Gewürztraminer and the Limited Release Merlot was tasty and balanced. The Mariporta Port-Style wine was fantastic too. The majority of the reds were drinkable, yet light and lacking in fruit and aromatics.
Pricing is reasonable for niche, exclusive wine ($15-$50), but across the board, the wines are a bit overpriced for the quality. The Biltmore Estate cache and brand drive the popularity and pricing for the portfolio but in the vast, international wine market, the wines are not able to compete with quality wines from around the globe.
Scuppernong is the official state fruit of North Carolina. A type of muscadine grape, it's one of the native American grapes and has the distinction of being the first varietal cultivated in the United States. It's also a staple at most North Carolina wineries.
Go for the Experience at The Biltmore Winery
As for the experience… There are several interactive experiences available for Biltmore Estate Antler Hill Winery visitors.
Behind the Scenes
Behind the Scenes tours are guided, hour long, tours of the winery that conclude with a generous tasting in their enormous tasting room. $10, Monday through Friday at 4pm, 5pm, and 6 pm, and on the weekends hourly from noon to 6 pm.
Vines to Wine Tour
Vine to Wine Tours visit the estate's west-side vineyards and winery with a behind the scenes, guided tour, which ends with an exclusive tasting of six to eight delicious offerings.
Tasting Room Experiences
Tasting Room Tasting Experiences are included in the upgraded Estate entry fee. Each guest has the opportunity to taste six wines of their choice in an informational, guided experience.
The tasting room is stunning, with expansive blonde wood and marble tasting islands divided by incredible, shimmering, glass bubble sculptures hanging from the ceiling. You think you are immersed in a bottle of sparkling wine!
The tasting room is one of the largest I have ever seen with approximately 100 seats and adjacent rooms for private parties. There is always a long line and a wait to enter the tasting room, but the efficient bartenders churn over groups of tasters in about 30 minutes.
You can also taste through a wonderful flight of wines accompanied by chocolates, charcuterie, cheese, and other nibbles at the Wine Bar at the Winery. Open 11am to 8pm, daily.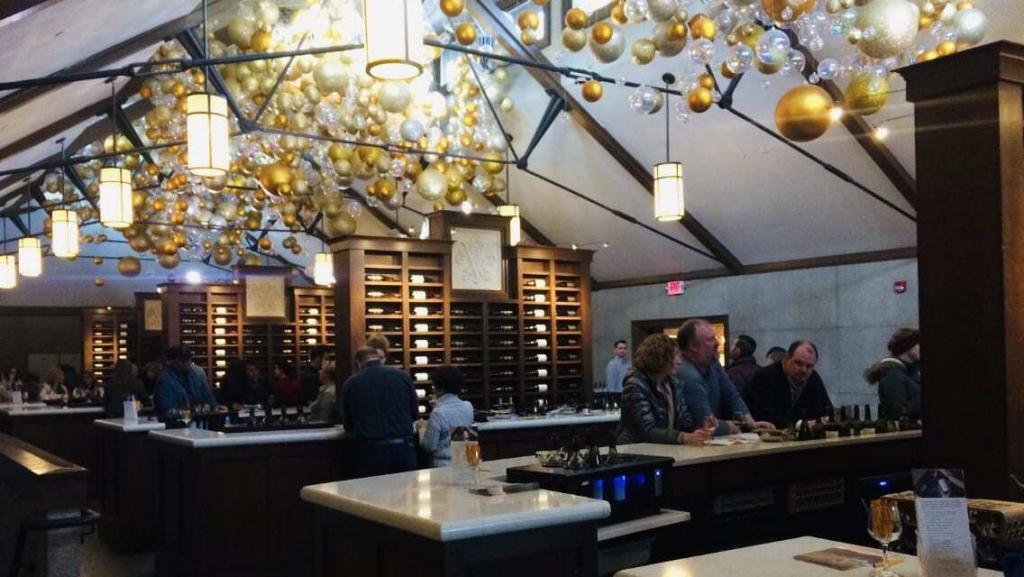 There's More Than Sipping at the Biltmore Winery
Today, the estate is a luxury lifestyle complex boasting a legacy of exalted hospitality. The main house has been transformed into a private museum of art and artifacts collected by generations of Vanderbilt's spanning three centuries.
What do the infamous show, Downton Abbey and North Carolina wineries have in common? The Biltmore Winery and Estate, America's largest home, aka super mega mansion. It is currently home to Downton Abbey: The Exhibition, which seems fitting given the history of The Vanderbilt Family, who built it (and still owns it today) and the fictitious families depicted in the show. Fans will have the chance to view costumes and sets from the show
Shopping at The Biltmore Winery
Biltmore House & Gardens adjacent shopping and dining includes a courtyard with a variety of stores for those who wish to indulge in a little shopping and snacking marketplace.
Enjoy the Grounds
Spring and summer takes the tour of The Biltmore Winery out into gorgeous formal gardens designed by Frank Law Olmsted, the man you designed Central Park in New York City
The estate boasts miles of paved walkways, gravel trails, and cycling paths, winding through the forests and meadows between the château and the estate farther afield. Sporting types can engage in horseback excursions, carriage rides, raft and kayaking trips, Land Rover experiences, and even falconry displays. Bass Pond & Boat House, horse stables, dairy barn, Lioncrest hall, and the Amherst Exhibit Hall. Gastronomists and enophiles can dine and sip to their delight.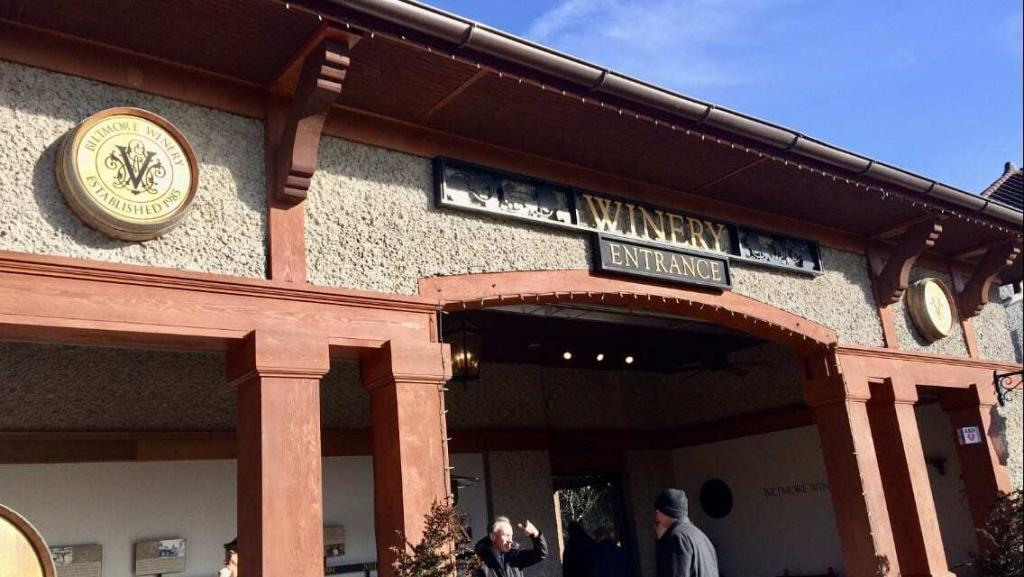 Dining Options
Village Green bistro and Cedric's Tavern, Creamery, Deerpark Restaurant, Smokehouse, Stable Cafe, Confectionery, Bake Shop, Biltmore Dairy Bar
Overnight at the Winery
The Biltmore Winery offers a few winery hotel options for your NC wine vacation, including, The Inn on Biltmore Estate, The Village Hotel on Biltmore Estate, Cottage on Biltmore Estate
Since you're visiting The Biltmore Winery, stay and play in Asheville. A heaven for foodies!
The Biltmore Estate is about 8 miles from downtown Asheville, depending on traffic, it is 20-30 minutes by car.
Asheville is a quaint, yet quickly gentrifying, historical city surrounded by breathtakingly beautiful landscapes. It is known for its well-preserved downtown region that is peppered with Art-Deco architecture. At its heart, Asheville is a college town known for its thriving arts and music community. Home to just over 90,000 citizens, Asheville is small and sophisticated, friendly and laid back, all at the same time.
Asheville has been dubbed the 2020 Top Food Town in the USA according to Food & Wine magazine, Yelp, and The Daily Mail. Many national and international, high profile, James Beard level chefs are leading restaurants in Asheville.
Asheville is an extraordinary culinary and beverage scene with much diversity, creativity, and unique food niches. It is home to countless breweries, distilleries and other North Carolina wineries.
Situated in a glorious rainforest with abundant access to fresh, foraged, produce and seafood. It is a community dedicated to Southern-influenced, farm to table, locavore themed restaurants with an ethnic twist including several, top-rated vegan and gluten-free restaurants.
Asheville was the first city in the nation to be designated as a Green Dining Destination by the Green Restaurant Association.
While North Carolina barbecue may be the signature, I found very little of it in the downtown area, instead, I found tremendous culinary diverse and ethnic options to be the most popular and most frequented spots. Some of the country's best Indian, Mexican, Japanese, Ethiopian, Himalayan, and Iberian restaurants are found scattered across Asheville alongside nationally renowned BBQ and smokehouse fare.
---
Sip In More of North Carolina…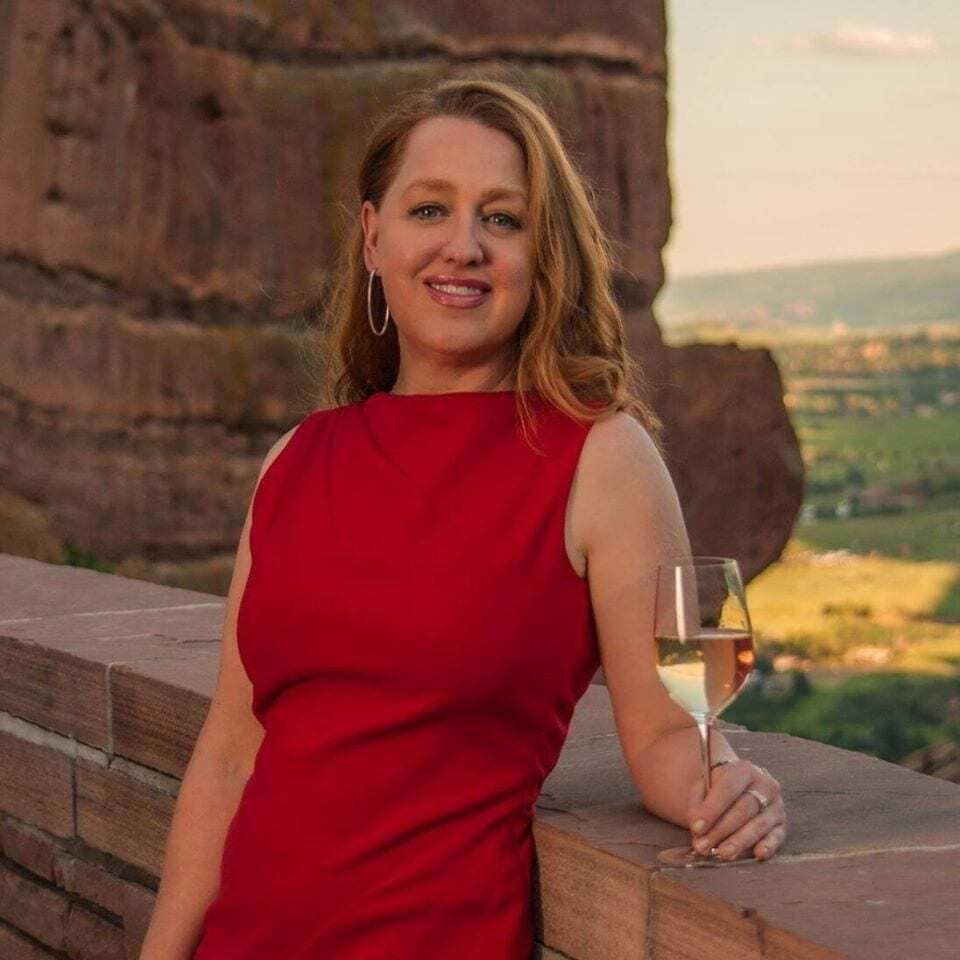 Simone FM Spinner is a top-rated university wine lecturer and certified sommelier with thirteen advanced wine certifications, a bachelor's and master's degree in wine studies, and is pursuing her doctorate studying the socioeconomic and cultural effects of climate change on wine. She is a sought-after wine consultant, public speaker, and published author. She organizes wine events and international wine tours through her company Wine Rocks & Chasing Grapes™©. Her website is WineRocksLLC.com