The state of North Caroline is divided into three wine regions consisting of 200+ wineries and six designated AVAs.
By Simone FM Spinner, Contributing Writer
North Carolina has always been an agriculture haven, when it comes to viticulture, it continues to grow. The most recent AVA in North Carolina – Crest of the Blue Ridge Henderson County – was established in 2019. When it comes to the state of wine in North Caroline, the state is literally divided into three wine regions consisting of 200 wineries and six designated AVAs.
Make sure to check out our North Caroline Wine Travel Guide to help plan the perfect NC wine country vacation.
Understanding the Wine Regions of North Carolina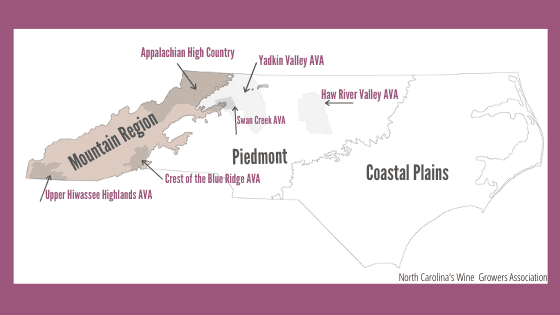 AVAs – American Viticultural Areas – are designated wine-grape growing regions with specific geographical, climate attributes, and grape varietal production. These geographical boundaries define the wine and everything that goes into it. Everything including what grapes can be grown and how the wine is grown and is produced.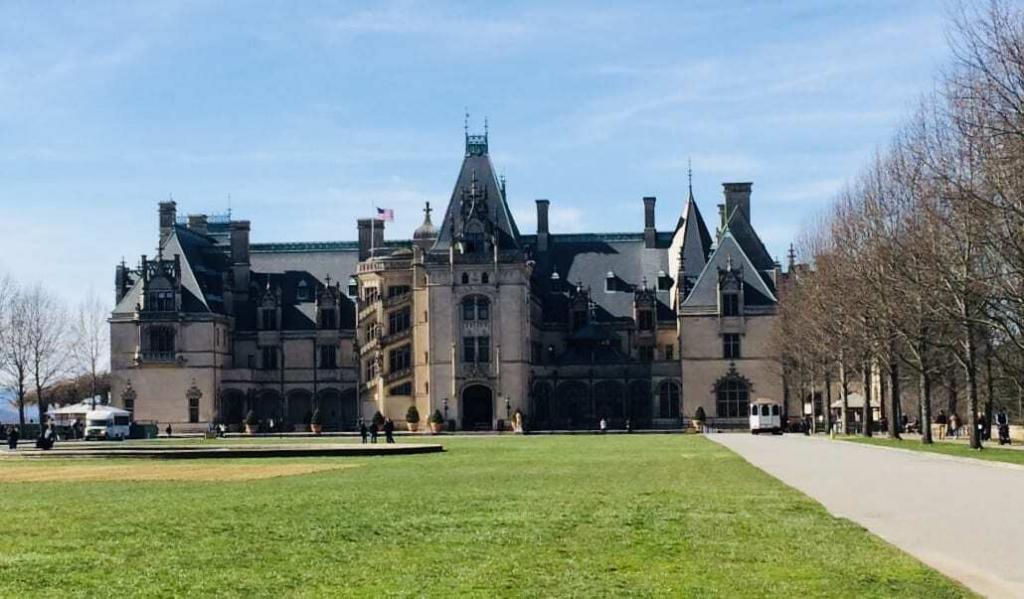 The Appalachian Mountains
What might be the oldest mountain in the United States – The Appalachian Mountains – is also home to three designated AVAs.
Appalachian High Country AVA, 10 wineries and 21 vineyards
Crest of the Blue Ridge AVA, 14 wineries
Upper Hiwassee Highlands, 3 wineries
NC Wineries to Sip…
Burntshirt Vineyards, Banner Elk Winery & Villa, Thistle Meadow Winery, FernCrest Winery, The Biltmore Winery
The Piedmont
The term "Piedmont" is French meaning "foot of the mountain". So it only make sense the middle region of the state, located between the Coastal Plain and the Mountain regions is given this name. Home to three AVAs, Piedmont is one of the main North Carolina wine regions to sip in. Given its close proximity to the major cities of Greensboro, Winston-Salem, and High Point it's also an easy wine country escape.
Yadkin Valley AVA, 36+ wineries
Swan Creek AVA and Haw River Valley AVA's are sub regions of Yadkin Valley.
NC Wineries to Sip…
Hanover Park Vineyard, Chatham Hill Winery, Childress Vineyards, Grove Winery
In 2002, Yadkin Valley became the first designated AVA in North Carolina.
Coastal Plains
The Coastal Plain stretches from Corolla in the north, to central coast Wilmington, and all the way to the southern Outer Banks. It makes up the largest region in the, covering roughly 45 percent of North Carolina. It does not currently have any official AVAs – yet – but is home to many wineries and vineyards.
NC Wineries to Sip…
Duplin Winery, Lake Road Winery, Noni Bacca, Huffman Vineyards, Silver Coast Winery
Sip in North Carolina Wine Country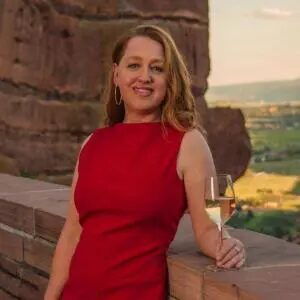 Simone FM Spinner is a top-rated university wine lecturer and certified sommelier with 13 advanced wine certifications, a bachelor's and master's degree in wine studies, and is pursuing her doctorate studying the socioeconomic and cultural effects of climate change on wine. She is a sought-after wine consultant and judge, public speaker, and published author. She organizes edutainment wine seminars and events and international wine tours through her company Wine Rocks & Chasing Grapes™©. Her website is Wine RocksLLC.com™© & Instagram, @simonefmspinner.