Our Long Island Wine Travel Guide shares a brief history of the region, terroir, where to sip, where to stay and things to do beyond the vines.
WHERE IS LONG ISLAND WINE COUNTRY?
The North Fork is where most of the wineries are found. The area remains bucolic, with small B&Bs and motels, mom-and-pop farm stands and very few chains.
Getting There
Taking the train from New York City or the ferry from Connecticut enables you to skip the dreadful traffic on Long Island. Ride-share services are few and far between, as is public transportation once you hop off the boat or train, it's best to bring/rent a car.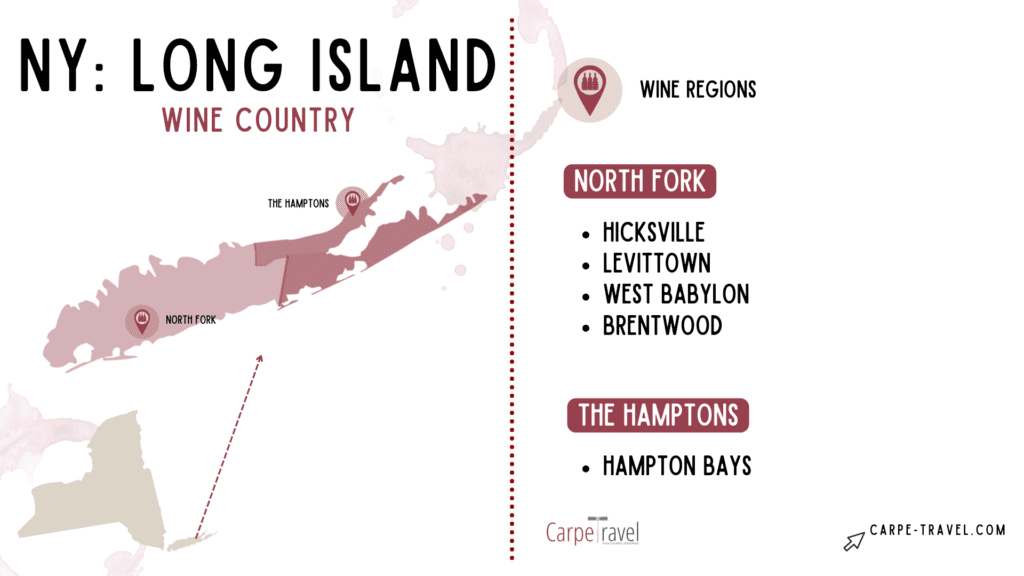 With only five decades of experience, Long Island is still a baby compared to European regions — or even compared to Napa, and it's still finding its way.
Driving along County Route 48, the main east-west route on the North Fork of Long Island, you might notice that the breakdown lanes are very, very wide. That's a nod to the area's deep roots and continuing reliance on agriculture – the ample lanes allow tractors and other heavy farm equipment to trundle along the side of the road without causing too many slowdowns.
Like the roads, the history of Long Island wine country is inextricably connected to agriculture – vineyards are tucked amidst farms growing everything from corn to blueberries. The North Fork, where most of the wineries are found, remains bucolic, with small B&Bs and motels, many mom-and-pop farm stands, and very few chains.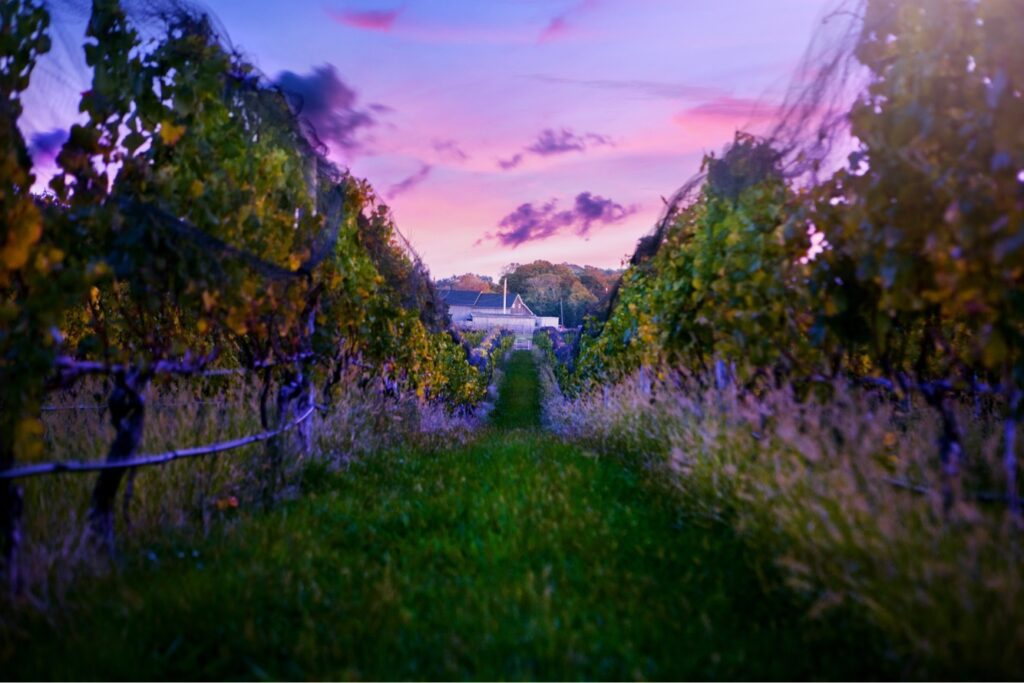 Back in the 1970s, many of the pastures now laced with grape trellises were potato farms – the area was once one of the top five potato producing areas in the country. But as suburban sprawl put pressure on land prices, people turned to grapes to get more value from their plots. Pioneers Alex and Louisa Hargrave were the first to turn a potato farm into a vineyard, purchasing land in 1973 for Hargrave Vineyards in Cutchogue, the area's first estate, and planting 17 acres of vinifera vines. They released their first bottles in 1977, producing Cabernet Sauvignon, Merlot, Sauvignon Blanc, Cabernet Franc, Pinot Noir and Chardonnay. The winery was sold in 1999 and became Castello di Borgese.
The Hargraves' efforts encouraged others to join them – the second, Lenz Winery, planted its first vines in 1978, and is still in operation from a large barn in Peconic. More and more growers followed suit, discovering the maritime climate, long temperate growing season and glacial soils were ideal for complex wines. Now there are 50+ Long Island wineries, mostly family owned and often run by the second generation of winemakers. Lenz was one of the first Long Island wineries to hold blind tastings, pitting its Merlot against great first growths like Petrus and coming out on top more than once. While that's an impressive feat, the hope is one day Long Island will be a star in its own right.
" When you get to a place where you're more comfortable in your own skin, you can accentuate what's unique. What's special about this place isn't the fact that we can grow Chardonnay that tastes like it's from somewhere else.… if you're tasting Sauvignon Blanc blind and you can tell that it's from Long Island versus France or New Zealand, that's the goal, but that takes time and it takes focus."

Ohio State University's College of Food, Agricultural, and Environmental Science
Long Island is home to three American Viticultural Areas (AVAs) and 50+ wineries.
Long Island is a slender finger jutting out from the southern tip of New York State, starting just east of New York City and surrounded by the Long Island Sound to the north and the Atlantic Ocean to the south. The eastern end of the 120-mile-long island, made up of two peninsulas called the North Fork and the South Fork, is primarily where grapes are grown, mostly on the North Fork.
Because of this unique geography, the vineyards benefit from a maritime climate – many people say there's a distinct salinity to the whites in particular. Sandy and loamy, both the climate and soil bear similarities to Bordeaux, which is why so many wineries have started with plantings of the vinifera varietals that thrive in that region of France.
Long Island has three American Viticultural Areas. The Long Island AVA, established in 2001, encompasses the two easternmost counties on the island, Nassau and Suffolk. This broad AVA is an umbrella that covers two smaller designations: the North Fork of Long Island AVA, which is 158 square miles, and the Hamptons, Long Island, AVA, at 209 square miles. The broader designation assists wineries located just outside the two smaller AVAs, and allows Long Island wineries to create blends from vineyards on different parts of the island.
TOP GRAPE VARIETIES IN LONG ISLAND
While Bordeaux grapes like Sauvignon Blanc, Merlot and Cabernet Franc are the most commonly grown, you'll find everything from Gewürztraminer to Refosco, an ancient variety that originated in the Veneto, planted in the region.
The mix seems to suit Long Island, where production is still relatively small and drinkers are open to exploration—as are the winemakers and owners of vineyards. In fact, the quirky grape choices may be due to the fact that most of these wineries started out as passion projects, and remain so. The majority are still family-owned, with second and third generation oenophiles and winemakers working the land.
WHITE WINE GRAPES
RED WINE GRAPES
"It's always interesting to see how a region defines itself. Will it focus on a single varietal or experiment? I think there is room for both."

Byron Elmendorf, head winemaker at Macari Vineyards in Mattituck, established in 1995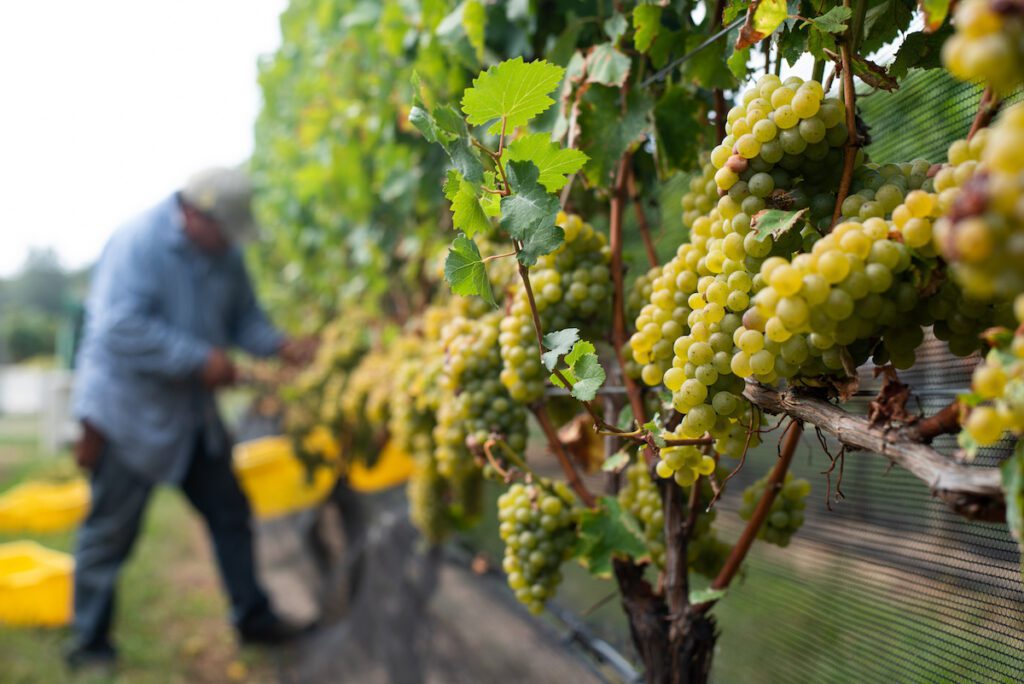 Figuring out a way to narrow down which of the 50+ Long Island wineries to sip can be a job in itself! We've done some of the work for you, selecting a handful of our favorite Long Island wineries that offer a glimpse into the diversity of the region, with a focus on crafting high-quality thoughtful wines. Make sure to see our full list of recommendations.
Anthony Nappa
Wines
Macari Vineyards
Lenz
Winery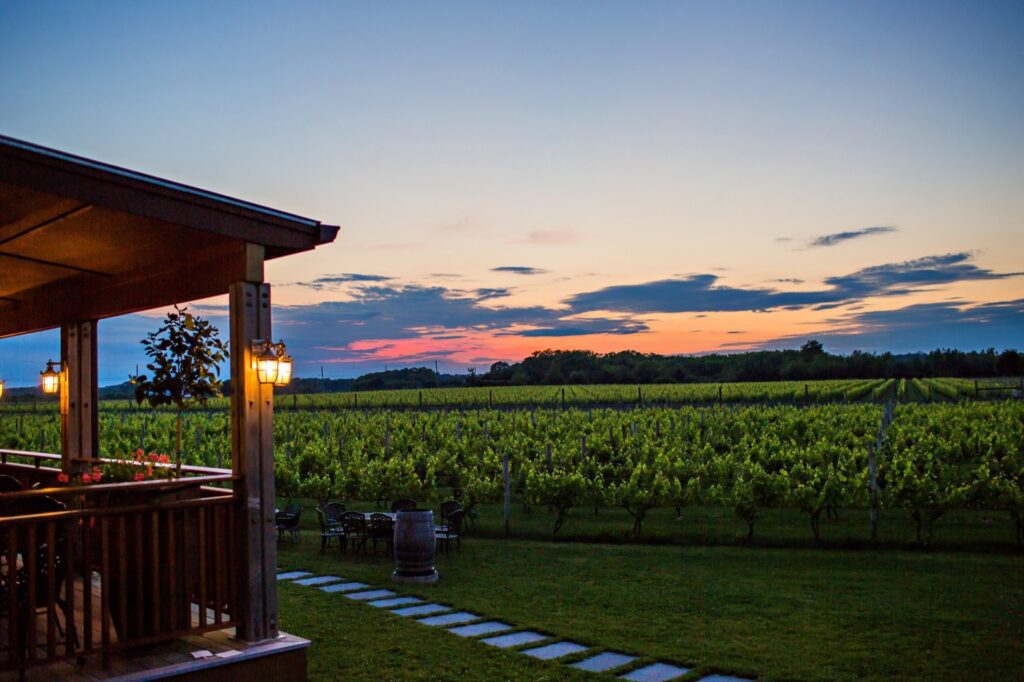 LONG ISLAND WINE TASTING ITINERARIES
PLAN YOUR LONG ISLAND WINE VACATION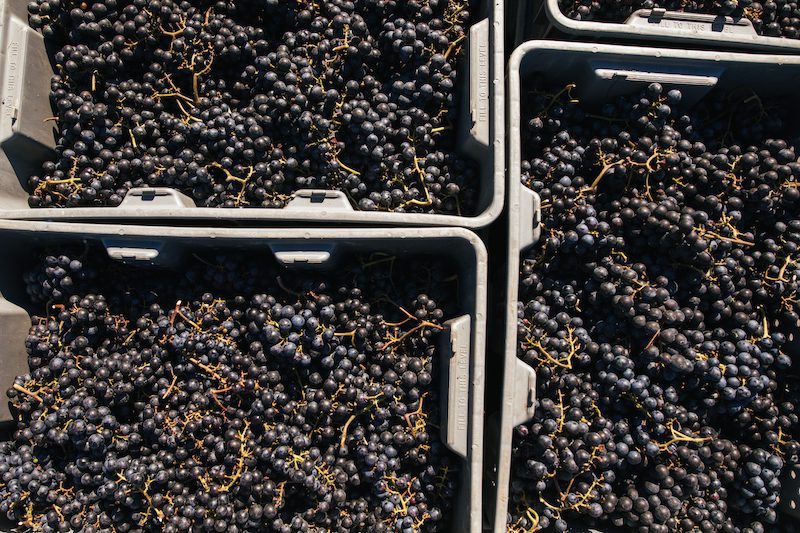 If you're looking for things to do besides sipping in the Long Island wineries, we have A LOT OF IDEAS for things to do in Long Island that go well beyond the vines.
Long Island boasts some of the most beautiful beaches on the Eastern Seaboard, equally appealing for winter walks and summer sunbathing. One favorite is Orient Beach State Park.
Visit Greenport's 100-year-old waterfront carousel, where you can still ride a hand-carved horse and try to grab a brass ring.
Walk through Lavender by the Bay, a stunning 17-acre farm brimming with 80,000 beautifully aromatic plants. Peak time to visit is in June and July, when the flowers are in bloom.
Sip in More of New York Wine Country
New England native Jeanne O'Brien Coffey delights in sharing the hidden gems in her corner of the world. She blogs about food, drinks and travel for ForbesLife and her work has also appeared in Naturally, Danny Seo and Boston magazine. Follow her adventures on Instagram and Twitter @savvysipper.