Carrie Honaker, Contributing Writer
Not all great tasting experiences happen among the vines. When it comes to wine tasting in Florida you can get out to wineries with sweeping vineyard views, or sip in Florida wine country – and wines from around the world – at these wine bars and unique locations.
36 SW 1st Ave. Ocala, FL 34471
Fans of Game of Thrones will love sipping at The Keep! Historically, a castle's keep was a stronghold to store valuable goods, and defend the castle from invaders if necessary. The Keep in Ocala has its own treasured collection, except it is craft mead on draft, specialty beers, and boutique wines.
Owners, Mark and Megan, are avid travelers, and have imbued The Keep with their sense of adventure, and love of back alley hidden gems where you can always find hip music and lively conversation. The ambience is reflective of their favorite books, movies, and pop culture.
The bottle selection is vast, and every 3rd Wednesday of the month, they offer an 8-bottle wine tasting. Guests have the opportunity to learn about the wines from characteristics to history. Along with the wines, tasty bites are paired. These events do require advanced tickets.
You can also just stop by, grab a bottle to share in the courtyard, and enjoy some of their gourmet hot dogs—yes, I said gourmet hot dogs. They also have a variety of snack boards, if hot dogs are not your thing.
Ocala may seem an unlikely sipping spot, but don't miss The Keep—the selection is wide, and they are doing some cool things with wine on tap.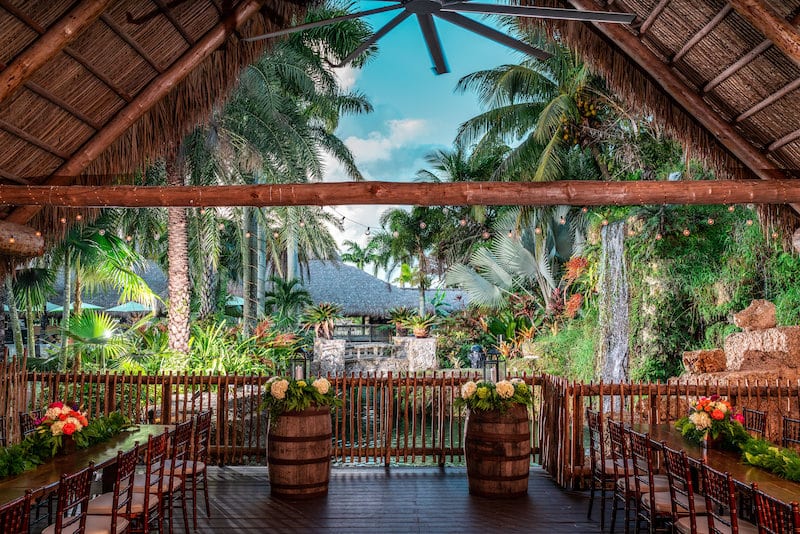 30205 SW 217th Ave Homestead Florida 33030
Stepping into Schnebly Redlands Winery is like stepping into a lush, tropical fantasy. Visitors are immediately greeted by a courtyard filled with verdant flora and natural coral waterfalls. It is an incredible backdrop for an afternoon wine tasting.
They have two package options when you visit, a wine tasting or tasting and tour combo. The wine tasting includes your choice of five Schnebly Wines to try, plus a souvenir glass. And, the wines are unique. Schnebly produces wines with everything from starfruit to guava to coconut. They have reds, whites, roses, and sparklings all made with the abundant tropical produce Florida has to offer.
You can also opt for the tasting and tour which includes a walking tour through the estate, some family history, and an introduction to their winemaking process. The wine tasting is again five Schnebly wines of your choice. They also have an incredible onsite restaurant that crafts charcuterie boards you can add to your tasting.
The Schnebly family has put a lot of thought into how to keep the guests entertained. They have 12,000 square feet of tiki huts for shade and rain protection. There is a taproom with a customized tasting bar built out of coral from the Florida Keys, and the Redlander Restaurant—an addition the family made to allow customers the opportunity to sample locally-grown produce, and fresh seafood nestled amid waterfalls.
"The newest addition is our 60-foot movie screen on the north lawn that sits on 4 acres. It is an old-fashioned sit on your blanket, get some popcorn, and watch movies under the stars experience. "

Peter Schnebly, owner and winemaker
1528 Main St. Sarasota, FL 34236
Housed in a building from the 1920s, Grand Cru is anything but nostalgic. They actively seek out unique wines and then present them in bottles, as well as on tap. Their self-serve kegged wine bar offers guests the opportunity to try many different varieties without committing to a full bottle, or even a full glass.
In the heart of downtown Sarasota, Grand Cru Wine Bar offers a varied menu of craft beers, snackboards, tinned seafood, and desserts to complement their extensive wine selections. Be sure to check out their Winedown Wednesdays for 30% off self-pour wines. They also have hosted wine tastings and classes on a rotating schedule.
3425 NE 2nd Ave, Miami FL 33137
Longing for those sultry New Orleans bars where the music slips out into the streets, and every night is a celebration? Lagniappe, pronounced "lan-yap," has that covered with the added kitsch of a light-strewn yard filled with thrift store-style lawn furniture for your imbibing pleasure. It feels lowkey, but the wine selection belies that with over 150 wines from small-production, and boutique wineries around the world. And every night at least eight of them are offered by the glass.
If you prefer a bottle to share, there is no corkage fee, however there is a $2 music surcharge. There is live music every night. Grab a bottle, pull up a lawn chair, and enjoy some great music while you sip. The word lagniappe translates to "small gift," and the experience here embodies that meaning from the understated charm to the affordable prices.
Lagniappe also has some fantastic food options. The cheese and charcuterie selection is legendary, but they also have grilled delicacies like Churasco. Music starts at 8:30 p.m. every night so if you are looking for something different than the pulsing club scene Miami caters to, check out the eclectic listening and sipping yard at Lagniappe.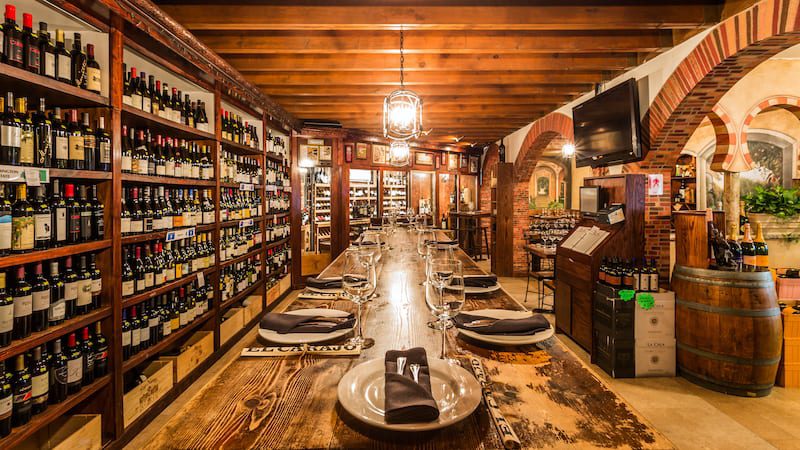 80 Henscratch Road Lake Placid, FL 33852
Known for their selection of Spanish wines, Bordeauxs, and Cabernets, El Carejo offers up a unique wine tasting experience in Miami.
Wander the extensive bottle shop, grab a bottle and settle into a table at their restaurant to enjoy some fabulous food and wine. They pride themselves on offering affordable bottle prices, but they also offer a by-the-glass menu for those that want to try a number of different varieties.
"What's unique about our wine experience is that you don't have to order off a list, you can simply walk around to our curated sections by region or variety and pull a bottle off the shelf that meets your fancy. We enable people to be able to enjoy a great value wine for under $20 (with the bottle service) all the way up to some of the world's best wines like Chateau Angelus at a fraction of the price of a regular wine bar or restaurant."

Carlos Fonseca, sales and marketing manager
In addition to the formidable wine selection, the restaurant has some fantastic offerings. It is a tapas, or small bites, menu which makes it very conducive to an evening of wine tasting. And, this is all served up in what was once a humble gas station.
2236 East County Road 30-A Seaside, Florida
Famously seen in movies like "The Truman Show" and "Failure to Launch," Bud & Alley's sits in the center of idyllic beach town, Seaside. It is quaint with its independent book store and well-stocked vinyl shop, but it also has epic beachside sunsets, and some choice sipping opportunities. Bud & Alley's was founded by a couple of surfers, named after their cat and dog, and opened to a community that had only twelve houses. It has come a long way. It has a wraparound deck where there is no bad view—the sugar sand beaches and turquoise water is literally steps away.
They are known for their mojitos, hand-muddled in front of you, but their wine selection is no slouch. They lean pretty heavy on American wines, California and Oregon specifically, but they also have some interesting bottles from Spain, Italy, and New Zealand, and all are served by the glass.
Bud & Alley's does not carry any Florida produced wines, but the view, solid selection, and tasty bites make it worth the stop and sip. Make sure to order some sweet potato fries or smoked tuna dip, two of their specialties, to enjoy with your glass. And, if you can time it, go before sunset. You can place a bet on when it will happen exactly, and as the sun dips below the horizon, a cast-iron bell from an 1888 steam train is rung to honor the ending of another day on the Gulf Coast.
---
Sip in More of Florida
Carrie Honaker is a freelance writer who is not sure where she will land next, but it will involve messy eating, a spicy Tempranillo and finding the local dive bar. Her work has been featured in Wine Enthusiast, Bon Appetit, and others. You can find her on Twitter and Instagram @writeonhonaker.