Doing Wine Country Without the Whine
People used to scoff about taking kids to wine country. I mean really, how entertaining would for kids to sit around and watch their parents sip wine…and how stressful would it be for said parents to worry about their kids ransacking the tasting room. Times have changed. More and more wineries are becoming family friendly, and so are the lodging options for families. For those heading planning a visit to Napa Valley, here are a few family friendly hotels in Napa Valley to check into. (See all of Carpe Travel's tips for doing wine tastings with kids.)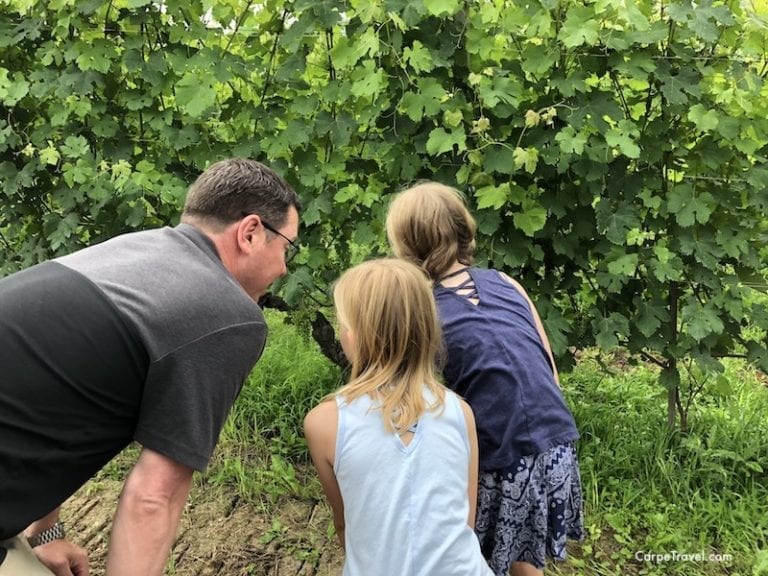 Calistoga Ranch, Calistoga
Calistoga Ranch is a family favorite due to all the activities for both kids and adults. For instance, The Fun Around the Sun program, offered for children 12 years and under, features a variety of different adventures ranging from getting close with the resident goats, harvesting eggs from the chicken coop for the morning scramble, making a splash in the kids' pool, stargazing, grape-stomping and taking gardening lessons. Mindful hikes include three private themed trails, "love," "hope" and "joy." On each trail guests can journal thoughts, wishes and happy experiences for guests to read, as they embark on the hikes in the future. Families can also experience the guided garden and vineyard walk where they can explore the produce gardens, working vineyard, chicken coop and beehive, where guests join the resident beekeeper to visit the on-site beehive roaring with 60,000 bees, and learn the process of how bees make honey, how the resort harvests honey, and the importance behind honeybees contribution to the sustainability of Calistoga Ranch and throughout the Napa Valley.
Calistoga Spa Hot Springs, Calistoga
The mineral pools of Calistoga Spa Hot Springs have been a mainstay of Napa Valley visitors for generations. Geothermal forces elevate the temperature of the mineral water to 180 degrees Fahrenheit at the source. In addition to the resort's three core pools, Calistoga Spa Hot Springs features a wading pool and water feature for younger guests.
Indian Springs Resort, Calistoga
Indian Springs Resort in Calistoga depicts a family vacation circa 1930, with a range of accommodations that includes rooms, bungalows, cottages, and houses. A big attraction for kids is the Olympic-sized mineral pool, one of the largest pools in California, which is kept at 82–102 degrees Fahrenheit, depending on the season. The resort also offers complimentary bikes to ride around the property or into town.
Meadowood Napa Valley, St. Helena
Meadowood Napa Valley is a great family friendly hotel in Napa Valley for an active family. The 250-acre resort includes spacious cottages, activities such as Family Cooking Classes and Wine & Juice Tastings and an array of sports offerings: tennis courts, golf fairways, croquet lawns and hiking trails. During the summer, the Children's Sports Camps are open to children ages 6 to 11 and offer instruction in tennis, golf and croquet.
Silverado Resort and Spa, Napa
A luxury resort in the heart of Napa Valley's wine country, the Silverado Resort and Spa provides its own forms of relaxing and getting away with two golf courses, 10 tennis courts, hiking and biking trails, and a variety of dining, all on property. In the summer, kids can join the Kids Golf Tennis Swim Camp, a four-day program that encompasses all four activities. The resort's pool features cabana rentals with shade, bottled water, and fresh fruit for up to four people. Bikes are available to rent on an hourly basis to enjoy the 1,200-acre resort, and half- and full-day tours with picnic lunches may be arranged. The two- and three-bedroom suites include full kitchens, living and dining space, ideal for a family getaway to Napa Valley.
The Carneros Resort & Spa, Napa
The Carneros Resort & Spa in Napa offers a collection of cottages with plenty of space for families, along with a family pool (as well as an adults-only pool), which includes toys and snacks. On Saturdays, June through September, parents can have a night out while kids enjoy dinner, games, and a kid-friendly movie. Carneros Kids' Night also includes a game room complete with ping pong, foosball, shuffleboard and an array of board games.
Need More Family Friendly Hotels in Napa Valley?
A few other family friendly hotels in Napa Valley that have fewer activities but are very friendly on the budget include Holiday Inn Express & Suites and the DoubleTree by Hilton Hotel & Spa Napa Valley in American Canyon; Westin Verasa, the Hilton Garden Inn, and Hampton Inn and Suites, each in Napa.
Related Articles on Doing Wine Country with Kids