Planning a wine tasting trip isn't as easy as it may sound, especially if you're planning one in a wine region you are unfamiliar with. I have learned this the hard way… When it comes to Napa Valley and Paso Robles I can map out at least a weeks worth of wine tastings but put me in Italy and I'm lost. Luckily, I've met a few experts who have literally guided me through the Italian wine regions. And lucky for you they've shared a few tips, tools and etiquette to help you plan your next wine tour in Italy.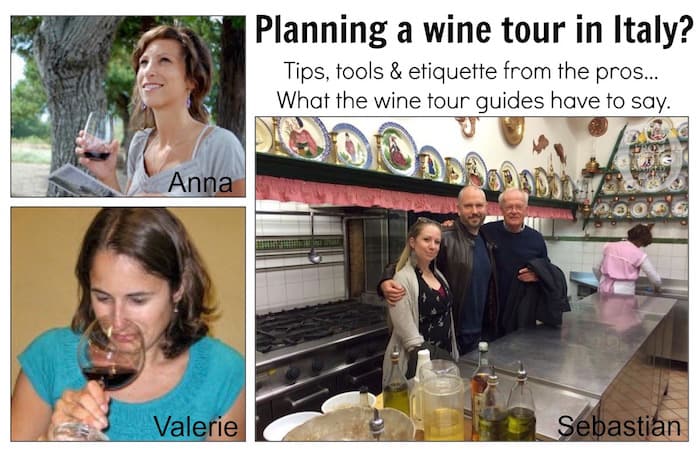 Thanks to Valerie Quintanilla with Gotta Drink Piedmont Food and Wine Tours and Anna Savino with Planning a wine tour in Italy? What the experts have to say…
>Italianna who both specialize in custom food and wine tours in Piedmont Italy and Sebastian Sassi at Sassi Italy Tours who focuses on food and wine tours in Tuscany and Lazio for sharing some excellent tips for planning a wine tour in Italy.
Determine what kind of wine tour you want.
Before you dig into finding a wine tour in Italy, you first need to determine how much time you have for wine tasting in Italy, what Italian wine regions you want to visit and your budget. Then you need to figure out the type of wine tour you'd like to do.
Do you want a self-guided wine tour? One where a guide provides recommendations on places to stop in and try, and where to eat and drink? This option will be the least expensive, but it is up to you to book your wine tasting appointments, drive to and from the location and communicate with the vineyard staff. Remember, not everyone speaks English and the more rural the area, the less likely it is they will.
Do you want a private, customized wine tour? With this type of wine tour you will have a guide who handles all the arrangements – wine tastings, lunch, transportation and translations? Some guides will also arrange hotels and travel arrangements. This option for wine tasting in Italy is generally the most expensive, but they tend to be more involved and based on your specific preferences. According to Valerie Quintanilla with Gotta Drink Piedmont Food and Wine Tours, "A full-day of wine tours in Piedmont will generally include the organization of tasting appointments, pick-up from your hotel or the nearest train station, tasting fees at the vineyard, transportation fees during the tasting, lunch, and regional information."
Do you want a larger group wine tour (aka big bus tour)? These are more general wine tours and will not be customized to your particular interests. However, since there are many people involved, the price for wine tasting in Italy is considerably less than private wine tours.
Know that you may not get exactly what you want since some Italian wine regions have limited wine tours. For instance, in the Piedmont wine region you won't find many big bus tours (if any), but in larger areas like Tuscany, there are many group wine tours available.
What tools and resources should someone use to find wine tours in Italy?
The answer from all three wine tour guides was the same – the Internet, and most specifically, reading reviews on TripAdvisor. Often times the hotels work with trusted guides and the local tourism board and provide suggestions. (It's best to try and reach out to the tourism board via email in advance.) This is particularly useful if you're visiting smaller Italian wine regions that have limited tours. Valerie also suggested that if you frequently visit wine bars, wine shops or Italian restaurants in your hometown, you should ask the owners or managers if they have suggestions for wine tasting in Italy (wine tours or guides). Many regularly visit Italian wine regions and may have local contacts they can recommend.
Both Valerie and Anna made it a point to note that if you select a more customized tour, it is extremely important to pay attention to the communication you have with the guides during the planning process. Are they answering your questions? Are they providing ideas and suggestions such that you have an idea of what the day will look like? Are they trying to understand what exactly you're looking for through your email exchanges. This may seem insignificant to some, but keep in mind that you are going to be spending at least eight hours with this person. When you meet them, you should feel like you are going to explore the area with a friend. If you don't get a good feeling from emails and phone calls, perhaps you should search for a different guide.
If you do contact a guide and find they're not available, ask them for other references. It's a small industry and most of them are friends and tend to work and support one another whenever they can.
When you find a wine tour, how do you know if the group is reputable and trustworthy?
You're going to have to trust a little…and read the online reviews. Sebastian Sassi at Sassi Italy also suggests you ask the guide a few pointed questions.
Can they act as a translator? How fluent are they?
Have they personally tried the wineries, enotecas, wine bars, osterie, restaurants, and vineyards they're recommending? If they haven't tried the wines or the establishments themselves, how can they in good faith recommend it to a traveler?
Does the guide have extensive experience in the Italian wine region you're visiting?
How long have they been offering wine tours in this region? Do they live in the area, visit regularly?
When booking a wine tour in Italy, there are a few things you should plan to tell your tour guide to ensure you get the type of wine tour you really want.
Knowledge of Italy and the region: Communicate if you have previously been to Italy and the region to give the tour guide a sense of your knowledge of wine tasting in Italy as well as the region.
Are you a casual wine drinker or are you a more serious wine lover and/or collector? If you plan to buy, let them know as they can generally provide tips for shipping or getting wine home.
Do you want to know about the varietals, wine making style, soil, climate? Let them know if there are particular things about which you are interested in learning.
If you are booking with more than one guide in the region, communicate that to both. Often tour guides know each other, and by doing this, you can make sure you don't end up at the same winery, eatery or village both days.
How involved do you want the tour to be? Is this just a day out for fun wine tasting in Italy or do you have definitive expectations on what you would like to learn, see, taste.
Do's and don'ts when doing a wine tour in Italy?
Do: Ask questions of both the guide and the tasting room worker. The day goes by fast so make the most out of it and learn all you can.
Do: Buy at least a bottle of wine out of courtesy if you can fit it in your luggage, especially if the winery visit was particularly nice (and you didn't pay a tasting fee).
Don't: Always expect luxurious wineries and tasting rooms. According to Anna, "Many wineries are old farmhouses and the people may greet you with dirt on their boots. This is the real deal."
Do: Eat a little breakfast before you start your wine tour.
Do: Carry cash. Valerie says, "Most wine producers generally accept credit cards, but like most merchants in Italy, they do not like to use the card machine for purchases under 20 euros. It's always a good idea to confirm that credit cards are an option if you plan to buy, and have cash for purchases under 20 euros."
Don't: Ask a producer or staff their 'favorite' wine. They think of each wine as their child, so they can't choose. Instead, ask what is drinking best at that time.
Do: Tasting fee policies vary by region, but as a rule of thumb, try to buy at least one bottle if there is not a fee and they open five or more bottles for you. Consider that many small producers have limited staff. Most are just them and their family, so the time they spend with guests is taking away from other work. One inexpensive bottle is a nice way to show appreciation.
Do: Have a fun and informative day. The most important thing is to make the most out of your day by admiring the scenery, eating good food and, of course, being taken to the guide's personal favorite wineries.
Don't: Pour wine from the bottle if left on the table. If you would like an extra, just ask.
Do: Understand some Italian wine regions will excel with white, some with red, and you should arrive with an open mind that wants to experience that which each locality really excels. Be sure to open your mind and recall that Italian food AND wine are very, very regionally specific. Sebastian suggests you, "You should approach it with an open mind that's abandoned prejudices and assumptions and adopted the attitude of embracing that which each locality is known. Go try Nebbiolos you haven't had in Piedmont, and Prosecco in Friuli, and the Veneto and Chianti Classico in Tuscany, and ask the locals about the food pairings they recommend, and view the wine experience as a special opportunity to gain insight about that particular region, respecting that Italy is really an amalgamation of dozens of small sub-regions, each with its own philosophy, outlook, and climate. Wine and food are inexorably linked in Italian culture and in their mindset, and taking a holistic approach that embraces how different the regions are will ultimately ensure a more enjoyable experience."
Do: Make sure to communicate your wishes to your guide. Anna told me, "As a guide we do best to understand your needs but we are not mind readers. If you don't feel like eating lunch, tell your guide. If you don't want to try anymore white wines, tell them."
Don't: Worry too much about what you wear. Sometimes you may be walking in the vineyards or spilling red wine on your shirt.
Do: Ask for information if you want to purchase the wine back home. Find out who distributes their wine in your area. You can then work with the distributor to find out where you can make a local purchase.
Do: Expect to only do two to three wineries for the day. According to Valerie, "For the most part wine tours in Italy are not like those in New World wine regions; generally visits last from 1.5 hours to 3 hours."
Don't: Expect your guide to know every technical wine detail. Their job is to organize an enjoyable trip, give you information and make sure the day goes smoothly. The winery staff is a great resource of technical knowledge – just ask.
Do: Expect smaller and sometimes lesser known wineries on the itinerary but trust that they are all quality ones.
Do: Live the Italian life and take the lunch hour to relish local delicacies.
Do: Sit back, relax and soak in the wine and the overall experience.
Common mistakes (or misconceptions) people make when setting up a wine tours in Italy.
The tours are too expensive.
The first thing to consider is all the research and time spent planning a customized trip. The guides also spend about an eight hours with you during the day, must always be alert for translating and providing any information you may need AND they typically have a private driver.
But we wanted to visit more than just 2-3 wineries.
The Italian wineries are often family owned. Anna with Italianna says, "They take a lot of pride in their craft and are usually happy to spend up to two hours with you explaining their wine stories. Sometimes a quick walk-in counter tasting is nice, but spending the right time with the winemaker to taste the wines can give you such a better understanding and memorable experience. Take your time, relax and soak in the setting." In other words, trust the judgment of your local guide, chances are you won't be sorry with your experince wine tasting in Italy.
Guaranteed private tastings.
Some areas, like the Piedmont wine region, are getting more popular, which means unexpected visitors may pop in while you are there. Anna says that if this is the case, "the winery worker may ask if they can join your group. Although it is not as intimate, it could be fun and your own private guide will make sure you get the extra attention you deserve during the tasting."
Why should we use a guide when we could do it ourselves?
Wineries can often be hard to find without any big flashy signs, down some gravelly windy road and off your navigation system map. It is nice to make the most out of your time and drive directly to your wine tasting in Italy without getting lost. When you are drinking all day, it is also nice to have your own personal chauffeur. Your guide can also answer your questions throughout the course of your trip about the wine region and varieties of wine, especially during your travel time. Another good reason to have a guide is to help out with translations if you really want to get in-depth knowledge and a more personal experience at the vineyard.
"Wine Spectator" or "Decanter" said I have to go to these well-known winemakers.
While both of these are excellent resources, Valerie suggests not solely relying on big publications when planning your wine tastings. "They cite places like Gaja, Paolo Scovino, Giacomo Conterno, Chiara Boschis, Bartolo Mascarello, and other well-known winemakers," she said. "These tastings are difficult to come by. If you hire a custom tour service and request these producers, the guide will likely ask you to start the process with your local restaurateur or wine merchant. If a tour guide cannot get you into these producers, it does not mean they are not connected or respected in the region. It's because these producers reserve most appointments for private customers."
Doing too much in too little time
One of the more common pitfalls Sebastian at Sassi Italy sees is people trying to cram too much into too little time. "Italy is meant to be savored and experienced on a leisurely pace, and Italians aren't accustomed to the hectic pace at which we Americans tend to travel," he said. "If your intention is to dig into agriturismi and aziende in places like Umbria, Toscana, Puglia, Piedmont, you should consider making sure you allot adequate time to get to and from, and how best to economize your time and route."
Have you done a wine tour in Italy? Do you have other tips and tools to share?
Comment below to tell us about your adventures wine tasting in Italy. Interested in sipping-in more wine adventure news and stories? Join Carpe Travel's email news letter to stay up to date on all things vino.