When you get back from vacation have you ever felt like you need time to recover? Like a vacation from your vacation? I have… Traveling is fun, and something I clearly love to do but it can be stressful. While we can't control canceled or delayed flights, flat tires, sick kids, or an AirBnB that went totally wrong, we can do other things to minimize travel stress. However, you first have to know what some of the travel stressors are so you can avoid them to begin with.
Dr. Pete Sulack recently shared some great tips with me on how to reduce stress when traveling. He is a "stress expert" as well as a writer, speaker, and founder of Unhealthy Anonymous. I don't believe stress free travel can always exist, but these tips can help reduce your stress so you enjoy your vacation and eliminate the need for a post-vacation, vacation.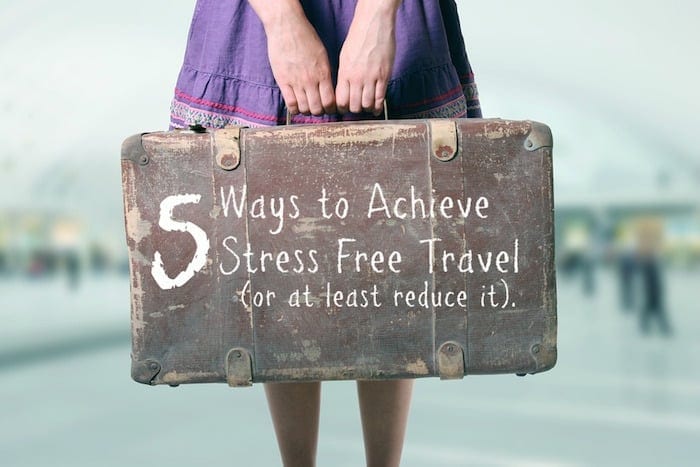 Five Ways Tips for Stress Free Travel (or at least reduce stress)
Travel Stressor #1. Unrealistic Expectations

Read the fine print and reviews from people in your same stage of life to ensure you aren't booking a trip that will fall short of your expectations. Be aware of events like "Spring Break" that might have been fun in your twenties, but not now that you have little children or were looking for a quiet vacation. It will save you a lot of stress to do your research ahead of time.
Realistically assess your limitations. You might feel pressured to take a daylong hike to the top of an active volcano, but if you're the kind of couple who enjoys a glass of wine and a low-key evening, that's okay too. (See my post on traveling with seniors for a few more tips.)
Travel Stressor #2. Erroneous Information

You can do all the research and planning possible and still feel disappointment upon arriving to your destination, especially if the folks in charge of the cruise, hotel, spa or trip misrepresent themselves. What do you do in these cases? And how can you salvage the time you have away?
Report any bad business practices to the local Better Business Bureau.
Try reasoning with the management. Explain the situation from your point of view and appeal to management with a rational argument. Avoid emotional confrontations and threats as they rarely work in these situations.
Don't fully pay in advance. Pay the least amount possible for your accommodations, tours, etc., waiting to see what they are like before you pay in full.
If your trip falls apart when you get there, all is not lost. Some of life's most memorable experiences happen spontaneously, and this can be one of those times. It's all about your attitude. If you are stressed out and angry, complaining and miserable, your family will follow suit. If you look around and find something fun to do, you can salvage the experience and teach your children how to make the very best of every circumstance.
Travel Stressor #3. Failure to Adequately Prepare

This one is not the fault of someone else. It's all on you. If you haven't planned for the best but prepared for the worst, then you may encounter stress on your vacation.
Plan for Rainy Days – While napping might sound like a relaxing idea, it's not your kids' idea of a good time. Instead, pack a board game or deck of cards, or play a family game of charades.
Plan for Sickness – Germs don't take a vacation, so be sure to pack over-the-counter remedies for headaches, diarrhea, cuts and scrapes, sore throats and the like. Pack enough prescription meds in case you get delayed on your return, and keep them close by in your carry-on bag.
Plan for Delays, They are Inevitable – Pack snacks in case your flight is delayed or you can't stop on the road. Single servings of almond butter, nuts, crackers and cheese are good, filling choices.
If you're traveling by vehicle, keep an emergency kit in the car in case of a breakdown. In addition to keeping plenty of clean water and nonperishable food items on hand. Here are a few ideas for things to keep in your trunk.
Travel Stressor #4. Traveling with Children

If you traveled a lot before you had children, you will need to adjust your expectations – especially in regards to time management. Kids like to explore, they have to use the bathroom frequently and hurrying them can make the situation worse. Instead of pulling out a tablet to occupy them try giving them a camera, journal or coloring book to record the experience.
Travel Stressor #5. You now need a vacation from your vacation

If you feel as if you need time to recharge after a trip, follow these tips guaranteed to short-circuit stress and help you eliminate the need for a post-vacation, vacation.
Structured vs. Unstructured – Time to relax is fun, but too much unstructured free time can cause anxiety or boredom to those used to a routine. Schedule at least one thing every day, even if it's only to explore the other side of the campground or make a dinner reservation. Giving an activity everyone can look forward to will help boost vacation morale and bring down the stress level.
Relaxing vs. Exploring – Don't assume that you're your travel companion wants the same things out of the vacation that you do. You may want to take a nap on the beach and catch some sunshine, while your partner wants to hike, roam or explore. Be clear with each other about your individual expectations, and make a plan so everyone gets what they want. Having a plan like this in place will decrease tension and stress, and will ensure you both will have an enjoyable vacation.
Kid Time vs. Adult Time – Decide how much time you want to spend doing kid-friendly stuff, and how much adult time you need. If you work outside the home, you may be looking forward to spending quality time reconnecting with your kids. On the flipside, your partner may spend every day at home with the kids, and he or she may want some time to reconnect with you without them tagging along. Be conscious of what each of you would like to make time for during a vacation, and add it to the plan. Most resorts have a licensed babysitter service that can help you out for a few hours if you want some time to dress up and go out for the evening.
Reboot vs. Pushing Through – Lastly, it's okay to take a day to reboot upon your return. You will need to unpack, do laundry and pick up pets, so it's helpful to build in an extra day after vacation to get caught up and back in the swing of things. You will be more productive at work and home if you feel as if your life is back in order. After you've had a day to unwind, reconnect with your family at home – and carry the sweet memories and funny stories of your trip together into the normal, daily walk of life. Having a meal together and ask everyone to share a favorite memory, or have the kids begin to plan the next adventure based on what they did and didn't like about the trip.
What do you think? Are there other ways you suggest people can reduce stress when traveling? (And do you think stress free travel exists?)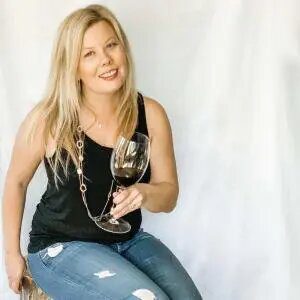 Elaine Schoch (pronounced the German way – Shock) is the editor and founder of Carpe Travel as well as an award-winning travel writer, wine judge, certified by the Wine & Spirit Education Trust (WSET) Level 2 and certified American Wine Expert. She is married to The Husband and has two kids, Princess One and Two – who's interest and knowledge in wine is quite extensive. Not to mention the stamps in their passports.