My grandfather ran five miles a day and played golf until his mid 80's. My cousin, in her mid-70's skied ever week in Aspen during the winter months and hiked 14rs in the summer. They are two of my physical inspirations and what I want to be when I'm older. So I run. I spin. I make it through my Barre classes (barely). In other words, I try to take care of myself so I can live life to the fullest – even when I'm older. This isn't a post on not taking care of yourself, because trust me, I could go on for days about that, just take why I started traveling and writing this blog in the first place… Getting older is hard and inevitable but traveling with seniors can be even harder, although it doesn't have to be.
This post isn't written to be a knock on traveling with seniors, I've had some wonderful experiences doing so. This is more about being real. Knowing your limitations. Being an adult and taking care of yourself so everyone can enjoy the ride. If you're a senior about to embark on trip or if you're getting ready to travel with a senior, here are 12 tips – many of which I've learned the hard way resulting in major shifts in the direction of my trip/s. A few that lead to the ER…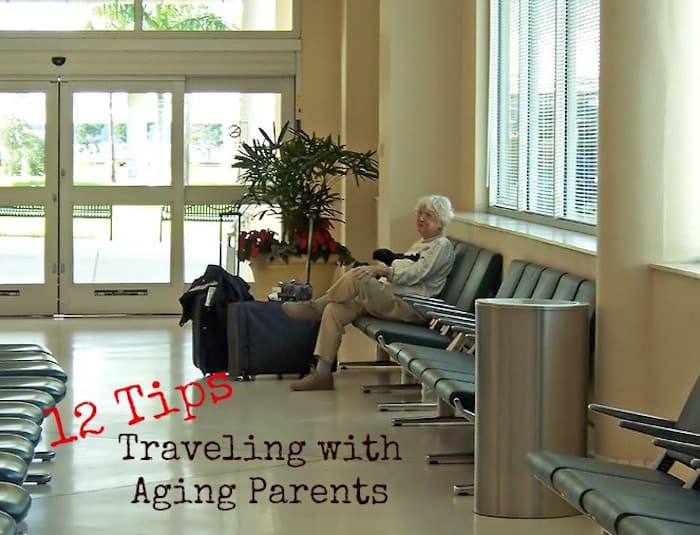 Twelve Tips for Traveling with Seniors
1. Know Where the Closest Hospital Is
iTriage is a good app you can download that locates nearby facilities and will even tell you if they take your insurance. It can also help you identify what aliments are and there severity. The app also notes what insurance is accepted. Seriously, I've used this app more times than I'd like to admit – and it wasn't for me or my kids.
2. Be Prepared For the Role Change
It's a hard thing for grown kids to shift into the care giver role and harder for aging parents to let them. But face it, it's life. Roles change and if you don't fight it or get angry about it, traveling together can be wonderful! A few great tips around this topic came from Facebook and Twitter from folks who frequently travel with seniors.
Patience, kindness and a sense of humor are required
Just like when traveling with toddlers – pack a lot of snacks
Make sure they always receive and keep their dignity
Always aks first, "would you like some assistance" and then listen
3. Be Prepared to Stay-put
I'm a do'er and like to go. The Husband finds this annoying when we travel so I have compromised in allowing a few hours a day, or even one day (depending on the length of the trip) to just lay-low. With that said, we don't typically rent a place where we plan to spend a ton of time. It's more based on location, function and price. Lesson leaned: When traveling with less active folks, you need to find accommodations you can simply hang out at and be comfortable. (This is true when traveling with little kids as well.)


4. Don't Eat (or drink) Things You Wouldn't Eat At Home
This sound silly since when on vacation you're supposed to try new things. However, if you can't eat certain types of food at home – peppers, chocolate – what makes you think you can eat them on vacation? And if you don't usually drink alcohol, don't start now. Especially if you're at high-altitude. This should be a rule of thumb for most people but when traveling with seniors  making a POLITE reminder may be required. Now, scroll back up and reread tip two.
5. Check Medical Needs at the Hotel
Plan ahead to ensure hotels have the equipment you or your senior travel companion might need – oxygen tanks, wheelchairs (for long days of sight seeing), and any other items to make sure everyone is comfortable when they arrive at their destination. If you're traveling internationally, you should also check to see if the hotel has a doctor on staff who can come to the room if needed.

6. Insurance and Doctors
Make sure to have doctors information for yourself and your senior travel companion programmed into your cell phone in case you need to reach them. And pack your insurance card. Sounds like a no-brainier but it's surprising how many people don't carry it with them. It's beyond frustrating if you're in a crunch.


7. Don't Push Yourself – Or Your Travel Companions
Parents usually tell their kids to know their limitations; to listen to their body. Time for them to listen to their own words of wisdom… If you or your travel companion don't regularly (or haven't done something in 20 years) like skiing or riding a bike you should not try it the first day of your vacation. Frankly, it might be best to just not try it at all.  The key is don't push your senior travel companion…and don't push yourself.


8. Get Up and Move
Sitting still for extended periods of time are known risk factors for the development of blood clots in the veins of the legs. Long-haul flights can be a risk factor in susceptible people – overweight, heart disease, etc. On a long flight you and your senior travel companion should get up and walk the aisles, wear loose clothing, don't drink alcohol, take aspirin, stretch in your seat.


9. Travel with Meds
If you regularly take medications – or are traveling with someone who does – make sure you have a list of them written down. It's common sense but so often overlooked. Think about it, what's the first question a doctor ask besides what's wrong? "Are you taking any medications right now?" They kinda need to know that in order to treat you effectively. Oh, and make sure your travel companion takes enough of their regular medication to last the entire trip. If they don't you'll quickly find yourself spending valuable vacation time waiting in line at Walgreens.
10. Hearing Aids
If you need a hearing air, take it with you – and a set of extra batteries. Then, make sure use it, aka PUT THEM IN YOUR EARS. For those of you traveling with seniors, make sure to ask them BEFORE you leave if they have it with them. Otherwise, be prepared to have a sore throat from talking so loudly during your trip. Or, if you're the hard-head who didn't bring it, plan to feel excluded from conversations.
11. Set Expectations and Be Prepared to Change Them
What do you want to accomplish or do on the trip? What sights must you see? Where must you eat? Now, be prepared to do none of them and just be with the folks you're with. Take a book and a deck of cards. Enjoy the views (hopefully) and your surroundings.
12. Sit and Just Be
While you may be disappointed you didn't get to eat at the most raved about spot in town, you're with someone who you may not be able to be with much longer. Enjoy it. Get over what you didn't get to do… Sit and just be together.
Have any more tips for traveling with seniors? Do share…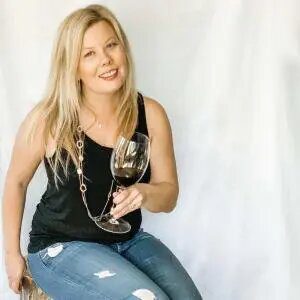 Elaine Schoch (pronounced the German way – Shock) is the editor and founder of Carpe Travel as well as an award-winning travel writer, wine judge, certified by the Wine & Spirit Education Trust (WSET) Level 2 and certified American Wine Expert. She is married to The Husband and has two kids, Princess One and Two – who's interest and knowledge in wine is quite extensive. Not to mention the stamps in their passports.