After having read The House of Mondavi: The Rise and Fall of an American Wine Dynasty, I became a little obsessed with the Mondavi family, it helped that I loved their wines. So, during one of our Napa Valley wine vacations, I made it a point to sip in a little more Mondavi than I had in the past by setting up tastings at Opus One, Charles Krug, and doing a deep dive via an exclusive Robert Mondavi Winery tour. (I still haven't made it to Robert Mondavi's son's wineries…)

There are several different types of Robert Mondavi Winery tours you can take, at the time of this posting you did not need to make a reservation for the general wine tasting. (This may change, so check before you go.) The general wine tasting is perfect if you're limited on time. I suggest you do the tasting then take a short stroll through the gardens, the grounds around the winery are amazing! Allow for 30-45 minutes.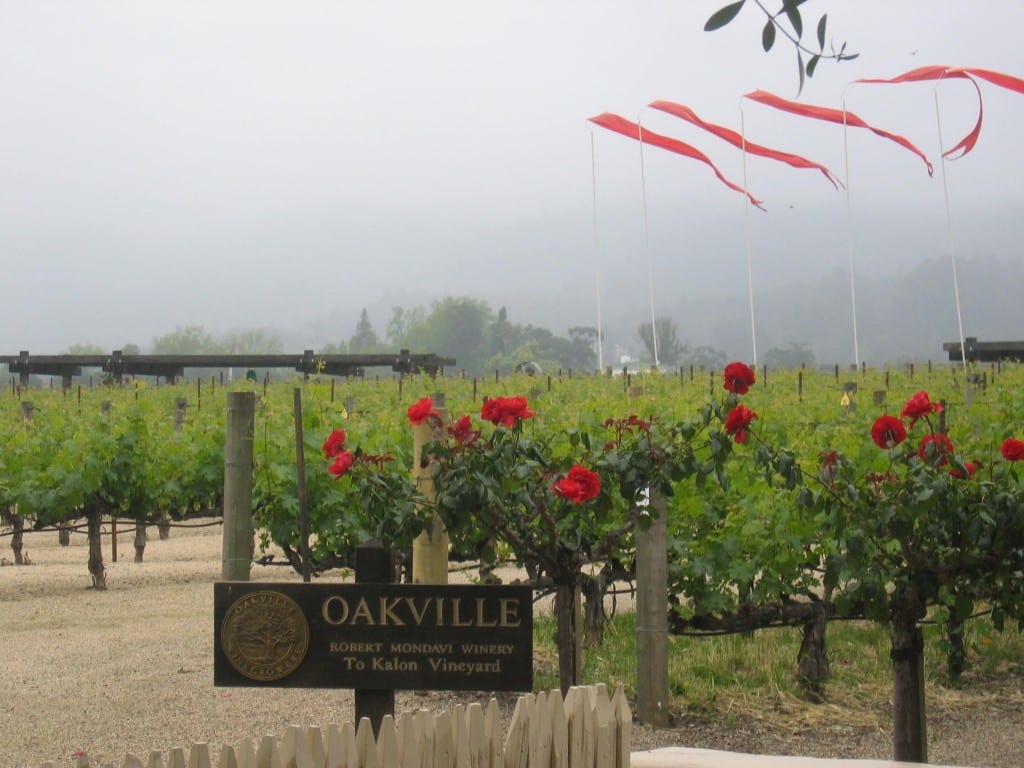 Did you know, the Robert Mondavi Winery was one of the first wineries to offer wine tasting and guided tours in the Napa Valley?!?
The remaining Robert Mondavi Winery tours and tastings are by appointment only and have limited spaces since they try to keep the groups small. In other words, book early.
TIP: Don't call the week of thinking you'll be able to book something that weekend. You need to shoot for a few weeks out and you'll have better luck booking things on a weekday when the winery isn't as busy.
Having already done a general tour/tasting a previous visit to Robert Mondavi Winery, I had arranged for our group of four to do the Exclusive Cellar Tasting. I simply couldn't resist the opportunity to taste a variety of limited production, reserve and older vintage wines in a private, setting where I could ask so much more about the wine and the winery.
As the marketing machine Mondavi is, we were escorted to a small garden area outside the gift shop to wait for our guide. It was a brilliant placement and timing move. Within 15 minutes, I was outfitted with a new fleece and everyone else in the group had made a purchase as well.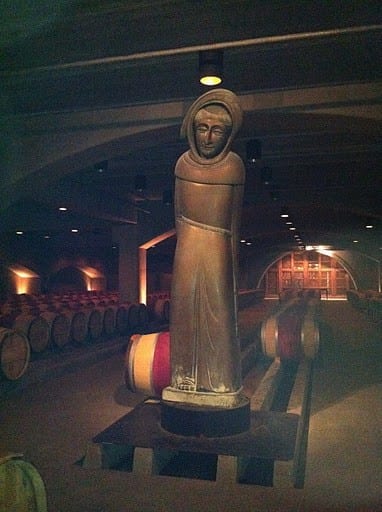 We were greeted by our Wine Educator, Janie, who started us off with a brief tour of the inner workings of the winery. We visited the massive fermentation room filled with huge French wood tanks lined up on both sides of the room.
Mondavi had been more than influential in Napa, he pushed the use of French oak in the Napa Valley, changing the wine it produced.
A production video was shown at this point. It was pretty short and sweet but it prepared us for the next step in the tour, which lead us down into the massive barrel room. totally a sight worth seeing.
It's truly a work of art with the barrels, the statues and the overall ambiance. In all honesty, the Robert Mondavi Winery tour is somewhat of an art gallery tour. Everywhere you turn there are massive statues and brilliant paintings. In addition to its permanent art collection throughout the winery, they also rotate artwork from different local and emerging artists every few months.
But I digress. Let's get back to the Robert Mondavi Winery tour… Off to the side of the barrel aging room there is a private tasting room where we spent the next two hours. (The tour is only supposed to last an hour but we – along with Janie – were having such a good time chatting about the wines – we lost track of time.)
Janie had laid out a fabulous spread of artisanal cheese and charcuterie to pair with each wine when we began the tasting. During this time we experienced so many different wines. I think I was in love with each and every one of them and I'm not typically a big fan of white wines or Pinot Noir. Mypalate was forever changed as I found new respect for Sauvignon Blanc. To name a few of the reserve wines we had:
Fume Blanc 2009 (only 1,000 cases were made; most wine-os already know this but Robert Mondavi created the term Fume Blanc in 1966 to distinguish his dry Sauvignon Blanc from the sweeter-styled Sauvignon Blanc wines made at the time.)
Chardonnay 2007 (It was like drinking crème brulee…)
Pinot 2009
Cabernet Sauvignon Reserve 1998
Cabernet Sauvignon Reserve 2006
Muscat 2001
One thing I wish we had planned around for this trip was the events at the Robert Mondavi Winery, specifically its summer concerts. If you're planning a Napa Valley vacation definitely check out their event schedule as they always have something going on. Things sell out quickly since the space is limited.
Have you done a Robert Mondavi Winery tour?