Napa Valley + Kids = Wine Tasting?
Yes. With a little planning, wine tasting with kids in Napa can be done. There are a number of wineries in these days that are not only offering adults wine tastings but kids juice tastings and a slew of activities so they can sip-in wine country too. Welcome to the era of kid friendly wineries in Napa Valley!!!
What makes for a family friendly winery?
ENTERTAINMENT.
ACTIVITIES.
A (GOOD) MEMORABLE EXPERIENCE FOR BOTH PARENTS AND KIDS.
Here are a few of those kid friendly wineries in Napa Valley that made the list. (More family friendly wineries in California.)
Kid Friendly Wineries in Napa Valley to Sip-In
Sterling Vineyards
Sterling Vineyards is reached by a gondola rising 300 feet to a mountaintop winery designed to resemble a contemporary Greek fortress. The self-guided tour allows guests to walk around the grounds rather than stand in a tasting room. And who doesn't love a gondola ride!!!
Near Sterling Vineyards you'll find a great family activity everyone will love – a visit to the 400-acre Safari West. A true African safari experience right in the heart of wine country!
Regusci Winery
Regusci Winery invites families to explore the bountiful one-acre culinary garden to harvest and savor seasonal fresh fruits, vegetables, flowers and herbs. Stay and have a picnic among the vines at this kid friendly winery in Napa Valley.
Alpha Omega
Alpha Omega winery offers little ones crayons and "Exploring the Napa Valley with Traveler Teddy," a coloring book and kid-friendly guide to Napa Valley. Alpha Omega also welcomes children with paws. The winery provides dog biscuits and refreshing water in stainless steel dishes to pampered pooches on leash. Canine companions can accompany their "pawrents" in Alpha Omega's tasting room and private rooms as well as on the terrace.
Honig Vineyard & Winery
Honig Vineyard & Winery offers coloring books, puzzles and games, as well as Goldfish crackers and juice boxes, so everyone in the family can enjoy the visit while parents enjoy a tasting.
Frog's Leap Winery
Frog's Leap Winery is also a working farm and what kid doesn't love a farm! This kid friendly winery in Napa Valley comes complete with vegetable gardens and fruit orchards to explore along with a large pond for frog catching and goldfish spotting.
Dutch Henry Winery
Dutch Henry Winery features picnic tables and a bocce ball court where families can rest and relax after a tasting.
Castello di Amorosa
Castello di Amorosa is a meticulous reproduction of a 13th-century Tuscan castle that will fascinate all ages with its dungeon, moat, suits of armor and courtyard. Outside, there are emus, peacocks, and sheep to entertain even the most tired toddler, child or teen.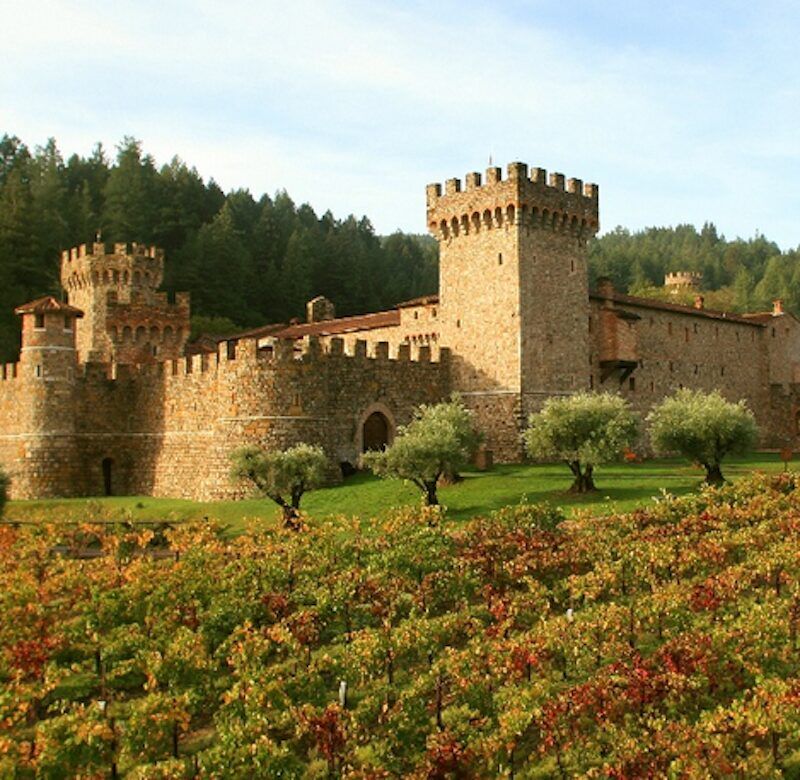 Near Castello di Amorosa you'll find a great family activity everyone will love – the Petrified Forest!!
Materra Cunat Family Vineyards
Materra Cunat Family Vineyards is not only child friendly, but also welcomes four-legged fur babies on a leash.