As part of our National Lampoons Family Road Trip we headed back to my now, not so small hometown of Grapevine, TX. When I was growing up there were not very many things to do in Grapevine besides fishing at Grapevine Lake, which I did a lot of, swimming at Dove Pool and feeding the horses and cows that seemed to be everywhere. Today, those fields are gone, replaced with houses, shops and highways to support the bustling suburb – now a population of 50,000 people. (When I was growing up it was less than half that size.)
The fishing is still great and Dove Pool still tops the list of things to do in Grapevine. But I discovered soooo many more things to do in Grapevine – both with kids and not with kids. I'll first give you my run down of some of the top things to do in Grapevine with kids. Stay tuned for adult activities.
Top Things to do in Grapevine, TX with Kids
LegoLand in Grapevine
Have you ever seen a movie in 4D? Taken a ride in a motorized car made of Lego's Fought in a battle to save a princess? You can do all that more at LEGOLAND in Grapevine.
A visit to LEGOLAND in Grapevine begins with the hands-on factory tour where kids learn how Lego's are really made. It's more a fun intro to LEGOLAND and gives kids a colorful idea of the process.
I wasn't sure what to expect from a 4D movie but have to admit it was pretty cool. It's essentially a 3D movie but with additional physical elements such as wind, rain, ocean water/waves and snow. You won't walk out of the 15-minute movie drenched but you may have a few raindrops on your shirt or snowflakes melting in your hair.
With three rides, movies and several Lego building stations, including a track to race the cars you build, kids can spend hours at LEGOLAND in Grapevine. You can sit back at the café with a latte in hand and let them roam, assuming they're old enough. LEGOLAND in Grapevine also has an outdoor splash pad. It's a large space with some shade but does seem to fill up on hot days. Bring your kids swim suites and a towel. (They do sell some inside along with sunscreen.)
Things to Know about LEGOLAND in Grapevine:
Bring socks for your kids. They have to wear them if they want to play in the Discovery Zone.
Buy your tickets in advance, online. It's a lot cheaper.
Children under 51 inches tall must ride all the rides with an adult. This does not hold true for driving the Lego cars.
Lines for the rides can be long.
Cost: $15+ (If you purchase your tickets online in they will be $15.75, in person they are $21)
Location: Grapevine Mills Mall (3000 Grapevine Mills Parkway Grapevine, TX 76051)
SEA LIFE Aquarium
The SEA LIFE Aquarium may look like a small part of Grapevine Mills Mall but you'll be surprised once you enter the two-story attraction – aka a 45,000-square-foot aquarium. There are more than 30 displays housing over 5,000 sea creatures, featuring both exotic saltwater and native freshwater sea life. The SEA LIFE Aquarium recently introduced the new Turtle Rescue Sanctuary, a permanent home for two non-releasable endangered Kemp's Ridley sea turtles, Roxy and Squirt.
It's easy to spend a hot summer afternoon exploring the 360 degree Underwater Ocean Tunnel, holding crabs and starfish in the Interactive Rockpool Experience or letting the kids run around the submarine themed play zone (socks are required).
Things to Know:
The SEALIFE Aquarium is directly across from LEGOLAND. I'm not sure I would suggest doing both in one day though. It would definitely be over stimulation for my kids.
Take socks so your kids can play in the submarine play zone.
Cost: $15-$20 (Purchase them online for $15, in person they're $20)
Location: Grapevine Mills Mall (3000 Grapevine Mills Parkway Grapevine, TX 76051)
Dove Water Park
I grew up climbing to the top of the metal red rocket ship at Dove Park, sliding down its twisty, turning slide. Going to swimming lessons every summer at Dove Pool, trying to get the courage to climb to the high dive. Boy have these two places changed! The pool is no longer just a pool. It's a full-on water park featuring a climbing wall, an aqua playground, geysers, a lounge deck, a lily pad walk, cabana rentals. (I was pleased to learn they do still offer swimming lessons.) There is also a free splash pad outside the water park for kids to play in.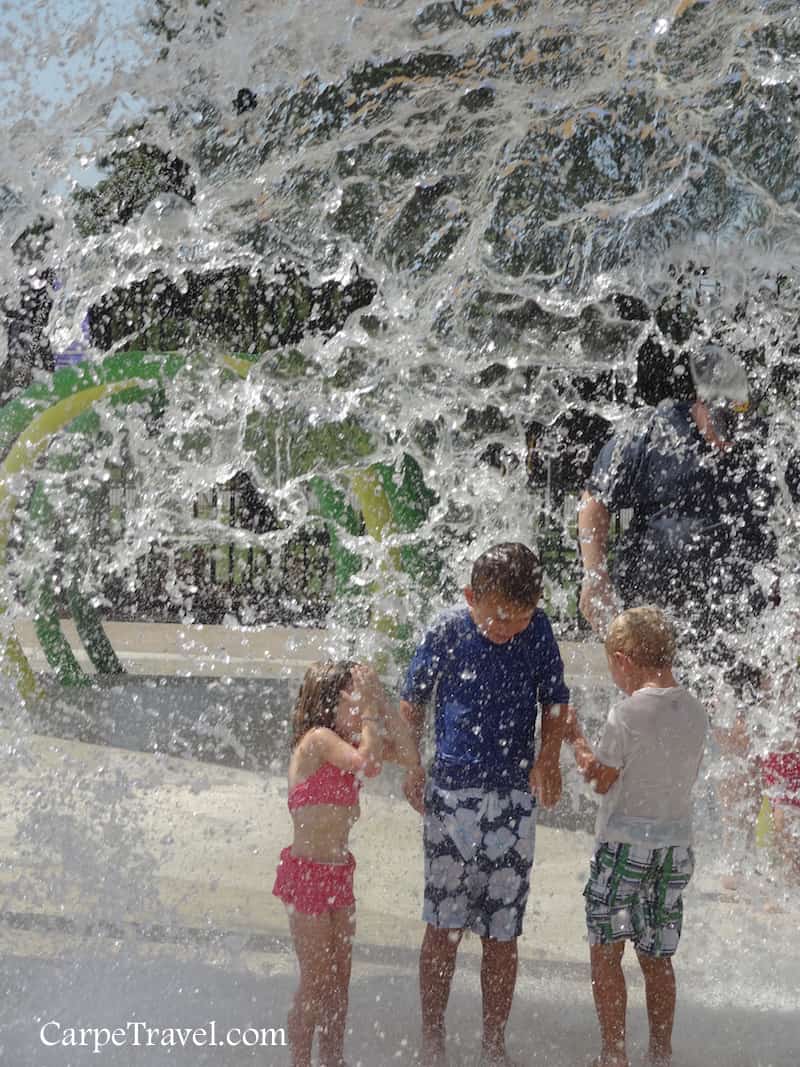 That metal red rocket I adored as a kid has been replaced with much larger and more kid-friendly equipment (aka safer materials that won't burn you bottom when going on the twisty, turning slide). Pack a picnic and plan to spend the day, if not at least a few hours.
Cost: $2 for residents of Grapevine; $5 for out-of-town visitors
Location: 1509 Hood Lane, Grapevine, TX
Parr Park
You could literally spend the day at Parr Park in Grapevine. Kids will love the huge playground and splash pad. You'll love the shaded picnic areas and clean bathrooms. Parr Park also has a paved trail system that circles the perimeter of the park and links to the Big Bear Creek Trail system. Perfect for taking a "nature" bike ride with the kids.
Cost: Free
Location: 3010 Parr Lane, Grapevine, TX
Grapevine Botanical Garden at Heritage Park
Back when I was a kid…(God help me, I'm getting old) Heritage Park, where the Grapevine Botanical Garden now resides, was a simple park with tennis courts. I remember loving this park because it was one of the only parks that had mature trees – aka SHADE ON A HOT SUMMER DAY! And, the woman – Bessie Mitchell – who owned the little yellow house next to the park had a koi pond. (As a kid, my mom would let us knock on her door and ask if we could feed the fish.) Her house and that pond have all become part of the Grapevine Botanical Garden, two-acres of water features, trails, walking bridges, seasonal foliage, an herb garden, butterfly garden, and educational events.
The Bessie Mitchell home is now a popular rental facility managed by the City of Grapevine. The koi pond is still there. These days you don't need to knock on the door to ask to feed the fish, just walk around to the side of the house and you're there.
Cost: Free
Location: 411 Ball Street, Grapevine, Texas
The Grapevine Vintage Railroad – Train Rides
The Grapevine Vintage Railroad is serviced by two Victorian-style locomotives, including "Puffy" the 1896 steam locomotive, the oldest continuously operating steam engine in the South, and "Vinny," a 1953 GP-7 diesel locomotive.
The Grapevine Vintage Railroad offers a few different types of train rides for families through out the year. There are also seasonal train rides – The North Pole Express and the adult only Christmas Wine Train. For little ones with a short attention span, I suggest the one hour The Grapevine Fun Train. The train ride departs Grapevine on Friday's at 10 a.m. during the months of June and July and, on Saturday mornings at 10 a.m. during the months of February, March, April, May, September, October and November. There are no Fun Trains operating in August.
Grapevine to the Historic Stockyards is a longer excursion – nearly five hours. It takes passengers from downtown Grapevine into Fort Worth to the Historic Stockyards, where you have about two hours to explore the area before boarding for the return trip.
Things to Know:
Children 12 months and under may receive a free lap ticket and must be held in the arms of an adult.
Return times can vary due to additional rail traffic or delays.
Cost: Ranges between $8-26, depending on the ride you select
Location: 705 S. Main St, Grapevine, TX 76051
Hiking and Biking
Grapevine is currently working to expand its hiking and biking trails but the city already has 22 miles of hard-surface trails and four miles of soft-surface trails. It will soon have 34 miles of trails that connect the parks, area of Grapevine Lake, Downtown Grapevine and the Gaylord Texan Resort. Take a look at this interactive map to find trails that you and your kids can tackle. (I would suggest Meadowmer Trail given its proximity to the lake.)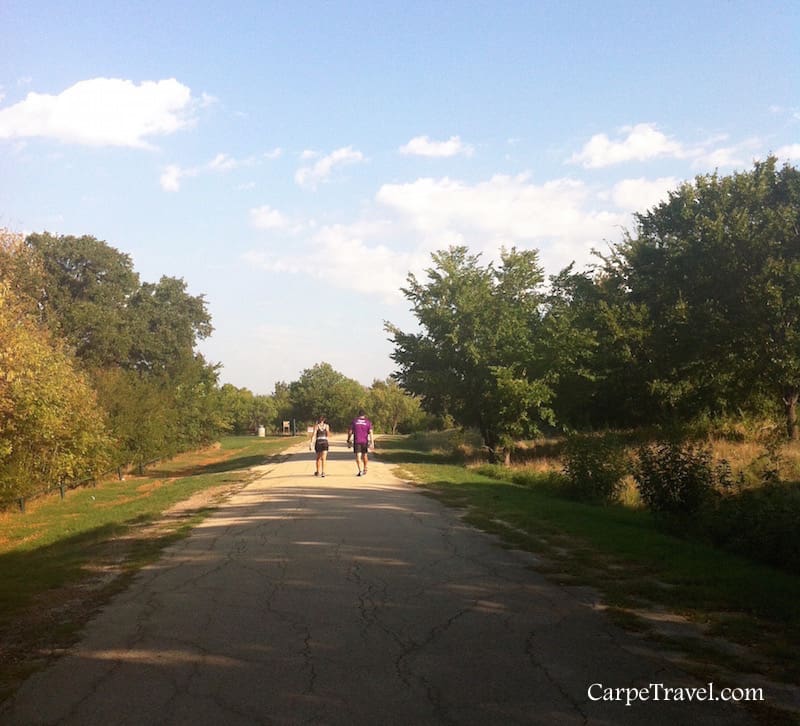 Things to Know:
Expect flat terrain
The summers are hot in Grapevine so pack your water bottles (and swim suites if you're on a trail near Grapevine Lake)
Cost: Free
Location: Pick your hiking and biking trails
Have you done any of these things in Grapevine? What did you think? Any other things to do in Grapevine I should include in this list? Let me know in the comments.