How many apps do you have on your phone? Do you use them all? I did a little test on our recent road trip to see which road trip apps we would use – really use – and which ones just took up space on my phone. I was surprised by how many were redundant, didn't work or were simply wrong. I ended up deleting a lot of apps…
I've since complied a list of the apps I found to be some of the best road trip apps. In other words they're the ones that were actually useful and worthy of taking up the valuable space on my phone. What are some of the best road trip apps you've used? Why are they worthy of taking up the space on your phone?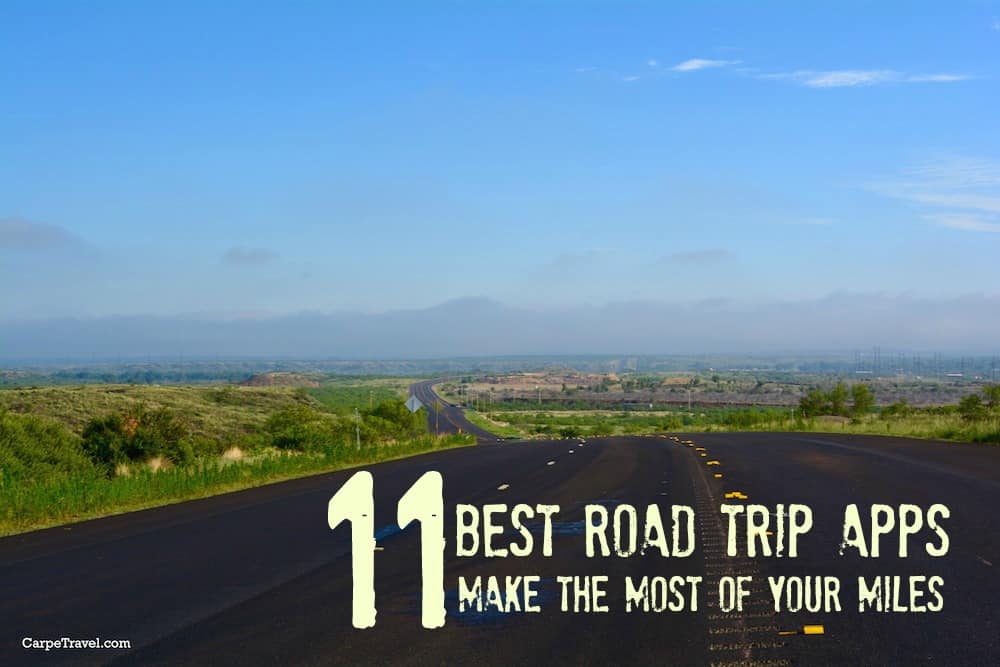 Eleven of the Best Road Trip Apps
Audible
Audible is a great app for your next road trip, morning run, commute to work – any time you want to list to an audiobook. It offers 150,000 audiobooks on iPhones and Androids including bestseller and even kids books. (The kids books option is awesome if you're trying to limit the "screen time" your kids have on a 15 hour road trip!)
GasBuddy
There are a lot of apps that claim to list the best prices on gas. I really like GasBuddy though and I'm not alone. This road trip app uses gas price information provided by its 40 million users to help drivers save money at the pump. Not only does GasBuddy find the gas by city/zip/postal code but you can earn points for reporting gas prices that can then be used to redeem money towards your next fill-up. GasBuddy lists gas prices for the USA and Canada.
Google Maps
When was the last time you used a paper map? I can't even remember…and that would be thanks to the little blue dot that will get you to where you need to be. Oh, and this interactive mapping tool can also show you gas stations, hotels, restaurants and other places you may need to find along your route.
RoadSideAmerica
The world's largest ball of twine? Cadillac Ranch? Roadside America has those fun, random stops along your route that gives you an excuse to pull over, take a break, snap a few pictures and then wonder why anyone would bury 10 old Cadillac's nose down in the middle of a field off I-40 in Amarillo, TX.
It's seriously a fun app that gives you both well-known and off-the-beaten path attractions based on your location and/or route you enter. (You can even map out your stops before hitting the road by entering your route and/or searching based on cities and themes.) With a short description, directions, details regarding hours, cost and the website you're able to quickly determine what stops you want to make.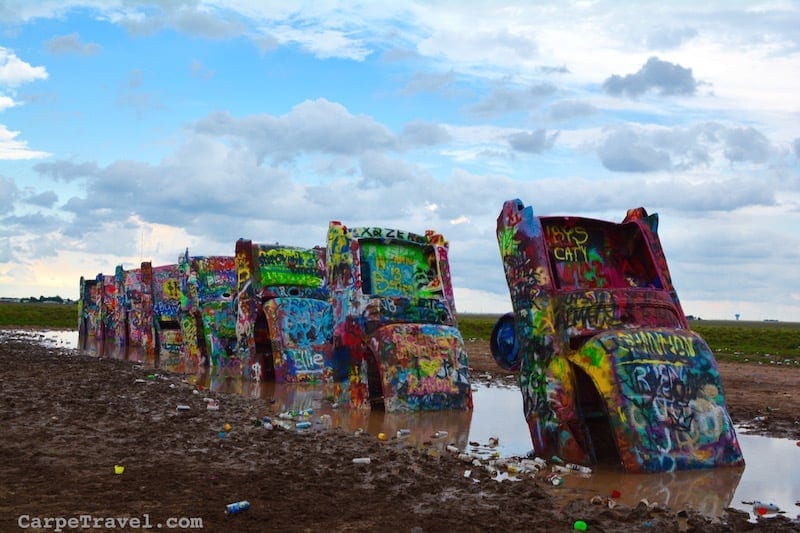 SitOrSquat
With little kids the nearest bathroom is key to maintaining balance in the car. However, finding the cleanest one is another story. If you actually have time – and options when driving through rural America – to consider which toilet you want to visit, SitOrSquat is the ultimate bathroom app. It helps you find public restrooms near your location or where you're planning to travel. Yes, you can plan your potty stops… Search and view public restrooms nearest your current location on a map or in a list option. The map will also provide directions via the interactive, location-based map. Oh, and you can rate and review toilets as well.
StayAtHand
Are you enrolled in loyalty programs with specific hotel chains? Want to use your points – or earn more – when you've changed your route and need to stay over night in the next town? With StayAtHand you no longer have to choose savings over loyalty.
StayAtHand is one of my favorite new hotel booking apps. It aggregates deals directly from hotels and when you book a hotel room you're doing so directly with the hotel – not the third party site. So you can use your points. Earn more points for EVERY dollar you spend. You can also cancel your room per the hotels terms – not terms StayAtHand has put together. Make sure to check out the last minute options the app includes. We found a steal of a deal in Amarillo when we decided to extend our last road trip.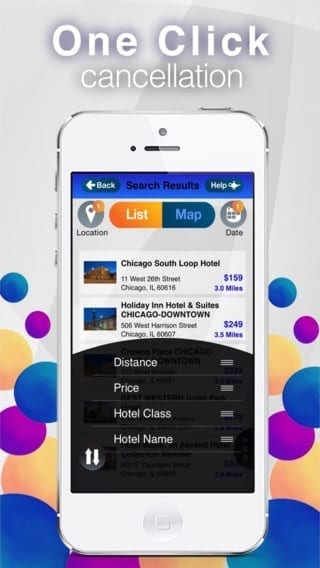 TripAdvisor
There are some apps you just have to have on your road trip and TripAdvisor is one of them. Not only does it include attractions, sights, restaurants and hotels but the reviews we've all come to love. I personally use this app more than most when I need a quick reference to a sight or hotel. On our last road trip it came in very handy when I was able to book one of our hotels in Alamosa, Colorado on the road when we decided to extended the trip.
TripIt
TripIt has become my absolute go-to travel app. It keeps me organized and with all my hotel information, confirmations, directions, and overall travel schedule right in the palm of my hand. No more digging through my inbox to find that hotel confirmation or the address to the museum. I love its simplicity and ease of use. You simply email your information (forward the confirmation emails/tickets your purchase) to TripIt and the travel app automatically adds all the details to your schedule. It can also add the same content to your main calendar – Outlook, iMail, Google, etc.
TV Food Maps
Do you like watching Diners, Drive-Ins & Dives, Man vs. Food and other types of cooking/food related shows? Then you'll LOVE TV Food Maps. This app tracks over 40 different TV shows in one place making it easy to finds the restaurants on TV that are nearby or plan a road trip to visit one of the 5000 restaurants featured on TV. It also provides current TV Listings so you can see the upcoming TV listings based on the area you're in.
Weather Underground
Going from Denver to Amarillo to Austin in one day means a lot of different weather patterns. The Weather Channel app is always has been my go to weather app but it also requires more searching when you're on a road trip – entering each location, refreshing, checking multiple screens to compare, etc. The Weather Underground app is one of the best road trip apps as it lets you see the weather all along your route – on one screen. It has a unique network of 100,000+ neighborhood weather stations so it can provide hyper-local weather conditions in real-time. The interactive map also allows you to drop a pin on the screen to trace your route you can then click on these pins to see the current conditions, forecast and even the radar information.
Waze
Waze is a community-based traffic and navigation app. Essentially drivers share real-time traffic and road info, so people can save time and gas money. It's great for road trips as you can avoid issues – construction, accidents, police trap, etc. – along your route but it's also great for your daily commute to work.
What are some of the best road trip apps you've used? Why are they worthy of taking up the space on your phone?