To tip or not to tip? That was – and is – the question whenever we travel internationally. How much is expected? Are you even supposed to tip? Knowing the tipping etiquette when you travel is something I have often times overlooked, only to find myself in quite the pickle. The worst was when we were in Russia…
A few hours after arriving in Moscow for the first time we ducked into a restaurant the concierge had suggested for our first authentic Russian meal. Borsch. Pierogies. Stella on tap. Amazing. When the bill arrived we whipped out the Visa, but wait, how do you tip? There wasn't a blank space to write in additional rubles and we didn't have any cash with us. Now what… Having waited tables myself for nearly a decade I couldn't be one of "those" people, especially my first day in Moscow. So, we tried to explain to our waitress that we could be back in a minute with cash. We left, walked four blocks to an ATM, walked back and gave the very surprised server her tip.
Apparently tipping isn't "required" in Moscow. I wish I had known that before walking four blocks in the dark on a cold November evening…
Don't make the same mistake. Before you head out on you next international trip, check out the guide to tipping in 25 of the most popular overseas vacation destinations GOBankingRates recently released. The tipping etiquette guide lists the services for which tips are expected, the percent tip that's appropriate and how to deal with awkward tipping situations in each country.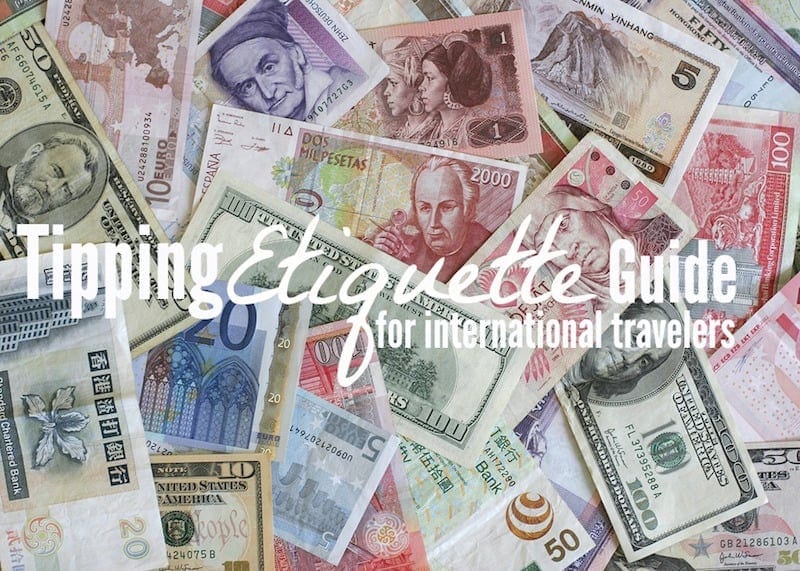 Highlights From the Tipping Etiquette Guide
Brazil: Restaurants often write a 10 percent service charge on the bill but don't require that you pay it.
China: No one tips for services in China (it's actually illegal to tip taxi drivers in many areas) with one major exception: tour guides, who make the bulk of their income through tips.
Croatia: Tips are almost always included in the bill, so it's not necessary to leave extra.
France: According to French law, all bills in restaurants carry a 15 percent service charge — not paid to the waiter, but the proprietor, who factors it into the staff's salaries. As such, tipping in France is less of a custom.
Greece: Some restaurants don't allow staff to keep their tips — it's best to ask beforehand.
Germany: Even though service charges are included in the menu prices at German bars and restaurants, it's typical to round up your total bill or leave an extra 5 to 10 percent tip. It's also very important for travelers to know they need to tell the server to add the tip to the final bill — it's not customary to leave money on the table after you pay.
Iceland: Service fees will be already included in almost everything you buy, so tipping isn't expected.
India: Tourists are expected to tip almost all service workers except taxi drivers.
Ireland: There's not a huge tipping culture, but a good rule of thumb is 10 percent.
Italy: Tipping in Italy is fairly transparent, as service charges are often displayed on menus — and you may be charged for the tablecloth or silverware, too.
Japan: Tipping in Japan isn't mandatory, and in many cases tips will be returned.
Spain: Tipping in Spain is more a matter of manners than necessity: It's considered polite to leave at least something, whether it's small change or rounding to the nearest Euro. Many residents do add small gratuities – five or ten francs – for large groups or parties.
Switzerland: Swiss federal law requires all service charges to be included in advertised prices. There is no obligation to tip anyone
For those of you traveling to the United States, the tipping etiquette in a restaurant and taxi service is typically 15-20 percent, says the former waitress who was once left a BIBLE as a tip on a table of 12.
Have you had any awkward tipping etiquette situations during your travels? I'd love to hear about them in the comments.