Looking to experience Colorado wine country and outdoor adventures? We have the top pairings.
Colorado is home to countless outdoor adventures many of which pair well with my favorite beverage – wine! With nearly 100 Colorado wineries, there are several opportunities to blend the two. I've pulled together my five favorite towns – and adventures – to help you pair the perfect wine tasting in Colorado.

Evergreen | Creekside Cellars
My absolute favorite Colorado winery is Creekside Cellars in Evergreen, just 30 miles west of Denver. Named 2018 Winery of the Year, Creekside Cellars not only produces award-winning wines but an amazing experience at its tasting room.
But first the wines… The Cabernet Franc has been rated a 91 by Wine Spector – the highest earning of any Colorado wine (so far!). The Petite Verdot is amazing too…and, the winemaker, Michelle Cleveland was named Winemaker of the Year in 2018. But, what keeps me going back to this Colorado winery is the location.
Being in the heart of the little, rustic town of Evergreen, Creekside Cellars is the perfect spot to kick-back after a morning hike. I can't count the number of times my family has headed up to Evergreen to hike Alderfer/Three Sisters Park and then pop over to Creekside Cellars for lunch and a bit of wine tasting.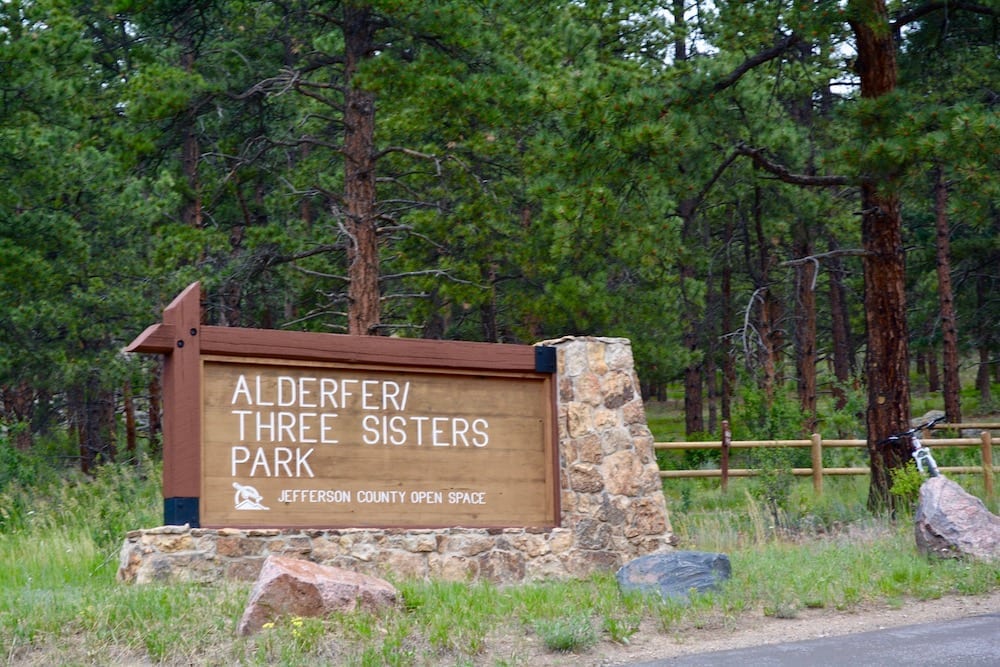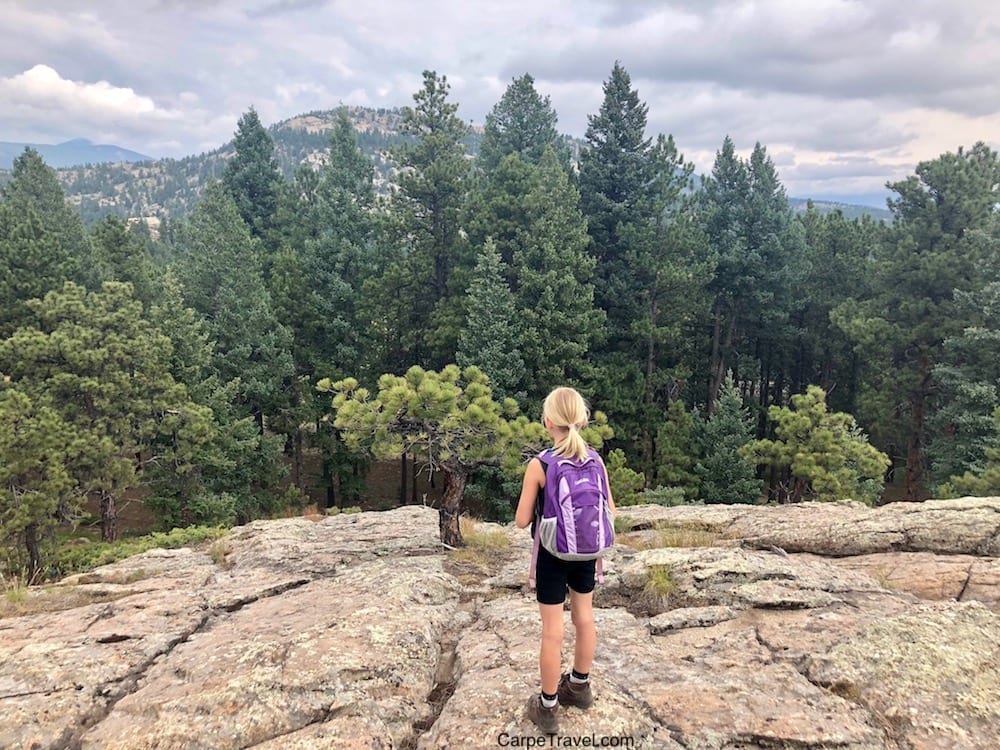 The outdoor patio sits along Clear Creek making for a gorgeous backdrop, and entertainment for the kids. My girls have grown up sitting on the patio feeding the ducks and geese wading along the banks.
The patio is outfitted with heat lamps, so it's a year around option. However, you can always sit inside the cozy restaurant sipping wines and sampling the Italian Antipasto Platter. The kids recommend the grilled cheese. I personally suggest pairing the Cab Franc with the Prosciutto and Fig sandwich, but the Black & Blue sandwich is a close contender. The rare roast beef, carnalized onions and smoked gorgonzola is to die for….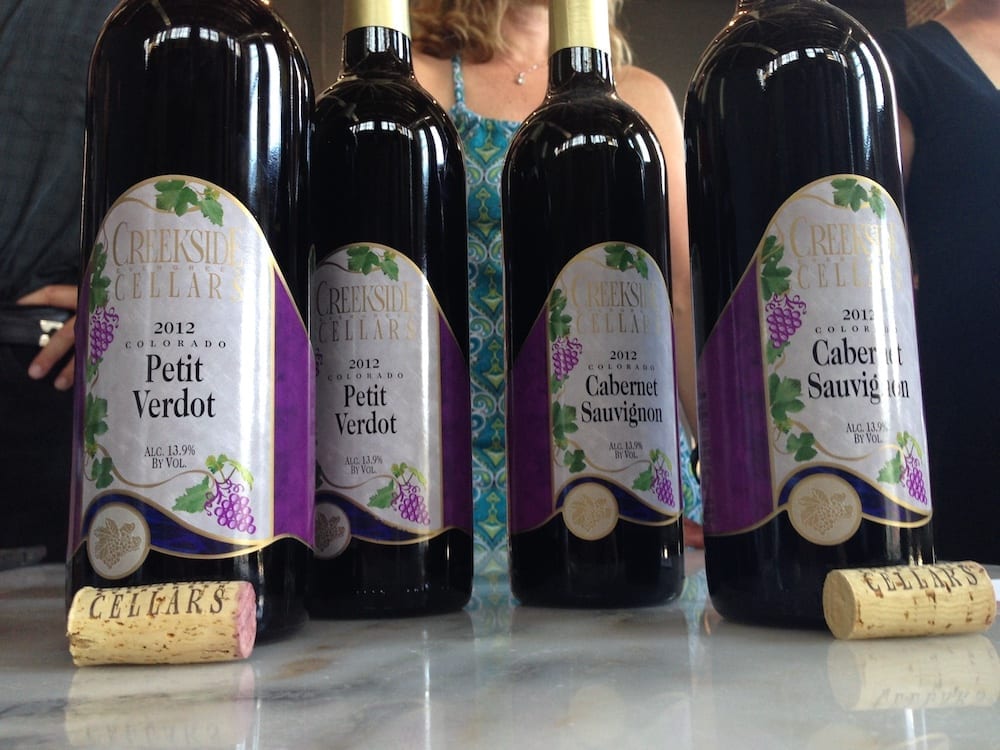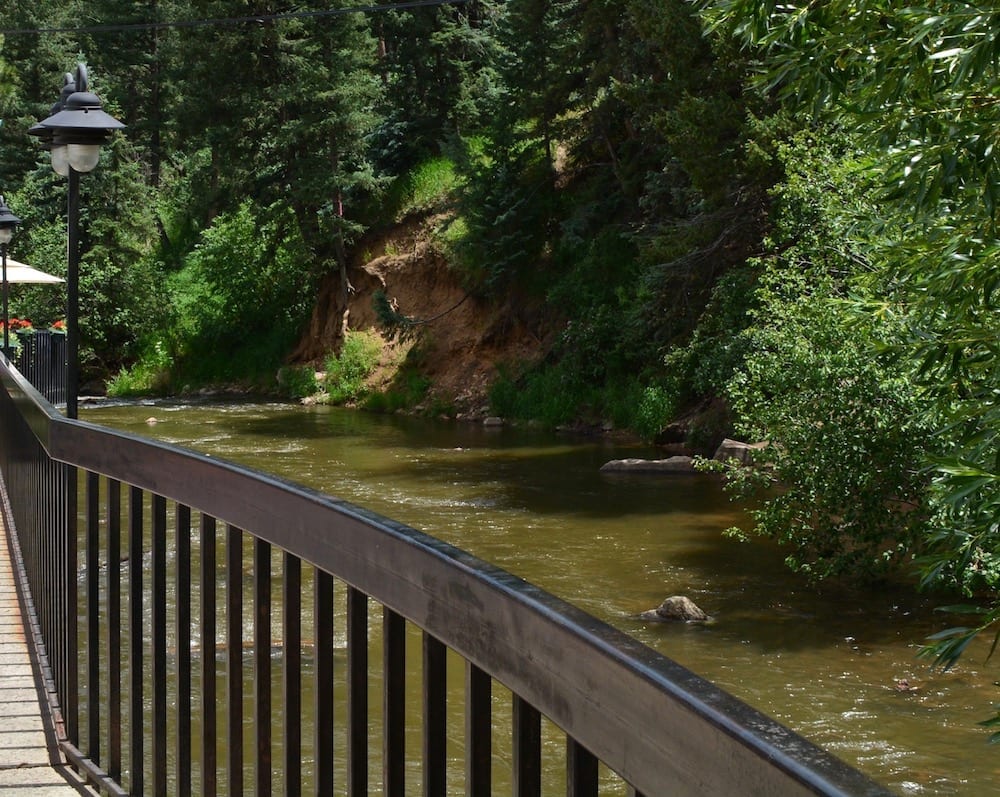 Hiking Alderfer/Three Sisters Park isn't the only thing to do in Evergreen though. There are a variety of trails, so check out All Trails for a few more ideas. During both the summer and winter months Evergreen Lake is home to many activities. From fishing, paddle boarding and kayaking in the summer to ice fishing and ice skating in the winter. Not to mention the golf course adjacent to the lake.
Given Evergreen's elevation of 7,220 feet you'll want to plan most outdoor activities for earlier in the day – storms tend to roll in around 2pm – making Creekside Cellars the perfect spot for wine tasting in Colorado.
Denver | Urban Wine Scene
Urban wineries are popping up all over the United States, Denver is no exception. The Mile High City is now home to 10+ urban wineries in the downtown area alone. Denver's urban dwellers will attest to the slew of outdoor activities the city has to offer, but when it comes to pairing them with wine the best combo is on two wheels (or two feet).
With most of the downtown Denver wineries within a few blocks of each other walking, biking or hopping on a scooter are fun and easy ways to create your own self-guided Denver wine tour. If you prefer to do a guided tour, Mile High Wine Tours can make sure you get the VIP treatment.
To get a taste of the urban wine scene in Denver it's only appropriate to start at The Infinite Monkey Theorem, one of the city's leaders in kicking off the urban wine revolution and an industry leader in canned wine.
Located in the River North Art District (RiNo), Infinite Monkey has been named one of the country's top urban wineries and has a slew of award winning wines to sip. Just another reason why kicking you're your wine tasting in Denver here makes since…
Starting at Infinite Monkey you can easily bike to Stem Ciders, Bigsby Folly Craft Winery and Restaurant, and Deep Roots Winery and Bistro. If you're up for a bit of a longer ride – or grabbing a 10-minute Uber – I suggest you visit Balistreri Vineyards where not only can you do another wine tasting in Denver BUT you can see an urban vineyard.
While you're in Denver, get to know some of the Weird, Wacky and Wonderful: 9 Secrets Denver Locals Don't Want You to Know.
Breckenridge | Continental Divide Winery
The iconic town of Breckenridge is regularly recognized as one of America's favorite ski resorts, and for good reason. The runs and powder are awesome!
Winter in Breck is a dream for outdoor sports lovers – skiing, boarding, snow shoeing, tubing, and ice skating are just a few things do in Breckenridge during the winter. The other months of the year are filled with warm weather and more sunshine for hiking, biking, fly fishing, horseback riding, kayaking and rafting.
So where does the wine tasting fit in? In my opinion – on Main St., in the afternoon, after all your outdoor activities.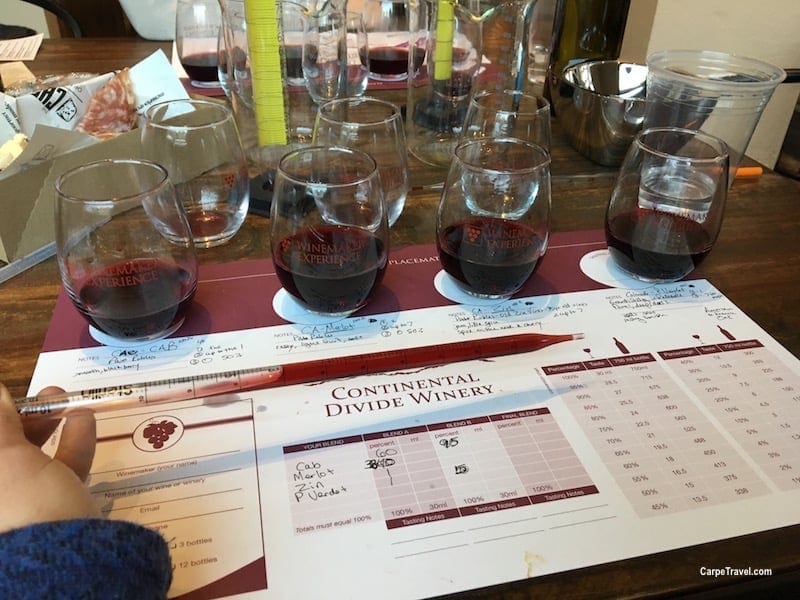 The Continental Divide Winery in downtown Breckenridge is one of the coolest things do in Breck, besides skiing. It truly takes wine tasting in Colorado to a new elevation… You can simply stop in for a wine tasting, but I highly recommend you set up a wine blending experience.
The wine blending experience is a unique opportunity that lets you play winemaker for a day by blending the winery's Cabernet Sauvignon, Pinot Noir, Merlot, Zinfandel and Petit Verdot to create your personal wine blend. The fun and interactive session lasts about two hours and includes one souvenir bottle of your custom crafted wine YOU blend. Make sure to make a reservation in advance.
Boulder | Because it's Boulder
There are only four wineries in Boulder (and 24 breweries) but this Colorado town is home to some out of this world outdoor adventures.
Spend the day hiking any number of trailheads around town. My favorites are at Chautauqua Park, located a few blocks from the heart of downtown. Make sure to stop into the Ranger Cottage at the Chautauqua Trailhead before you set out to grab for a free wildflower identification brochure. If you're hiking with the kids at Chautauqua Park, I highly suggest checking into doing one of the theater hikes during the summer months.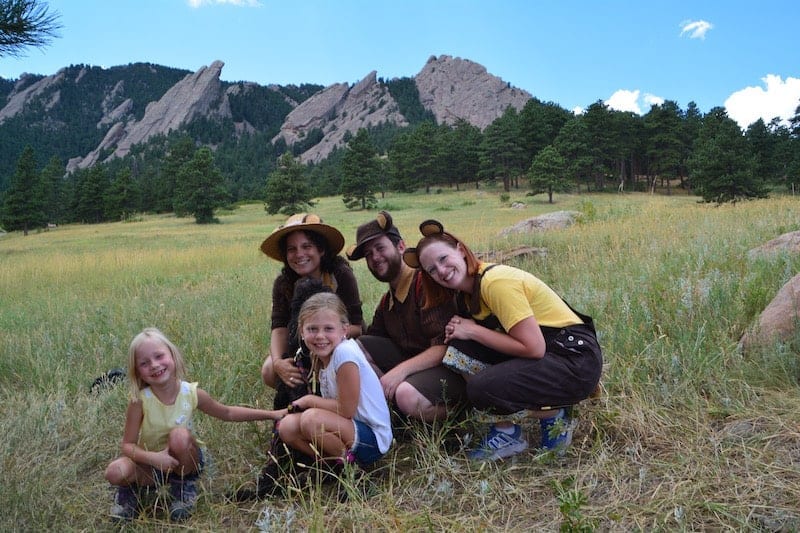 If water sports are more your thing head over to Boulder Reservoir to soak in the sun – and paddle boarding – at one of Colorado's great beaches. (Yes, there are beaches in Colorado!) I would be remiss if I didn't mention rock climbing at Eldorado Canyon, skiing at Eldora and mountain biking on countless trailheads in and around town.
Now, for the four wineries in Boulder… I know four is not a lot but with 24 breweries and six distilleries, you're sure to be able to quench your thirst. For me, it's all about the wine. I personally love Bookcliff Vineyards.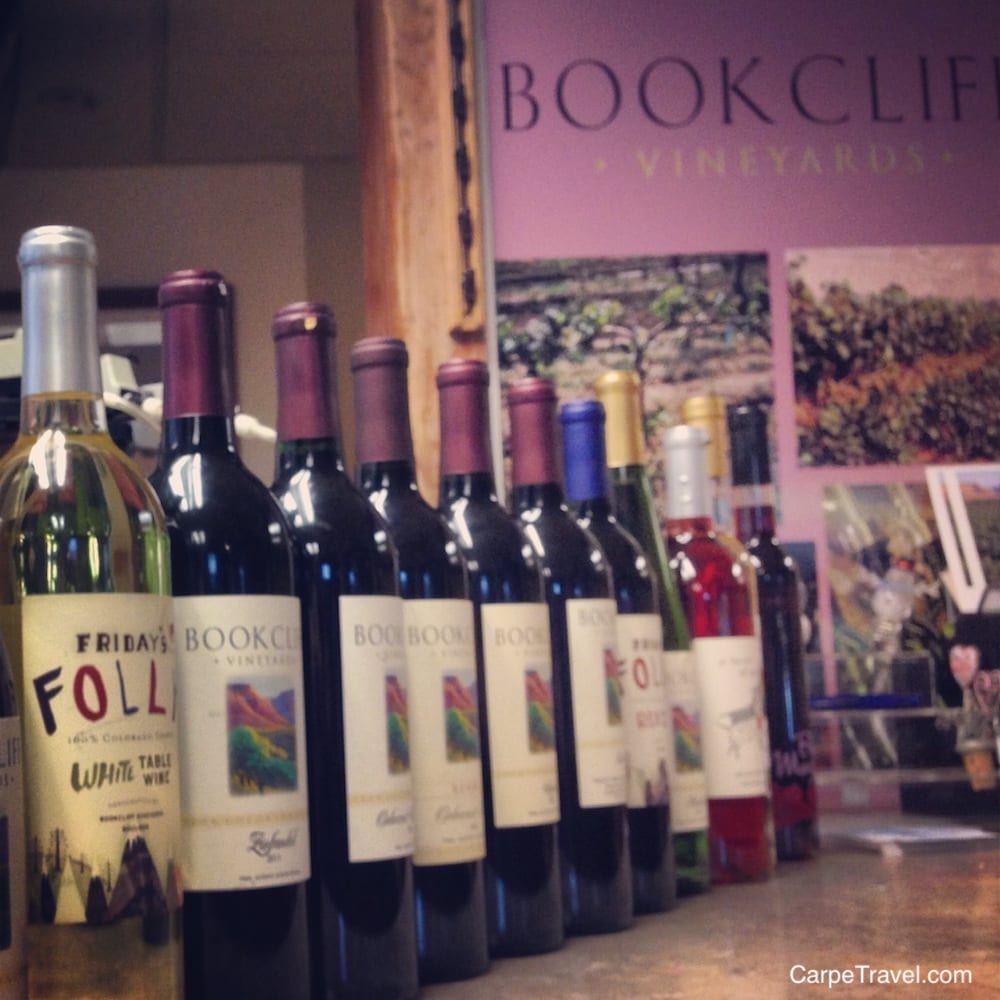 I discovered their Merlot several years ago and have since enjoyed sipping the other 15 wines they produce – all are made with 100 percent Colorado fruit. If you want to pop in for a tasting at Bookcliff you'll need to plan for Thursday through Sunday, unless you call to schedule a private tasting. The tasting room is only about five miles from Chautauqua Park so hike and picnic early and head over for some wine samples for an après hike.
Want to visit more than one Boulder winery, Decadent Saint is right next door to Bookcliff. It's worth the visit!
Palisade | The Heart of Colorado Wine Country
This list wouldn't be complete without mentioning Palisade, located in the heart of the Grand Valley, aka the Colorado wine country. Home to more than 25 Colorado wineries, Palisade is a must visit for wine lovers, and for those seeking outdoor thrills – the pairing is equally delicious.
One of the best ways to see the Colorado wine country is on two wheels. Any of the local bike shops in town can set you up to do a self-guided winery tour. Maps of all the wineries are available at the Visitor Center, your hotel will more than likely have them too. I also suggest checking out Map My Ride before you set out, to you know – map your ride.
The Palisade Fruit & Wine Byway, aka "The Fruit Loop" is one of the popular biking routes through the Colorado wine country as it takes you along the Colorado River, in and out of vineyards, tasting rooms, orchards and fruit stands. Topped off with stunning views of the Grand Valley.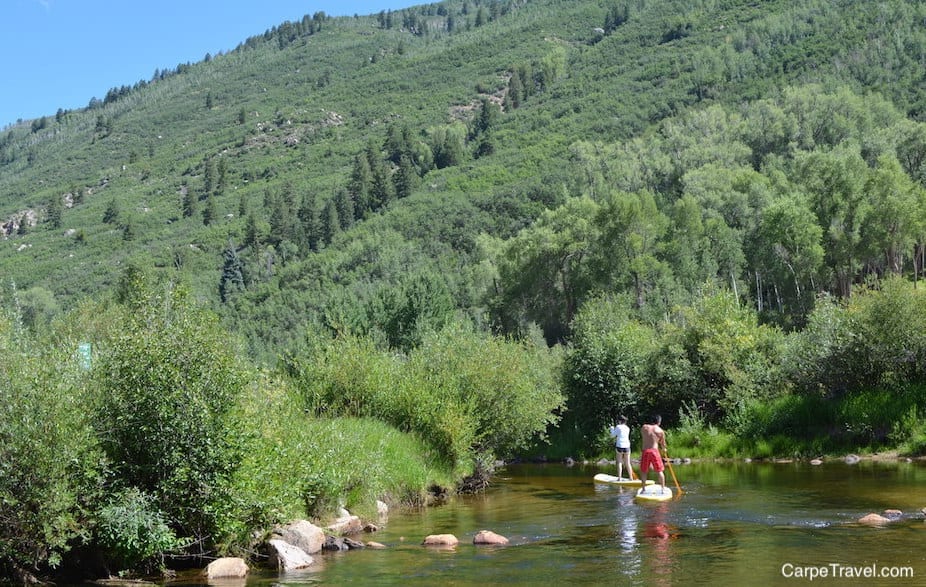 One of the more unique ways to see – not sip – the Colorado wine country is to book a guide tour with Palisade Wine Country Float Trips. The two-hour tour takes you down the Colorado River where you can view different vineyards and orchards (April to October). You can also rent a kayak, paddle board or canoe instead. Just to clarify, the tour does not stop at any vineyards. But, you can take your own Colorado wine on the tour to do your own, private tastings.
Those aren't the only outdoor activities in Palisade though. East of town, you'll find DeBeque Canyon and the Colorado River State Park where you can camp, fish and boat. For horse lovers, check out the Little Bookcliffs Wild Horse Range, home to 30,000 acres of rugged terrain and herds wild horses. We'll be exploring Little Bookcliffs soon, but don't tell Princess Two – it's a surprise!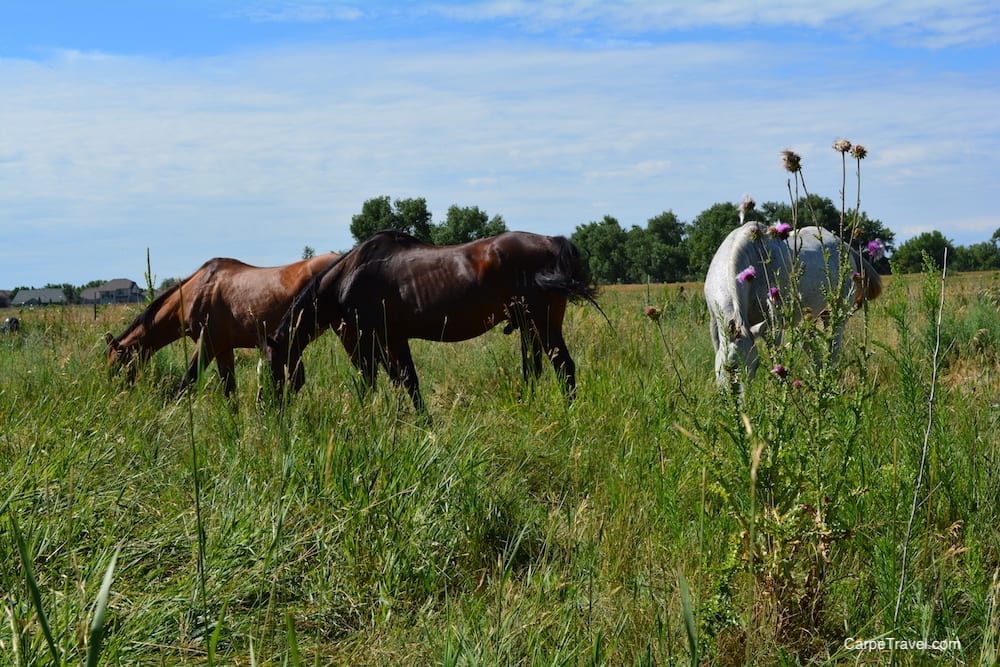 What's your favorite town or spot for wine tasting in Colorado?
Interested in learning more about Colorado wine country? Check out our Colorado Wine Travel Guide, and save this post to reference back to later.