Inspirational Travel Quotes – One For Each Week of 2018
It's out with the old and in with the new as we say goodbye to 2017 and embrace a New Year. In 2015 we did a fun post noting inspirational travel quotes for every week of the year. We wanted to kick that off again in 2018 – we could all use a little more positivity and inspiration out there.
Be inspired, be passionate and let this be the year to fulfill your dreams… Cheers and Happy New Year!
Jan. 1. – "A journey of a thousand miles begins with a single step." -Lao Tzu
Jan. 7 – "Live your life by a compass, not a clock." -Stephen R. Covey
Jan. 14 – "There are more things in Heaven and Earth than are dreamt of in your philosophy."  –Shakespeare
Jan. 21 – "Nothing is impossible, the word itself says 'I'm possible!'" –Audrey Hepburn
Jan. 28 – "Wine is bottled poetry." –Robert Louis Stevenson
Feb. 4 – "I love everything that's old, –old friends, old times, old manners, old books, old wine." –Oliver Goldsmith
Feb. 11 – "Be fearless in the pursuit of what sets your soul on fire." –Jennifer Lee
Feb. 18 – "Bizarre travel plans are dancing lessons from God." -Kurt Vonnegut
Feb. 25 – "There are no shortcuts to any place worth going." –Beverly Sills
March 4 – "I haven't been everywhere, but it's on my list."  –Susan Sontag
March 11 – "Shoot for the moon. Even if you miss, you'll land among the stars." –Les Brown
March 18 – "Travel is the only thing you buy that makes you richer." –Unknown
March 25 – "When you travel, remember that a foreign country is not designed to make you comfortable. It is designed to make its own people comfortable."  –Clifton Fadiman
April 1 – "Always find a reason to laugh. It may not add years to your life but will surely add life to your years." –Unknown
April 8 – "A flower does not think of competing with the flower next to it. It just blooms." –Zen Shin
April 15 – "Blessed are the curious for they will have adventures." –unknown
April 22 – "To take wine into our mouths is to savor a droplet of the river of human history." –Clifton Fadiman
April 29 – "We travel not to escape life, but for life not to escape us." –Anonymous
May 6 – "Let your smile change the world, but don't let the world change your smile." –Connor Franta
May 13 – "Two roads diverged in a wood, and I took the one less traveled by, and it made all the difference." –Robert Frost
May 20 – "You have brains in your head. You have feet in your shoes. You can steer yourself any direction you choose. You're on your own. And you know what you know. And YOU are the one who'll decide where to go…" -Dr. Seuss, Oh, the Places You'll Go!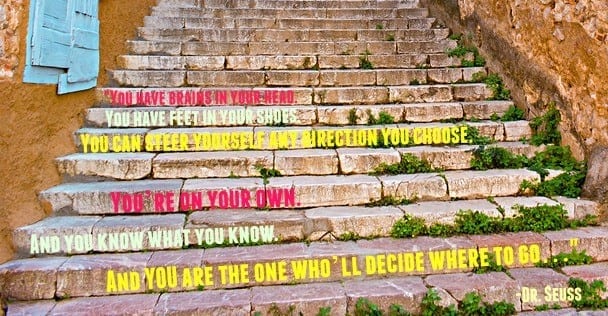 May 27 – "The world is a book, and he who doesn't travel reads only one page." –St. Augustine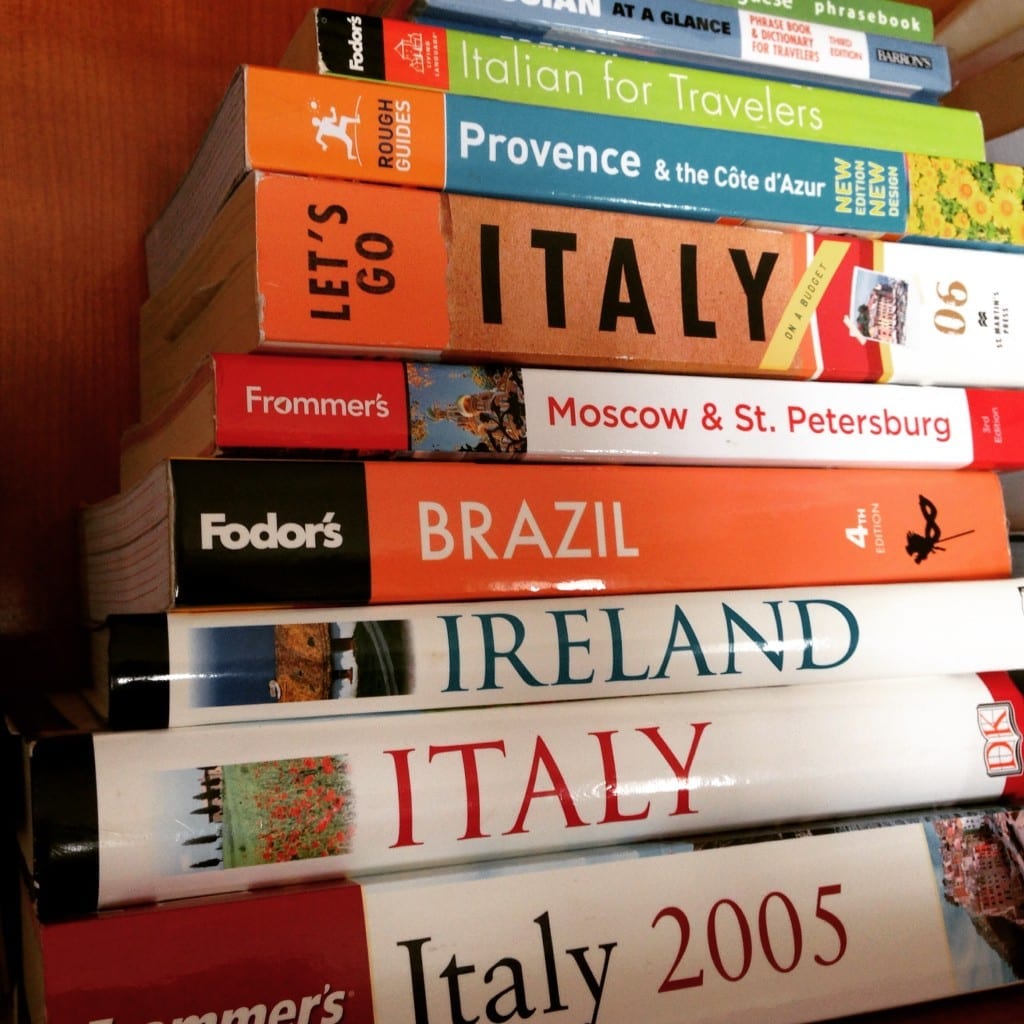 June 3 – "Twenty years from now you will be more disappointed by the things that you didn't do than by the ones you did do. So throw off the bowlines. Sail away from the safe harbor. Catch the trade winds in your sails. Explore. Dream. Discover." –Mark Twain
June 10 – "Perhaps travel cannot prevent bigotry but by demonstrating that all people cry, laugh, eat, worry, and die, it can introduce the idea that if we try and understand each other, we may even become friends." –Maya Angelo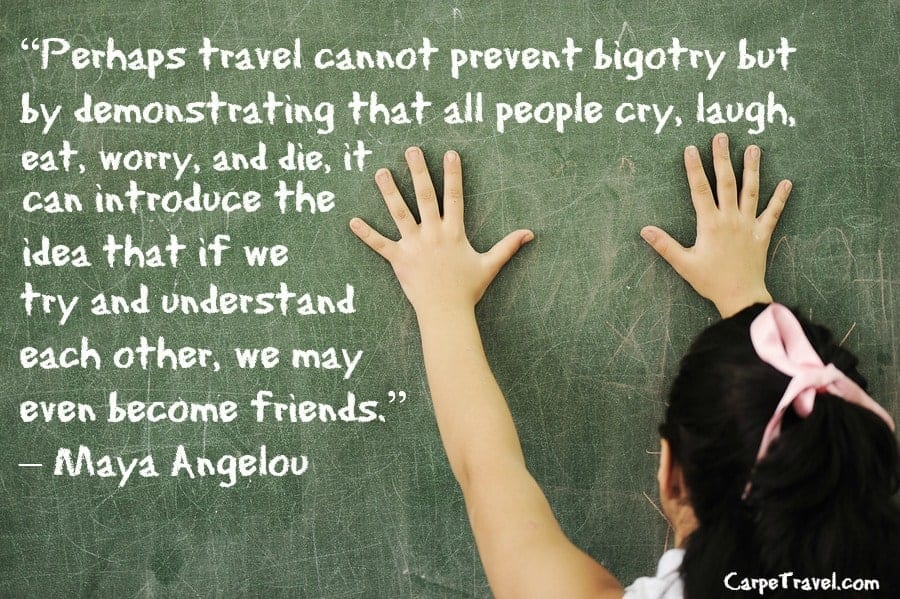 June 17 – "It's not the years in your life that count. It's the life in your years." –Abraham Lincoln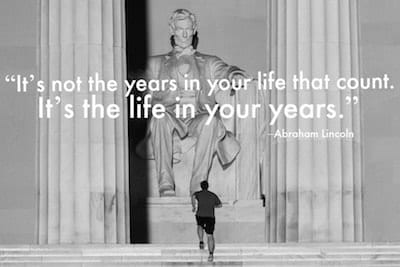 June 24 – "The human spirit needs places where nature has not been rearranged by the hand of man." –Anonymous 
July 1 – "The people who are crazy enough to think they can change the world are the ones that do." –Steve Jobs
July 8 – "Life begins at the end of your comfort zone." –Neale Donald Walsch
July 15 – "If your ship doesn't come in, swim out to meet it." –Johnathon Winters
July 22 – "Some see a weed, some see a wish." –Unknown
July 29 – "One travels to run away from routine. That dreadful routine that kills all imagination and all our capacity for enthusiasm." –Ella Maillart
Aug. 5 – "Life isn't about waiting for the storm to pass…It's about learning to dance in the rain." -Vivian Greene
Aug. 12 – "To live is the rarest thing in the world. Most people just exist." –Oscar Wilde
Aug. 19 – "Travel sparks our imagination, feeds our curiosity & reminds us how much we all have in common." –Deborah Lloyd
Aug. 26 – "Do not grow old, no matter how long you live. Never cease to stand like curious children before the great mystery into which we were born." –Albert Einstein
Sept. 2 – "Like all great travelers, I have seen more than I remember, and remember more than I have seen." – Benjamin Disraeli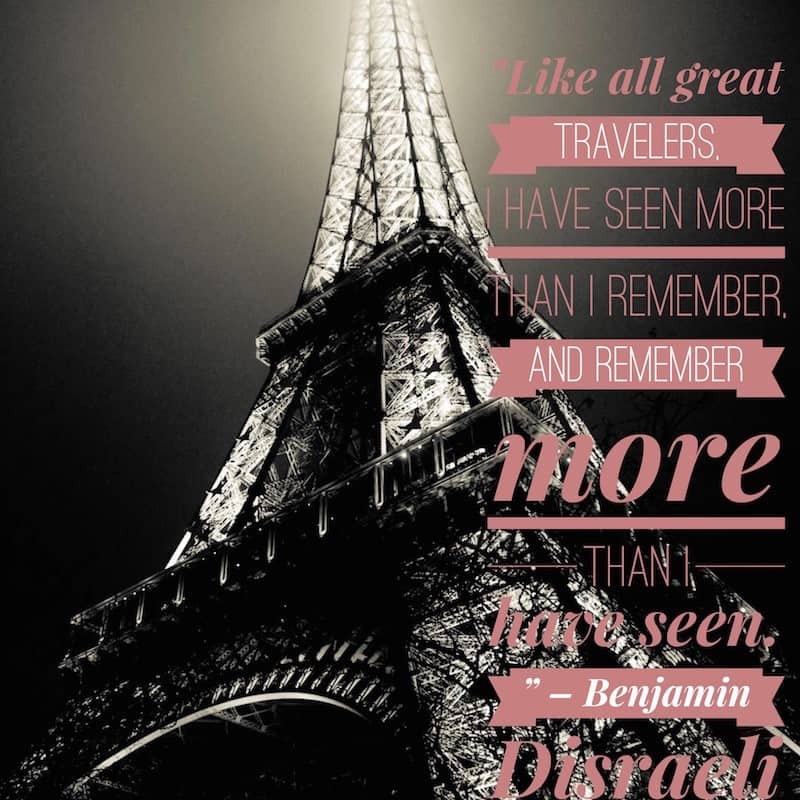 Sept. 9 – "Listen to your own voice, your own soul, too many people listen to the noise of the world, instead of themselves. Deep inside, you know what you want, let no one decide that for you." –Leon Brown
Sept. 16 – "Nothing makes the future look so rosy as to contemplate it through a glass of Chambertin." –Napoleon
Sept. 23 – "When it rains, look for rainbows. When it's dark, look for stars." –Oscar Wilde
Sept. 30 – "Of all the books in the world, the best stories are found between the pages of a passport." –Unknown
Oct. 7 – "Life is not measured by the number of breaths we take, but by the moments that take our breath away." – Maya Angelou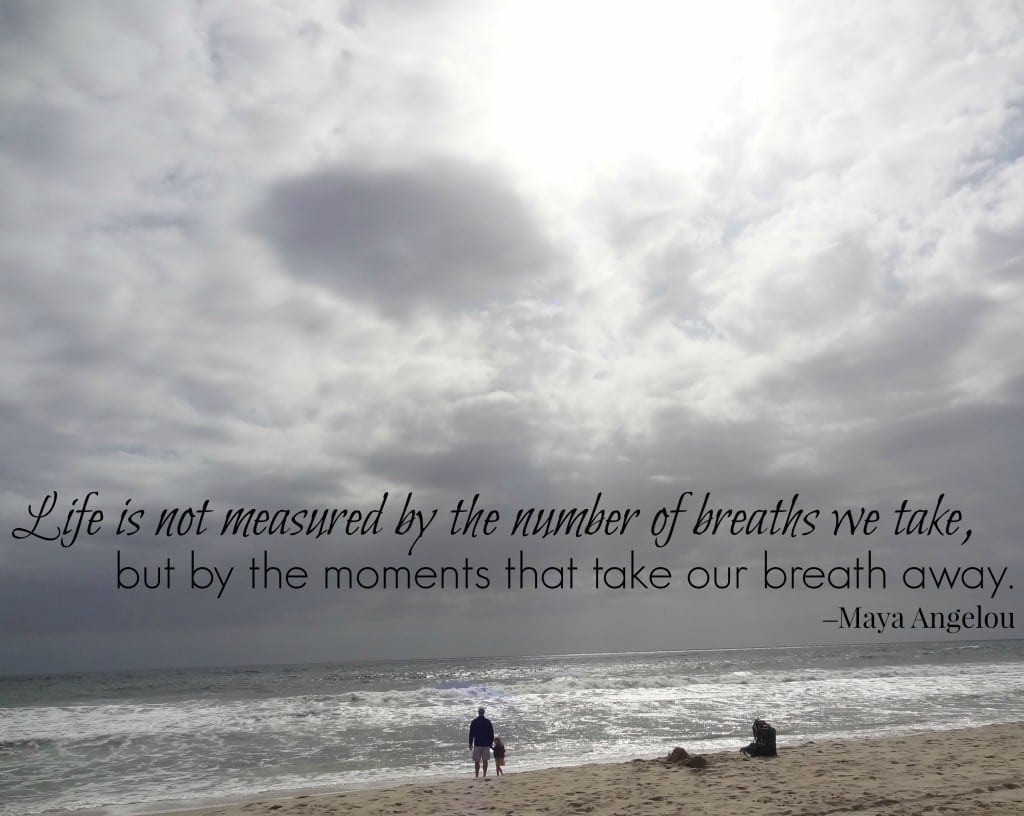 Oct. 14 – "Notice how the trees do not cling to their leaves. Fall is about releasing the old to make way for the new." –Unknown
Oct. 21 – "If we were meant to stay in one place, we'd have roots instead of feet." –Rachel Wolchin
Oct. 28 – "Everything that you want to be, you already are, and you're simply on the path of discovering it." –Alicia Keys
Nov. 4 – "Life is like a camera. You focus on what's important, capture the good times, develop from the negatives, and if things don't work out, take another shot." –Unknown
Nov. 11 – "And then there is the most dangerous risk of all – the risk of spending your life not doing what you want on the bet you can buy yourself the freedom to do it later." –Randy Komisar
Nov. 18 – "Gratitude unlocks the fullness of life. It turns what we have into enough, and more." –Melody Beattie
Nov. 25 – "I hope you live a life you're proud of. If you find that you are not, I hope you have the strength to start all over again." –F. Scott Fitzgerald
Dec. 2 – "Kindness is like snow – it beautifies everything that is covers." –Kahlil Gibran
Dec. 9 – "We are all like a snowflake, all different in our own beautiful way." –Unknown
Dec. 16 – "The purpose of life, after all, is to live it, to taste experience to the upmost, to reach out eagerly and without fear for richer and newer experience." –Eleanor Roosevelt
Dec. 23 – "Winter is the time for comfort, for good food and warmth, for the touch of a friendly hand and for a talk beside the fire: it is the time for home." –Edith Sitwell
Dec. 30 – "Cheers to a new year and another chance for us to get it right." –Oprah Winfrey