How many of your New Year's resolutions include losing weight, getting fit and living a healthier lifestyle? I admit, all three are on my list. As well as traveling more, duh! One of my goals with traveling this year is to incorporate more wellness travel into our trips, which I kicked off in Hawaii where we celebrated the New Year. I jogged along the beach, paddle boarded and snorkeled nearly every day. (I also toured and sipped a little Maui Wine, make sure to see the review!) Overall, it was a wonderful – and healthy – holiday that definitely encompassed the meaning of wellness travel.
Wellness travel is anything that promotes your health and well being, both physical and mental, through activities you do during your vacation (or business trip). The goal is to check out feeling healthier and better than when you checked in.
Having a healthy lifestyle both at home and on the road is something I try to live by. I haven't typically traveled for wellness, but I try to incorporate wellness into our trips. Be it jogging in the morning before the family wakes up, hiking with the kids, swimming laps or just treading water when the kids are playing in the pool or even doing Pilates in the hotel room before setting out for the day. Wellness travel can also include walking around town versus take an Uber or the Subway. Something we do ALL the time!
Living in Colorado I've been fully aware of the wellness travel opportunities there are for visitors – and residents. But, I didn't realize just how many historic Colorado destinations and landmarks were originally founded, and are still sought after, as places for wellness retreats and individual healing. If you're visiting Colorado – or live here – and would like to incorporate wellness travel into your next Colorado adventure, here are some awesome ideas. (And if you need tips for comfortable travel shoes, particularly sneakers, click over.) I will for sure be checking into some of these in 2018!
Wellness Travel in Colorado – High-Altitude Spas
Spa at Garden of the Gods Collection and International Health & Wellness Center (Colorado Springs). In November, The Spa at Garden of the Gods Collection was named a Biologique Recherche Expert Center. The premier French brand, known worldwide for its incomparable skincare treatments and products, bestowed the new center classification upon The Spa for completing a variety of criteria. The Spa, which opened in June 2017, dovetails its programs with the resort's new International Health & Wellness Center (IHWC) to create integrated health solutions for its patients. The 10,000-square-foot Spa features a salt-therapy halotherapy room, herbal sauna and weightless Austrian (an hour in this bed is equivalent to an full night's rest), while the IHWC incorporates treatment from various doctors and clinicians into treatments.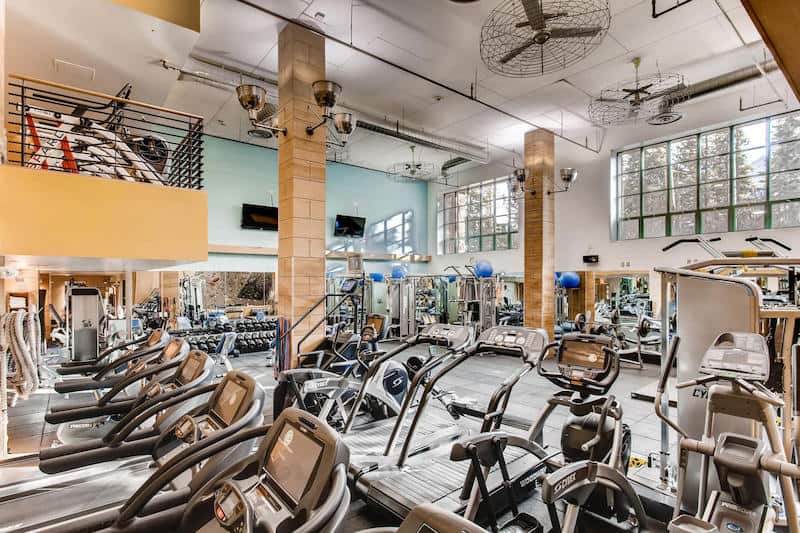 The Vail Vitality Center (Vail). Located in Vail Mountain Lodge alongside Gore Creek, the on-site wellness experience at the Vail Vitality Center offers a full spa, an 18,000-square-foot fitness center and private sessions with personal coaches trained in yoga and meditation, Pilates, barre, outdoor fitness and more. The Spa is illuminating its facial treatments with the introduction of light therapy. Biophotonic, or low-level light therapy refers to the application of specific wavelengths of light energy to tissue to treat a variety of ailments, including acne, aging and pain.
Spa Anjali at The Westin Riverfront Resort (Beaver Creek). Located inside Vail Valley's award-winning Westin Riverfront Resort, Spa Anjali offers an extensive menu focused on three healing mountain traditions – the Rockies, Alps and Himalayas. Unique treatments include the Chakra Blessings, a collection of ancient rituals designed to help clear negativity, balance energy and create an optimal state of well-being. A popular new treatment is the Anahata "Way of the Heart" Chakra Blessing, which focuses on the 4th Chakra, the center of unconditional love that governs compassion, generosity and well-being.
The Spa at Four Seasons Hotel Denver (Denver). Recently named the #1 Best Spa Hotel in Denver by US News & World Report, The Spa at Four Seasons Hotel Denver offers 10 treatment rooms with a design mirroring the surrounding mountain landscape with wood and stone elements. For guests wanting the full high-altitude experience, the spa offers the 5,280 Relaxation Massage that uses long strokes and medium pressure to encourage blood flow. Another favorite treatment is the High Altitude, Full Body Revival Massage, a specialized massage that combines reflexology with a full-body massage using special oils designed to relieve symptoms of high-altitude adjustment.
Wellness Travel in Colorado – Wellness Centers
Colorado Chautauqua (Boulder). The Colorado Chautauqua is one of only a few remaining chautauquas in the United States. Originally founded as an educational retreat in 1898 and chosen for its spectacular mountain setting and health-giving environment, the Colorado Chautauqua has grown into one of Boulder's oldest treasures and a National Historic Landmark. Located right at the Chautauqua trailhead and at the base of Boulder's iconic Flatirons, with concerts and educational events scheduled in its various venues throughout the year, it is a perfect blend of urban and nature. Visitors can unplug and reconnect by staying in one of the many cottages available for rent and attend an event in the historic auditorium or hike the surrounding trails.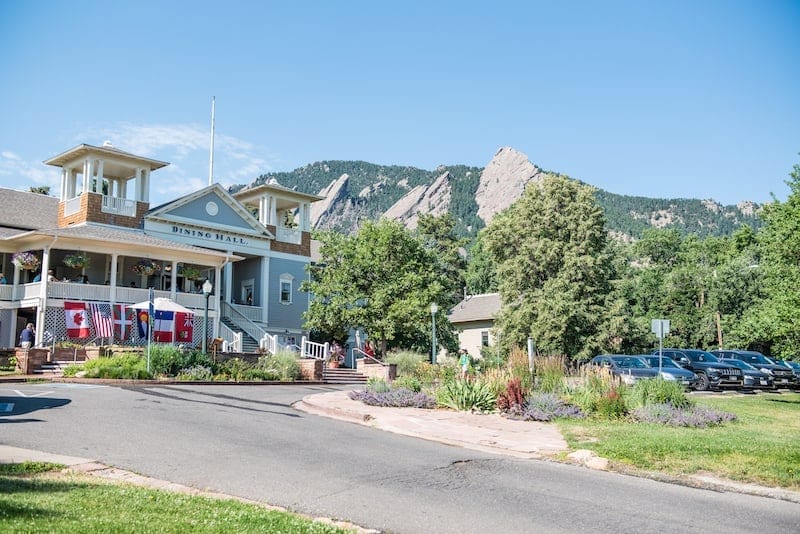 Dharma Sangha Crestone Mountain Zen Center (Crestone). Crestone Mountain Zen Center sits at 8,400 feet with stunning views of the San Luis Valley and the San Juan Mountains. The Center is a monastic training center of Dharma Sangha, the Zen Buddhist practice community. Individual guest and group retreats are offered and include meditation from different wisdom traditions such as yoga, music, dance, bodywork, wilderness expeditions and more.
Shambhala Mountain Center (Red Feather Lakes). Nestled in a serene 600-acre valley in the Rocky Mountains, Shambhala Mountain Center offers over 100 different programs per year in a stunning setting. The center also includes rustic cabins and lodge rooms along with the nearby Great Stupa of Dharmakaya, one of the most significant examples of sacred architecture. Programs at the center include everything from meditation, mindfulness, arts and creativity to yoga, wellness and renewal.
True Nature Healing Arts Kiva & Spa (Carbondale). True Nature Healing Arts is an intentional sanctuary offering yoga, an Ayurvedic spa, an organic kitchen and an eco-friendly boutique, surrounded by a tranquil Peace Garden featuring one of the country's few reflexology paths. True Nature has been a vibrant part of Carbondale since 2007, located in the beautiful Roaring Fork Valley at the base of 13,000-foot Mt. Sopris. The addition of the Kiva/Spa will open on February 10, 2018 and will be nestled within the Peace Garden, providing a unique intentional space for sharing retreats, workshops, seminars and performing arts. The expanded Spa will offer wraps, scrubs, facials, Ayurvedic and traditional massage, along with Japanese soaking tubs for two, and steam showers.
Wellness Travel in Colorado – The Healing Power of Hot Springs
Glenwood Springs. Glenwood Springs is alive with the restorative powers of water; between soaking away aches and pains, relaxing after a hard 9 to 5, and a little soul soothing, magic can happen with the healing waters of the hot springs. Choose from two major hot springs— the historic Glenwood Hot Springs, the world's largest hot springs pool, and Iron Mountain Hot Springs which offers 16 soaking pools filled with pure, hot mineral water all nestled on the bank of the Colorado River. (See my post on more things to do in Glenwood Springs.)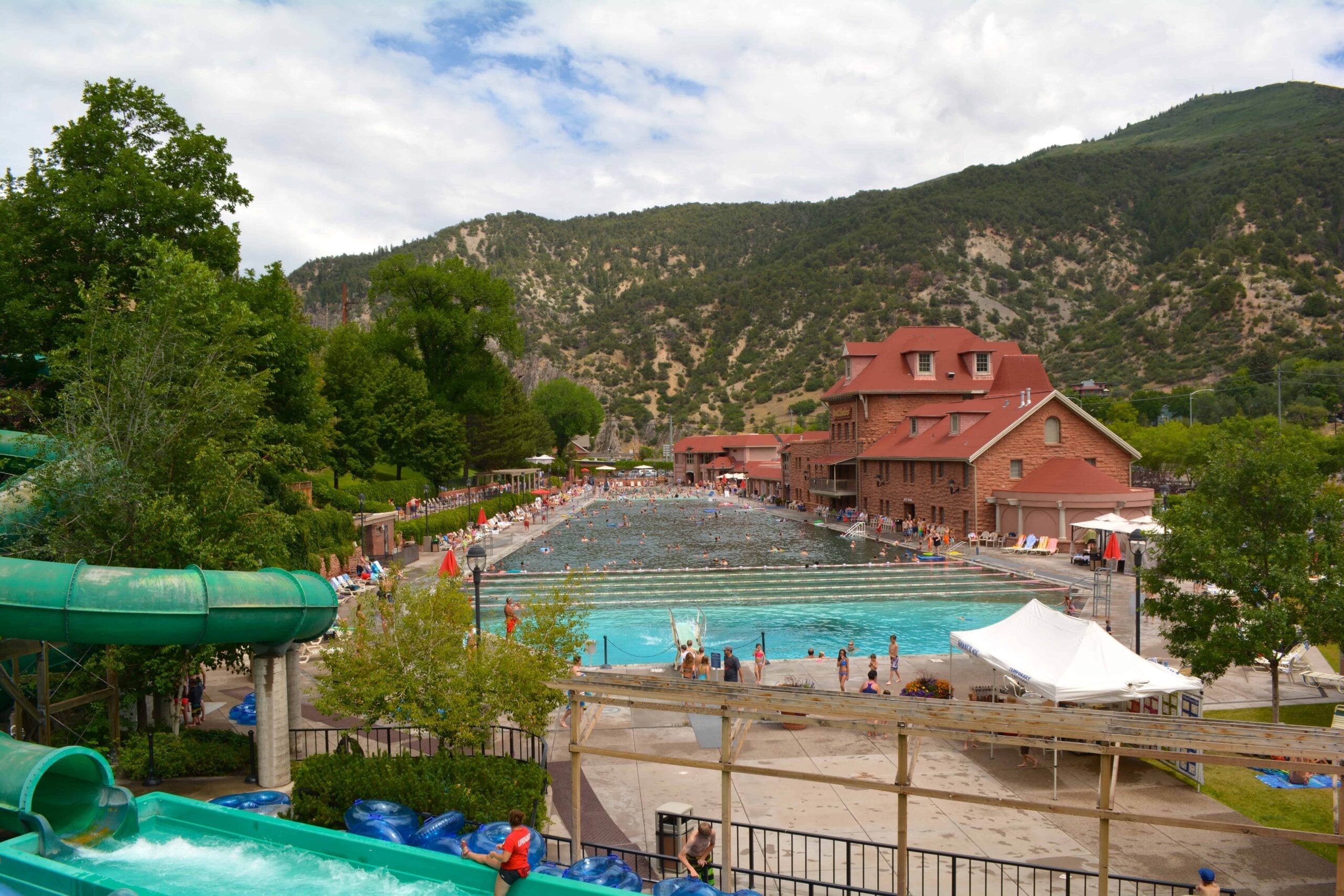 Mount Princeton Hot Springs Resort (Nathrop). Located between the towns of Buena Vista and Salida, Mount Princeton Hot Springs Resort offers 100 percent natural and odorless hot springs ranging from 70 to 120 degrees Fahrenheit. The resort includes a historic bath house, which was established in 1867; Creekside Hot Springs, natural individual pools; Upper hot springs pools that include a 400-foot water slide; and a spa, that is only offered to adults 16 and older.
Ouray. Ouray is another Colorado town bustling with hot springs offerings. Five local developed hot springs in Ouray and nearby Ridgeway include the Ouray Hot Springs Pool, which recently underwent a $10.6 million renovation, the vapor caves of the Historic Wiesbaden Hot Springs Spa & Lodgings, the pools at the Twin Peaks Lodge & Hot Springs and the naturally landscaped pools at Orivs Hot Springs in Ridgeway.
More of the Top Hot Springs to Visit in Colorado.
Wellness Travel in Colorado – 2018 Wellness Events in Colorado
Yoga on the Rocks, 2018 Dates TBD (Red Rocks Amphitheatre, Morrison). Experience a vinyasa flow at 6,450 feet in one of the country's most iconic, awe-inspiring music venues, Red Rocks Amphitheatre. Surrounded by Colorado red rock with sprawling views of Denver and the plains, visitors can join 2,000 other yogis within the spiritual walls of Red Rocks from 7 to 8 a.m. for eight select Saturdays during the summer.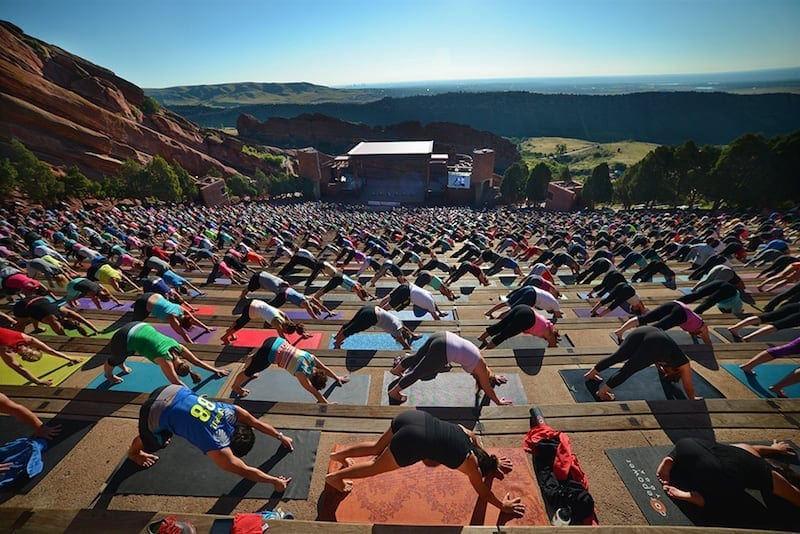 Winter Wellness Weekend at Gateway Canyons Resort & Spa, February 15-18, 2018 (Gateway). Gateway Canyons Resort & Spa hosts the Winter Wellness Weekend to encourage guests to recharge their mind, body and spirit in a beautiful red rock canyon. Weekend festivities will include yoga classes, chair massages, classes on homemade scrubs and face masks, healthy cooking demos, wellness speakers and more.
Women's Weekend of Wellness at The Broadmoor, March 8-10, 2018 (Colorado Springs). Celebrating its 100-year anniversary, The Broadmoor's history is rooted in health and wellness. When the luxury resort opened in 1918, it had one of the first spas in the country and was a popular respite for those wanting the dry mountain air to appease their suffering from tuberculosis. In celebration of wellness, The Broadmoor's 7th annual Women's Weekend of Wellness will include seminars, inspiring speakers (this year's keynote is figuring-skating champion Peggy Fleming), plus outdoor activities such as zip-lining, rappelling at the resort's new Soaring Adventures, fly-fishing and more.
Telluride WOW Festival, June 7-10, 2018 (Telluride). Situated in a box canyon surrounded by 14,000-foot peaks, Telluride WOW (Weekend of Wellness) Festival focuses on health and fitness and aims to inspire, motivate and educate visitors. The festival offers lectures, group fitness classes, one-on-one sessions by top health and fitness experts and an opportunity to explore all that Telluride has to offer in the summer including hiking, biking, stand-up paddle boarding and more.
Women in the Rockies Wellness Adventure at C Lazy U Ranch, September 9-18, 2018 (Granby). C Lazy U Ranch is a luxury guest ranch known for its location, spa and limitless activities, which include over 200 well-trained horses. The Women in the Rockies Wellness Adventure takes place at the ranch and is led by Duke health coach Janet Solie, PA, MS with a focus on overall wellness. The adventure offers plenty of time with nature, spa, horses and professional coaching.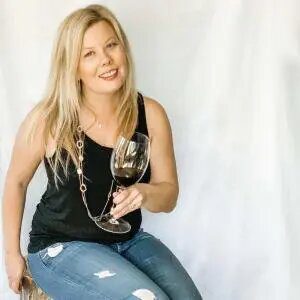 Elaine Schoch (pronounced the German way – Shock) is the editor and founder of Carpe Travel as well as an award-winning travel writer, wine judge, certified by the Wine & Spirit Education Trust (WSET) Level 2 and certified American Wine Expert. She is married to The Husband and has two kids, Princess One and Two – who's interest and knowledge in wine is quite extensive. Not to mention the stamps in their passports.