Respect the fruit and great wine will follow…
"Respect the fruit." That's one of the keys to great winemaking at Oso Libre Winery, according to Jeff Freeland, the winery's winemaker. And, it shows.
"Oso Libre" – Spanish for "Free Bear"- has its winery in Paso Robles and makes a dozen different varietal wines and blends from its estate vineyards, which focuses primarily on Bordeaux and Rhone varieties. While still considered a younger winery in Paso Robles it is fast gaining recognition for its rich, complex wines and for the unusual microclimate of the sustainably farmed vineyards that produce them.
While I didn't have the chance to stop into Oso Libre Winery when I visited Paso Robles I did have the opportunity to sample a few of its wines last month – 2012 Nativo, 2012 Carnal, and 2012 Volado. Not one wine was similar to the other, which makes total sense after speaking more with the winemaker, Jeff Freeland who told me their offerings are very diverse, "we make wines we like to drink".
While I enjoyed drinking all of them (see my full reviews in Vivino), the 2012 Carnal blew me away. It's seriously one of the best red wines I've had from Paso Robles – so far. However, it's not just a great Paso wine. The Carnal is a special wine…it's a medium bodied wine that I think rivals some of the top in California. It's layers of complexity are smooth, velvety, with hints of black cherries and an extended finish. The Rhone blend is made up of Grenache (43%), Petite Sirah (32%) and Syrah (25%). (It's ready to open and drink now so if you have the chance, get a bottle – or three.)
Due to its unique location in the Adelaida wine growing district, Oso Libre's harvest is late—typically six weeks later than other nearby regions. By extending the hang time, Jeff said the fruit develops added structure, imparting rich and complex characteristics to the grapes, an important distinguishing factor for Oso Libre wines. I have to say, this added hang time was definitely apparent in the wines I sipped… (The Adelaida wine growing district sits at the far west side of the Paso Robles AVA, 10 miles from the Pacific Ocean at an elevation of 1200-1400 feet, where sea breezes add to the region's cooler microclimate and contribute to a long growing season.)
While I always love doing my Interview with Winemaker series, because I learn soooo much from the winemakers I speak with this interview is particularly interesting to me given my love for Paso Robles… And, if you're visiting Paso Robles, make sure to check out Jeff's suggestions on things to do in Paso Robles. There's more to the area than wine. Although, that's my favorite part.
Interview with a Winemaker: Jeff Freeland, Oso Libre Winery
Tell us how Oso Libre Winery was born.
Oso Libre Winery is nestled in the Santa Lucia Mountains on the far western edge of Paso Robles' Adelaida district. We are a small, family-owned estate that lies just 10 miles from the Pacific Ocean, which is consistently cooler than the rest of Paso Robles and is proving ideal for Cabernet Sauvignon, Rhone varieties and Primitivo.
My parents, Chris and Linda Behr, acquired the 90-acre property where Oso Libre Winery sits in 1996 when it was raw land, and they set about developing it into a sustainable working cattle ranch and vineyard. After more than 10 years of getting to know the region, understanding the property's unique microclimates and learning how to grow grape vines and make wine, our family was ready to embark on the next phase—a winery. My wife Elizabeth and twin daughters, moved north from Los Angeles in 2007 and two years later the family winery opened for business.
When people visit Paso Robles, what are the top three things you think they should do/go/see?
People may not realize that Paso is a very large and diverse area. I think that visitors should try to experience a range of wineries. Folks should visit our heritage wineries; those that helped to establish Paso Robles as world class. Those would include Eberle, Tobin James, Tablas Creek or Justin (although there are many others). It's good to get a perspective from those who've been making wine for a long time and how they helped to make Paso what it is.
Then, I'd focus on the smaller wineries to see what the newcomers are doing. I think it's important for visitors to see those wineries whose wine cannot be found outside of SLO County. There are so many boutique producers that are doing amazing things.
A visit to downtown Paso Robles is a must. It really is a beautiful little town with many excellent restaurants. Paso Robles has experienced a real renaissance in the last 15 years and it shows in not only our wineries but in our lodging and eateries. I call Paso Robles "Old California" because it feels the way I imagine much of Coastal California felt like 100 years ago. Beyond the sights, we have a real community and welcoming feel here and that is what I hear most visitors tell me they like so much.
When did you fall in love with wine? Do you remember the wine that was "the one" that started it all? Is there a story behind it?
I remember visiting Firestone Winery in Santa Ynez in the late 80's while I was in high school. The entire process and facility there enthralled me. Then in college, I began reading about wine and out of curiosity I bought a bottle of 1995 Bordeaux on one occasion. I had never tasted anything like it. The experience was like drinking a piece of a foreign countryside; it was as if I could taste the distant air, soil and water (although I had never been there). It was as if wine could transfer a type of special information that no other substance could. I was hooked from then on.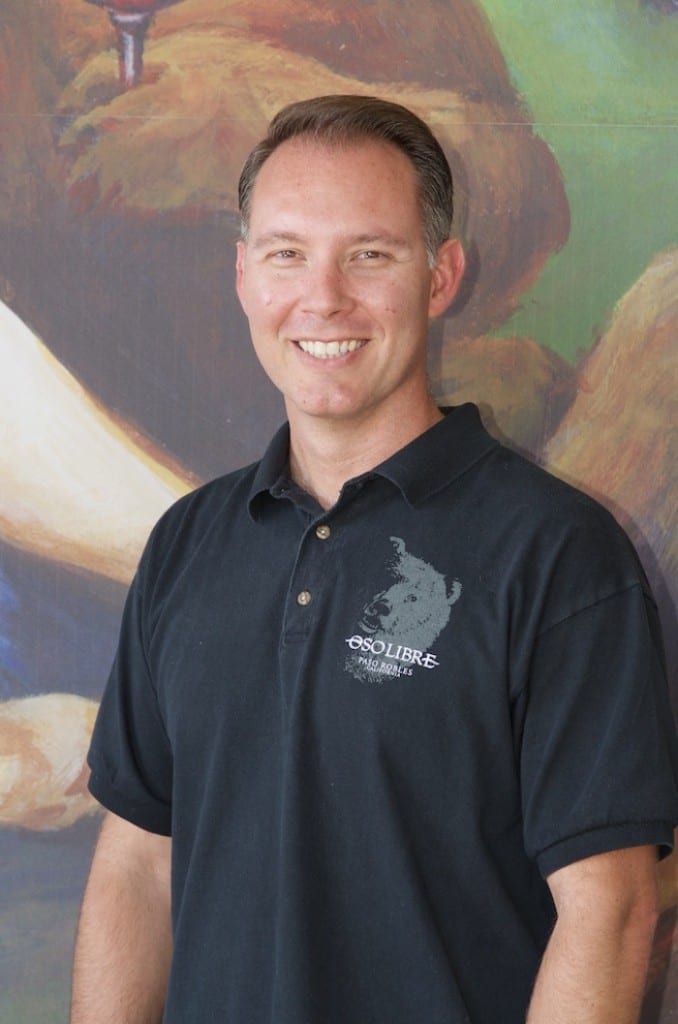 Are there any memories / lessons you learned in your training that have stuck with you?
Sometimes we tend to focus too much on chemistry. One of my mentors used to ask me all the time: "Well, did you taste it?" Isn't that the bottom line, the taste? This goes not only for wine but for fruit (grapes) too. Also, measure twice (maybe three times) then act. Always…
What resources would you reference for people who want to learn about wine? From a novice to more advanced.

First of all, one must drink A LOT of wine; sample everything you can get your hands on. I wouldn't ever try to gain wine knowledge from a book. Wine is experiential and best as a shared activity. One must try all sorts of wines and learn for yourself what you might like, don't rule anything out. Also, don't be embarrassed to enjoy something that isn't popular or trendy (or vice versa). The Internet makes all of this knowledge so much more accessible now and it's almost overwhelming. Read about the wines and producers that intrigue you. I like to study the history and geography of wine. Travel makes all the difference (do this as often as you can). Buy wine for the week at a grocery. Plan your meals around it and the knowledge will follow very quickly. Find a good wine shop (where you feel comfortable), and build a relationship with a knowledgeable proprietor. Don't feel the urge to build some grand collection just make it a part of your every-day life. Share with your friends and teach them what you've learned.
What are some of the misconceptions/phrases you hear from people regarding wine that are simply not true (or drive you crazy)?
People don't want to drink Merlot as a varietal (I won't elaborate on the reason). But, put simply, Merlot tastes good (if it's made correctly). So, we blend it into Bordeaux styles and it really adds a lot. Many will gaze at the wine in their glass and say, "nice legs" or "great color, I'm going to like this one." They'll say this before smelling or tasting the wine. Neither attribute will speak to the quality or their actual enjoyment of aroma or flavor. We often hear "do you have sulfites in your wine"? EVERYONE has sulfites in their wine. Yeast naturally secrete it during fermentation. Even the Romans added sulfites (as Vesuvius stone). There are more sulfites in most dried fruit than in wine. Although, the amount of additional sulfites a winemaker adds will vary. But, I think most folks are generally becoming much more savvy and less prone to misconceptions about wine.
What is your background as a winemaker? Where have you studied viticulture (other countries, wineries, etc.)?
I was raised in Los Angeles and close to my grandmother, whose family came from Tuscany. My grandparents drank jug wine and as a kid, I drank it blended with sparkling water! Wine was a grocery and it sat on the counter next to the olive oil. It was never seen as an alcoholic drink but really just what we drank with dinner. But I learned to appreciate it especially as it related to food. It became a hobby for me and when I was in technical sales, I became "the wine guy" in our company. I loved the history and geography aspects associated with wine. My degree is actually in Geography and Urban Analysis. I worked as a GIS engineer and eventually on to Major Account Management (traveling all over the country) prior to winemaking. As my parents developed the ranch and vineyards, we would travel to Paso very regularly and we began to build relationships with winemakers and leaned a lot about the nuts and bolts of winemaking. We decided to start Oso Libre as a winery in 2007. As a family, we attended WSET classes. Then, I completed the Viticulture and Enology Certificate from U.C. Davis and the rest is from the "school of hard knocks".
What is your winemaking philosophy?
First of all, we make wine here as a team. Each member of the family is involved as well as some key people such as Michael Barreto (consultant) and our Cellar Master, Jeff Fandrick. We say, respect the fruit and let it dictate the type of wine it is going to make. As an example, Primitivo (for us) can be highly variable in terms of sugar and acidity due to the weather of that particular year (hot or cold, wet or dry). So, the final style of the wine will be dependent upon the type of harvest we have. Some years, the Primitivo is a big, fruit bomb, other years, it's more elegant and light, and for some years it falls in-between. We won't force a style on fruit that can't produce that style. There is a lot to be said for consistency but I think a lot more people are seeking authenticity these days.
What would you hope people say about your wine?
We hope that people will want to share our wine with friends and family. That is the greatest honor. When people tell us that they took our wine to Thanksgiving or some important dinner event, we feel very lucky to be a part of that.

How does your approach differ from other winemakers in Paso Robles?
Our team approach is not totally unique in Paso but there is no "lone wolf" here. That said, we are like- minded and seek a certain style. One major difference is that we age wines longer than most wineries, sometimes two years longer. Our Reserva Bordeaux blend is aged just over three years. Even our Zinfandels and Rhone blends are aged for over two years. We do this so that our customers can enjoy the wines when we release them and are never told to lay them down for a time before they can be fully appreciated. So, we use mild oak that helps keep the aged wines from being too woody. We also use mild oak that does not impart heavy flavor influences and that lets the fruit show more.
What varietals are most grown in Paso Robles? How do these compare to what you're growing? Why?
I think that Cabernet Sauvignon, Merlot, Syrah and Zinfandel are planted in greatest numbers. But Paso is so diverse, and there are so many microclimates and soil types that there are scores of varieties planted. Styles change and so plantings tend to follow the trends. As a pattern, it seems that Cabernet Sauvignon is king with Rhones becoming more popular. Zinfandel is a consistent favorite and (with changing styles) is seen as a fine wine much more that it was 10 years ago. So, as a coincidence, we grow Cabernet Sauvignon, Primitivo (Zinfandel), Mourvédre and Viognier (both Rhone varieties). Our product line is based on these cornerstones.
Tell us about Oso Libre wines…
Oso Libre makes a dozen different varietal wines and blends from its estate vineyards, focusing primarily on Bordeaux and Rhone varieties. Our offerings are diverse because we make wines we like to drink.
These include:
-Nativo (Estate Primitivo)
-Carnal (Grenache, Syrah, Mourvedre & Petite Sirah blend)
-Querida (Cabernet Sauvignon)
-Volado (Viognier, Rousanne, Marsanne blend)
-Grande (Bordeaux-style blend)
-Revolución (Syrah, Petite Sirah blend)
-Quixotic (Estate Cabernet Sauvignon)
-Reserva (Estate Cabernet Sauvignon, Merlot blend, aged for 3 years in French oak)
-Rosalinda (Rosé blend of Mourvedre, Syrah, Grenache, Viognier)
Oso Libre Winery makes about 4,500 cases of wine a year, we are focused squarely on quality rather than increasing production. The wines are made in small lots, which enables the team to manage consistency and quality, and we believe in minimal manipulation in the winemaking process to show the full expression of the fruit. Multiple harvest fractioning, hand-sorting of the grapes, open-top fermentations, unfiltered wine methods and extensive blending trials are some of the techniques the Oso Libre team employs in our winemaking to achieve the highest quality wines. We even insist on giving our wines extended bottle age before release – often three to seven years – which allows for optimal drinking.
Food pairing suggestions for the Oso Libre 2012 Nativo, 2012 Carnal, and 2012 Volado?
For Nativo, I like to pair it with flavorful white meats like turkey or pork. Primitivo is also wonderful with BBQ favorites like ribs, brisket and pulled pork. Carnal fits really well with the more wild flavors like duck, venison, lamb, etc. It's really nice with mushroom heavy dishes or truffles. I also like it with strong cheeses, as it doesn't clash. Volado is amazing with Asian spiced dishes, shelfish and also with cream based sauces that may be used in pasta. It's awesome with fried chicken too!
Oso Libre Winery practices "unique" and environmentally and economically sustainable practices farming techniques, can you tell us what all this entails?
As any winemaker will acknowledge, good wines begin with good fruit. We have put a workforce in place that helps maintain and cultivate our prized vineyards in the most sustainable way. As part of our commitment to sustainable farming practices, the family relies on a herd of 50 Olde English Babydoll sheep, seven Alpacas and plenty of free-range chickens that together add nutrients to the soil and help with fertilization, insect control, and weed abatement. Fourteen barn owl boxes have even been installed throughout the property to naturally control the ranch's rodent population. In addition, more than 40 Black Angus cattle graze on the estate and give back to the ranch by naturally fertilizing and eating the wild grasses.
Along with progressive farming methods, we have embraced the use of renewable energies to a level undertaken by few in the California wine business. A Wind Energy Conversion Facility (WECF) on the ranch, along with 77 solar panels, has reduced the winery's carbon footprint to zero. And the Oso Libre vineyards are certified and designated Sustainability in Progress (SIP).

All of the vines at Oso Libre Winery are SIP (Sustainability in Practice) certified. What is this, why is it important and how does it set Oso Libre apart?
We, as a life choice, focus on habitat conservation, energy efficiency, pest management, water conservation, economic stability, and human resources. Sustainable agriculture rests on the principle that we must meet the needs of the present without compromising the ability for future generations to meet their own needs. It addresses stewardship of both natural and human resources and in agriculture it means that decisions are made with the whole farm system in mind as well as productivity in the long and short term.
Sustainability in Practice (SIP) Certified is a rigorous sustainable vineyard and wine certification with strict, non-negotiable requirements. SIP is committed to standards based on science and expert input, independent verification, transparency, and absence of conflict of interest. We pride ourselves on the program's rigor and integrity, which have earned SIP the reputation as being the gold standard for sustainable certification.
Visiting Oso Libre Winery: Do people need to make a reservation? Why are you closed Tuesday?
A visit to Oso Libre Winery offers guests much more than wine. Just off Highway 46 towards Hearst Castle, the mountain setting boasts outdoor patio seating just steps from the vines. A spacious and welcoming tasting room is open every day except Tuesdays, and visitors are encouraged to take their time tasting and learning about Oso Libre's limited production wines. The winery is dog and kid-friendly and families can view the "working partners" grazing in the pastoral, mountainous ranch setting.
Have you visited Oso Libre Winery in Paso Robles? Sipped any of its wines? What did you think? Let us know in the comments.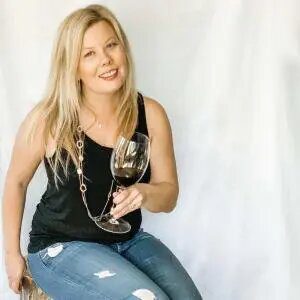 Elaine Schoch (pronounced the German way – Shock) is the editor and founder of Carpe Travel as well as an award-winning travel writer, wine judge, certified by the Wine & Spirit Education Trust (WSET) Level 2 and certified American Wine Expert. She is married to The Husband and has two kids, Princess One and Two – who's interest and knowledge in wine is quite extensive. Not to mention the stamps in their passports.