Do you have go-to wines? Bottles of wine you know will pair well with nearly anything you're serving? Wines you know will always be reliable? Wines you have simply come to trust and purchase each and every time you visit the wine shop? Wines that have become so common in your life that sometimes you don't appreciate them the way you used to and still should? I do. I have a long list of "go-to wines" that one day I'll post, for now I can tell you that Franciscan Estate's Merlot and Cabernet Sauvignon are on the list.
I recently had the pleasure of interviewing Janet Myers with Franciscan Estate. She procudes both Franciscan Estate's Merlot and Cabernet Sauvignon and sampling a few more of her wines. She also happens to have worked for Robert Mondavi Winery and Stag's Leap Wine Cellars – two of my other favorite California producers. Silly me, I hadn't ventured past her Merlot or Cabernet Sauvignon. Not for any specific reason other than I got stuck on my "go-to" list. Something I must work on not doing. I discovered Franciscan is more than Merlot and Cabernet Sauvignon. Myers produces a seriously special Chardonnay – Cuvee Sauvage Chardonnay. It is one of the most unique Chardonnay's I've had the pleasure to sip. It's a rich, full-bodied, complex and layered Chard. It's a big, smooth wine with a hint of vanilla and oak on the finish. They also produce a Sauvignon Blanc and Rosé which I have not yet sampled, but will! (Are you on Vivino? I am and you can follow all my wine reviews here.)
Not only did my interview with Janet lead me to a new discovery – Franciscan's white wines – but a renewed appreciation for Franciscan. After all, it's not just the wine that needs to be appreciated but those who produce it and their stories. It was a pleasure getting to learn more about the artist behind the art. Cheers!
Janet Myers, Director of Winemaking at Franciscan Estate in Napa Valley
Tell me a bit about your background and how you became involved with Franciscan Estate and Mount Veeder.
While in my native Illinois, I earned a B.S. in Biology, and later when I got into wine, came to UC Davis where I graduated with a M.S. in Enology. While there, I got my first harvest experience, at Robert Mondavi Winery, then afterward went abroad for two harvests. After settling back in Napa, over the next 7 years I gained experience with Louis Martini Winery, Stag's Leap Wine Cellars, and Beaulieu Vineyards. In 2003 I took a role with Franciscan Estate / Mount Veeder Winery, and was really impressed by the team, their collaborative approach to winemaking and their incredible vineyard resources. After 2 years I was promoted to Director of Winemaking and General Manager – a post that I have held since 2005.
What prompted you to pursue winemaking as a career?
There was no single thing, but a trip to Italy was pivotal: I was doing a stint learning Italian in Umbria, where a friend and I visited the renowned Lungarotti Winery. There, we encountered beautiful vineyards, archaeological finds related to wine and an amazing restaurant with spectacular hospitality. We enjoyed a meal where the wines and foods were in perfect harmony. The whole experience left an impression: family winemaking, history, agriculture, beauty, food, flavors and the artisanal aspect of it all was irresistible. Back in London, where I was living at the time, a light bulb clicked and I announced to my friends, "I'm going to do this."
Winemaking may be in my DNA as well: My Dad's family were Midwestern fruit growers, and my Mom's side is from Sicily (and made wine), so getting a winemaker from that combination does not seem so far-fetched in hindsight.
Where else in the world have you worked/studied wine? Do you think it's important for winemakers to work in different wine regions? Why?
After my studies at UC Davis, I worked back to back vintages in two of the world's great wine regions – at Piero Antinori's Santa Cristina Estate in Italy's Chianti Classico, and at a small winery in Western Australia's Margaret River. These experiences working in both old world and new world vineyards were invaluable, giving me broader perspective on winemaking and the breadth of possibilities for wine. I saw really different approaches used in Chianti and the Margaret River and these divergent experiences taught me not to be dogmatic about winemaking. I brought everything I learned abroad back to Napa where I've worked ever since. I think every young winemaker will benefit from having a range of winery experiences to enhance their skills and perspective. Seeing that there is no one way to do things is a great lesson and opens your mind to possibilities.
If you could travel to any wine region in the world to explore the wines, where would it be and why?
It's hard to pick just one, but let's start with Burgundy. If I'm not drinking Cabernet Sauvignon, then I typically reach for a Pinot Noir. It's such a good counterpoint for the palate, and I love the dark cherry, earthiness, violets, and silky texture. From Burgundy, on to Champagne, then to Alsace!
How does your approach differ from other winemakers?
I'm not sure if this differs from others, but to me, it all starts with a vision. When you have an instinct, and can envision how the wine will best express the fruit, it's like a compass. From there the winemaking techniques, oak selection, and aging parameters are chosen to achieve the goal.
I also believe in a collaborative approach. In addition to myself, we have two winemakers and an enologist on the tasting team. Together we assess each lot and rate quality and character. From these initial tastings trial blends are conjured, which are tasted blind as we hone the blends over the months of barrel aging. It's an exacting process that is both collaborative and iterative. I love working with my team in this way — crafting and seeing the wines come to fruition.
Are there any memories / lessons you learned in your training that have stuck with you?
One lesson that applies to almost everything – life, work, and winemaking – is to stay positive. Try to make it a reflex. What happens to us is often not as important as how we react to it. Stuff is going to happen. The quicker you can get to looking on the bright side, instead of moaning about it, the quicker you'll be able to find a solution and move forward, and the better off everyone will be – you, your team, and of course the wine.
What are some of the misconceptions/phrases you hear from people regarding wine that are simply not true (or drive you crazy)?
Snobbery about wine in general makes me nuts. Telling folks what they should like, which glass they have to use, what they should drink with what food, or that they should "move up" from a particular wine. Drink what you like, when you like, period. Definitely keep an open mind to trying new things, or re-checking your own biases, but – if you find that you just like Chardonnay all the time, or Merlot with salmon, or Champagne with steak – go with it.

What is your winemaking philosophy?
To me, Franciscan Estate and Mount Veeder represent a contemporary approach to classic Napa Valley winemaking. I want my wines to be stylistically evolved to present standards without being trendy or straying too far from our Napa Valley heritage and core. Terroir-oriented wines that express place, with balance and great integrity of fruit are my focus.
When did you fall in love with wine? Do you remember the wine that was "the one" that started it all? Is there a story behind it?
There wasn't just one, but an early memorable event happened while I was in grad school for Biological Anthropology in Wisconsin. A good friend hailed from Berkeley, California and knew a thing or two about wine. She ordered a Napa Valley Cabernet Sauvignon, from a well-known house – I wish I could remember which one – and it was big, rich, and beautiful, with great texture and structure. It was so outstanding, it was the best red wine I'd had up to that point. It really made an impression as to what really good wine was all about.
What would you hope people say about your wine?
I would hope they would view them as classic bottlings representing the best that Napa Valley can offer: delicious, food-friendly wines that are rich, flavorful, and with great fruit vibrancy.
What resources would you reference for people who want to learn about wine? From a novice to more advanced.
As a place to start, the University of California at Davis Enology and Viticulture Department is a good source, there are links to info for continuing education and the wine industry. Go to http://wineserver.ucdavis.edu/ . Also, their extension program has a wide range of courses, from wine appreciation classes to a winemaking certificate program, at https://extension.ucdavis.edu/areas-study/winemaking.
There is a very good bookstore too, both on campus and online, with a really good selection of books on enology and wine.
What is unique about Franciscan Estate? What makes your vineyard different than others in Napa Valley?
Our vineyard assets are among some of the best in the Napa Valley: Franciscan's Oakville Estate Vineyard sits on prime Napa Valley soils in the heart of the Oakville AVA. The three hillside vineyards that comprise our Mount Veeder estate, are similarly exceptional with steep slopes and varied aspects.
Such amazing vineyards give us a great foundation for making beautiful wines.
Similarly, in the cellar, we have exceptional tools at our disposal. Our 160 fermenters allow us tremendous flexibility during winemaking. Having such a diversity of small wine lots (typically 300 red wine lots and 150 whites for each vintage) allows us to build beautiful flavor, character, structure and length in our finished wines.
And what are some of your favorite things to pair with wines from Franciscan Estate?
Pairing rules of thumb are a good place to start, but as I point out all the time, wine and food pairing is so individual that almost anything can work when one is partial to a particular wine. If I say goat cheese and Sauv blanc are a naturally dynamite combo, but you don't like Sauv blanc, then forget it, have your Riesling or Cab with the goat cheese and be happy. Some pairings I am partial to are our Sauvignon blanc and Ricotta ravioli with lemon sage sauce; Equilibrium White with Diver Scallops and Thai curry (shown below); our Rose' of Syrah with Dungeness crab; Cuvee Sauvage with grilled salmon; our Merlot with Pork Tenderloin and huckleberry sauce; and our Magnificat with Flat iron steak with grilled maitake and shitake mushrooms.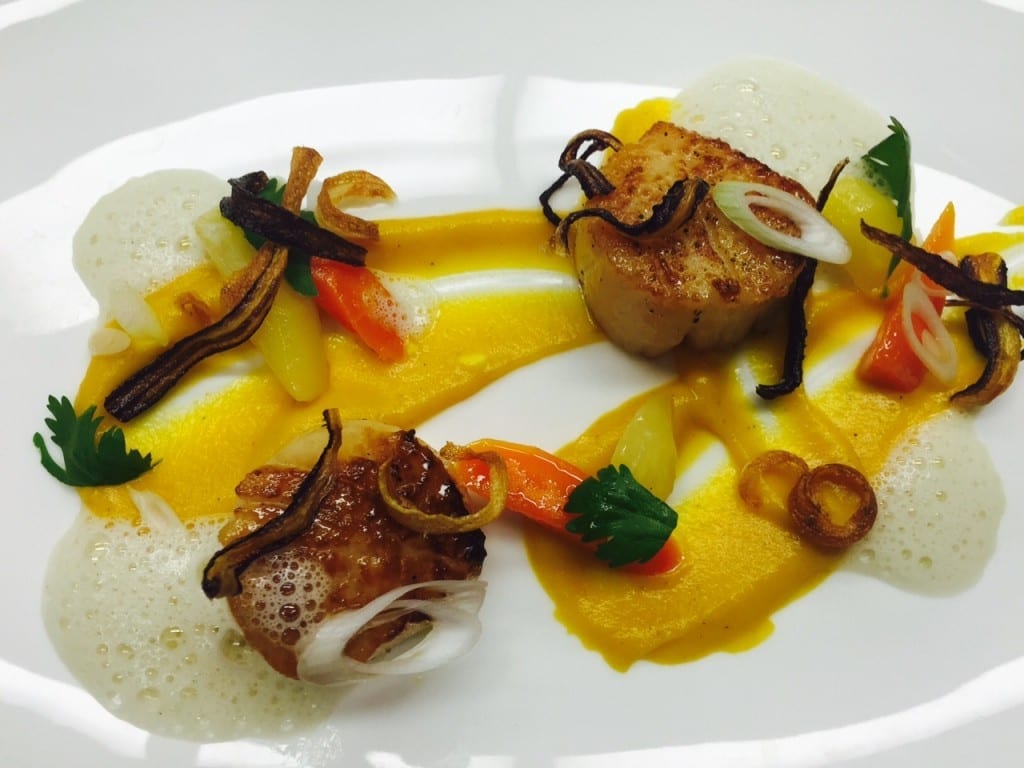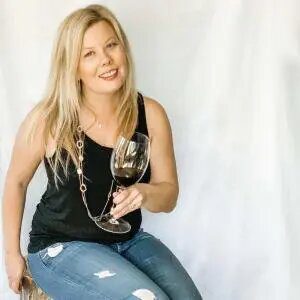 Elaine Schoch (pronounced the German way – Shock) is the editor and founder of Carpe Travel as well as an award-winning travel writer, wine judge, certified by the Wine & Spirit Education Trust (WSET) Level 2 and certified American Wine Expert. She is married to The Husband and has two kids, Princess One and Two – who's interest and knowledge in wine is quite extensive. Not to mention the stamps in their passports.