Arizona Travel Trivia to Sip In.
Legend has it Phoenix acquired its name from the mythological bird – The Phoenix, an immortal bird that rises from its own ashes – a great city was to said to rise from the banks of the Salt River the original settlement was built along. That's just one of fun facts about Phoenix I picked up when we were exploring a move to Phoenix. While we ultimately decided to stay in Denver, I discovered a lot of fun things to do in Phoenix – and fun facts about its colorful history.
Wanna know more facts about Phoenix? Read on and if you're planning on visiting Phoenix, try quizzing your travel companions – or better yet – the locals on these 25 fun facts about Phoenix.
25 Fun Facts About Phoenix
1. Phoenix is the sixth-largest city in the United States' with a population of over 1.4 million, as of the time of posting this article.
2. Forget "falling forward" and "springing back". There is NO daylight savings time in Phoenix.
3. Phoenix sits within the Sonoran Desert, which is home to the saguaro cactus, found in no other desert in the world. This type of cactus can grow as tall as 50 feet and live as long as 200 years. (They're the really big ones you always see in the movies, which might help you place where the movie was filmed.)
4. Phoenix has quit the movie industry films such as "Waiting to Exhale," "Raising Arizona," and "Psycho" were all filmed here.
5. At one time Phoenix was thought to be home to the fabled Seven Cities of Cibola, which explains why the Spanish Conquistadors came to the explore the area in the mid-1500s.

6. Phoenix is home to South Mountain Park and Preserve, the largest municipal park in North America. The park covers more than 16,500 acres and has more than 50 miles of hiking, biking and equestrian trails. (There a lot of family friendly hikes here!)
7. There were 32 days last year that were over 110 degrees in Phoenix. (You can literally fry an egg on the sidewalk in Phoenix.)
8. The Mystery Castle in Phoenix is a sweet testament to a fathers love for his daughter. After building sand castles on the beaches in Seattle, Boyce Gully's daughter asked him to build her a castle that wouldn't wash away. Years later he did just that when he built an 18-room castle in the Sonoran Desert. Today the castle is noted on the Arizona Historic Register and open for tours.
9. Camelback Mountain is a prominent landmark in Phoenix. True to its name, the mountain, which summits 2,704 feet above sea level, resembles the hump and head of a kneeling camel.

10. Even winter is warm in Phoenix; the average temperature is 67 degrees.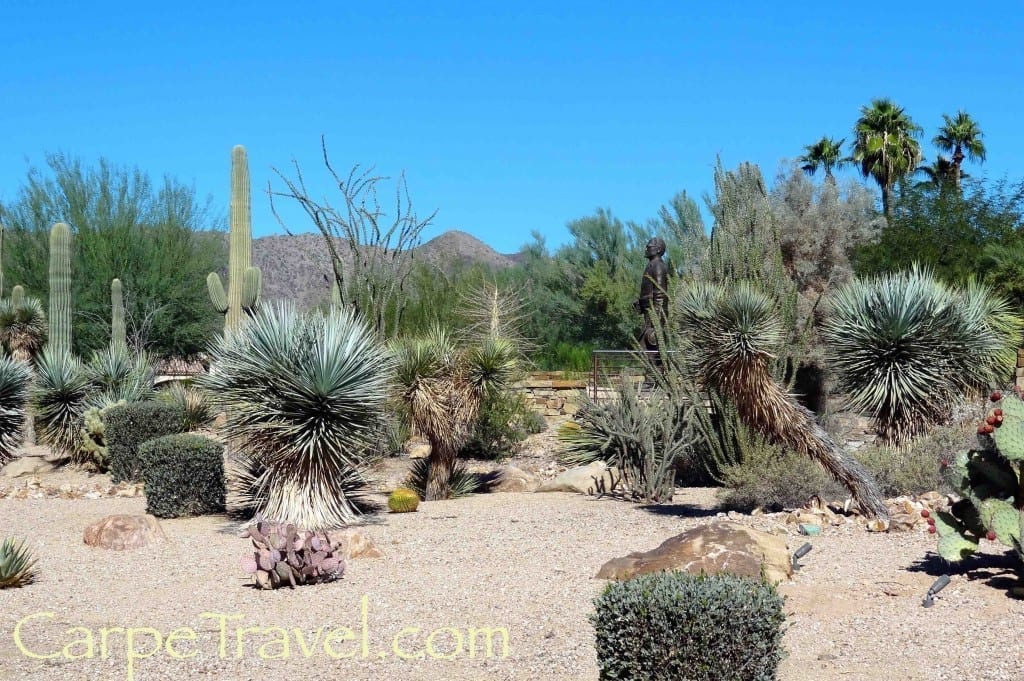 11. It's estimated that 400,000 "Snowbirds" come to Arizona each winter, usually from October or November through April or May. (Snowbirds are not birds, they're typically retirees leaving winter weather and escaping to Phoenix for a warmer climate.
12. There are 21 deserts in the world, four of these deserts are in North America. Phoenix sits in one of these – the Sonoran Desert. It's home state of Arizona is the only state in the USA to have a section of all four of the North American deserts within its borders.
13. There are 22 Native American tribes, communities and nations in Arizona—more than in any other state—and more than 300,000 American Indians call them home.
14. While being in a desert, Phoenix is NOT at sea level. Its elevation is 1,117 feet ABOVE sea level.
15. There are 365 days in the year and of these days 334 are filled with sunshine in Phoenix. According to data compiled by the National Climatic Data Center, Phoenix basks in sunshine more often than any other major metropolitan area in the U.S.

16. Fifty-percent of Major League Baseball teams – 15 teams – have Spring Training in the Phoenix area.
17. Wanna catch a game? Phoenix is one of 13 US cities with franchise in all four major sports leagues: Phoenix Suns (NBA), Arizona Diamondbacks (MLB), Arizona Cardinals (NFL) and Arizona Coyotes (NHL).
18. Phoenix has hosted the Super Bowl three times: Super Bowl XLIX in 2015, Super Bowl XXX 1996, and Super Bowl XLII 2008.
19. It's not just sports and warm weather that attracts people to Phoenix. Travel and Leisure named Phoenix one of its top 30 cities for food in the US.
20. Sky Harbor airport in Phoenix is the 10th busiest airport in the nation, serving about 40 million passengers a year.
21. The city has more than 62,000 guest rooms at nearly 500 hotels and more than 40 resort properties but you still might have a hard time finding a room during the winter months.
22. With more than 200 golf courses, Phoenix has become one of the top golf destinations in the world.
23. Ever heard the word haboob? If you live in Phoenix you surely have. So what's a haboob? The largest and most dangerous type of wind/dust/sand storm; it can last up to three hours. According to the National Weather Service, Phoenix experiences on average of three haboobs every year during the months of June through September.
24. Phoenix has consistently outpaced the U.S. population growth over the last 18 years. Projections show the region is expected to grow by nearly 60 percent by 2030, bringing the population to more than 6 million people. (Keep in mind the population in the entire state of Arizona is 6.7 million!)
25. In 1939 a group of Phonecians – what people from Phoenix are called –were on a mission to "Save the Desert". Through their efforts they founded the Desert Botanical Garden, now home to 140 acres with 21,000 plants, one-third of which are native to the area, including 139 species which are rare, threatened or endangered. (The Desert Botanical Garden is a must see if you're visiting Phoenix.)
Are there other fun facts people should know about Phoenix? Let us know in the comments.