What do the intersection of science, art and winemaking have in common? In two words, Renée Ary, a chemistry and art graduate who became a winemaker. To be exact, the fourth winemaker in Duckhorn Vineyards long winemaking history. One of the first bottles of Merlot I ever had – and loved – was from Duckhorn Vineyards. It's also one of the first vineyards I ever visited in Napa Valley. In other words, I have special place in my wine cellar for Duckhorn Vineyards. So when I was invited to attend a private tasting of its new Canvasback wine and meet with the winemakers here in Denver, I has thrilled. Even more excited when Renée agreed to take part in my Interview with a Winemaker series. So without further adieu, let me introduce you to Renée Ary…
Tell me a bit about your background and how you became involved with Duckhorn Vineyards.
I was born and raised on the East Coast, but I moved to California to attend Saint Mary's College, where I earned a degree in chemistry and art. I was fascinated by the intersection between science and art, which ultimately led me to winemaking. I started out in the laboratory of Robert Mondavi Winery in Oakville, where I spent four years working closely with Genevieve Janssens, Steve Leveque and Richard Sowalsky. In addition to this invaluable hands-on experience, I augmented my understanding of winemaking and viticulture by studying at UC Davis and Napa Valley College. I came to Duckhorn Vineyards in 2003. Since then, I've gone from lab manager to enologist to assistant winemaker to associate winemaker and ultimately to being named the fourth winemaker in Duckhorn's long history, which is an incredible honor.
How does your approach differ from other winemakers?
There are so many talented winemakers out there, and so many different approaches. I think we all bring our own unique backgrounds and experiences to our craft. I think what makes me a good winemaker is my love for both the technical and artistic sides of winemaking, and my ability to find the right balance between the two.
Are there any memories / lessons you learned in your training that have stuck with you?
I learned my work ethic from my dad at an early age. He was an extremely hard-working individual. He also taught me how important it is to enjoy what you do, and that if you love your work, it will inevitably bring forth a sense of pride. As far as lessons learned along the way, I'd say that I learned early on in blending that 1+1 doesn't always equal 2. Wines do interesting things when you blend them together, and this is where the art of the blend comes into play.
What is your winemaking philosophy?
You'll hear this from a lot of winemakers, because it is absolutely true. Winemaking starts in the vineyard, so sourcing is key. As a winemaker, I am incredibly fortunate to work with seven remarkable estate vineyards, as well as grapes from some of the best winegrowers in Napa Valley. I also believe that balance is key in life, and that this philosophy holds true for winemaking as well. In addition, I believe that the little details make a big difference, so I try to pay attention to all of the details, without getting lost in them.
What would you hope people say about your wine?
That it's a wine they will remember and will want to drink over and over again!
What resources would you reference for people who want to learn about wine? From a novice to more advanced.
There are a lot of great books out there on winemaking, viticulture, tasting, etc. My advice is to use a variety of resources. I also think hands-on experience is priceless. This experience can come from something as simple as tasting at a new winery, or tasting varietals outside of your comfort zone, to doing a harvest internship abroad. Wine is a sensory experience (touch, taste, smell) and should be approached as such.
What are some of the misconceptions/phrases you hear from people regarding wine that are simply not true (or drive you crazy)?
There are a couple of things that jump to mind. When people meet me and find out I'm a winemaker, I often get asked about the legs on a glass of wine. The truth is, nobody really cares about the legs on a glass of wine! Also, people will often say a wine is sweet, when what they are really tasting is upfront fruit, not sweetness.
Duckhorn Vineyards produces several varietals but the main focus has really been on Merlot. Why Merlot? And how does the amount of Merlot produced compare to the vineyard's other varietals?
From our very first vintage in 1978, we have always championed Merlot. Though many Napa Valley wineries were using Merlot as a blending grape in the late seventies, few were exploring the potential of this varietal as a standalone wine. A great fan of Merlot since traveling to St. Emilion and Pomerol, Dan Duckhorn felt that it was under appreciated in North America, and he and Margaret pioneered the idea of Merlot as a luxury varietal here in Napa Valley. This drive and passion is still alive today, and I believe Merlot is a varietal that, when made correctly, exhibits a level of structure, and a degree of finesse and elegance that is fascinating on so many levels. In terms of our total production, Merlot represents about 50% of the vines planted at our estate vineyards.
What is unique about Duckhorn Vineyards? What makes your vineyard different than others in Napa Valley?
Duckhorn has been focused on producing classic, full-bodied, food-friendly, age-worthy Napa Valley wines for almost four decades, and because of this focus and dedication, we have a lot of experience doing what we do. Just as important, we have never chased trends. We have always remained true to our style, and will continue to make wines that are classic and timeless.
Can you share a little about the 2014 growing season and what we should expect from the wine.
In some ways, 2014 was a bit of a tricky growing season here in the valley due to the ongoing drought. This said, it is always amazing to see how the vines hold up, and at times excel, under different types of stress. The drought pushed things forward and changed the typical ripening patterns, but other than that, there was very little impact on the fruit. It was a warm vintage, and as a result the wines offer beautiful concentration and elegant tannin structure. At this early stage in the development of the 2014 wines, I'm particularly enthusiastic about our Chardonnay. It came into the winery perfectly ripe, had excellent fermentations and is displaying lovely varietal purity and character.
The new Canvasback wine – what would you suggest people pair it with? And what are some of your favorite things to pair other Duckhorn wines with?
I'd pair Canvasback, which is our new wine from Red Mountain in Washington State, or our Duckhorn Vineyards Napa Valley Merlot with rack of lamb. Lamb is a great match for the juicy, intense flavors and firm structures of both wines. As far as other Duckhorn pairings, one of my absolute favorites is to pair our Sauvignon Blanc with oysters or ceviche. Our Chardonnay goes beautifully with truffled scallops or lingcod fish and chips.
When did you fall in love with wine? Do you remember the wine that was "the one" that started it all? Is there a story behind it?
It was more about a feeling than a single wine that made me fall in love with wine and the industry. I fell in love with wine while working my first harvest. The excitement and energy that took over the valley once harvest started was something I knew I would never forget. This is when I knew the wine industry would be a life-long career.
Besides your wines, what are a few of your favorite wines?
Beyond the wines that we make here at Duckhorn Wine Company, some of my go-to wines are Hartford Court's Hailey's Block & Velvet Sisters Pinot Noir. I am also a big fan of Dutcher Crossing's Taylor Reserve Cabernet Sauvignon and their Maple Vineyard Zin. I also like Stuhlmuller Vineyards Chardonnay.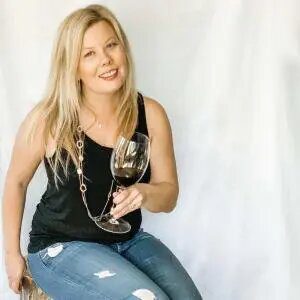 Elaine Schoch (pronounced the German way – Shock) is the editor and founder of Carpe Travel as well as an award-winning travel writer, wine judge, certified by the Wine & Spirit Education Trust (WSET) Level 2 and certified American Wine Expert. She is married to The Husband and has two kids, Princess One and Two – who's interest and knowledge in wine is quite extensive. Not to mention the stamps in their passports.