By Teresa Kao
I had a particularly ambitious plan for today so decided to try the hotel breakfast. It wasn't cheap at 14 Euros but it was excellent. I had ham and cheese on semels (a local roll about the size of a bagel but less dense), scrambled eggs, several glasses of orange juice, and coffee. Everybody here see
ms to have the single serving machines where you push a button for espresso, cappuccino, cafe, or a couple of other things. They also had all sizes of cups to accommodate the various drinks. I ate a lot and good thing too, since I would need all my energy. There are a lot of things to do in Salzburg…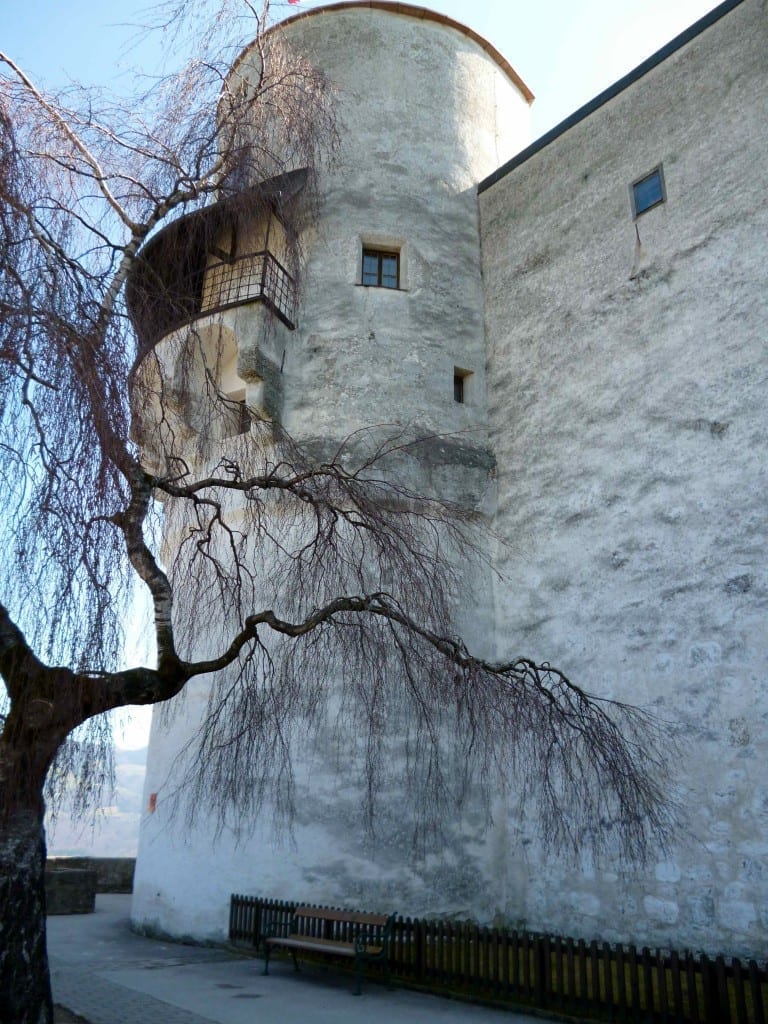 Things to do in Salzburg: Hohensalzburg and the Monchsberg Hill
I set out for Nonnberg Abby at the far end of Altstadt. It's where the nuns disabled the nazi car in Sound of Music.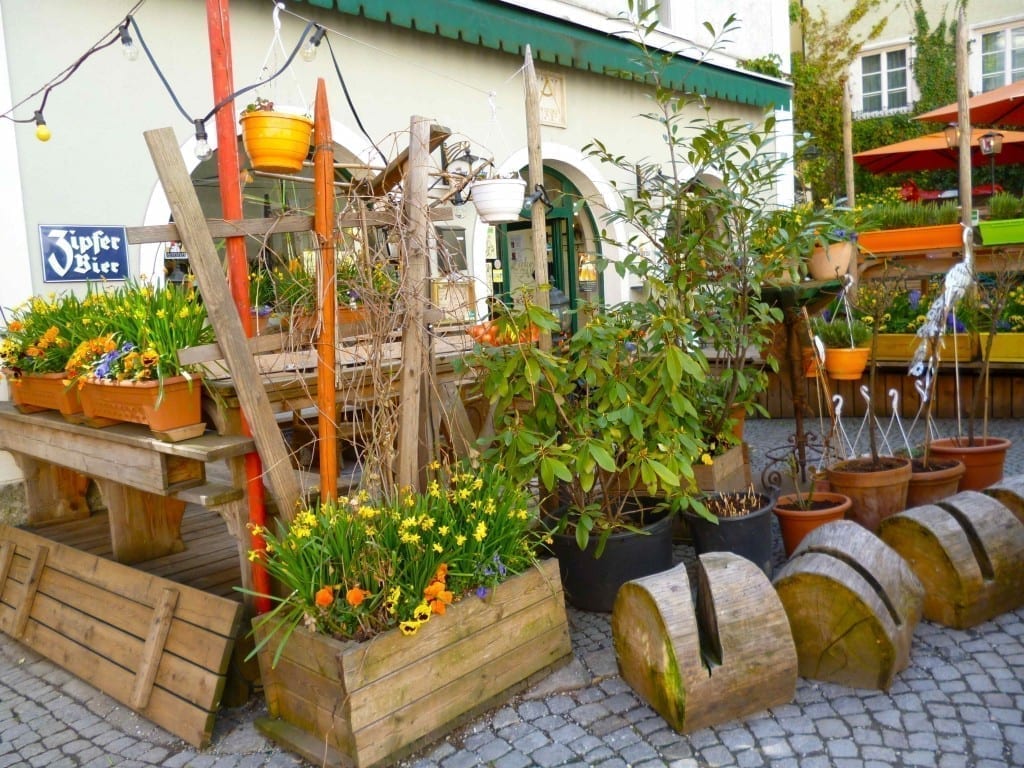 It was a good long walk and I stopped partway to have a drink and sat and enjoyed the interesting things around me. It was a small street with odd and interesting shops but seemed to have a lot of bike traffic. By the time I reached my resting point I had already encountered several groups of children walking along the sidewalks. I must conclude that walking the Salzburg streets is a significant component to their curriculum.
The buildings in this area are cement and the street is cobblestone and very narrow, all very gray, so it was a delight to come upon this plant shop. Greenery and flowers definitely brighten things up.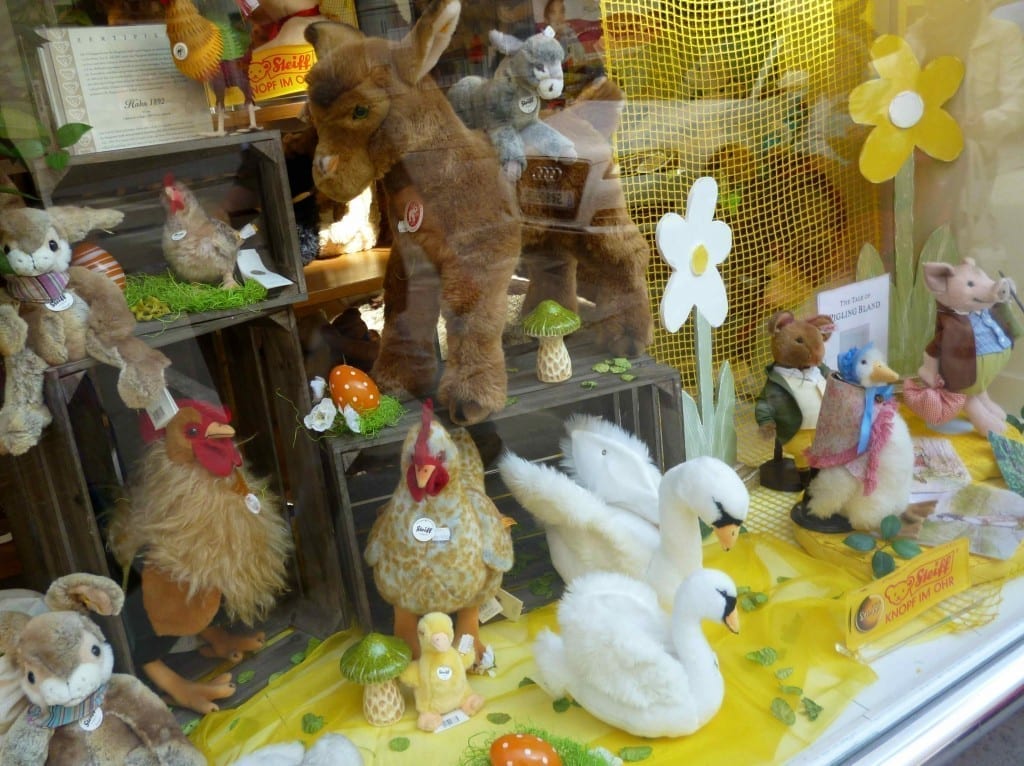 When I got into the Nonnberg Abby immediate area, the shops were clearly aimed at the tourist. One that I found particularly appealing specialized in stuffed animals, and not just the few animals we are accustomed to but all sorts of animals. I thought my two-year old granddaughter Joey would enjoy this picture of some of them.
I chose to forego the funicular that went to the castle and decided to walk. How bad could it be? I had done it many times when I was here before and it didn't even make an impression as difficult at all. The walk was endless, alternating from uphill to steep. I felt like I was climbing the Matterhorn and expected snow fields any minute.
The berg is really no more than a hill, probably no higher than the one we used to live on in West Linn. Turns out that I was in a lot better shape when I was 19 than I am now. After many brief stops to rest I got to the castle entrance and paid my fee. I thought that was it but no, it went on for several more steep sections followed by flights of steps. Eventually I was in the courtyard, and found my way out to the artillery area, and this I recognized! The view is beautiful and a friend and I had spent time enjoying the quiet of being above it all. I took pictures but they just look like Salzburg in the distance, nothing like it is to be up there.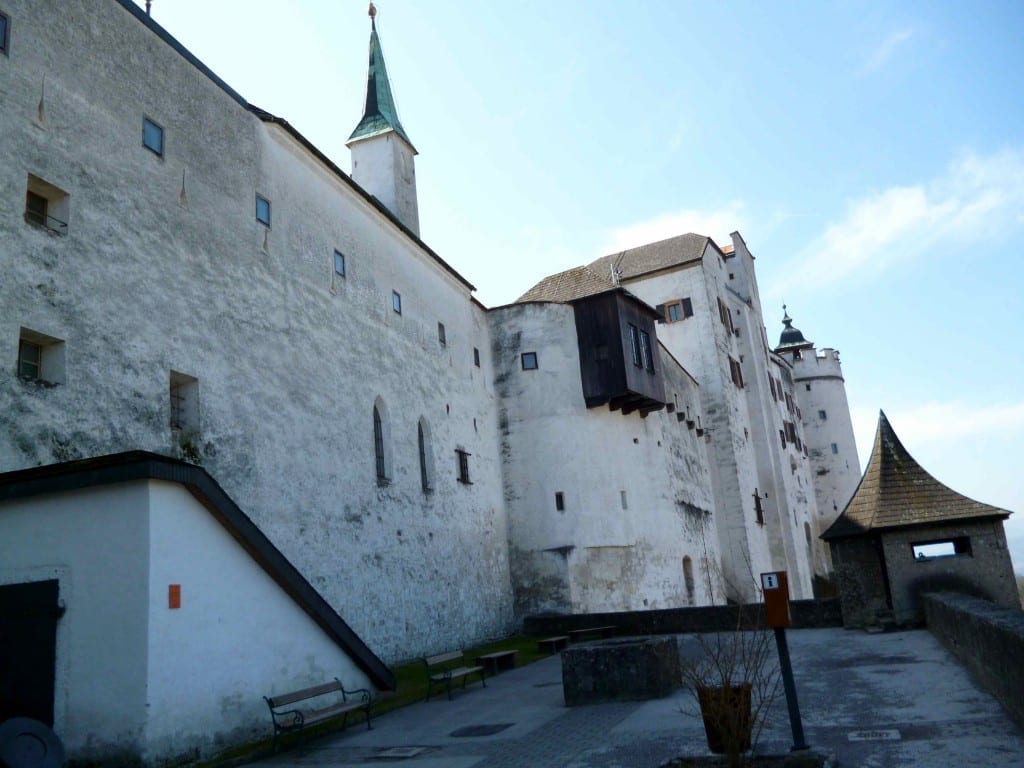 I took a good rest and drank water while sitting under a tree facing the chapel. I must say that European chapels and churches are quite inspiring. The approach is so different from home. The side of the chapel had a painting and some reliefs. I don't know if you can tell from the picture, but the upper part of the painting has a grid, signs of the zodiac, roman numerals, and other figures, and way at the top is a little ball at the end of a metal spike, and the sun throws the shadow onto the exact time of the season it is. Not a sun dial but a season dial. Very clever and surprising to put on a chapel!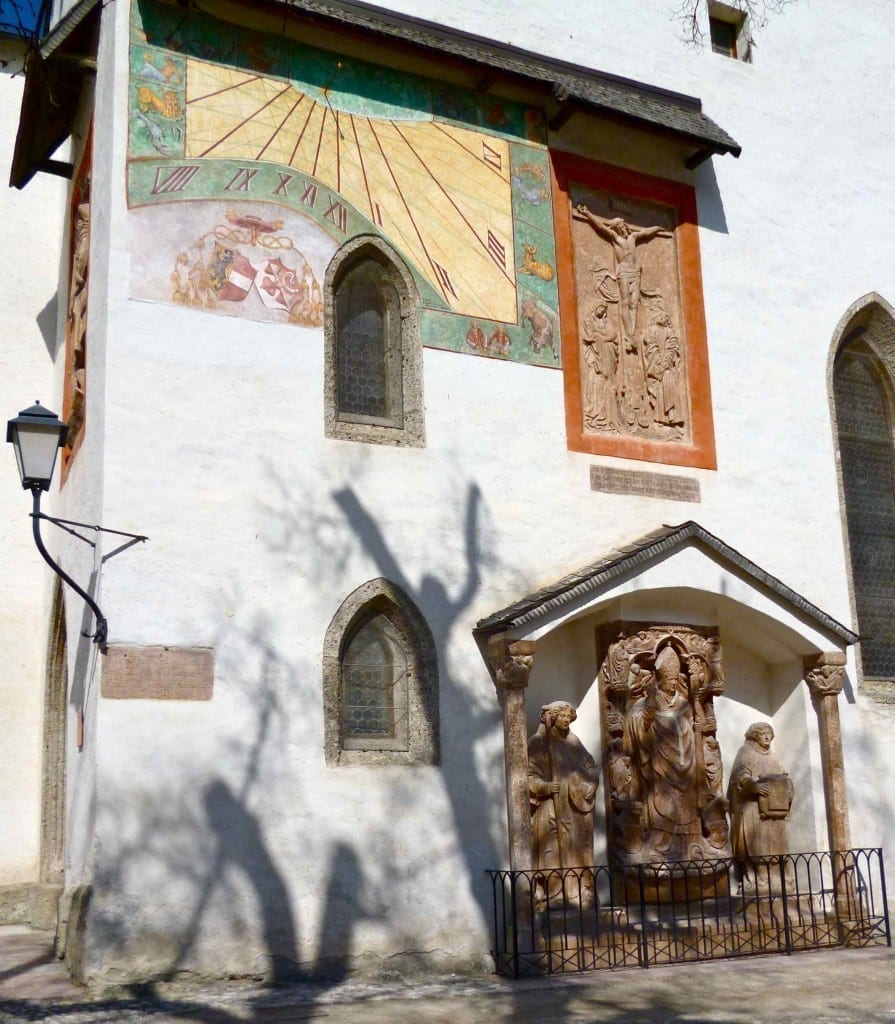 I was a bit worried about my ability to walk back down so after about an hour decided to get started. The downhill portion went more easily. I don't always find that the case but this time it did. Once out of the castle but still on the Monschberg Hill, I set out along the trail. It really is a beautiful walk! Lightly wooded with some very beautiful homes and other buildings. It felt very familiar. I remember very pleasant walks up there. I seem to remember them as dirt paths but who knows. They could have been paved as they are now.
I came to a little shop with picnic tables around, so I decided to stop for a drink. I asked, in English, if she had a sparkling orange drink. She said yes and handed me a Schartner Bombe! I had forgotten all about these wonderful drinks. Back then they came in an odd-shaped bottle, round then a narrow cylinder at the top. I was so glad to be reunited with Schartner Bombe.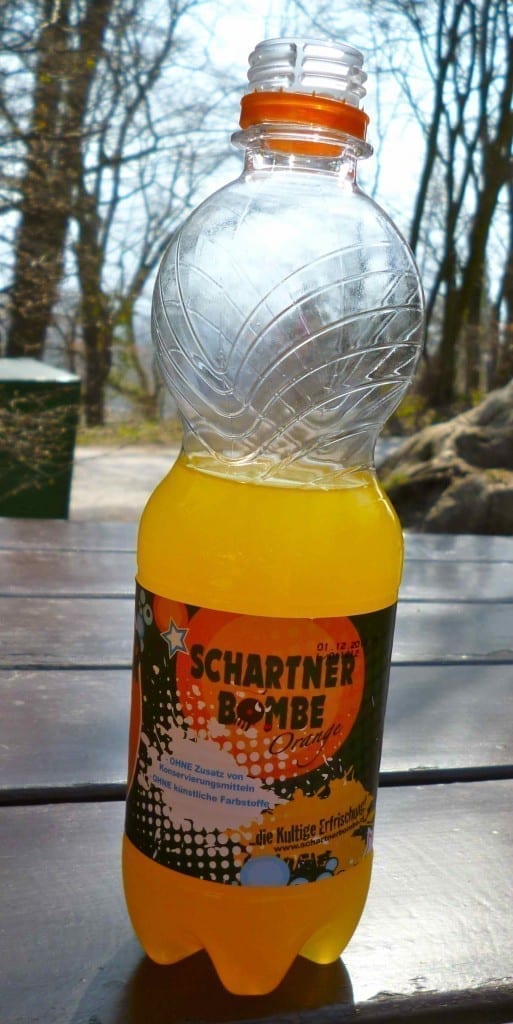 My walk continued. It was such a beautiful day that lovers were sitting on the benches in the more secluded spots. My goal was to have lunch at a terrace restaurant that I was very curious about, and I finally got there!
When I was in Salzburg before, there was a magnificent restaurant with a terrace that looked down on the city. It was called Cafe Winkler. You could see that word Winkler from all over. They had red sun umbrellas that made it more striking. After looking and looking for it upon arriving on Tuesday, I looked it up on the internet and it said that the Cafe Winkler had closed. It was a blow because that was part of Salzburg! But then it turned out that someone had opened a more modest one on that terrace, right next to the Museum of Modern Art. That was my goal: to get to that terrace and see what there was to see.
I kept walking long enough and I got there. My table was about three rows back so my view wasn't as spectacular but it was still wonderful. I had a delicious meal of lentils and dumpling. I did take a picture from just in front of the restaurant, slightly lower.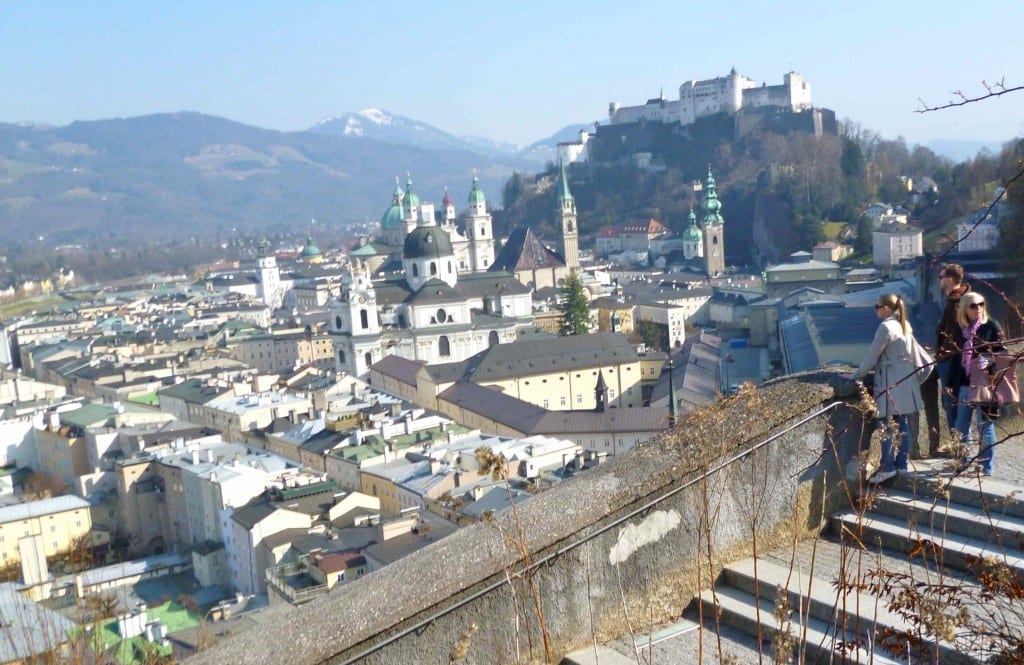 I took the elevator down instead of walking, paid at the bottom. Sometimes I learn from my experience! I then walked along the beautiful Salzbach river, back to my hotel. Salzburgers love their river! Many people were out enjoying the beautiful day.
Follow Teresa's Salzburg Travels! See also:
Exploring Salzburg: Getriedgasse, Easter Eggs & Dirndls
Salzburg Arrival: "I made it"
Return to Salzburg