The Residence Inn in Breckenridge, Colorado is one of first new hotels in Breckenridge in several years. And, a much needed addition to support the growing number of visitors heading to the popular Colorado ski town. Even in just its first few weeks, the hotel is booked and buzzing with guests. I was invited to visit – and review – the hotel after it'd only been open for a month. I can clearly see why it's already proving to be an excellent – and affordable – addition to guests visiting Breckenridge.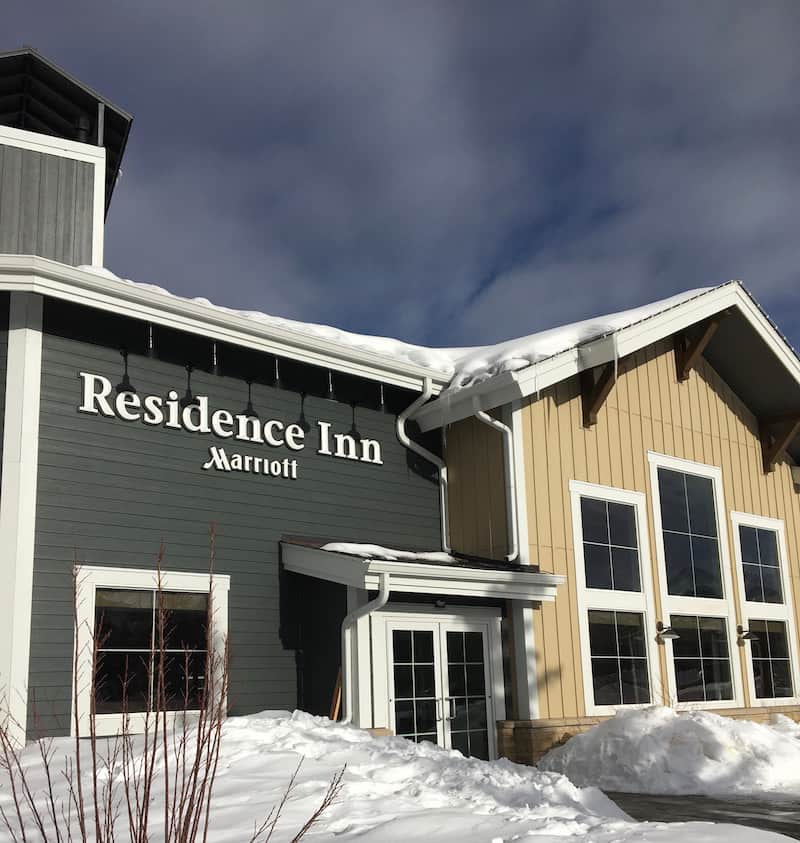 Location
Marriott's new Residence Inn Breckenridge is located off Main St. at the south end of town, an ideal location. The hotel is next door to the Breckenridge Brewery and Main Street Station providing a variety of options for dining, shopping and other activities. The hotel is also on the Trolley line so guests can easily jump on and head further into downtown. However, it's an easy walk, and may take less time given the traffic on Main St. It only took us 10 minutes to get to to the Starbucks on Main Street.
During ski season, guests can leverage the free hotel shuttle to get to Peak 9 and the Gondola. I found that it's not that far to walk to the Peak 9 lift. However, if you're carrying more than just your gear or trying to manage multiple kids and gear, the shuttle will be simpler.
The Rooms

The Residence Inn in Breckenridge was designed with families in mind, from the guest rooms to the open lobby and even the pool.
All the guest rooms at the Residence Inn Breckenridge are suites. Yes, suites! For families this is HUGE and can be a game changer in helping reduce the costs associated with family ski vacations. Think cooking in your room, having the kids sleep on the pull-out couch instead of having to get two rooms, the list goes on…
Each guest room, or rather hotel suite, is equipped with a full kitchen, pull-out double sofa bed and either two queens or a king bed. Guests can choose from a studio, one or two-bedroom hotel suite. We stayed in the One Bedroom King Suite, which features a living area, kitchen and a separate bedroom with a full bath. All the King Suites have the option to adjoin to a Two Queen Suite, making it ideal for families who need – or simply want – a little extra space. If you do opt to do adjoining rooms, you'll have two kitchens and two bathrooms.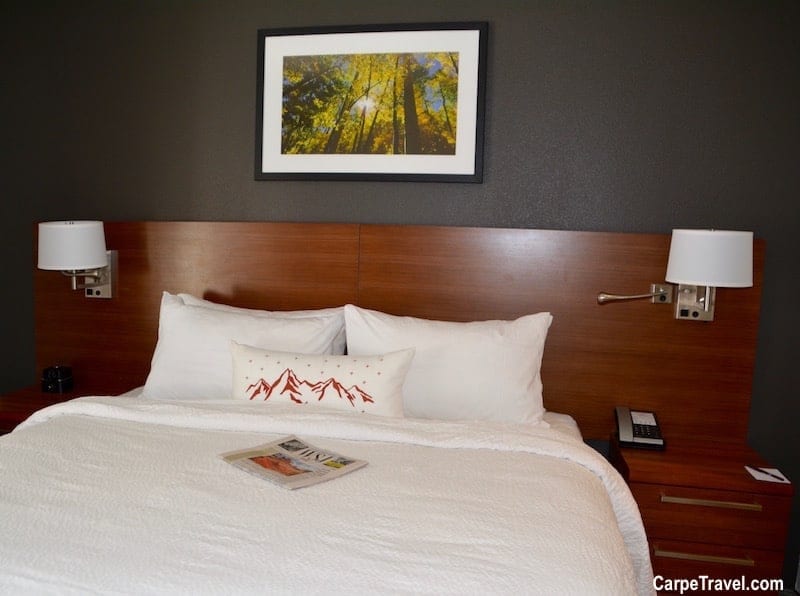 Being less than one month old, the guest suites are immaculately clean and feel brand new…as they should. The bedrooms have plush down comforters, four soft pillows on each bed and two additional pillows in the closet. The full bath featured a standing shower with good water pressure. It was also stocked with extra towels – and hooks to hang them. Until I began traveling with a family of four I never knew how important it would be to have extra towels in the bathroom – and hooks! I'm always so annoyed when I want to try and save the towels to use the following day but have no where to hang them…
The kitchen is equipped with a microwave, dishwasher, sink, stove-top burners, refrigerator and an extended bar with stools for seating, as well as silverware, cups, plates and a few pots and pans. Having the kitchen is a must for our family. It allows us save money by eating breakfast in the room, making and packing our own lunches, and eating dinner in our PJs if we're too tied to go out. (At the Residence Inn Breckenridge you only to think about lunch and dinner. The hotel offers an awesome, complementary breakfast buffet. Forget stale, day-old muffins and bagels. Think eggs, bacon, sausage, waffles and yes, there are muffins and bagels too.)
If you'd like to do some of your cooking you can pick things up at the grocery store in town but note there is not an oven in the suite. You will need to stick with cooking in the microwave or stove-top. There are two grocery stores in town to choose from. A smaller, more upscale grocery is located about two blocks from the Residence Inn Breckenridge and a larger City Market is at the opposite end of Main Street.
Something else I love about the rooms at the Residence Inn Breckenridge – they're all pet friendly. This is huge for my family since we love bringing our dog up to the mountains with us for hiking and snowshoeing. However, there are very few pet friendly options.
Dining

The Residence Inn Breckenridge has a small bar and café off the side of the lobby. It opens every day at 4pm, making it a great spot for your afternoon apres ski. If you have the chance to try the Alpine Gluhwein I highly recommend it! This cocktail is the creation of the hotels bartender, or "Intoxicologist" as he's dubbed himself. The drink is a slowly stepped zesty and warm port-wine based cocktail with a hint of citrus. It's delicious and will surly warm you to the core on a cold evening.
You can also grab a bite for an early or late dinner. The menu is more comfort bar food such as burgers, soups and sandwiches. As I mentioned the hotel offers a delicious, complementary breakfast buffet for guests. Forget the stale muffins and bagels you usually find at buffets. Think eggs, bacon, sausage, waffles, fresh fruit and yes, there are muffins and bagels too. Both meals can be enjoyed at one of the many tables and sitting areas located in the lobby or within the cafe itself.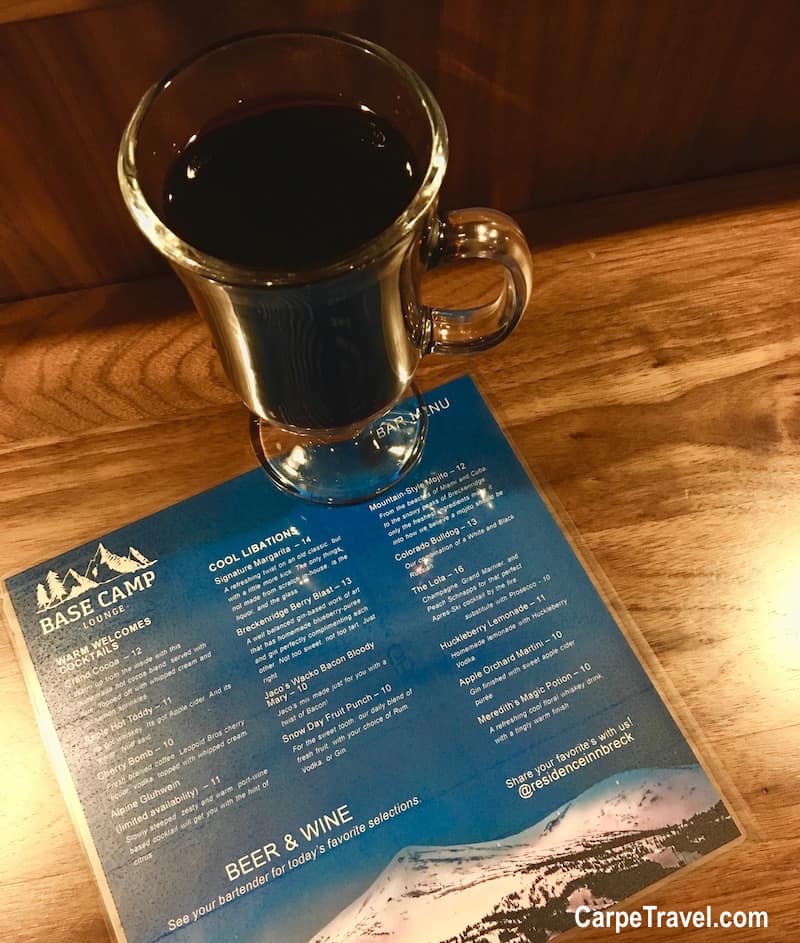 The Amenities
All rooms are a suite with a full kitchen.
Every suite is pet friendly. There is a $100 non-refundable cleaning deposit if you do bring your pet.
Pool: The pool at the Residence Inn Breckenridge is the place to be, even if you don't want to swim in the heated outdoor pool or soak in the hot tub. The pool is located on a deck off the third floor and boasts one of the best views of downtown Breckenridge.
Free WiFi that works. Quickly. Consistently. Amazing.
Free Ski Shuttle Service
Laundry: There are washing machines and driers for guests to use during there stay. This is a great amenity for traveling families who need to pack lighter or simply have little ones who go through two to three outfits a day.
Complementary Breakfast Buffet
No minimum night stay requirements, even during the holiday peak season. (Many ski resorts and hotels require a 3-5 night minimum stay during the peak holiday season.)
No Resort Fees
Free Parking, both covered and uncovered options
24-hour Fitness Facility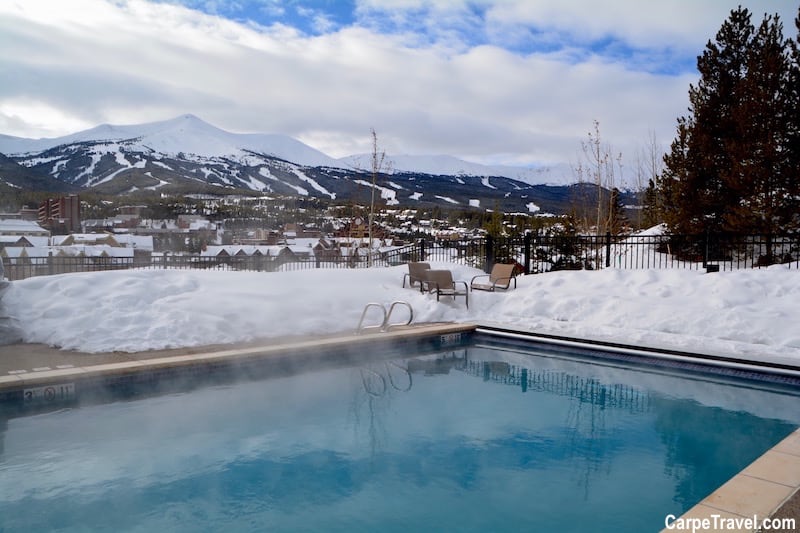 The Bottom Line

The Residence Inn Breckenridge is a great hotel, especially for families looking for a guest suite with a kitchen and more elbow room, but not a high price tag. It's a perfectly located hotel in Breckenridge with easy access to everything, especially downtown activities. The staff is friendly and helpful. The rooms are clean, spacious and affordable. We would definitely stay here again.
Have you stayed at the Residence Inn Breckenridge? Share your experiences in the comments!
Looking for more ideas for things to do in Colorado or Colorado's wine regions? Click on over to Carpe Travel's Colorado Wine Travel Guide.
Disclaimer: The Residence Inn Breckenridge hosted my stay. All thoughts, opinions and pictures are my own.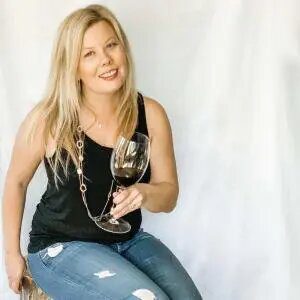 Elaine Schoch (pronounced the German way – Shock) is the editor and founder of Carpe Travel as well as an award-winning travel writer, wine judge, certified by the Wine & Spirit Education Trust (WSET) Level 2 and certified American Wine Expert. She is married to The Husband and has two kids, Princess One and Two – who's interest and knowledge in wine is quite extensive. Not to mention the stamps in their passports.