Hitting the slopes this ski season? Don't want to spend a fortune doing so? Living in Colorado it's easy for our family to make regular pilgrimages to enjoy the powder but we've had to learn – and implement –  a few lessons to ensure our family ski trips don't break the budget. Many of said "lessons" have been learned the hard way… If you're planning a family ski trip, these 31 ways to save money skiing just might help save you some cash. Read up and let us know in the comments  if you've found other ways to save money skiing with your family? (Looking for more ways to save money when you're traveling, here are some great resources.)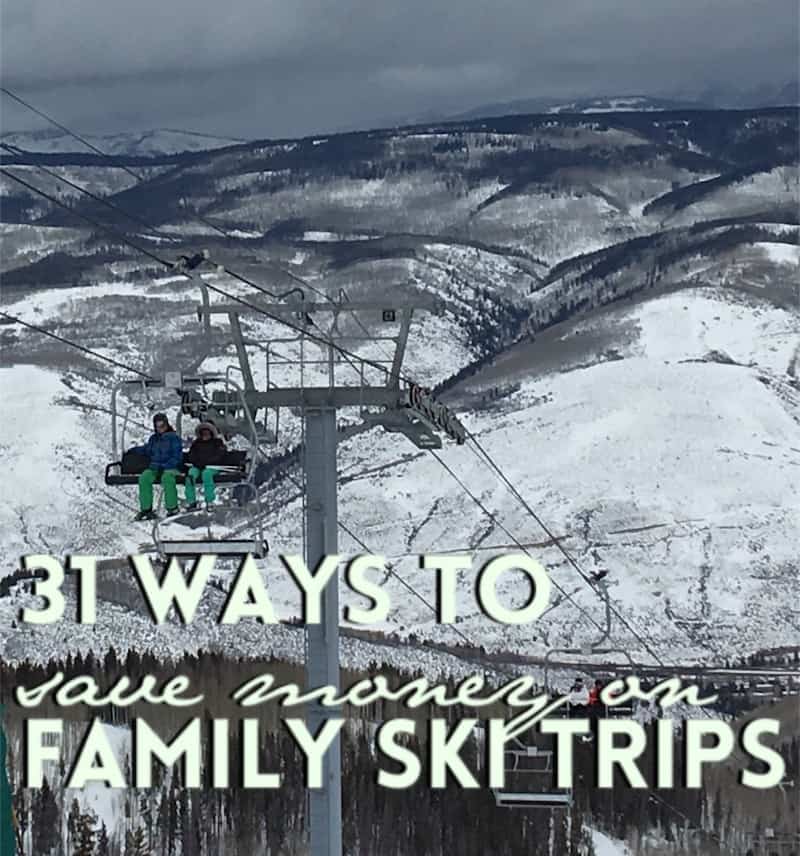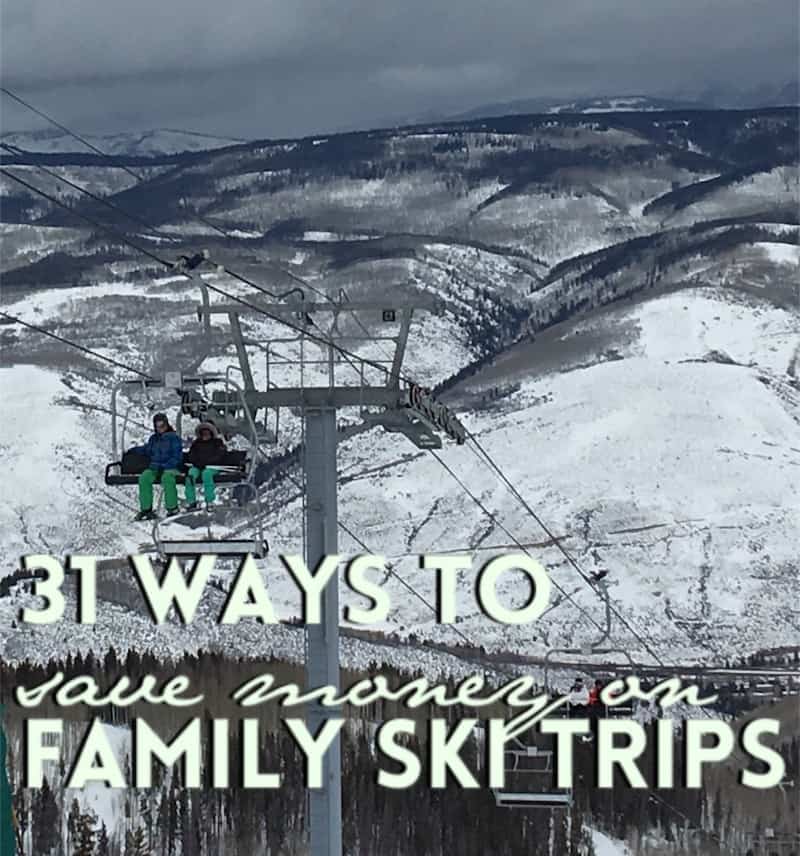 General Ways to Save Money on a Family Ski Trip
Avoid Peak Season
When it comes to peak ski season the time is between Christmas and New Year's Day. You will find great deals for a family ski trip right before Christmas and after New Years leading up to the Martin Luther King holiday and President's Day weekend, which are both peak weekends. Spring Break can also considered an expensive time, but you can't beat spring skiing and depending on the snow totals you may find some great end of season deals – aka the best way to save money skiing!
Ski and Stay Midweek
Weekends are always going to have higher rates for lodging and possibly even lift tickets (depending on where you ski). If you can, shoot to ski and stay from Monday to Thursday. Not only will you find better hotel rates but you'll have shorter lift lines and less traffic on the slopes. Often times you'll find that if you or your kids are enrolled in ski school midweek the group lesson you paid for will end up being private or semi-private since there are fewer people at the resort.
Not all Mountains are the Same
Just like the differences in a double-black diamond compared to a beginner green ski run, prices for your ski vacation will vary based on the ski resort you visit. Higher-end, and popular resorts such as Beaver Creek, Vail, Breckenridge and Aspen are going to run you more as compared to smaller resorts such as Monarch, Arapaho Basin, Crested Butte, Copper and Winter Park.
Book Early
Living in Colorado I tend to wait to think about skiing until the snow starts to fall. But, by then you can miss out on several huge deals! By booking lodging and ski tickets (or season passes) before Labor Day you can save 20 percent or more.
Skip the Souvenirs
Does your kids really need that $24-dollar teddy bear wearing a branded ski resort sweater? If you want to take home souvenirs do so in the way of photographs and maybe a picture frame that's branded with the resort logo. Take a lot of photos on your family ski trip and even splurge on purchasing a photo from a photographer who can snap a picture atop the mountain of you and your crew. The photographs will last longer than that teddy bear…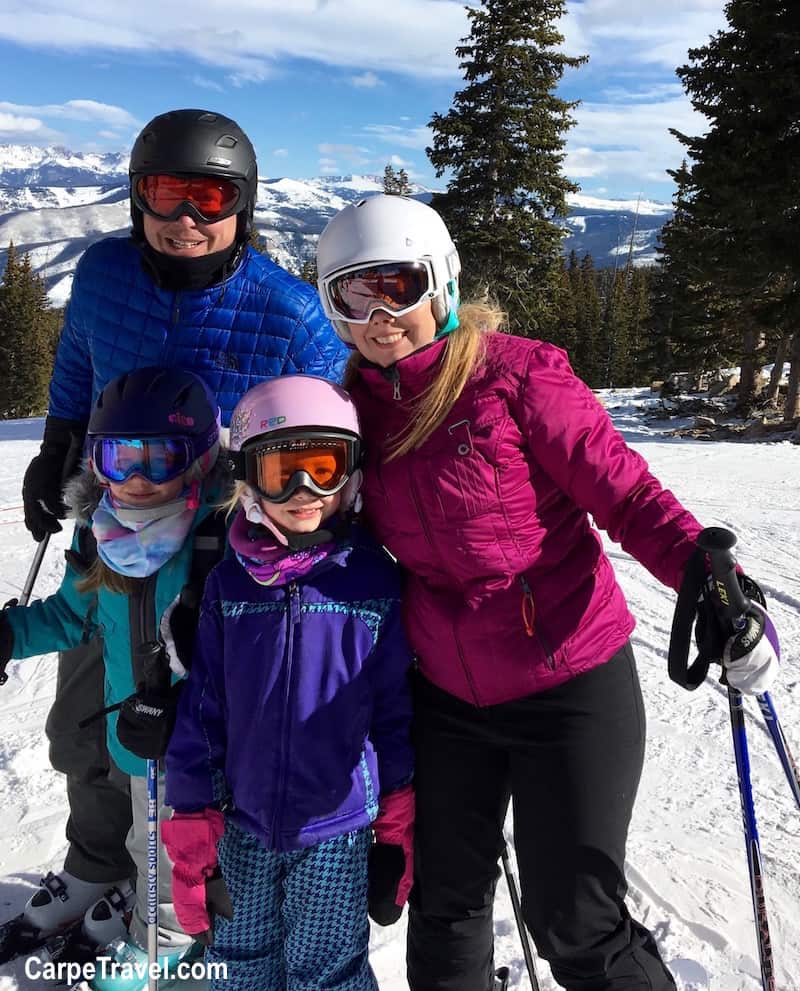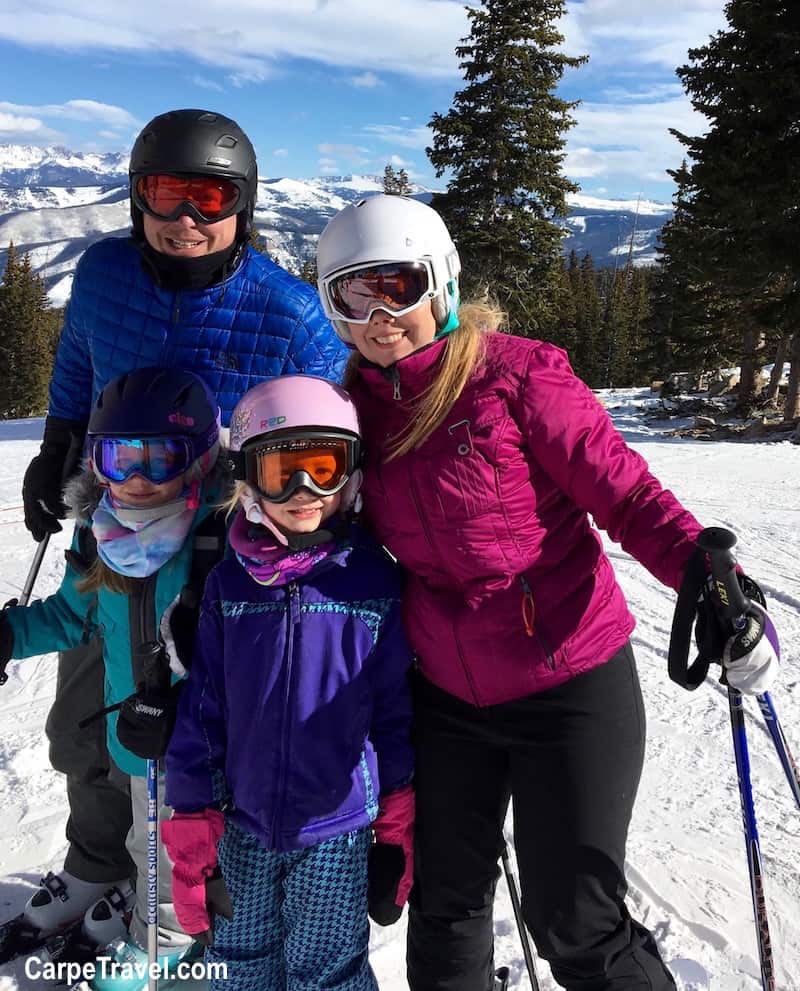 Transportation: Tips to Save Money Skiing

Fly Smart
If you are planning to fly to your ski destination, make sure to check flight comparison sites such as Google Flights or Hopper. Both allow you to set up what days you want to fly and see pricing for multiple airlines on your given dates AND those near them so you can see if it's less costly to fly out Thursday or Monday. These services also include airfare predictor tools that can save you some cash. Simply save your search and they'll send you push notifications telling you about how prices are changing and recommending when you should buy.
Fly into Regional Airports
Flying into Denver might be less costly than flying into Steamboat Springs, Eagle-Vail or Aspen, but make sure to work the cost of your shuttle or car rental and parking into the price. Not to mention the extra time of the road in traffic vs. the slopes.
Avoid Baggage Fees
Will you be traveling with your ski gear – skis, poles, boots, helmets? Checking them in your luggage? If so, expect a hefty baggage fee. Remember, checked bags are weighed to determine the fee. It may end up being less costly to simply rent your gear but if you have to bring your own consider flying Southwest or JetBlue to avoid baggage fees. If you have a co-branded airline credit card you may be able to get some or all of your baggage fees waived. Another tip, pack your ski boots and helmet in your carry-on. There are several special ski-boot backpacks that meet the carry-on requirements of the FAA.
Find Free Skier Parking or Take the Shuttle
When you're paying over $100 on a lift ticket you'd think you'd be able to get free parking. This isn't always the case. While most resorts do have some free skier parking you'll find a number of them are starting limit free lots. Make sure to seek out the free skier parking in advance, and know that what may have been free last season may not be free this season. (Those of you hitting Beaver Creek in Colorado, the only free parking left is at Arrowhead. The Elk and Bear lots are now $10 per day. Visiting Vail, you could be shelling out $25 a day!) To find out more about where to find skier parking and parking packages, Snow.com has you covered.
Cheap Lift Tickets: Save Money on Family Ski Trips
Ski Half Day
Most resorts do not promote half-day lift tickets but know it's usually always an option. There's a few keys to getting it though. If you arrive at the resort after about 12pm, you should be able to get a half-priced (or significantly discounted) lift ticket at the ticket office for the reminder of the day. Additionally, if you purchase a full-day ticket in the morning and wrap-up your day by noon you can take it into the ticket office and they will refund you for a portion of the ticket. Keep in mind, this is dependent on the ski resort you're skiing.
Buy in Bulk
The more days you ski, the less you end up paying per day. In other words, a single day of skiing will cost you more per day than a three-day pack. If you're going to be skiing for a certain number of days, buy them together as a package to save.
Interchangeable Parent Lift Ticket
Skiing with kids? Check to see if the resort will allow you and your spouse to share a lift ticket. This isn't something that is promoted but if you call or talk to the ticket office they may allow you to share one pass so one of you can ski while the other is hanging with the little ones at the base or kids adventure zone. It's a great way to save money skiing, still get to ski and not be forced to pay for child care.
Check for Military Discounts on Lift Tickets
If you or a family member (who's skiing with you) is in the United States Military, you're eligible for discounted lift tickets, lodging, ski lessons and retail purchases at a number of ski resorts. Simply present your Military ID at the time of redemption or time of purchase. Discounted military lift tickets may also be purchased at the ticket windows all season long. (Only members of the military get the discount on lift tickets but the family can benefit from lodging and retail discounts.) Here are the military deals for the 2016-2017 ski season.
Travel and Book as a Group
If you're heading to the slope with a large group of people take advantage of group rates when you're booking lift tickets and lodging.
Check for Student Discounts, Passes and Kids Ski for Free Deals
Not all resorts offer discounts for students but some do along with special student season ski passes. Believe it or not but many ski resorts also allow kids under a certain age to ski for free, with the purchase of an adult ski pass. This alone can save you several hundred dollars. (Find kids ski free deals and here and here?)
Vail Resorts offers the Epic SchoolKids Pass for students in Colorado who are in kindergarten through fifth grade (it's a FREE season pass!!) Parents who have kids with the Epic SchoolKids Pass (K-5) benefit as well since it includes discounts on daily lift tickets and 20 percent of lodging through their kids Epic SchoolKids Pass. (The deadline for getting this pass is typically in Oct.)
Vail Resorts offers a discounted season pass for college students for its properties as does Winter Park in Colorado. (The deadline for getting this pass is typically in Oct.)
Copper Mountain in Colorado provides a free kids season pass with the purchase of an adult season pass. (The deadline for getting this pass is typically in Oct.)
Copper Mountain allows kids under the age of five to ski and ride for free.
At Steamboat Springs in Colorado kids 12 years of age and under can ski free the same number of days as an accompanying adult who purchases a 5-days-or-more lift ticket.
If you're visiting Keystone in Colorado and staying at a resort property you should be able to snag free lift tickets for all children 12 and under. (You have to be staying at a Keystone property and arrange this when lodging is booked.)
All kids ages 12 and under visiting Crested Butte Mountain Resort 24 – Dec. 16, 2016 and Apr. 1 – 9, 2017 ski or ride for free. No strings attached, no parent ticket required, no lodging stay required, no advance reservations necessary.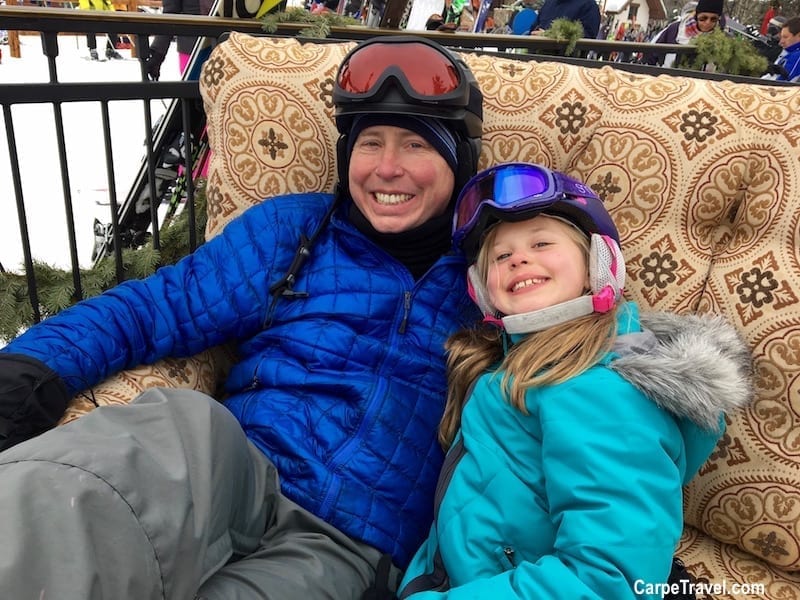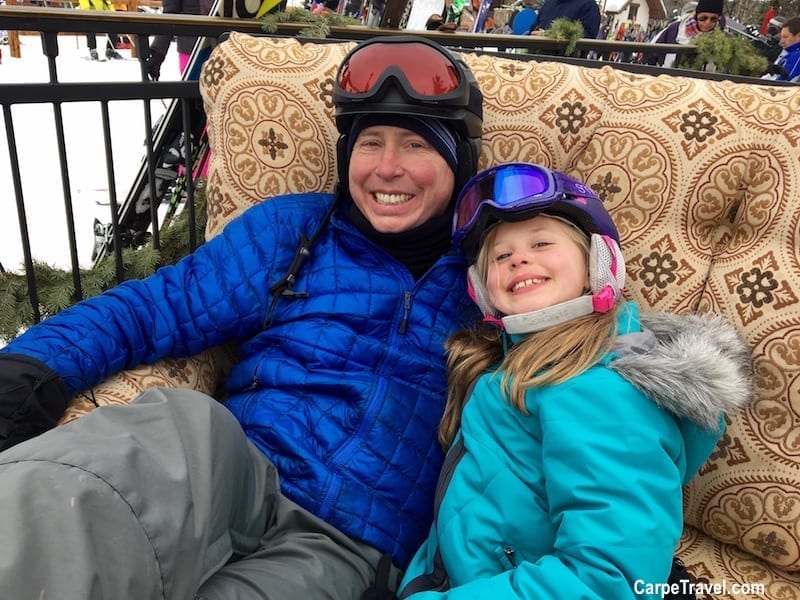 Discounted Lift Tickets Online
You can find discounted lift tickets through many resources. I suggest checking out Liftopia, the site sells discounted, date-specific lift tickets, rentals and lessons to more than 150 resorts in North America. Surprisingly Costco also has some online discounts to help you save money skiing.
Discounted Lift Tickets at Gas Stations
If you're in Colorado – or driving through on your family ski trip – check out SkiFreeDeals.com, where you can get a buy-one-get-one free voucher for participating ski resorts with the purchase of 10 gallons of gasoline or more at select Shell and Exxon stations.
Discounted Lift Tickets in Stores
Several local stores and even grocery stores will sell discounted lift tickets. For instance, in Colorado you can snag discounted lift tickets at Colorado Ski & Golf, Christy Sports and Crystal Ski Shop as well as the King Sooper grocery store (visit the customer service desk).
Consider Season Passes
A season pass to a resort can run several hundred dollars depending on the resort, the blackout dates and how many additional resorts it allows you to ski. If you're planning to ski for several days at one or many different resorts offered on a single pass, getting a season pass can save you hundreds of dollars (if not more).
For instance, the EpicPass Local from Vail Resorts costs about $600 (for the 2016-17 season) and includes unlimited, unrestricted skiing or riding at Breckenridge, Keystone and Arapahoe Basin, Afton Alps, Wimot and Mt. Brighton, with limited restrictions at Park City, Heavenly, Northstar and Kirkwood. Plus, 10 total days at Vail and Beaver Creek. With each resort having lift tickets of at least $80 a day (Beaver Creek is at $180) it's safe to say that if you ski at least six times the season pass is well worth it. The M.A.X Pass is also one to look into – it has offers skiing at 39 mountains with zero blackout dates.
Season passes also come with other perks such as discounts for dining, and some retail sales and rental services. You can also get discounts on lift tickets for your friends as well as for yourself if you ski on a day when your pass is blacked-out. Word to the wise, the earlier you purchase your season pass the less expensive it will be.
Snag Four-Pack Deals
Many resorts offer four or five package passes that allow skiers to hit the slopes at a discounted rate. These passes do often have blackout dates (holidays) so check before you buy. The best deals for these types of packs tend to be around Labor Day weekend.
Lodging and Food: Tips to Save Money Skiing
Eat Off the Mountain
Want to go out for a meal? Well, you should! But, if you want to save cash – and still eat well – do it off the ski resort property. You'll pay significantly less. To put it into perspective, on a recent family ski trip to Beaver Creek in Colorado we paid $53 for our family of four to eat a meal at a local breakfast shop. The meal included a latte, iced tea, two orange juices, one breakfast sandwich, one breakfast burrito, two kids meals with pancakes, eggs and bacon and three doughnuts. The day before we paid $54 dollars on the mountain for six small Gatorade's and two bags of chips. Talk about a huge way to save money skiing…or at least before or after a day on the slopes.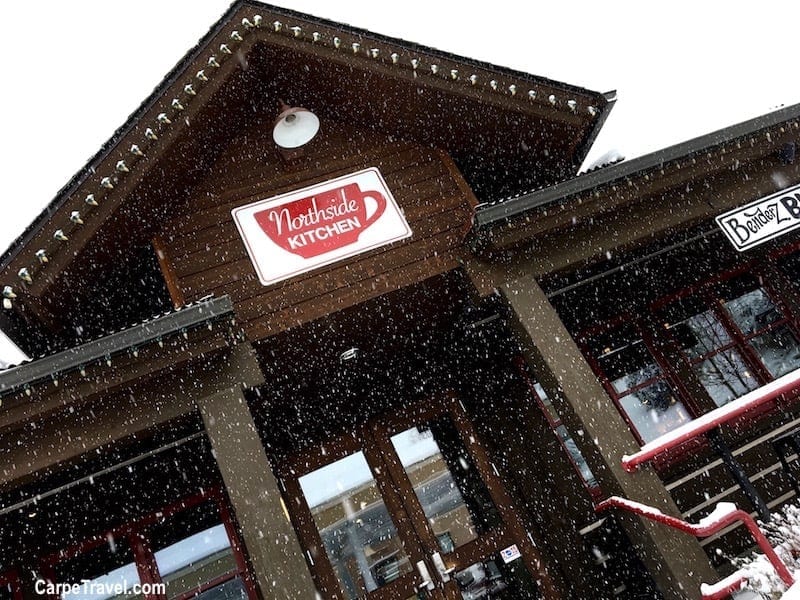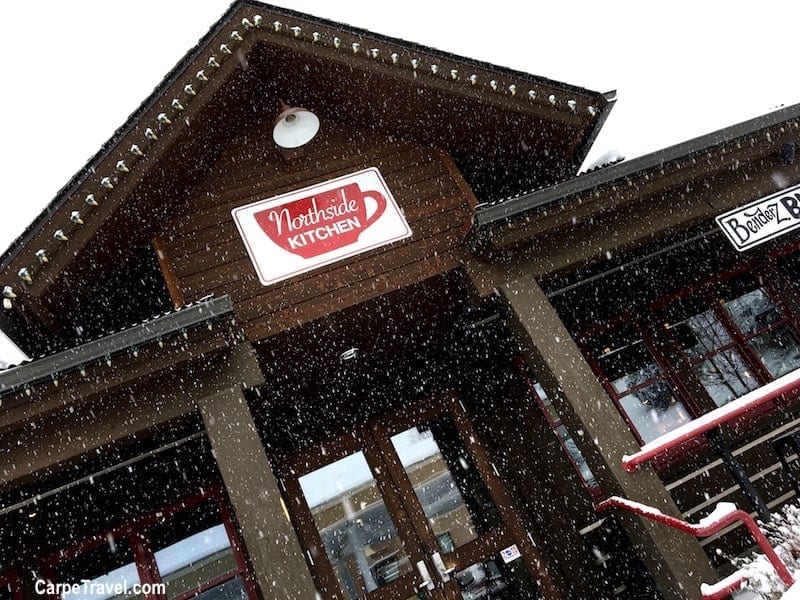 Hotel Packages with Discounted Lift Tickets
Many hotels in ski areas work with the ski resort to set up special packages for guests that include discounted lift tickets. If you're staying in hotel, make sure to check for this before purchasing your lift tickets.
Book Lodging with a Kitchen (and use it)
This has to be one of the biggest was to save money on your family ski trip. Booking lodging with a kitchen may cost a little more but it enables you to save a lot of money on food.  Eating breakfast in your accommodations, packing and taking a lunch to the slopes and eating in a few times in the evening can dramatically reduce your costs.
Go Grocery Shopping
Find a local grocery store that's outside of the resort and stock up on snacks, breakfast and lunch items. Even better, grab some things to make for dinner as well. Think bagels, cream cheese, yogurt and eggs for a hearty breakfast. Snag some sandwich meat, bread, chips and granola bars to toss in your backpack for your lunch. And a frozen lasagna, French bread and a head of lettuce for dinner (don't forget the salad dressing!).
Pack Brown Bag Lunches and Snacks
Eating slope side might sound and smell delicious when you're skiing but it will cost you ($15-$50 a day!). Word to the wise, that hamburger and fries you smelled from two runs over, isn't usually worth $24. Take those items you snagged at the grocery store and pack you own lunch and snacks. To give you an idea, on our last family ski trip to Beaver Creek we spent $54 on six small Gatorade's and two bags of chips during one of the kids "breaks". At the grocery store this would have cost us maybe $8 at max.
TIP: Not all resorts allow you to bring brown bag lunches. I found this out the hard way this season at Beaver Creek, which has "designated" spots for brown baggers. These spots are outside at the base of the mountain with one also being inside the lodge on top of the mountain.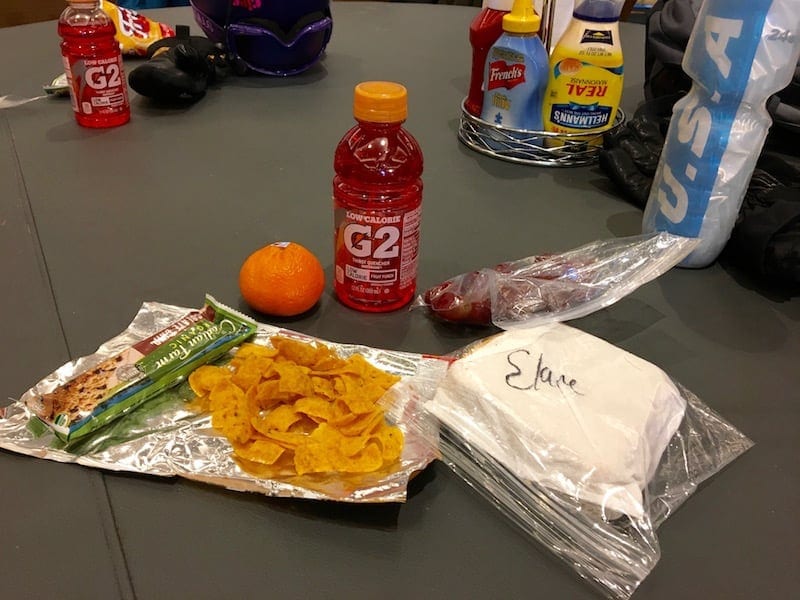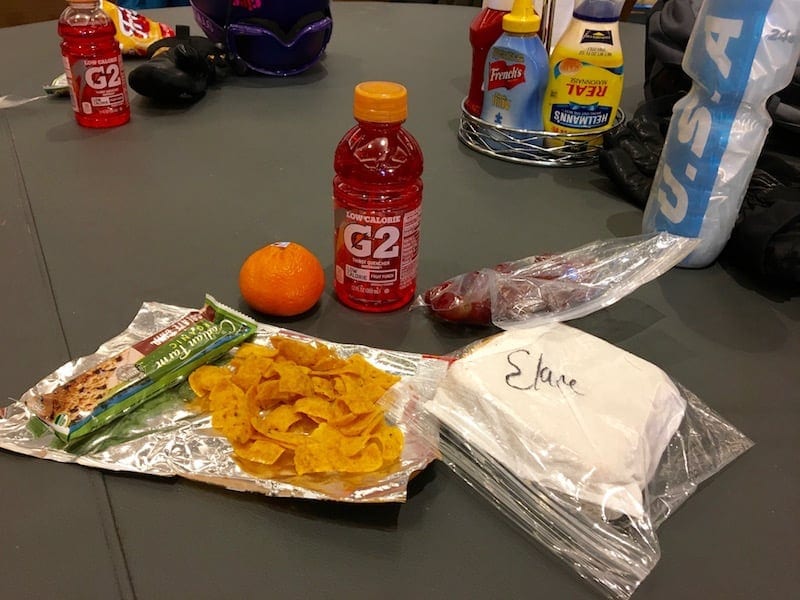 Bring You Own Water
Water is free on the mountain. You'll see multiple water jugs and cups throughout any ski resort. However, you won't find any free water bottles, but rather ones with a $4+ price tag. Pack a small reusable water bottle you can fill up and use throughout the day. Not only will you save money skiing but you'll stay hydrated.
Pack and Wear a Backpack
Well, you need something to carry your lunch, water and any layers you want to add or remove. Tip: Make sure the loose straps are tucked in and not hanging out where they (or you) could get caught on the lift. Better yet, take off backpack and hold it in your lap or next to you when you're riding and getting on and off the lift.
Ski Gear: Tips to Save Money Skiing
Reserve Ski Rentals in Advance
You can usually save at least 20 percent on ski rentals by renting them ahead of time online. By doing this you're also reserving your gear to ensure you get it. The days of just showing up and renting gear are waning as many shops are starting to have to turn people away who haven't reserved gear in advance.
Double Check Your Gear
There is nothing more annoying that realizing you left your kids skis back at the condo ski locker or your neck gator and glove liners aren't in your ski bag when you get on the mountain. Make sure to double check all your gear, especially your accessories before heading out. A regularly priced $10 neck gator can cost you $24 on the mountain, and gloves, well about three times that.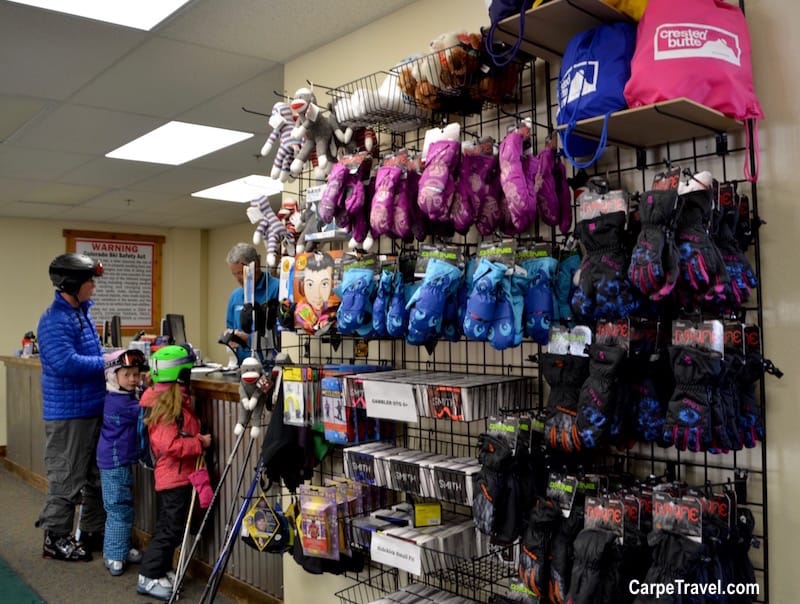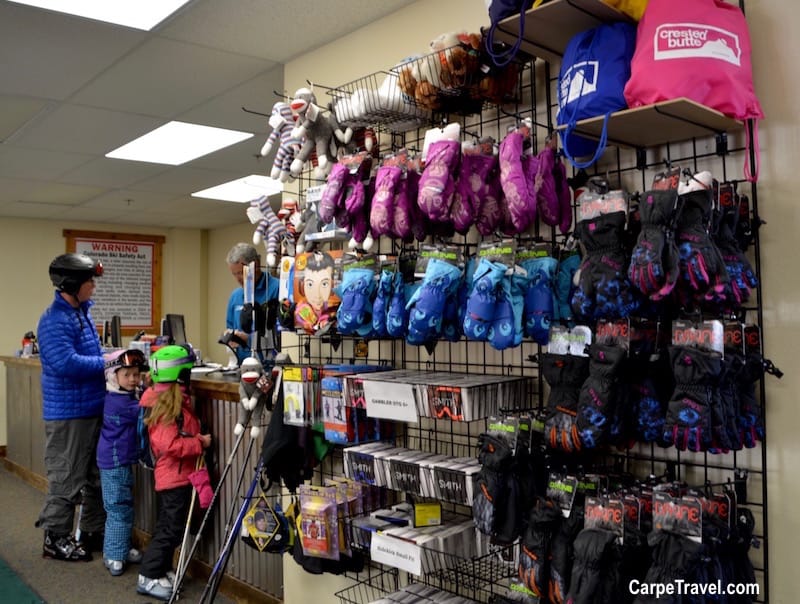 Hit the Local Target or Walmart
If you find you need ski gear when you're on your family ski trip, try to avoid buying it on the mountain. If you can, head down to Wal-Mart or Target where you should be able to find ski pants, gloves, coats, neck gators, long underwear and even Merino wool socks (the ultimate key in warm feet). Sometimes you can't avoid having to buy things on the mountain. If this is the case, try to make your purchases at the base verses on top of the mountain where there are more stores and rates will be more competitive.
Shop the Lost-and-Found
Did your kid lose her pink ski glove? Leave their poles at the ski stand? Before you head over to buy another pair of $60 ski gloves, check the lost and found. Believe it or not, people do turn things in and you will more than likely find your lost poles and gloves, maybe not the same day but the following day it should be there.
Are there other ways you've saved money on a family ski trip? Let us know in the comments.
PIN IT FOR LATER!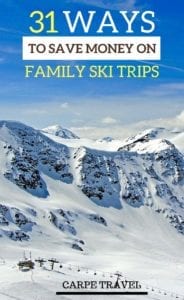 Save