Best Wine Bars in Munich to Sip All Things German
Germany is famous for its beer and sausage, especially the city of Munich – the capital of Bavaria – and the home of the annual Oktoberfest celebration. But, did you know Bavaria is also famous for its wine?
One of Germany's 13 official wine regions is Franken (Franconia), the only German wine region in Bavaria. During our visit, I made it my mission to sip my way through the local culture of Munich by "prosting" with a local Franconian wine versus a Stein. The Husband, usually chose the latter so I feel like we got a balanced cultural sipping experience.
Unfortunately, I wasn't able to get out among the vines in Würzburg, known as the capital of the Bavarian wine country, BUT I did get to check out several wine bars in Munich that offer all things German.
If you can't get into the Franken wine country, at least you can sample it at some of the top wine bars in Munich…or even at the Viktualienmarkt – a daily food market and a square in the center of Munich – where you can sip at the outdoor beer garden or wine bar. You can also opt to grab a bottle from one of the vendors who have crates upon crate of the local juice. (Need ideas on other things to do in Munich, see what the guys over at TravTasy recommend.)
What to Sip
Most people typically associate Riesling with German wines. But, did you know Germany is home to 13 wine regions, producing several varietals.
Fun Fact: Riesling has been produced in Germany since 1435.
Today, Riesling makes up more than 23 percent of Germany's wine production. However, you won't find the varietal produced much in Franconia. Instead, you'll want to sip the local Silvaner, a rather full-bodied, neutral wine with a mild acidity; Baccaus; or a Müller-Thurgau / Rivaner, a hybrid created by a crossing from Riesling and Gutedel. This wine is light-bodied, low acidity with a flowery bouquet – AKA – super easy white wine to sip on.
While white wines do dominate Franconia – 80 percent of the vines planted are dedicated to white wine – the area does produce a few red wines. If you're a rose lover, make sure to try a Rotling. Into more dark, full-bodied rich in tannin reds? Try a local Domina. Like Pinot Noir? In Germany it's known as Spätburgunder.
Fun fact: Germany is the world's third largest producer of Pinot Noir.
One of the sure-fire ways to check that you're sipping a true Franconian wine is if it is in a Bocksbeutel. This unusual bottle shape has become a trademark denoting geographical origin and immediately associates wines with Franconia.
The bottle is a flat and round glass bottle. Some have corks, others have screwcaps and the glass is either green or brown. Not all Franconian wine are in Bocksbeutel though, so don't use this as the end all be all. Check the label as it will identify the region the wine comes from.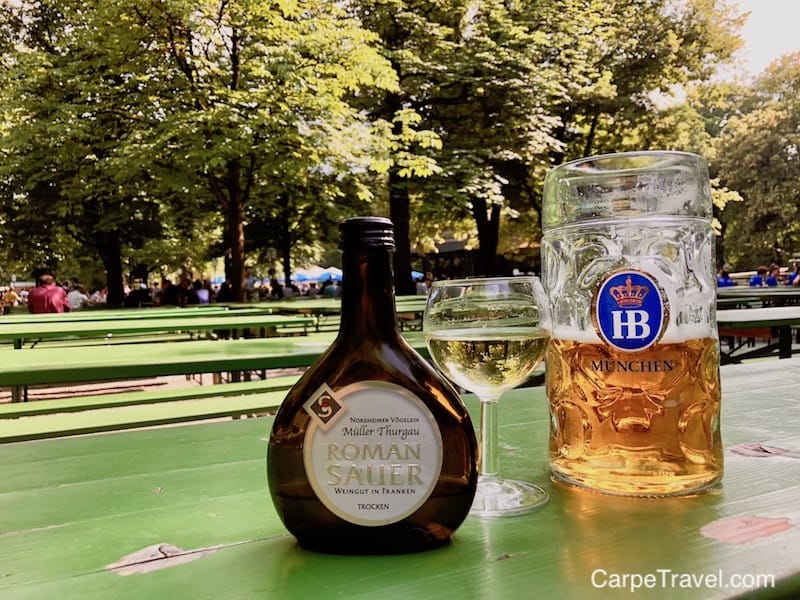 Wine Bars in Munich – Sipping All Things German
There are a number of wine bars in Munich and excellent restaurants with amazing wine lists. I tried to narrow this list to those that have extensive German wine lists. The goal being for you to sip the local culture…aka German and Franconian wines.
On a side note, every beer garden I visited – which were several – offer a few local Franconian wine selections, making it easy to sip in a little of Bavaria during your visit to Munich…
NOTE: Some of the following wine bars in Munich have their websites in German (only). If you use Chrome, you can select the option to have the page translated.
FRANK Weinbar
Here only wine from Franconia comes into the glass. You can sip your way through ALL the different types of varietals found in Bavaria!!
Residenzstrasse 1, 80333 Munich 
Weinhaus Neuner
Established in 1641, this is the oldest wine house in Munich and has been featured in the Michelin Guide. Located in the heart of old town, this is a must stop for wine and food lovers in Munich.
Herzogspitalstrasse 8 – 80331 Munich
Pure Wine & Food
The wine list includes a variety of European wines with an excellent sampling of wines throughout Germany's wine regions. Like most wine bars in Munich, Pure offers a small menu. After-all, wine and food are a pure pairing…
Neureutherstraße 15, 80799 München
Grapes Weinbar
This casual wine bar in Munich is a great stop for sipping and tapas. Expect more than just German wines, but there are many on the menu to sample.
Ledererstraße 8a, seperater Eingang – 80331 Munich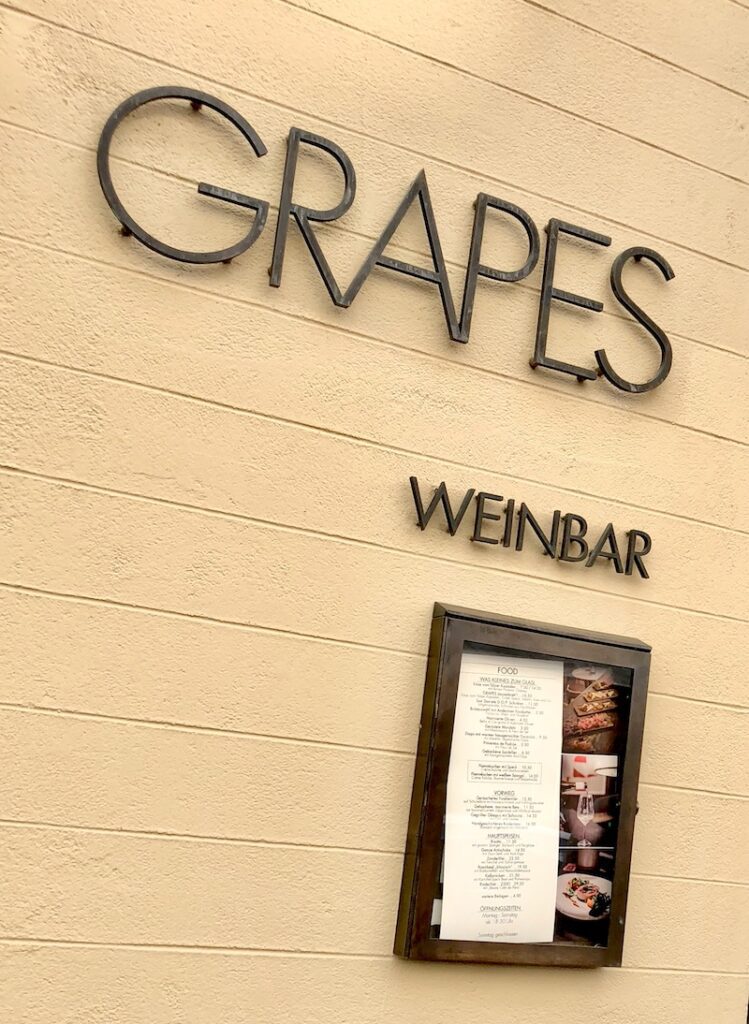 Geisel's Vinothek at Hotel Excelsior
This gem of a wine bar and restaurant is located at the Hotel Excelsior between Karlsplatz (Stachus) and the central train station. Make sure to ask for recommendations on food pairings. The pasta is supposed to be amazing…
Schützenstrasse 11 80335 Munich
Weinwirtshaus zum Schönfärber
The wine bar offers a brilliant vintage wine selection at sensational prices, with a set menu at the table (2 to 3 courses), music and a relaxed atmosphere.
Kazmairstraße 28 – 80339 München
Pfälzer Residenz Weinstube 
Wine. Food. Beer. All offered at this historic establishment since 1950. If you can get down to the cellars where 60,000 cases of wine are stored you'll find a range of wines from cheap Schoppen wine to the finest drops of the Palatinate. Even if you can't get down to the cellars, enjoying the local wines listed on the menu will be a treat.
Residenzstr 1 – 80333 Munich
Hoiz Weinbistro
This Munich wine bar offers more than German wines but still has a great selection…and the food menu changes daily so you're in for some delicious pairings. (They're closed Sunday.)
Sebastiansplatz 3 – 80331 Munich
Added Bonus: More than German wines…
Looking for a few other wine bars in Munich to check out, here are a few that come highly recommended but they do not specialize in German wines, nor will they have many to choose from.
Déjà Bu specializes in French wines.
Buttermelcherstraße 2A, Munich, Germany, +49 174 7048807
Sarfati bar and restaurant dedicated to serving high-quality Italian wines.
Kazmairstraße 28, Munich, Germany, +49 89 45237867
Bar Comercial wines include mainly French and Italian varieties.
Theatinerstrasse 16, Munich, Germany, +49 89 20700266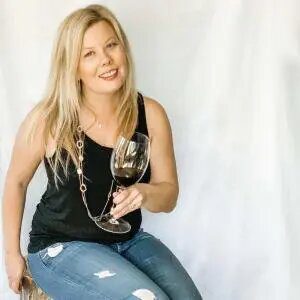 Elaine Schoch (pronounced the German way – Shock) is the editor and founder of Carpe Travel as well as an award-winning travel writer, wine judge, certified by the Wine & Spirit Education Trust (WSET) Level 2 and certified American Wine Expert. She is married to The Husband and has two kids, Princess One and Two – who's interest and knowledge in wine is quite extensive. Not to mention the stamps in their passports.