Santorini is probably one of those places you feel like you've seen a thousand times before, without ever having actually been. Its picture-postcard aesthetic commonly features on Instagram feeds and travel brochures across the globe, and it still attracts some of the world's rich and famous to its sunny shores. Whether you're travelling for a taste of the luxury lifestyle, or are simply looking to experience this truly unique place, Santorini is a must-visit for any travel enthusiast.
However familiar you may be with the setting, it can be useful to know a few tips and tricks to help your holiday go off without a hitch. Here are a few things to keep in mind to help you see Santorini like a pro, even if it's your first time on the island.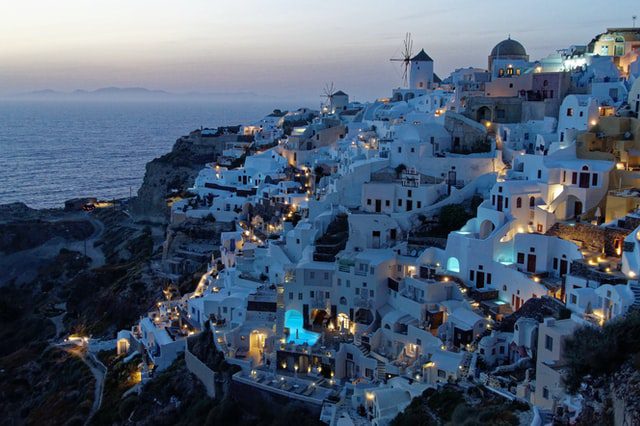 Where is Santorini
Santorini is among Greece's most exclusive destinations. The island is located on the southern side of the Aegean sea, in the region of Cyclades islands, between the islands of Ios and Anafi.
See the sunset like a local
The Santorini sunset is a must-see for anyone visiting the island. The most popular place to see the sunset is in Oia, but it can become crowded with people setting out their stools early in the day to ensure they catch the best view. But there are so many more options all across the island where you can find sunset vistas that are equally as breathtaking.
Combining the sunset with a hiking excursion is one of the best ways to enjoy unspoiled views across the awe-inspiring landscape of this Cycladic jewel. The trek from Pyrgos to the Prophet Elias Monastery is one of the most beautiful yet demanding walks on the island, but you'll be duly rewarded with stunning mountain views as the sun sets into the Aegean Sea.
Choose your travel time carefully
Depending on your preferred style of travel, and the type of holiday you are planning, different times of the year may be better than others for your needs. Santorini is at its busiest during the summer months, when tourists look to make the most of the soaring temperatures and the livelier atmosphere.
But if you're eyeing up a more laid-back retreat, consider flying outside of the peak season. You'll still benefit from the balmy temperatures, but won't have to contend with the hordes of tourists that flood the island in the summer. Traveling in late autumn or spring will be perfect for visitors planning a hike or two while on the island, as well as those looking to sample Santorini's revered vinicultural scene at their own pace.