The horses came around the bend, kicking up snow as they ran toward the lodge pulling the sleigh. Squeals of excitement came from behind me and both girls began running ahead, eager to pick the sleigh – and horses – that would carry us to a backcountry tent for a secluded dinner.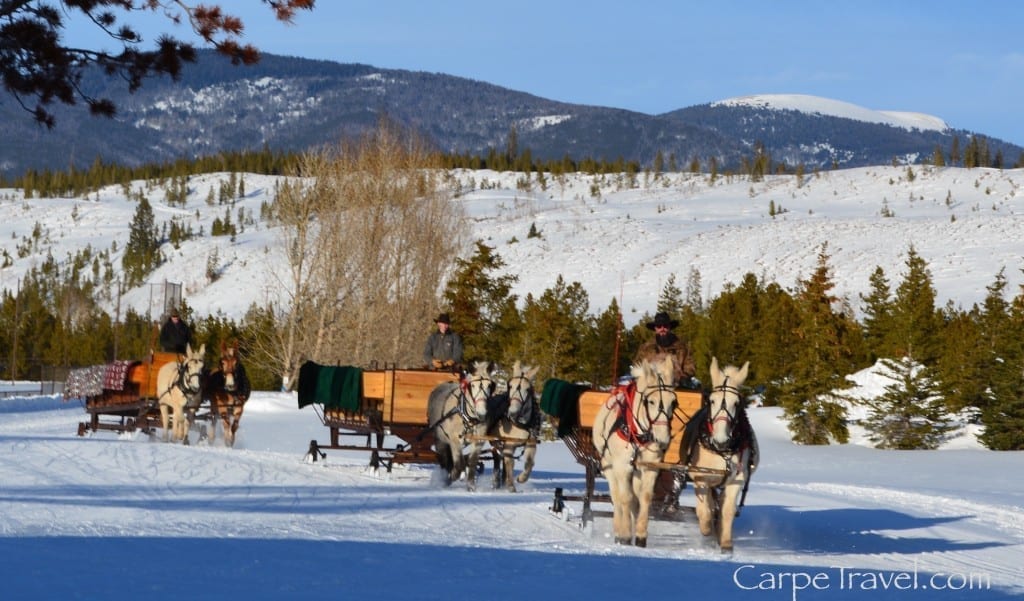 For the last 30 years Two Below Zero has been offering horse-drawn sleigh rides through the scenic mountain trails of Frisco, Colorado. And we were about to embark on our first dinner sleigh ride with them…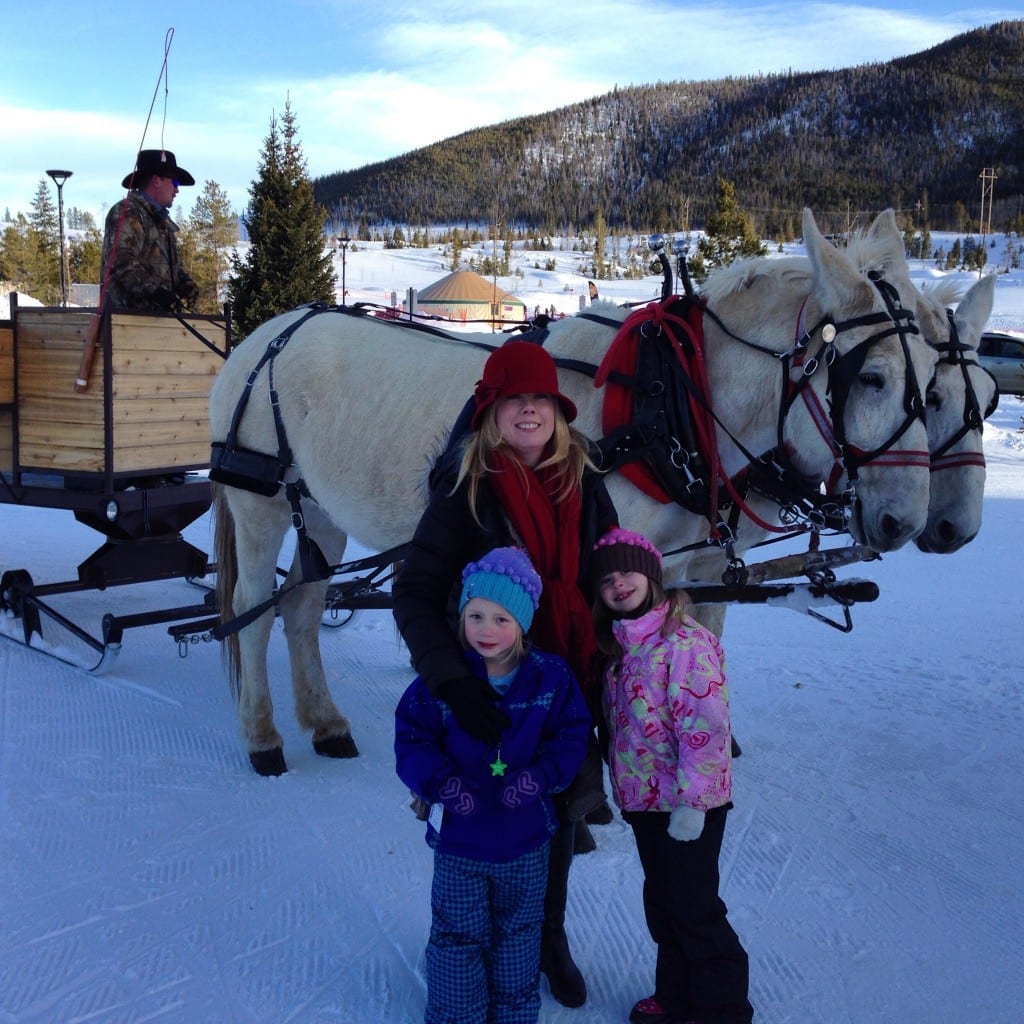 As we waited for everyone to get checked in for the sleigh ride we made our rounds to each of the two horses pulling the five sleighs. The Princesses adored petting each and every horse, learning their names and attempting to give them treats.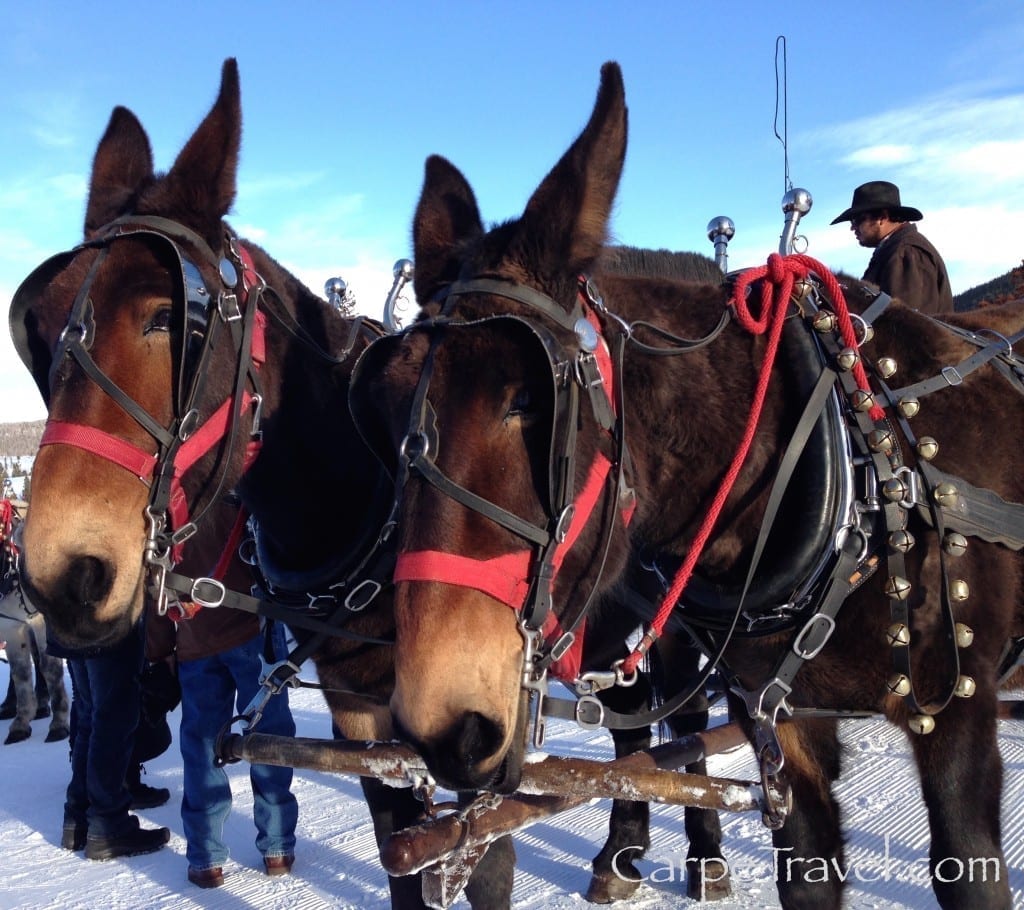 As other families joined us on our tour of the horses, couples trickled out of the lodge hand-in-hand, ready to snuggle up on the sleigh. When the last family group – a family reunion – made their way out we were instructed to the sleigh our groups were to ride on that evening.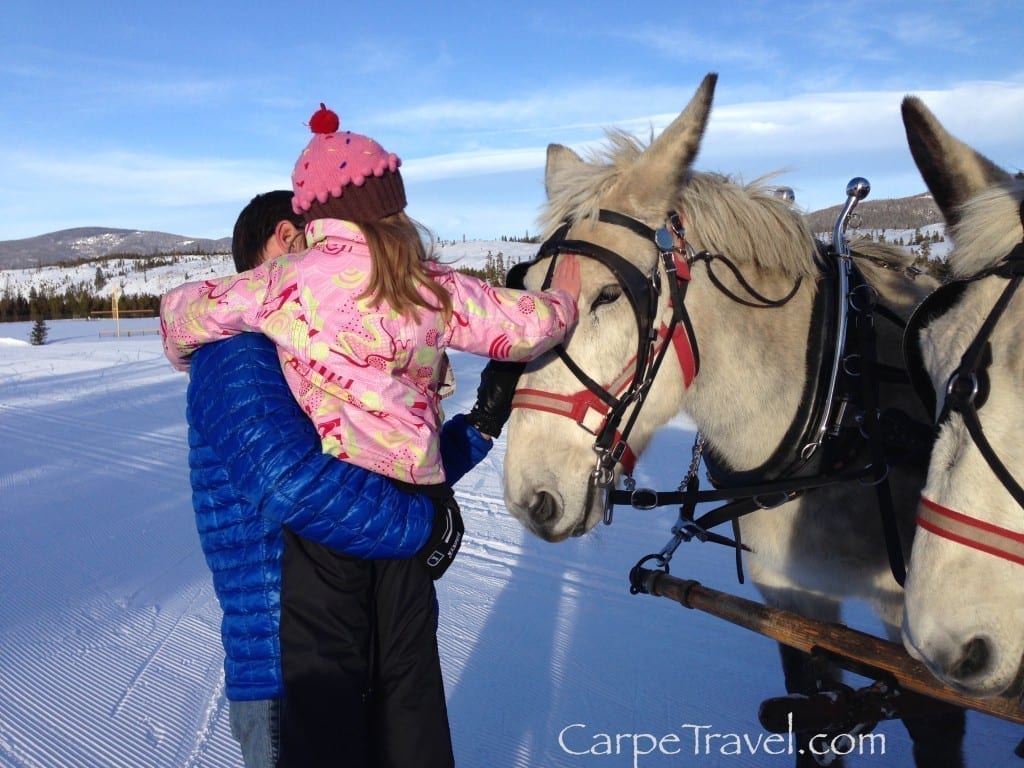 Once on-board, we were provided a warm, plush blanket to cozy up under. This is when you really get to know your neighbors, it's cold out and you need to be prepared to share your blanket.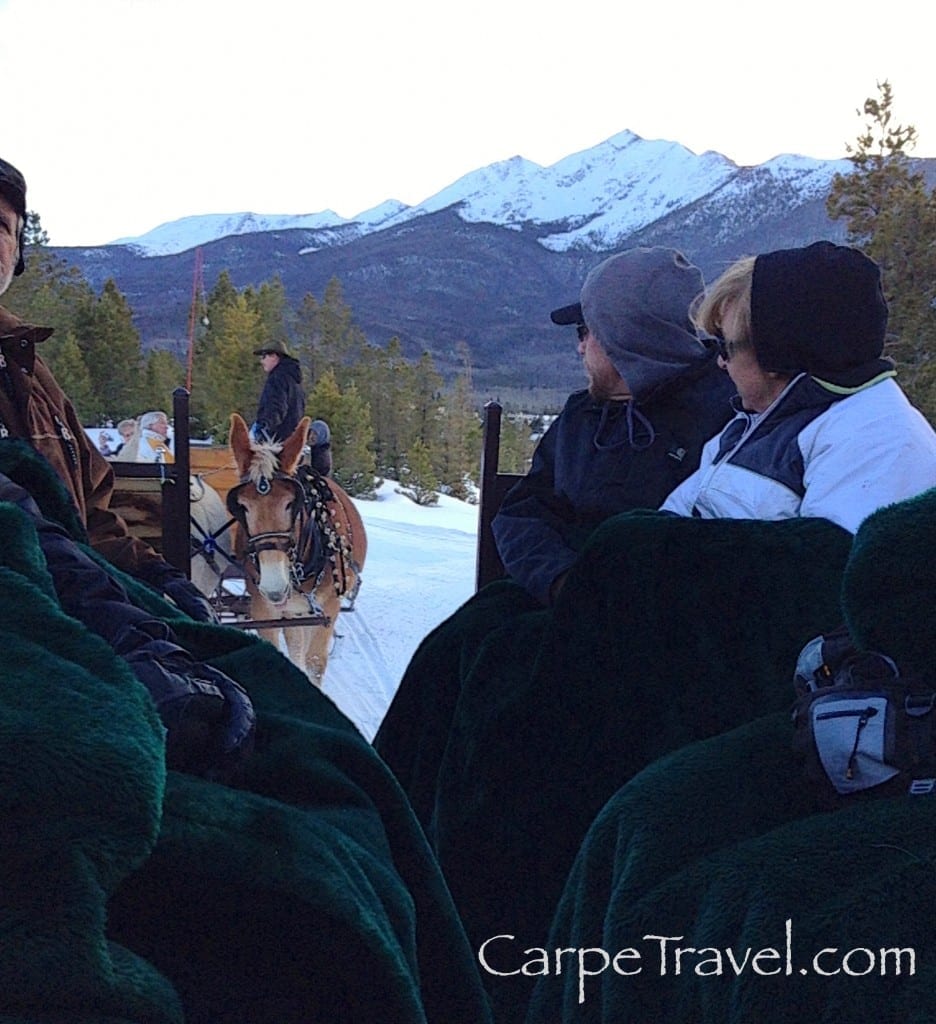 The drivers made their queues to one another and we off. The jingling of the sleigh bells combined with the stillness of the trail and the amazing sunset views of the snow-capped peaks of White River National Forest set the stage for a wonderful evening of dinner, dancing and just a lot of fun.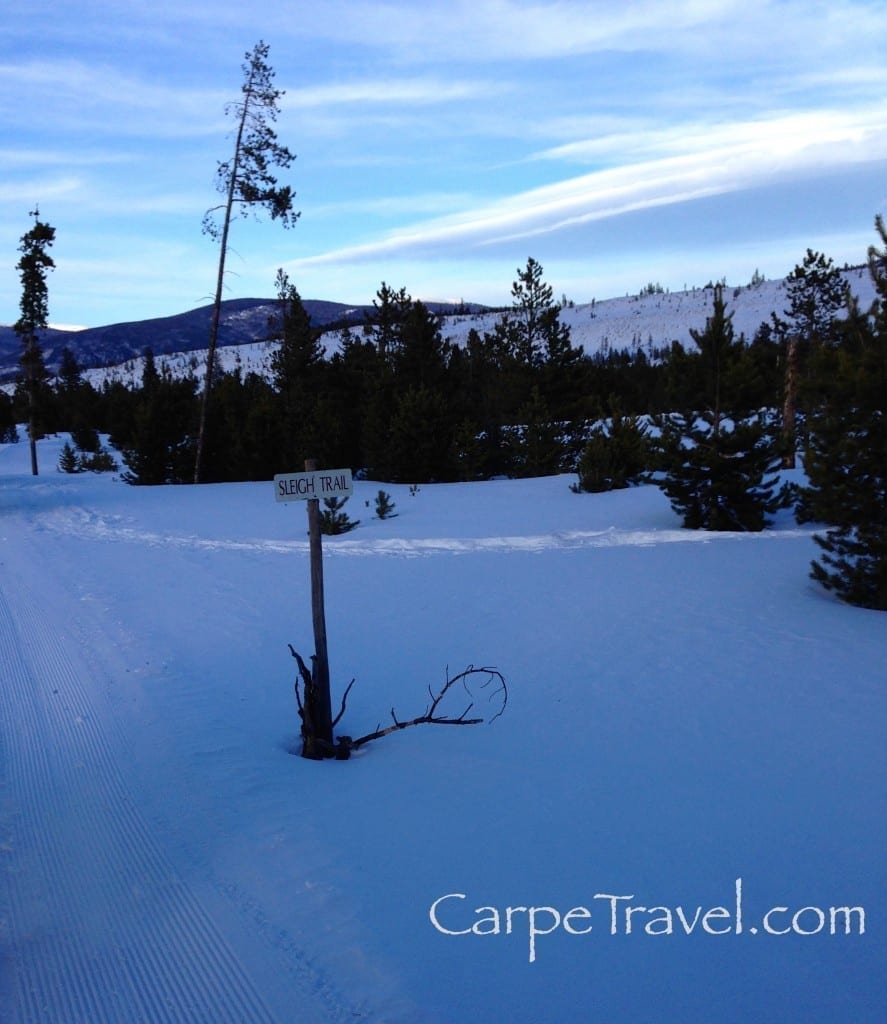 After a 20-minute sleigh ride, complete with a short history lesson of the area from our driver, we arrived at a large, lantern-lit, heated tent where we would dine for the evening. Once inside, we were greeted with live music from country western singer David Peel and a cup of hot cocoa. Those over 21-years-old were offered one complementary shot of Peppermint Schnapps for a little added warmth. (I suggest adding it to your hot cocoa, delish!)
The sleigh drivers, who quickly turned into the wait staff, began dishing out hot bowls of soup and offering guests a glass of wine or beer. (Tip: Take cash or a credit card with you so you can purchase drinks, and tip your wait staff/sleigh drivers.) With a maximum of 104 people for the dinner sleigh ride, dining with Two Below Zero is an intimate experience and a chance to really get to know others who are along for the ride. If your group is large enough (more than 14 people) you will more than likely have your own sleigh and own dinner table, smaller groups will surely get to know one another. Each sleigh holds between 14-20 people.
The entire experience with Two Below Zero is about two hours and 15 minutes. This time includes the sleigh ride to dinner, the meal itself, after dinner entertainment by country western singer David Peel and the sleigh ride back to the lodge. I have to say, the time flew bye but it never felt rushed. On the contrary, there was time to relax and enjoy the experience.
Things to Know Before You Go on a Two Below Zero Sleigh Ride
Types of Sleigh Rides
There are two trips that are offered nightly (except on Sundays):
3:30 p.m. hot-cocoa ride. This is just mugs of cocoa served at the backcountry tent.
4:45 p.m. dinner ride, where a hearty menu is served, along with live music. During the holiday and peak season, there may be two dinner rides, a 4:45 and 7:45. Pricing and menu information for the dinner sleigh rides are available here.
Seating is limited so you will need to make reservations in advance.
Dinner & Food Allergies
I have a child with a peanut allergy. Let it be known that the guys at Two Below Zero were very attentive to asking and following food restrictions. There was something for everyone on the menu – steak, chicken, potatoes, veggies and apple pie. If you asked for vegetarian and gluten free, they would be happy to accommodate. But – and I stress the BUT – you have to ask in advance, as in when you book your reservation to ensure you're covered. (If you do have food allergies, make sure to bring your epi-pen or other medication. You're pretty far out so medical attention may be delayed.)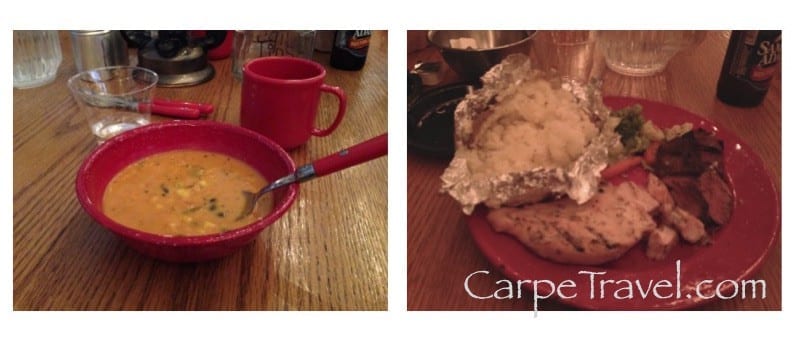 Getting There
Two Below Zero is located at the Frisco Nordic Center. It is a perfect activity for those visiting Breckenridge, Keystone, Copper Mountain and even Vail.
What to Wear
In the mountains during the winter it may feel warm when the sun is out, but when that sun sets, it's just plain cold. Make sure to dress wisely. Bring gloves, hats, boots and a warm coat. If you have little ones with you, consider bringing their ski pants. Both of my kids asked to put theirs on and luckily I had packed them in the backpack. It's wise to dress in layers though since the tent you will dine in is heated.
Bathroom
The Bathroom at the tent for Two Below Zero sleigh rides is located outside. It's essentially, four port-a-potties. They're clean and well kept but remember it's winter and it's cold. If you're traveling with kids I highly recommend you go at the lodge before you head out on the sleigh ride to limit your trips to the potty.
Money
You will pay in advance for the sleigh ride but you can purchase drinks – wine and beer – with you meal. Take cash or a credit card if you'd like to do this. And don't forget to tip the drivers / wait staff, they really add so much to the experience.
It's Not Just a Winter Thing
While you can't go on a sleigh ride during the summer months, you can do an authentic Chuck Wagon Dinner and Wild West with Two Below Zero. I hear it's a blast! If you've been, I'd love to hear about it in the comments. The Chuck Wagon's run June – August, Monday, Wednesday and Friday. You will need to call and make reservations in advance.
Have you been on a winter sleigh ride? With Two Below Zero Sleigh Rides? I'd love to hear your thoughts in the comments.
Disclaimer: Two Below Zero provided complementary sleigh rides for my family. However, all views are my own..it truly is a great, authentic experience.
Looking for more ideas for things to do in Colorado or Colorado's wine regions? Click on over to Carpe Travel's Colorado Wine Travel Guide.
Save