This last week I was in a New York state of wine! Ok, I've just been wanting to say that because I'm a total cork dork. But really, I was in the Big Apple last week for a TravMedia IMM – one of the top travel shows out there – and had thought I'd try to squeeze in a little research/work into my evening plans. In other words, I wanted to check out the top New York city wine bars.
Now, I went well beyond Yelp and Trip Advisor to find the best wine bars in New York. I went straight to the source – Somms, wine experts and other wine industry professionals who are all local to New York.
In a city where there's something for everyone, wine is no exception. I think you could literally find any wine you could possibly dream of here… I was only in town for a few days, most of which was spent in meetings at the Javits Center, but I did have a chance to check out a few wine bars in NYC and wanted to share my tops AND what all the other pro's had suggested.
Are there other New York city wine bars that should be on the list? Let me know in the comments.
The Best Wine Bars in NYC
---
La Compagnie des Vins Surnaturels (249 Centre Street)
This wine bar in NYC is right in the heart of downtown. Don't let the cozy vibe of La Compagnie des Vins Surnaturels fool you, there's more to sipping than what meets the eye. If you have the chance – or just want to go beyond its amazing wine list – check out one of its "Wine Bootcamp" classes. The 50-minutes classes are based on an exploration of four wines related to the class topic with a discussion as well as a small-bite food pairing.
"It has probably the best and deepest wine bar list in the city, plus most knowledge service and, even more important, the best and most proper glassware." – Andrew, Colangelo & Partners
Sauced (331 Bedford Ave.)
Sauced is small and intimate, with no written wine menu- instead, wine director, Jordan Veran greets each guest and asks for their preferences, curating a personal wine selection based on what they're looking for. The goal is to make guests feel at home and less intimidated by new wines that they might be less familiar with (all of the wines offered are minimal intervention and from lesser known winemakers/regions hand-picked by Jordan).
FairFax (234 West 4th Street)
Start the morning at FairFax with a coffee and pastry then end the day back there with wine and dinner. This little New York city wine bar had multiple recommendations, it's one you should definitely sip-in.
"My favorite wine bar right now is Fairfax on West 4th Street. It has a warm and friendly staff and a super cozy vibe. It feels like you are lounging in a friend's living room! It has a thoughtful wine list with some hard to find wines like a red Txacoli from the Basque region and an orange Timorasso from Emiglia-Romagna." – Frankie Mace, Beverage Director at Mayanoki
Milos Wine Bar (20 Hudson Yard, Level 5)
I was super excited to visit Milos Wine Bar during my outing to the new – and very cool – Hudson Yards. This unique wine bar features approximately 100 varieties of hand-selected Greek wines artfully paired with a full food menu of small plates meant to be shared. And the setting, well it's super classy with a laid back feel.
Climb to the top of The Vessel at Hudson Yards, sip in the view then pop into the mall, head to the fifth floor to Milo's for some awesome pairings.
Ruffian (125 E7th St. BTW 1st & A)
ESQUIRE MAGAZINE named Ruffian "One of the Best Bars in America" so I had to check it out, especially after TWO local wine pro's also mentioned it was one of their favorite wine bars in NYC.
"Ruffian is home of the largest selection of orange wines NYC. There are wines by the bottle and by glass as well as Eastern European small plates. Although the space is tiny, it certainly makes up for it in its knowledgeable staff and extensive selection of natural wines." – Amanda Claire Goodwin, The Real Housewine
Ruffian offers an eclectic food menu, which is all prepared in front of you at the bar. With a focus on Southern France, Eastern Europe and everywhere in between, the highly curated wine list offers a broad range of delicious wines from winemakers around the world. It is a dynamic list that offers over 250+ selections by the bottle (including 35+ orange wines) and over 30 wines by the glass that frequently change. Beer lovers take note, there are also draft and bottled beers to compliment the menu.
Cork Buzz (Two locations, Union Square and Chelsea Market)
The wine list at CorkBuzz is insane, rivaling those at Michelin Star restaurants. After learning that the selections are all made by founder and female Master Sommelier Laura Maniac Fiorvanti I got it. Duh, she's amazing… But, there's more to sipping at CorkBuzz. Its James Beard nominated wine education program is a must for all wine lovers. The wine educational classes are hosted at both of their Union Square location and Chelsea Market.
The Ten Bells (247 Broome St.)
Jordan Veran, wine director at Sauced suggested The Ten Bells. He loves this place for its ambience and amazing selection of natural wines. Similar to Sauced, their wine list is an unusual selection from smaller producers. The space is comfortable and inviting. The $1 Oyster happy hour is also a plus. Who doesn't love oysters and wine?!
"My favorite is the Ten Bells. Their wine list is unreal with the depth of bottles they have access to as well as the variety of bottles they will carry from the same producer. You can also find the "hype juice" alongside little-known producers, allowing you to please any kind of visitor you have in town." Holly, Natural Wine Importer
Tannat Wine & Cheese (4736 Broadway)
I had to include this wine bar in NYC simply because I'm crushing on Tannat wines ever since my visit to Wall Walla. But, upon further research, Tannat Wine & Cheese is well worth visiting, regardless of its name. The wine list is a total adventure! Populated with lesser known grapes, such as Skrlet, Grolleau, and Loureiro, from countries as diverse as Greece, Uruguay, and Georgia. It's a super fun way to sample new regions! For those looking for an old friend, there are plenty of classic wine options as well. The wine list changes weekly and wines are available by the splash, glass, or bottle. While sipping might be the main point of this article, dining at Tannat should not be overlooked. The menu features full-on farm-to-table options to pair with your wines. Yum!!!
Anfora (34 8th Avenue)
Named after the clay vessels (Amphorae) used to store and transport wine in ancient Greece and Rome, it should come as no surprise that Anfora has a wide selection of European wines both by the glass and the bottle. There is a resurgence of anfora aging among some winemakers, and their list features some great examples of these wines. This New York City wine bar is perfect for those looking for a cozy, dark and intimate setting to sip. Think date night.
Air's Champagne Parlor (127 Macdougal Street)
This NYC wine bar is for all you bubble lovers. Its welcoming and trendy atmosphere is paired with champagne-colored velvet, comfortable low seating, making it a perfect place to come with friends or for an intimate date. Don't expect big-name brands on the menu. Instead, come to explore the unfamiliar champagnes and sparkling wines, but don't fret the knowledgeable staff will help you choose one to uncork. While you're sipping, try the charcuterie and oysters.
"The top wine bar for all you sparkling wine lovers. An amazing selection of Champagnes and sparkling wines from around the world. Let's not forget reasonably priced and female owned/operated." – Lydia Richards, Vino Concierge
Vin Sur Vingt (66 West Broadway)
Like French wine? Vin Sur Vingt is where to sip. It's exclusively a French wine bar with an extensive list that regularly rotates. The vibe is super old world with dim lighting, dark wood, copper plated ceiling, the calming ambiance will make you feel as if you've been transported to a little French village. Ask your server for a pairing recommendation from their small bites menu. Delish!
AOC East (1590 1st Avenue)
Live music. A French Wine 101 class. A crazy good wine list by the glass. Lunch and dinner. Yes. Yes. Yes. AOC East is a great wine bar in NYC to sip in!
City Vineyard (233 West St.)
Who knew views of New Jersey could be so pretty? Well, at City Vineyard that is precisely what you'll get.
DiWine Restaurant & Wine Bar (41-15 31st Avenue, Astoria)
DiWine is a cozy little place that just celebrated its 10th anniversary in December. It features affordable wine – all priced the same – along with New American cuisine and some craft cocktails. More than half of DiWine's wine list still features bottles all priced at $40, including organic wines, and it was recently voted the Best Bar to Drink Wine by Astoria locals. To get there, you'll need to grab an Uber or hop on the N-Train from Manhattan and head 20 minutes into Astoria.
"They do every bottle by the glass if you get two, have lots of wine flights, and a daily blind tasting bottle that, if you guess right, gets you a 50% discount. What more could you want?" – Pia, Colangelo & Partners
Terrior | Tribeca (24 Harrison St.)
Located in what was once a cheese production facility along the Hudson River, this New York City wine bar is far from stuffy and pretentious. OMG! You guys the food and wine menu at Terrior | Tribeca is outstanding. You cannot go wrong with anything. Simply sit back and sip it in. Oh, and if you're up for a structured wine tasting. Make it happen. (It would be a great activity for those of you traveling to New York with a group of people for work.)
LELABAR (422 Hudson St.)
This cozy little New York City wine bar is over in the West Village and features a crazy cool global wine list (plus tastings). While its menu is heavy on French, Italian and Spanish wines, you'll find more obscure regions such as Corsica, Macedonia, Slovenia, Morocoo, Lebanon and Israel (to name a few). Pair your glass with a few small bits and sit back to sip it all in.
"They do every bottle by the glass if you get two, have lots of wine flights, and a daily blind tasting bottle that, if you guess right, gets you a 50% discount. What more could you want?" – Pia, Colangelo & Partners
While there are several New York City wine bars on this list, it's only a sampling of all the Big Apple has to off. If you have other NYC wine bars that should be added, let me know in the comments. Keep uncorking new experiences!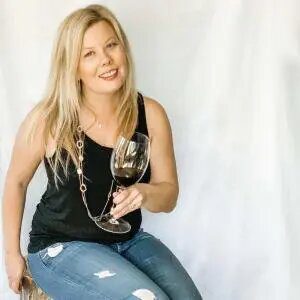 Elaine Schoch (pronounced the German way – Shock) is the editor and founder of Carpe Travel as well as an award-winning travel writer, wine judge, certified by the Wine & Spirit Education Trust (WSET) Level 2 and certified American Wine Expert. She is married to The Husband and has two kids, Princess One and Two – who's interest and knowledge in wine is quite extensive. Not to mention the stamps in their passports.