I always knew Steamboat Springs had a lot to offer in the way of family fun and adventure but until we spent time there this summer I didn't realize just how many activities outside of the ski slopes there were for kids. From paddleboarding, hiking to soaking in the natural hot springs, summer offers a host of amazing things to do in Steamboat Springs with kids. But summer isn't the only time to visit, as Ski Town USA Steamboat Springs is one of my favorite places in Colorado to ski. However, as I've learned, there is so much more to do in Steamboat Springs than hit the slopes.
Take a look at a few of the amazing activities Steamboat Springs can offer your child. They are sure to have a blast – no matter the season.
Things to do in Steamboat Springs with Kids in the Summer
Gondola Rides. Get a view like no other as you make your way towards Mount Werner in one of Steamboat Springs eight passenger gondolas. The ride is about 15 minutes and the views of the lush valley below are breathtaking. Your kids will have a blast viewing the wide open spaces and looking for bears. (Yes, there are bears in the mountains. This we encountered on one of our hikes up Mount Werner.)
Coca Cola Adventure Zone. At the base of the ski area, your children can enjoy a host of thrilling activities. Purchase your child a day pass and let them enjoy unlimited rides. There's so much to do and experience. It will keep them busy for hours!
Hiking. You can venture out on your own or do a guide hike with a specially trained trail guide who will take you and your family hiking up Mount Werner. (You can also go on a specialty hike for food, wine, etc. Just be sure to call in advance and see what available activities there are.) If you're looking to head out on the trail on you own, there are several kid friendly hikes in Steamboat Springs. Check out Spring Creek Trail, Fish Creek Falls and Emerald Mountain Quarry.
Movies. Known as Movies on the Mountain, this Coca-Cola sponsored attraction features free outdoor movies shown in the square. Be sure to bring chairs and a blanket so you can stretch out under the night sky and watch a movie in a most unique manner. It can get cool in the evenings so make sure to bring a light jacket.
Biking. In addition to being dubbed Ski Town USA, Steamboat Springs has also earned the title Bike Town USA. The area offers hundreds of miles of single-track, road riding, paved multi-use trails, and gravity specific downhill trails. If you and your kids want to hit the trials but are unsure of where to start check out the Steamboat Bike Park for guides and lessons.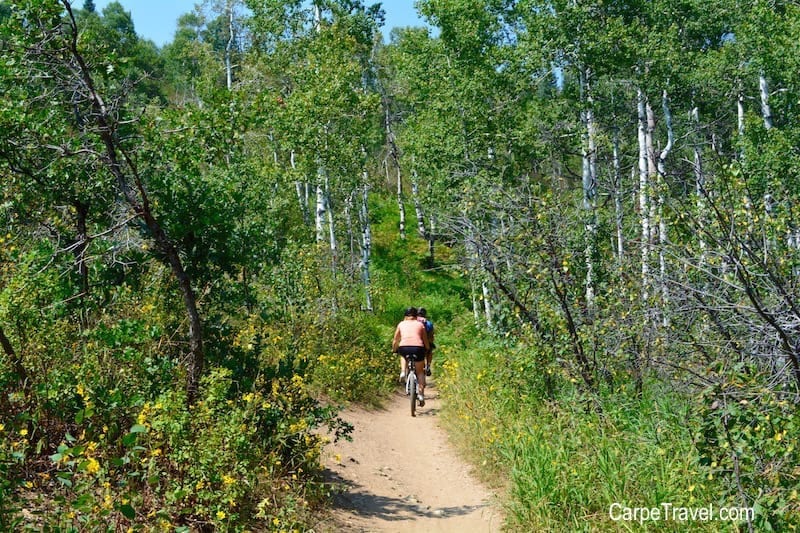 Wagon Dinner Ride. Take a western ride in a wagon, and get dinner served by an authentic cowboy cook. All of this, while dining among the mountain paradise of Yampa Valley.
Hot Springs. After a day of hard-core skiing, take a few moments and relax in the area's natural Hot Springs. Strawberry Park Hot Springs is perfect for soaking sore muscles and letting kids relax after a long day of snowboarding.
Helicopter Ride. If the gondola isn't thrilling enough, why not sign up for a Zephyr Helicopter Tour. Spectacular views of the valley and thrilling mountain scenery will have your kids captive and amazed.
Tubing and Kayaking. The Yampa River is a great place to cool off during the summer. You can rent an inner tube or a kayak downtown at one of the tubing outfitters, then jump in and soak up the views of the Yampa Valley. The ride can be as long or as short as you like since there are several stops along the way, the river runs along side downtown Steamboat Springs so there are several parks, restaurants and even shops you can jump out to explore. (Details on renting tubes and where to start your ride.)
Guided Fishing. Maybe for older kids more so than younger, a guided fishing excursion will certainly provide hours of relief and enjoyment for the entire family. After that, why not take a tour of the hillside on an ATV, or head over to the river for some kayak lessons. There are endless summer activities to be found in Steamboat Springs.
The Nordic Screamer. During the winter months people enjoy sledding Howelsen Hill but in the summer the hill transforms into The Nordic Screamer. There are two options to a slide down the mountain in the summer – the 45 meter run is 270ft long with an 80 foot drop; the 75 meter run is 435ft long with a breathtaking 180ft vertical drop. It's not for the faint of heart… (Kids must be eight years old to do The Nordic Screamer.)
Camping at Pearl Lake or Steamboat Lake. If you want to get a little further outside of town try camping at either Pearl Lake of Steamboat Lake. We did a bit of camping at Pearl Lake and I must tell everyone, it's literally one of the most beautiful lakes I have ever seen in Colorado. The campsites are all set up to offer privacy and stellar views. Book your site early, especially if you want to grab one of the Yurts the campground offers.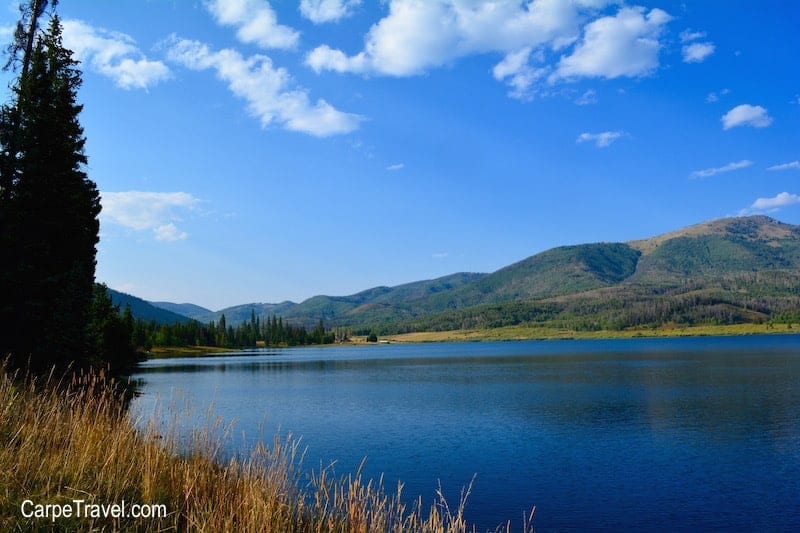 Paddle Boarding at Pearl Lake or Steamboat Lake. You can rent a paddle board at the marina at Steamboat Lake on most days during the summer. At Pearl Lake Steamboat Paddle Board Adventures provides rentals on the weekends during the summer months. The company also offers guided tours at night on Friday's and every full moon. (They attach NOCQUA lights to bottom of your board so you can see the life taking place below your paddle. Sounds amazing!)
Things to do in Steamboat Springs with Kids in the Winter
In winter, Steamboat Springs is transformed into a winter paradise, but it's not just skiing. Take a look at a few of the things to do in Steamboat Spring with kids in the winter months.
Sleigh Ride. Take your family on a sleigh pulled by authentic Clydesdale horses. Soothing, relaxing, and nostalgic, this is the ride of a lifetime.
Night Skiing. In addition to skiing during the daytime, the course is lit up at night in certain areas. Five trails accessible from the chairlift known as the "Christie Peak Express" feature stellar downhill runs fit for kids and adults.
Coca-Cola Adventure Zone. The activities featured during winter are quite different than their summer counterparts. Try out the bungee slingshot trampoline, and a host of other thrilling winter activities. Perfect for kids.
Snowshoing. Snowshoeing is an easy and inexpensive way to get the family outdoors. Everyone can do it and you don't have to buy any gear. You will need to rent some snowshoes but they're inexpensive way to explore the outdoors. With hundreds of trails in Steamboat, it's not difficult to find one to fit your interests and levels.
Hit the Mountain Slopes. Take some snow bike lessons, go snowtubing, or take a guided snowshoe tour up and around the mountain. Any of these activities are perfect for kids, in addition to skiing and snowboarding which are the obvious choice for winter activities, and the tourism draw for the area itself.
Guided Ski Tour. Get close to nature with your kids by taking one of these free ski tours designed to educate you on the mountain habitat area, as well as the specific flora and fauna indigenous to the area.
Hot Air Balloon. Soar high above the valley and kiss the top of the mountain peaks (figuratively speaking of course) with a hot air balloon ride. Each trip last 45 minutes and includes a continental breakfast and flight certificates. Hot air balloon rides run daily all year around in Steamboat Springs but you have to get up early for the ride. Dress warmly and call ahead for reservations.
Hot Springs. After a day of hard-core skiing, take a few moments and relax in the area's natural Hot Springs. Strawberry Springs is perfect for soaking sore muscles and letting kids relax after a long day of snowboarding.
Your kids will have a blast experimenting with these extracurricular winter sports. Want more ideas on things to do in Steamboat Springs that don't require skis?
Now you have more than a few activities to keep your kids busy the next time you visit Steamboat Springs. The area is rife with nature, beautiful scenery, and amply situated to provide your family the thrill of a lifetime. What are you going to try?
What are some of your favorite things to do in Steamboat Springs with kids?