Squeals came from my kids as they ran through the door into our hotel room at the Sheraton Steamboat Resort. I don't know what it is about my kids and hotel rooms but the idea of a sofa sleeper is nearly as exciting as Halloween. Having their own hotel rooms with their own queen size beds, well think Christmas morning. As The Husband and I made our way into the suite and looked around we knew our summer escape to Steamboat Springs was going to be just that – a comfortable and relaxing escape.
The Sheraton Steamboat Resort is a top-notch, luxury hotel that offers traditional rooms to high-end condos. Even the basic rooms offer guests a luxurious stay without the luxury prices. Read on for my full review of the Sheraton Steamboat Resort.
Location
The Sheraton Steamboat Resort is located at the base of Steamboat Springs Ski Resort. The Gondola – Christie Peak Express – is directly outside the resort making it one of the most centrally located ski-in/ski-out locations. For families I want to note that the ski school is right next to the resort. I've personally found that staying near the ski school is critical when you're dragging kids out of bed and getting them to ski school by 8:30am.
The resort is a short drive into downtown Steamboat Springs, it does offer a free shuttle service into the downtown area.
Address: 2200 Village Inn Court, Steamboat Springs, CO 80477
The Rooms at the Sheraton Steamboat Resort

There are a variety of room options at the Sheraton Steamboat Resort. From traditional bedrooms to one bedroom suites and modern studio-style suites featuring full kitchens to Mountain Suites that feature one, two and three bedroom configurations. The resort also offers condos for rent. All rooms have private balconies and the super, extra comfy Sheraton Sweet Sleeper Beds.
During our stay this past summer we were in the One Bedroom Suite with an adjoining traditional bedroom that featured two queen beds. It was lovely to have the extra space and two bathrooms but with the foldout couch in the living room of the suite and two private balconies – one off the living room and the other off the private bedroom – we would have had plenty of space for our family of four and puppy who came along. Did I mention Sheraton Steamboat Resort is a pet friendly hotel? It is…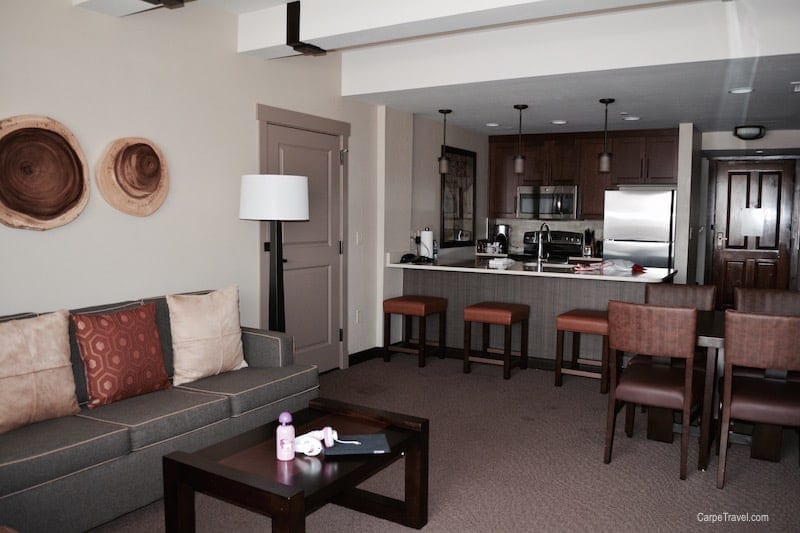 The Bathroom

Both our bathroom and the bathroom in the traditional room were immaculately clean and freshly updated. The one in the suite was a bit larger but both featured a shower and bathtub with good water pressure and excellent toiletries. They were also stocked with extra towels. Until I began traveling with a family of four I never knew how important it would be to have extra towels in the bathroom
Amenities
Free wifi is available
Pet friendly hotel
24-hours fitness facility
Shuttle service
Free parking
Free recreational equipment storage
Bike wash station usage (summer months)
Nightly S'mores at the outside fire pit
Heated pool and hot tubs. For those of you traveling in the winter this is essential way to relax after a long day of skiing. In the summer months that added heat makes swimming do-able in the cool mountain air.
There are plenty of biking and hiking trails in the summer. You can rent equipment from shops right outside the Sheraton in Gondola Square. I do want to point out that even though you're at a ski resort you're in the mountains, meaning there is a lot of wildlife. This summer the kids and I took a morning hike up a ski slope as mountain bikers zipped by. My little one was a few feet in front of me, came to a clearing, turned and ran towards me screaming "BEARS!" She said she saw five bears, I only saw one peaking its head around as we hightailed it down the trail.
In the summer months there is a sand beach outside the resort for kids to splash around in.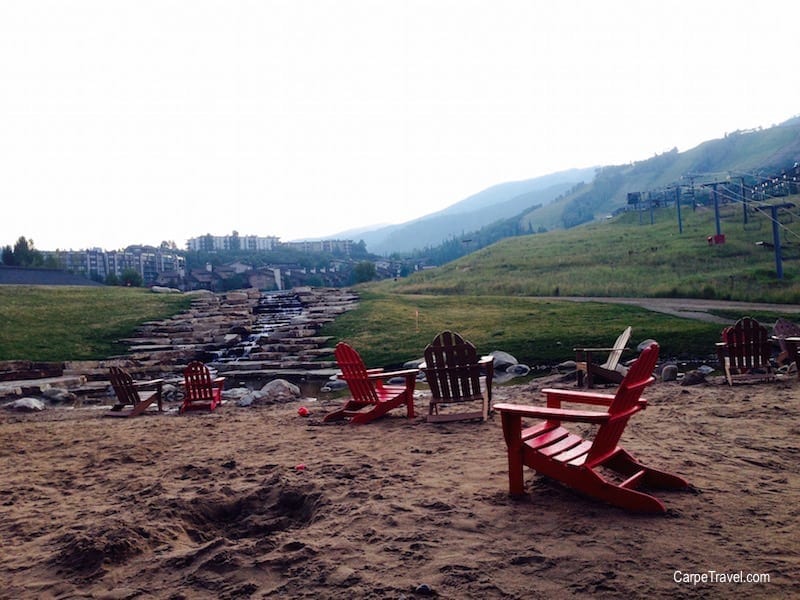 Dining at The Sheraton Steamboat Resort

There are three dining options within the resort and multiple options in the Gondola Square, directly outside the Sheraton. The Breezeway Café became my morning latte stop each day, although your hotel room is equipped with a coffee maker and coffee. The café features breakfast sandwiches, burritos, pastries, as well as sandwiches and salads for lunch.
The Saddles Bar and Grill is outside of the lobby area and more of a social space with a menu and a view. Saddles has a large bar, private tables and plush sitting areas around the over sized fireplace making it a perfect spot to enjoy a specialty cocktail while the kids play games in the new game room.
Sevens Mountain Grill is home to the morning buffet and a sit-down dinner. It's the premier restaurant on site with some amazing views of Mount Werner.
Things to Know
If you're visiting the Sheraton Steamboat Resort on a Tuesday, Wednesday or Friday you must check out the resort's Social Hour from 5-7pm at Saddles Restaurant. They compare wines rated 90-plus by Wine Spectator and other premium pours from Chateau Ste. Michelle, Stag's Leap Wine Cellars and more notable wineries. Tastings includes two 2oz pours for $5.
Every Friday during the summer there is a Sunset Happy Hour you can partake in at the top of Mount Werner. The Gondola outside the Sheraton – Christie Peak Express – gets you there in no time. It's a breathtaking view! Drinks and food are offered at the top of the mountain, prices vary.
Bottom Line

This is a top-notch, luxury hotel that offers basic rooms to high-end condos. Even the basic rooms offer guests a luxurious stay without the luxury prices. If you're planning your stay during the winter ski season, you can't beat the Sheraton Steamboat Resort's location. It's prime for ski-in/ski-out access and has every amenity and service you need. As for traveling in the summer, it's a more quite location to stay with a ton of activities for kids and adults. Being right outside the ski resort offers multiple mountain biking options and hiking trails.
Disclaimer: Sheraton Steamboat Resort did provide a media discounted rate on lodging, however all views as my own.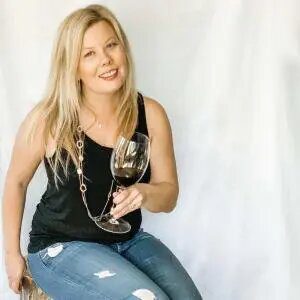 Elaine Schoch (pronounced the German way – Shock) is the editor and founder of Carpe Travel as well as an award-winning travel writer, wine judge, certified by the Wine & Spirit Education Trust (WSET) Level 2 and certified American Wine Expert. She is married to The Husband and has two kids, Princess One and Two – who's interest and knowledge in wine is quite extensive. Not to mention the stamps in their passports.