I read The Grapes of Wrath by John Steinbeck back in high school, have you read it? Seen the movie? It's a classic tale – and Pulitzer Prize winner – that's set during the Great Depression and the Dust Bowl. Most of us can probably relate to many of the same challenges people in the book were faced with: financial insecurity, unemployment, foreclosures and environmental changes – and discovering how resilient people are… Earlier this month I had the opportunity to visit Salinas, CA home to The Steinbeck Center. My timing was perfect as I was able to "participate" in The Steinbeck Center's year-long festival celebrating the books 75th Anniversary. Actually, TODAY marks the the official anniversary of The Grapes of Wrath. The Steinbeck Center is celebrating the anniversary all year so you have plenty of time and opportunities to get in on the celebration. Below are a few of the upcoming activities – and photo tour of The Steinbeck Center.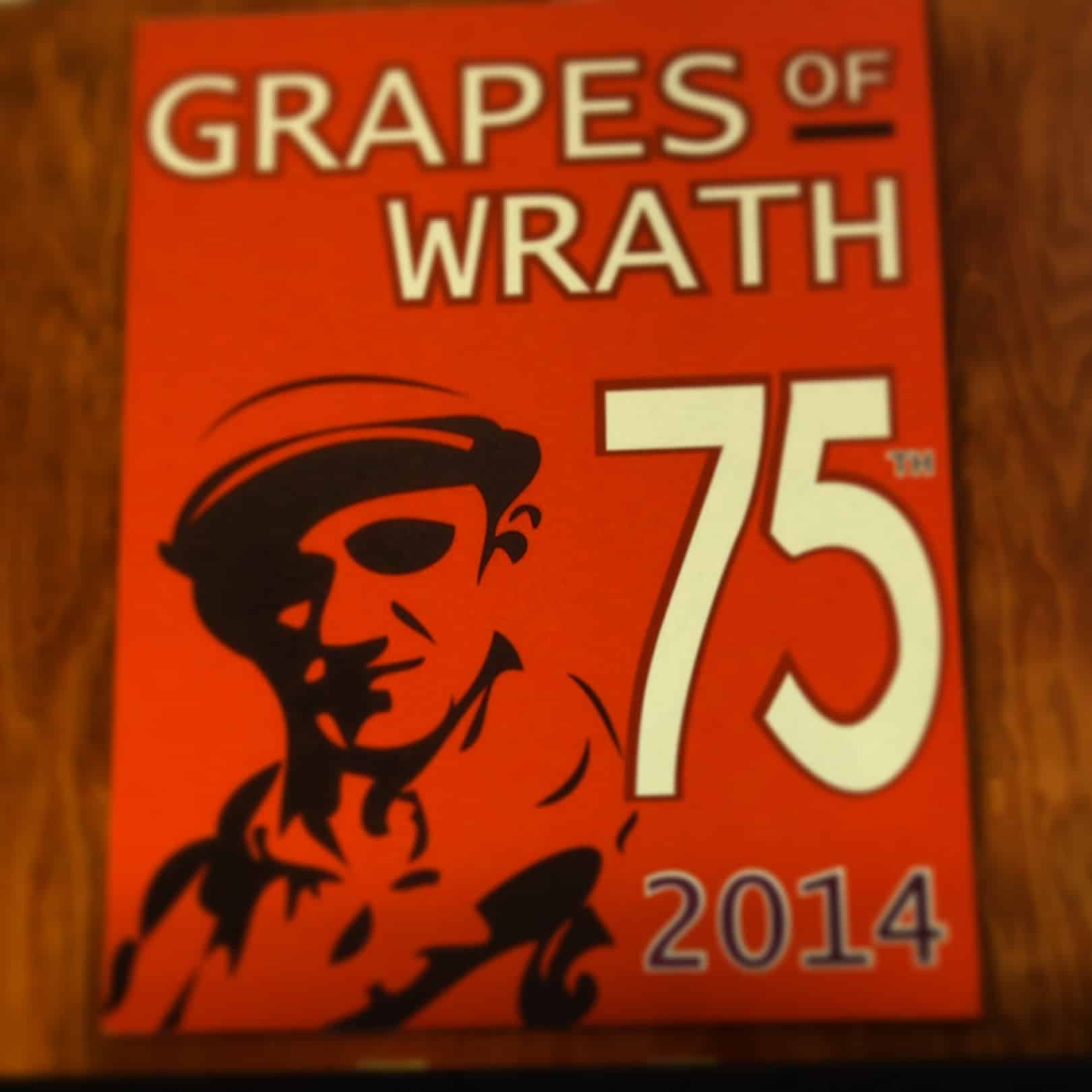 The 2014 National Steinbeck Festival Event Schedule
April 24 – Smithsonian Institute, Washington DC
April 25 – NPR Headquarters, Washington DC
May 2-4 – Steinbeck Festival, Salinas, CA
June 19 – UC Berkeley Art Museum & Pacific Film Archive
October 16 – Autry Center for the American West, Los Angeles, CA
Fall 2014 – UC Merced/CSU Stanislaus, Modesto, CA
Fall 2014 – National Book Foundation, New York, NY
Fall 2014 – Ventura Museum, Ventura, CA
Check the schedule for updates.
If you're in New York City, you can see Of Mice and Men performing on Broadway. (James Franco is staring in it!!) While it's not The Grapes of Wrath, it's one of Steinbeck's works and after all, part of the 2014 National Steinbeck Festival is celebrating the writer and his contributions to the literary world.
Visiting The Steinbeck Center
Have you been to The Steinbeck Center? If not, take a quick photo tour. You can have your own anniversary celebration for John Steinbeck and The Grapes of Wrath right here.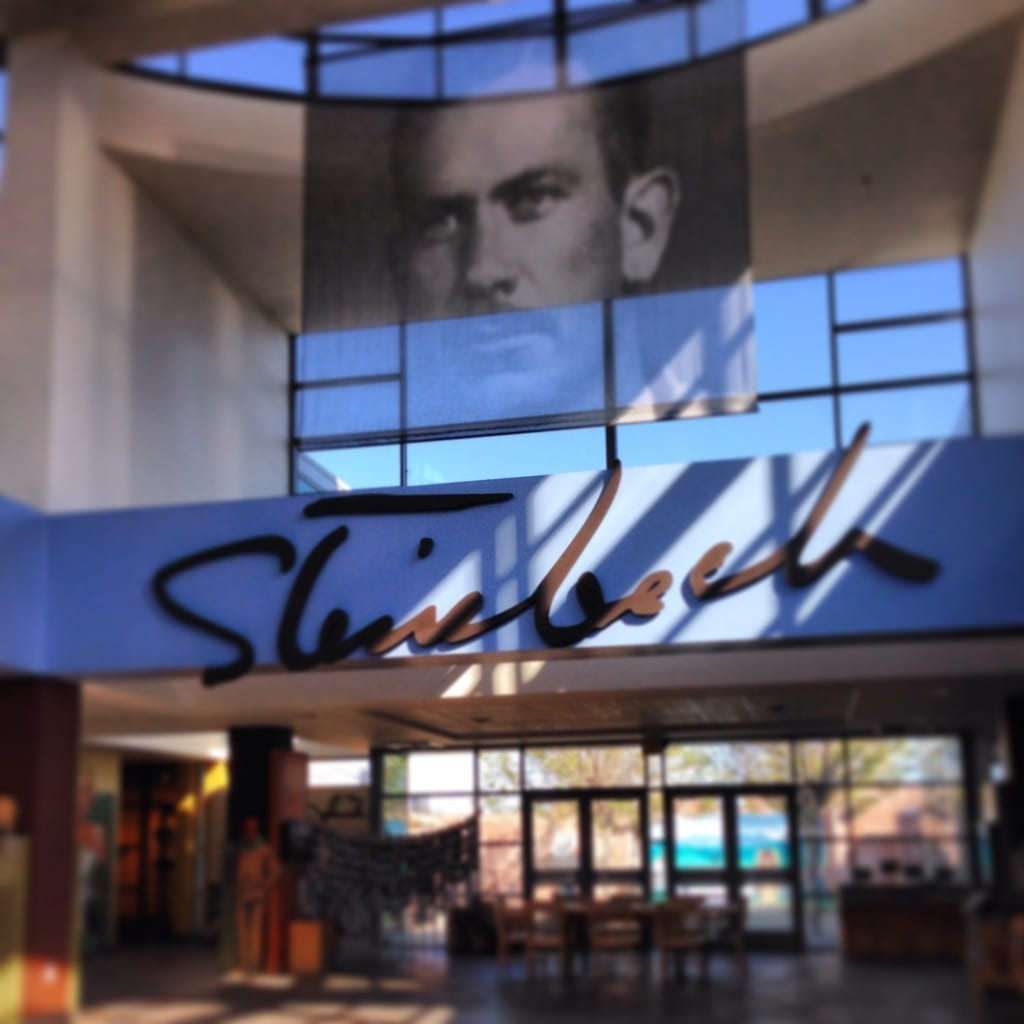 The Steinbeck Center is not nearly as large as I had anticipated. You can tour the center in less than hour if you're tight on time or slow down and really soak things in. After touring the center, taking a little stroll around Salinas will provide a little more color to Steinbeck and his works.
The main lobby of the Steinbeck Center is very open and connects the exhibits through the main area. There are a few tables set up making it a great spot to sit, rest, snack or simply reflect.
The Steinbeck Center – Interactive for Kids
The Steinbeck Center has several interactive parts of its exhibits to enhance the experience for kids (and adults). With movies of Steinbeck's works playing in the background to interviews, quotes painted throughout the exhibit and touch and play options for kids to get involved in the stories. There were a few displays I found to be more fun than not – opening the safe to see what was kept inside; opening a cabin door and listening to a family talk about their story – experts from The Grapes of Wrath; and walking through the "bed rooms" of characters in Steinbeck's books.
There are quotes from Steinbeck and his books on the walls throughout the building. This one offers curtains for people to open and close. This was one of my favorite quotes – it just made me laugh.
James Dean at The Steinbeck Center
I knew most of James Dean's movies from my teenage years, even then he was a "heart-throb" but I had never realized East of Eden was one of John Steinbeck's books, which he had starred in and received a Golden Globe and nominated for Best Actor. Each movie based on Steingbeck's books – including East of Eden – are playing in its designated area along with movie paraphernalia.
If you're taking tweens/teens to The Steinbeck Center, I highly recommend having them see East of Eden beforehand to give them a little more context – and making it something "cool" to do. I'm pretty sure James Dean is still an icon… (They should also read the book, of course.)
Steinbeck's Life Retold
Throughout the exhibit not only do you learn more about the books Steinbeck has written but you get more insights into what, how and who influenced his work through tales from friends, family and Steinbeck himself.
There is More at The Steinbeck Center Than Steinbeck
Outside of the permanent Steinbeck exhibit, there is a exhibition hall the Steinbeck Center uses to feature other artists and works. Thru May 31, 2014 you can catch Weston: Four Generations 1886-2013.
 "The Weston name stands as a cornerstone of traditional black and white photography," said Jewel Gentry, assistant curator of exhibitions and collections at the National Steinbeck Center. "From landscapes to nudes, the Westons have run the gamut of subject matter and themes, reaching creative heights that have put the Monterey region at the center of several artistic movements. The story continues as you'll see in the exhibition's work of Kim and Zach Weston."
The Weston exhibition presents images, art and artifacts from Edward, Brett, Kim and Zach Weston – four generations of photographers. I really enjoyed this exhibition not only for the artistic work presented but it was nice showcase of other artists from Monterey County. The Weston family actually known as Monterey County's first family of photography. After seeing the exhibition you'll understand why – it's amazing… (Parental Discretion Advised. The exhibition includes a lot of nude photos.)
Details on Visiting The Steinbeck Center
Hours: The National Steinbeck Center is open seven days a week from 10 a.m. to 5 p.m.
Pricing:
Adults – $15
Children under 5 – Free
Kids 6-12 years old – $6
Kids 13-17 years old – $9
Seniors – $9
Military (with Military ID) – $9
Have you visited The Steinbeck Center? What did you think?
DISCLAIMER:  My visit to The Steinbeck Center was part of a trip sponsored by the Monterey County Convention & Visitors Bureau. All opinions are my own.